PO Box 9021, Wilmington, DE 19809, USA
E-mail: font@focusonnature.com
Phone: Toll-free in USA 1-888-721-3555
or 302/529-1876



A Focus On Nature Tour
in
ARGENTINA

(tour: FON/AR-3 '15)

For Birds, Mammals,
and Other Nature
n southern Argentina


In Patagonia,
with birding in the areas of the
Los Glaciares National Park
including the Perito Moreno Glacier,
and the Valdez Peninsula

November 18-29, 2015

Tour to be led by Armas Hill,
with local guides at particular places.


Among the "Top Birds" during this tour in the past have been:
some birds dubbed "Magellanic"
including Magellanic Woodpecker, Magellanic Plover, & Magellanic Penguin.
And other too, such as the Burrowing Parrot.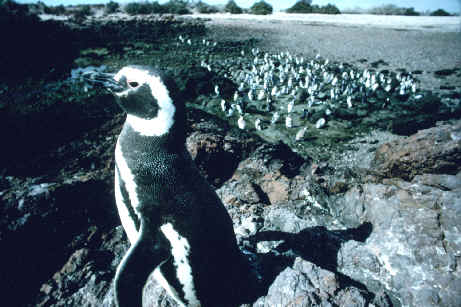 This 2 week tour can be done either on its own, or in conjunction
the tour that precedes it (FON/AR-2) in north-central Argentina

Links:
A Complete List (with some photos) of Argentina Birds,
noting those during previous FONT tours (in 2 parts):
Part#1: Penguins to Woodpeckers Part #2: Manakins to Grosbeaks

Rare Birds of Patagonia (with some photos)
Mammals during FONT Argentina Tours (with some photos)
Itinerary:
Tue: Nov. 17 Departure from North America, or elsewhere.
Wed: Nov. 18 Arrival in Buenos Aires. Birding in the afternoon (particularly for those arriving in the morning or mid-day) in Buenos Aires at the Costanera Sud Nature Reserve. Overnight in Buenos Aires.
Thu: Nov. 19 A flight to El Calafate for some fine southern Patagonian birding.
In the El Calafate area, some bird specialties that we will aim to see include the unique Magellanic Plover, the Chocolate-vented Tyrant and the Least Seedsnipe.
A number of other birds occur, as well, such as the Chilean Flamingo, and an assortment of other waterbirds including various ducks, grebes, and coots.
Birds of the Patagonian steppe habitat include furnariids such as the Scale-throated Earthcreeper and the Austral Canastero, and a few different sierra-finches.
Among birds of the grasslands are the Aplomado Falcon and Correndera Pipit.
Overnight in El Calafate.
Fri: Nov. 20 A full-day of birding in western Patagonia, including the forested area of the lower Andes Mountains adjacent to the impressive Perito Moreno Glacier.
We've never missed Andean Condor there, in that area. And we'll keep an eye toward the sky for the Black-chested Buzzard-Eagle, as seen there during our recent tour in December 2013.
The Magellanic Woodpecker is a prime target in an area we'll visit of forest on the east side of the Andes. It's a great bird.
Also to be sought in the area is the Spectacled, or Bronze-winged, Duck, and a notable denizen of the forest understory that is a small skulker with a loud call, the Magellanic Tapaculo.
Other birds likely to be found during this tour have "Magellanic" in their names, including the Magellanic Oystercatcher and the Magellanic Penguin (to be seen later in the tour, along the seacoast). And the Magellanic Plover, already mentioned, that is not a plover at all.
Also in the names of birds that to be sought during our tour, there's the adjective "Austral", for a Thrush, Blackbird, Negrito, Pygmy-Owl, and Parakeet.
Overnight again in El Calafate.
Sat: Nov. 21 Another day of Patagonian birding, from our base in El Calafate, looking for birds referred to above, and others, that may not have already been found.
A beautiful and now very rare bird that was discovered only a few decades ago used to be seen near El Calafate. That bird is the Hooded Grebe, pictured below.
During early FONT tours in the area, we've seen it at a particular lake, where, as just said, it no longer occurs. Also, it should be noted, that during recent years, the population of the already-rare species has sadly declined, even more.
If the bird can reasonably be found north of El Calafate, as it has been more recently, we could make an effort for it. If we can do that, this overnight would be north of El Calafate. Otherwise, it would be in El Calafate.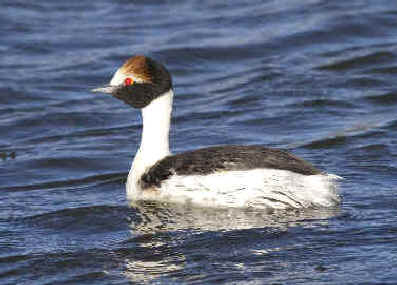 Hooded Grebe
Sun: Nov. 22 North of El Calafate, we'll go toward another town, even smaller and more remote. Called El Chalten, it is at the base of the some impressive Andean mountains, including Cerro Fitz Roy and Cerro Torre.
Along the way to and from El Chalten, there's a wetland area, where during our December 2013 tour, we saw, albeit quickly, an Austral Rail. That species was only seen a handful times (just 3 times from 1900 to 1960, and not after that until it was "rediscovered" in 1998). We'll try for it again during this tour.

Mon: Nov. 23 A day with some spectacular scenery, beautiful countryside, and birds. Mostly in the northern sector of the Parque Nacional Los Glaciares (Argentina's "Glacier National Park"), where birds, among others, include Andean Condors, Flying Steamer Duck, and Magellanic Woodpecker.
A skulking bird in the area is the Black-throated Huet-huet. A mammal is the Huemul, or the Southern Andean Deer, an endangered species.
More common, but also with odd names, are birds such as the Thorn-tailed Rayadito (a furnariid) and the Fire-eyed Diucon (a flycatcher).
After leaving the area late in the afternoon, we'll overnight at what is now a nicely refurbished historic inn, that was a roadhouse over a hundred years ago, by a river in the middle of the Patagonian steppes, or, put another way, in the "middle of nowhere".

Tue: Nov. 24 After some morning birding, as time permits, we'll begin our journey back north in Argentina, with a flight to Trelew. where, as time permits, we can observe birds at a small lake in that small city where among the swans, ducks, grebes, and coots, we may see the uncommon Black-headed Duck, the only parasitic duck in the world. It sneaks about the reeds where its eggs are laid in the nests of other birds.
Overnight in Trelew.

Wed: Nov. 25 This day we'll visit to the large penguin colony at Punta Tombo. It is the largest colony anywhere of Magellanic Penguins, where there has been said to be nearly a million penguins. There are, by good authority, over 200,000 burrows where they nest.
And, other birds are there in addition to the penguins. Among them the Brown Skua and the rare, localized Chubut Steamerduck, in addition to Southern Giant Petrels and both Kelp and Dolphin Gulls.
Nearby, at a ranch, during our December 2013 tour in the area, we saw both male and female Hudson's Black Tyrants, a bird with a restricted range in Argentina.

Also this day, either before or after our visit to the penguin colony, we'll go to another spot along the seacoast to see, from a boat, what is one of the most beautiful dolphins in the world, the Commerson's Dolphin.
The timing is dependent upon the tides.
Overnight again in Trelew.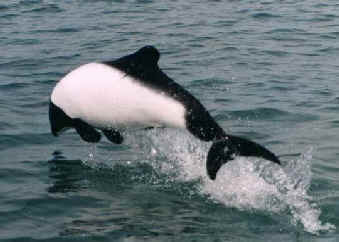 Commerson's Dolphin

Thu: Nov. 26 A full-day of birding and observing of other wildlife in the area of the Valdes Peninsula. Birds can include: Darwin's Rhea, Elegant Crested-Tinamou, Tawny-throated Dotterel, Black-browed Albatross, Southern Giant-Petrel, and possibly Snowy Sheathbill, along with an assortment of landbirds.
Land mammals include the interesting Mara, and the Guanaco.
Marine mammals can include: the Southern Right Whale, Killer Whale, Southern Sea Lion, and the Southern Elephant Seal, the largest seal in the world. Overnight in Puerto Piramides, on the Valdes Peninsula.
Fri: Nov. 27 On this day, travel north (with birding enroute) to San Antonio Oeste. Our objective, at that destination would be 6 of the 16 Argentine endemic birds, along with the endangered Yellow Cardinal, and the multi-colored Burrowing Parrot. Whatever we miss this day, we'll try for again the following morning. Overnight at San Antonio Oeste.

Sat: Nov. 28 Among the birds that we'll seek in the area of San Antonio Oeste are the Sandy Gallito, the White-throated Cachalote, and the uncommon Rusty-backed Monjita. These are 3 of the 6 endemics in that region. Of course, we're going for all six! Return in the afternoon to Trelew. Overnight there.

Sun: Nov. 29 A flight from Trelew north to Buenos Aires, and from there, international flight departures for home from Argentina.
For those going to North America, after an overnight flight, a morning arrival on Monday, November 30.

Price: US $3,695 per person, based upon double occupancy.
Single supplement (when applicable): US $395
Includes: All accommodations. All ground transportation within Argentina. Local guides. Entrance fees for national parks. Most meals: all breakfasts & lunches. Dinners except those in Buenos Aires.
Does not include: Air transportation to/from or within Argentina. Drinks or items of a personal nature. Gratuities. Departure tax at airports in Argentina.
Tours AR2 & AR3, Nov 4-29, can be done in combination.
Combination Price: US $5,895

"Focus on Nature Tours" can arrange air travel, and would seek the best possible air fares.

A deposit of US $500 per person will assure a place on the tour.