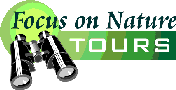 PO Box 9021, Wilmington, DE 19809, USA
E-mail: font@focusonnature.com
Phone: Toll-free in USA 1-800-721-9986
or 302/529-1876; Fax: 302/529-1085
The "Green Flash"
During our March '04 Lesser Antilles Tour, again, as in previous years, we saw something interesting - not a bird, or animal, or something else on the ground or in the sea. Rather, it was something in the sky.

From both the islands of Saint Lucia and Dominica, looking out to sea, in the western sky, at sunset, we saw what's known as the "green flash". It was visible just as the red ball of the sun dipped below the horizon, appearing rather like a bright spark from an electric wire.
Some consider it to be fantasy, but, really, given the right circumstances, it can be seen.
The following is an astute account of it, taken from the book "Eastward to Singapore", written by a surviving officer of a vessel named the "Electra". The "Electra" disappeared in World War II in the battle of the Java Sea in February 1942:
"In the region of the equator, the sun sets with a jerk, and legend has it that at sunset, a "green flash" spreads across the horizon. On the "Electra", opinion was divided as to whether or not this was merely a fairy tale. So, as the ship was due to cross the line at almost precisely sunset, the bridge became packed with officers inquisitive and eager to resolve the argument.
Yet, as the sun went down, the triumphant shout of the believers, all of whom swore they'd seen the flash "as fast as lightning", was followed by derisive jeers from the infidels who said they hadn't.
So in the end, the test was a disappointment except that it proved that people will only see as much or as little as they have a mind to believe in".
A long time ago (relatively), in January 1960, in the magazine "Scientific American" there was an excellent article, with some tremendous photographs, entitled "The Green Flash and Other Low Sun Phenomena".

Now, elsewhere on the internet, there's more info about the "green flash".
A link to a good site about it follows.
Focus On Nature Tours will be going to the Caribbean again in 2005. The itineraries for the tours, and other information, is in the web-site (if you're interested in seeing the "green flash" for yourself, along with the parrots and other birds of the Caribbean).
Upcoming FONT Caribbean Birding Tours