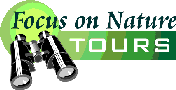 PO Box 9021, Wilmington, DE 19809, USA
E-mail: font@focusonnature.com
Phone: Toll-free in USA 1-888-721-3555
or 302/529-1876

Website: www.focusonnature.com



PHOTOS
OF
BIRDS and MAMMALS
in Argentina
with some scenery and history

photographs during the
Focus On Nature Tour
in Argentina in December 2013



All of the photographs that follow were taken during that tour
by tour participant, Marie Gardner of Delaware, USA - © - all rights reserved.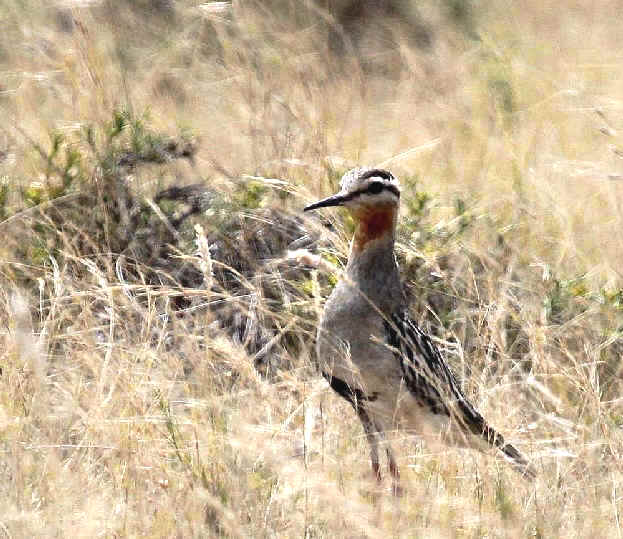 This Tawny-throated Dotterel
was photographed on the Valdes Peninsula
during our December 2013 Argentina Tour.
It is truly one of the most beautiful
of the world's shorebirds,
and one not easily found where it breeds.
With this bird were 2 chicks.

Links:
Birds & Other Wildlife during our December 2013 Argentina Tour
A Narrative relating to our December 2013 Tour in Argentina

Complete List of Argentina Birds & a Photo Gallery, in 2 parts:
Part 1: Tinamous to Flycatchers
Part 2: Antshrikes to Grosbeaks
Upcoming FONT Birding & Nature Tours in Argentina
Directory of Photos in this Website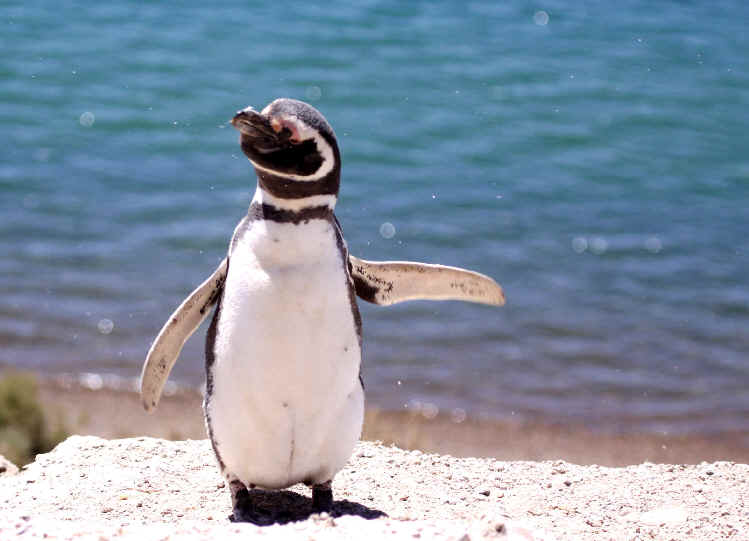 One of the Magellanic Penguins
seen during our tour,
one of many.
Nearly half a million adults were at the colony we visited.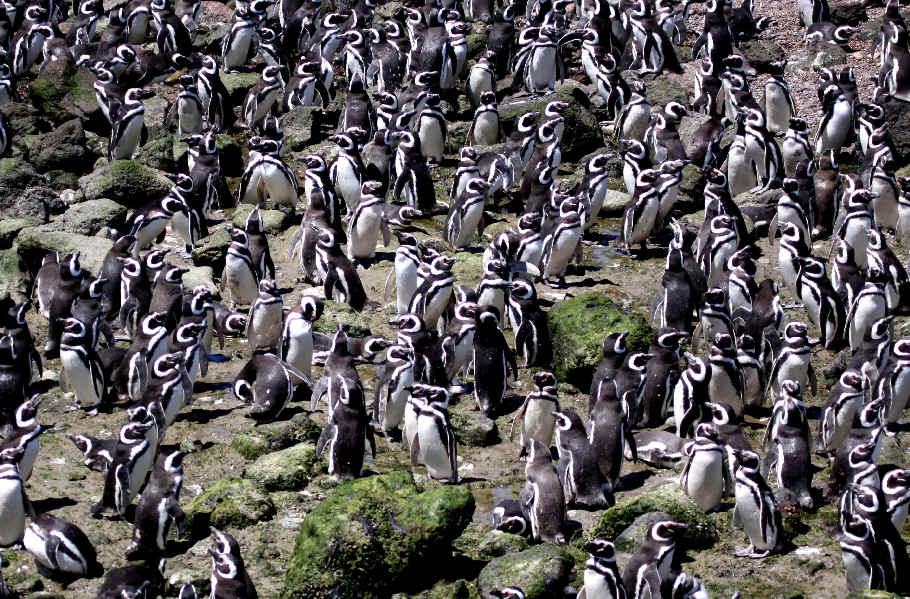 Here are more of the many.

And there were more than adults at the colony
as many of the Magellanic couples had chicks,
either in or by their burrows.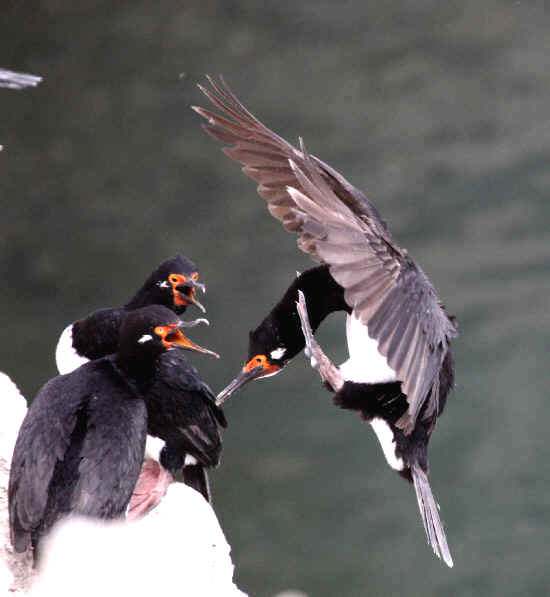 Feeding a chick in this photograph,
is a Rock Shag, or Rock Cormorant.
The adults have a white breast.
That of the chick, as you can see, is black.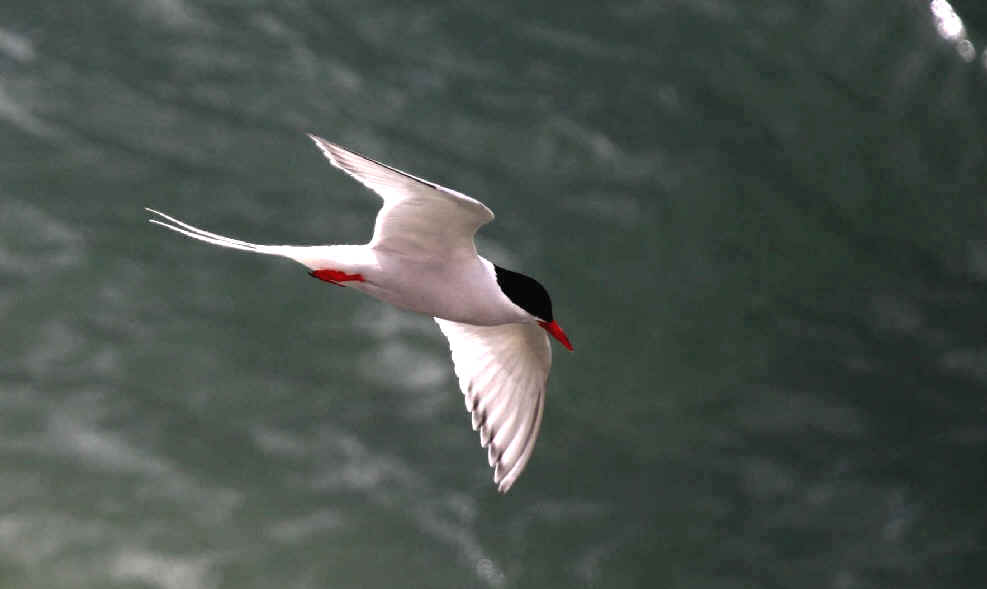 Graceful in flight, this is a South American Tern.
Yes, that is the bird's proper name,
South American Tern, Sterna hirundinacea.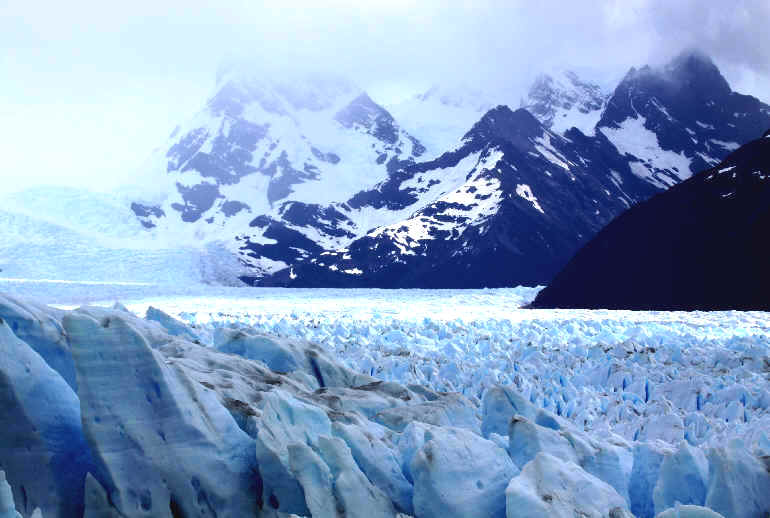 The big, very big Glacier Perito Moreno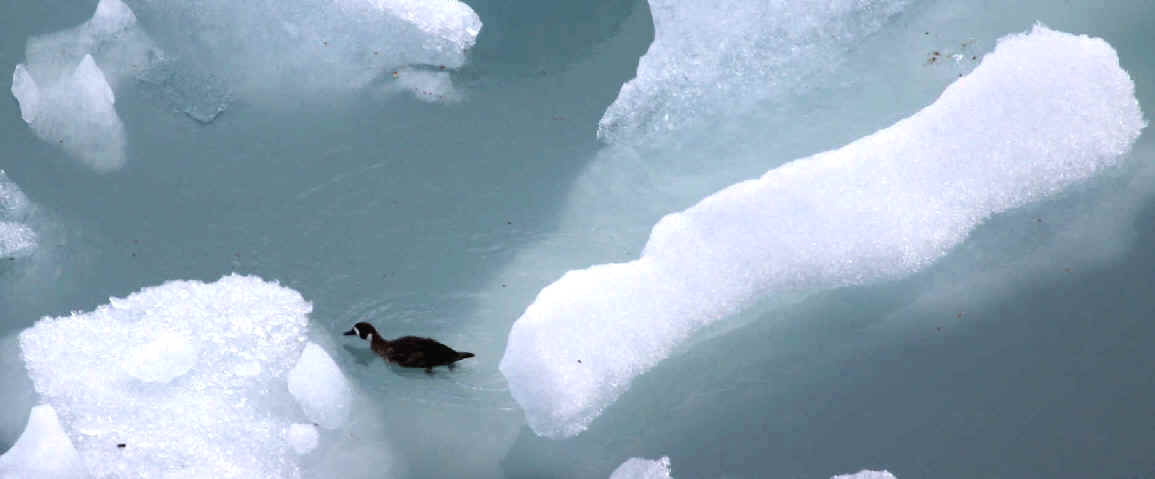 A Spectacled Duck swimming among the glacial ice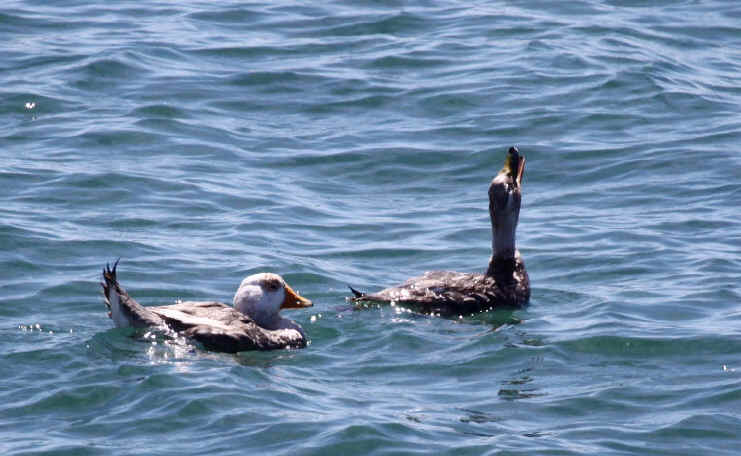 Swimming on the ocean along the Argentine seacoast,
a pair of Chubut Steamer Ducks.
This duck is endemic to Argentina,
Described as a species in 1981,
it is now classified as a globally threatened species .
It is flightless.
The female in the pair here has its head lifted.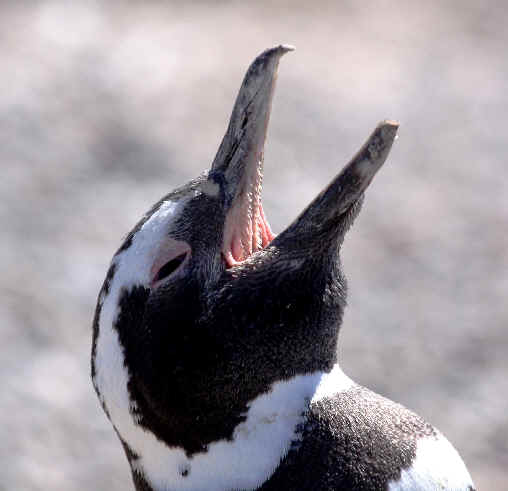 When a Magellanic Penguin raises it head,
as shown here,
it often makes a loud sound
similar to the noise made by a donkey.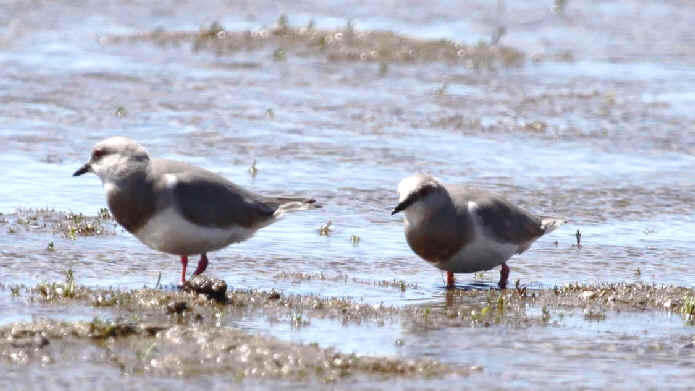 Another bird with the adjective "Magellanic"
in its common English name
is the Magellanic Plover,
but that name is not really right
as the bird is not a plover at all,
but in its own family Pluvianellinae.
It is an uncommon and localized resident
of far-southern Patagonia,
a chunky bird that superfically resembles a pigeon.
A bit hard to see in the photo here,
the bird has pink legs and feet.



Above & below: a bird with pink that's not hard to see,
Chilean Flamingoes in Argentina
Above: an adult. Below: two immatures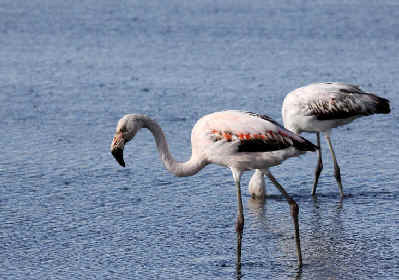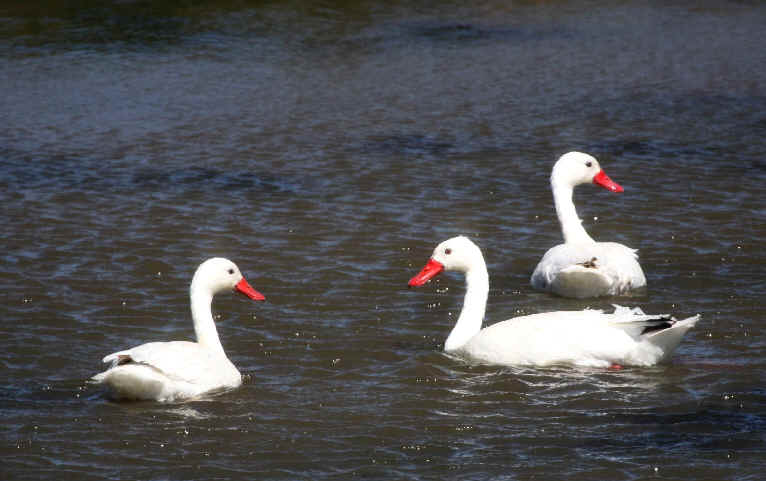 A trio of Coscoroba Swans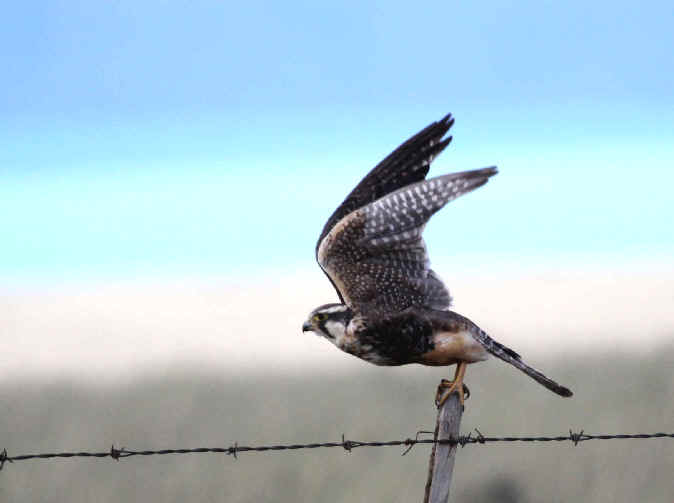 An Aplomado Falcon taking flight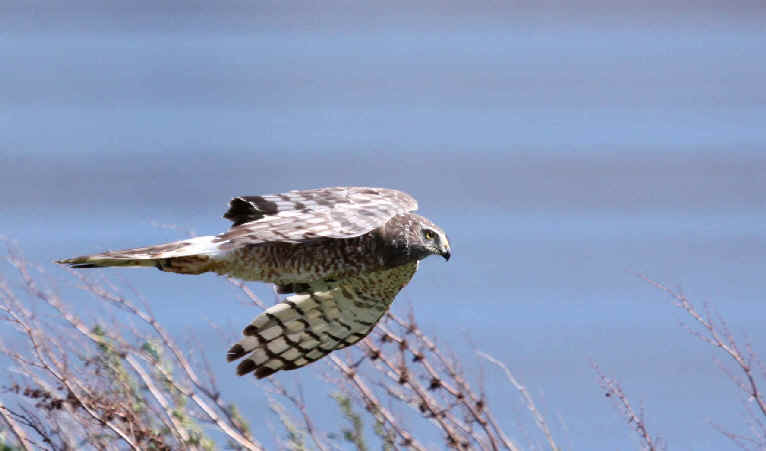 A Cinereous Harrier in flight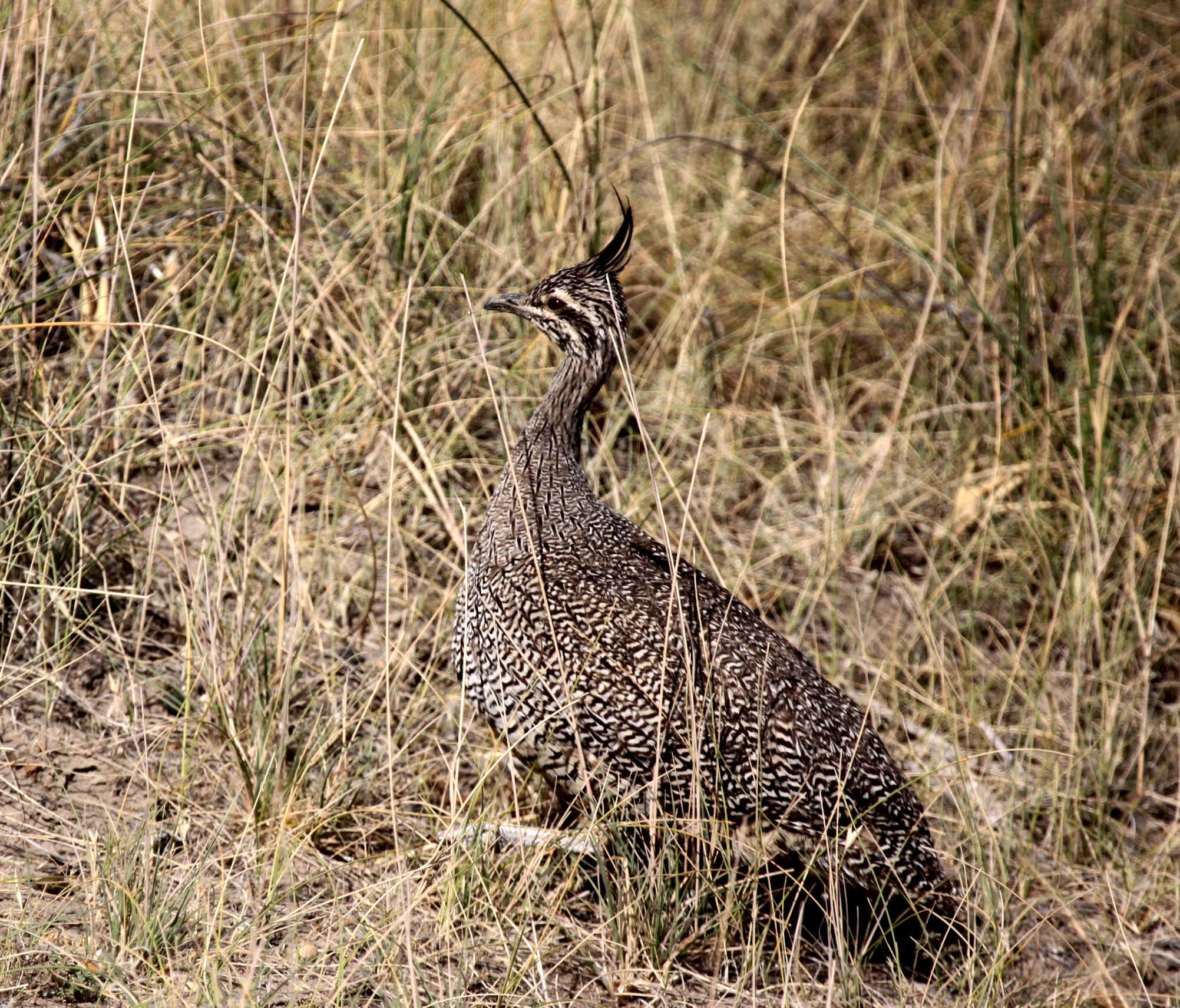 On the ground, an Elegant Crested Tinamou






A bird always on the ground is the Darwin's. or Lesser Rhea,
as it is flightless.
The male of the species raises the young,
sometimes from multiple females, as is the case here.
On the road ahead of us, there were about 50 rheas,
with only one of them the adult male
(on the right-hand side of the road).
All of the other birds are young, but with some older than others.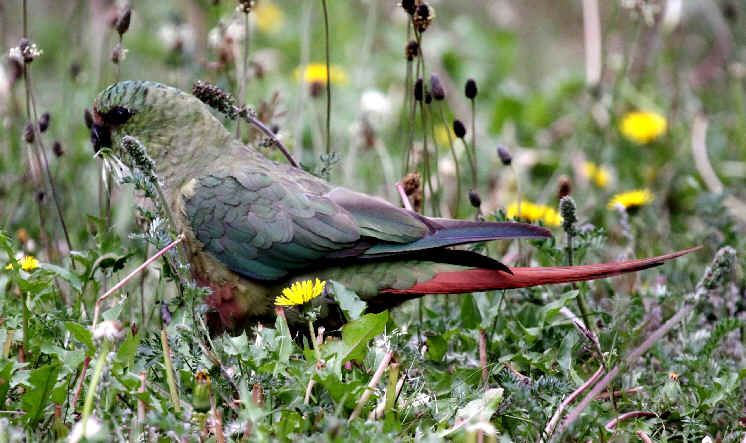 Also on the ground, an Austral Parakeet,
seen here eating dandelions.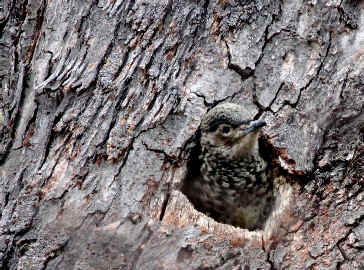 In the hole of a tree, a young Chilean Flicker
peers out from where it was born.
The English name of the bird is because
most of its range is in Chile.
During this tour, we saw it,
of course, in Argentina.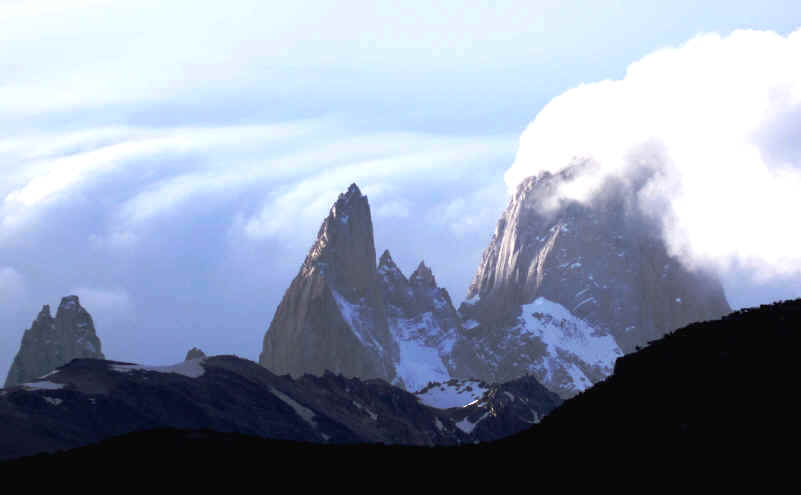 The park in Patagonian Chile known as Torres (the towers) del Paine
is known for its spectacular scenery,
but, photographed here, during our Argentina tour,
the jagged peaks of Mount Cerro Torre, is a similar scene.
This photo was taken from a balcony of one of the places where we stayed.
In the Argentine Los Glaciares National Park,
Mount Cerro Torre is on the border of Argentina and Chile.
Its highest peak is 10,280 feet above sea level.
To the right of Mount Cerro Torre is Mount Fitz Roy,
with an elevation of 11,171 feet above sea level.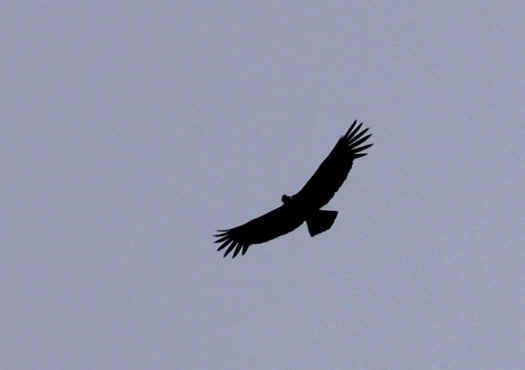 High in the sky, an Andean Condor flies.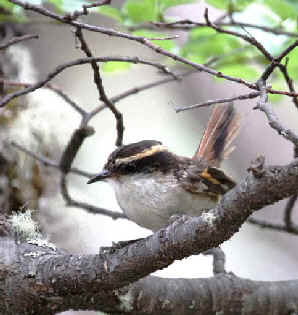 In the trees of the Nothofagus Forest
of the Los Glaciares National Park,
the spritely little bird known as the
Thorn-tailed Rayadto.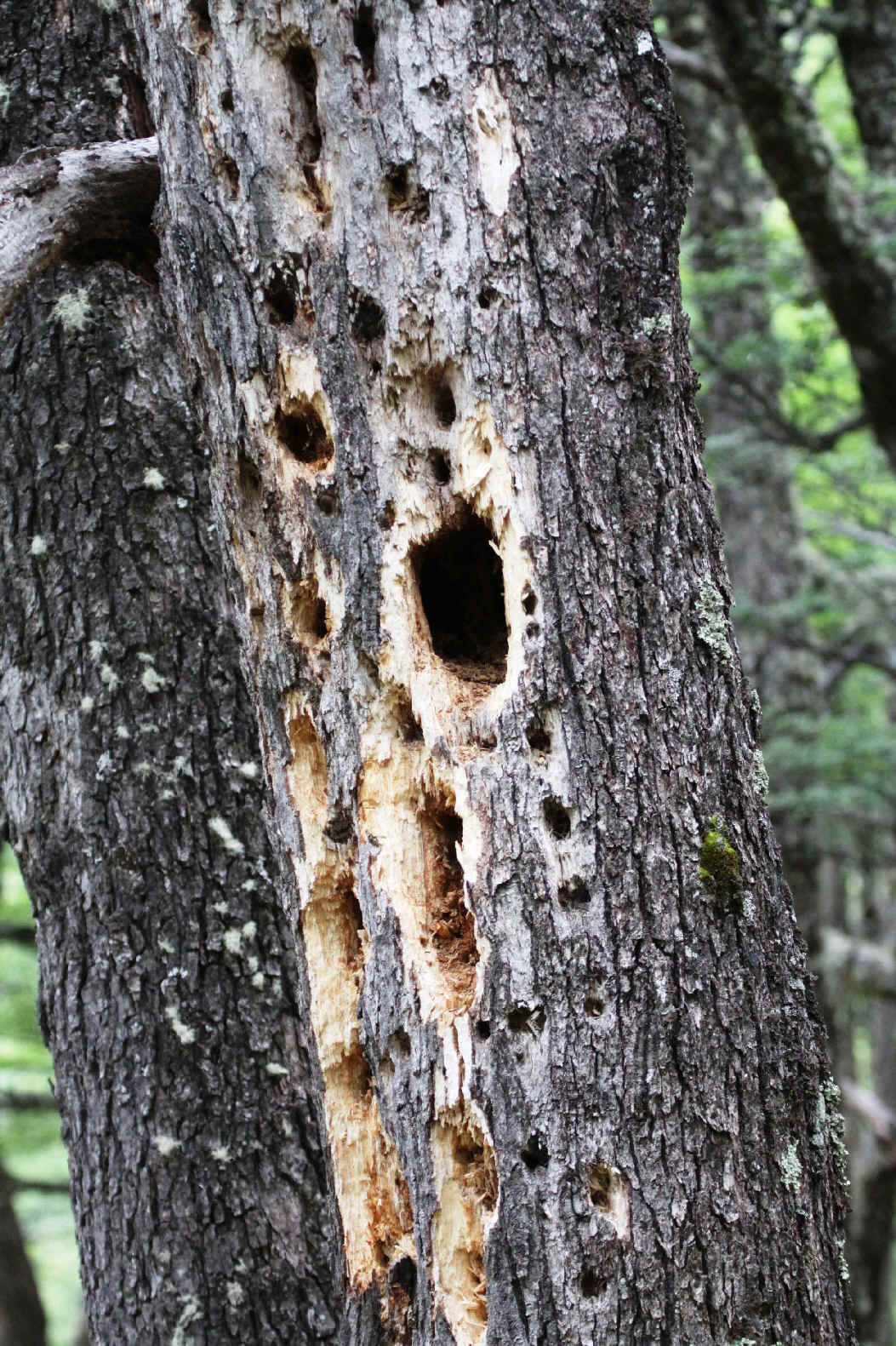 And on the trees, the evidence
of the Magellanic Woodpecker.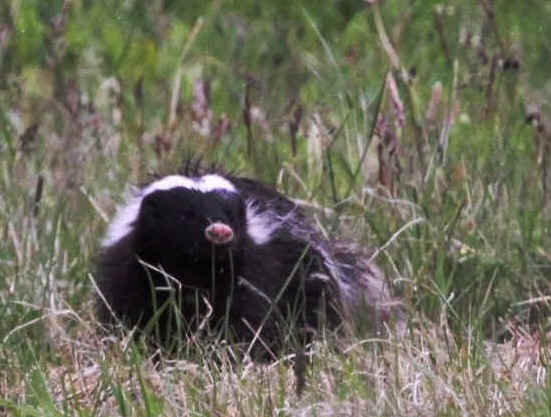 On the ground, in the park,
1 of the 15 species of mammals during our tour,
the Patagonian Hog-nosed Skunk.
As this photo shows, it is aptly named.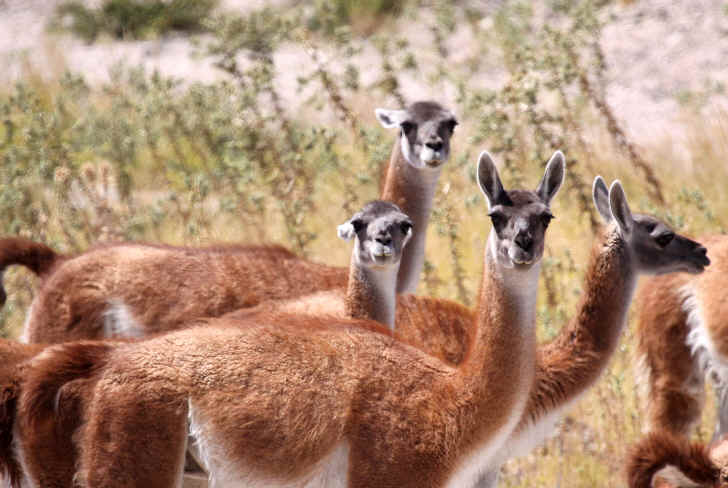 A mammal that we saw many of during our time in Argentina
was the Guanaco.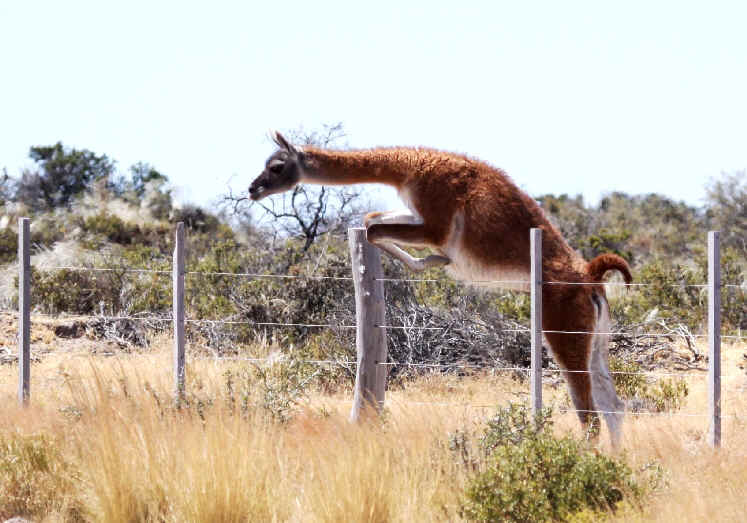 And we saw how one jumps a fence.
The animal stops, and springs up from the ground.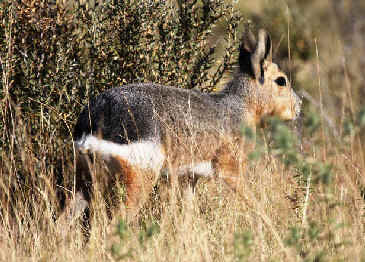 An unusual mammal that we saw
was the Patagonian Mara.
It's in the cavy family.
When it moves, it often springs,
bouncing as it goes,
appearing to hop like a small kangaroo.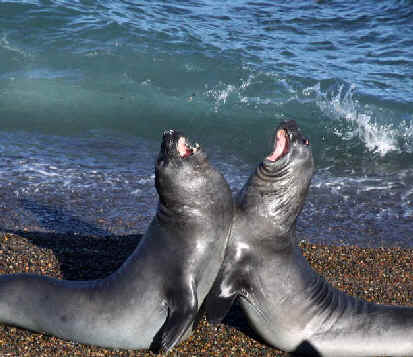 Two Southern Elephant Seals
on the beach of the Valdes Peninsula.

When not on the beach, and far out at sea,
Southern Elephant Seals spend very little time
at the surface of the water.
They dive repeatedly, generally for more than 20 minutes.
hunting their prey, squid and fish,
at depths of 1,300 to 3,300 feet beneath the surface of the sea.
They are the deepest diving air-breathing non-cetaceans,
going as deep as the maximum record of 6,998 feet.

Adult females typically weigh from 880 to 2,000 pounds.
Adult males weigh from 4,900 pounds to 8,800 pounds,
and measure from 14 to 19 feet long.
An adult female averages 1,700 pounds in weight.
Mature males average 7.000 pounds.
The largest ever measured was 22.5 feet long
and was estimated to weigh 11,000 pounds.
The Southern Elephant Seal is the largest seal in the world.
(as noted in the sign below)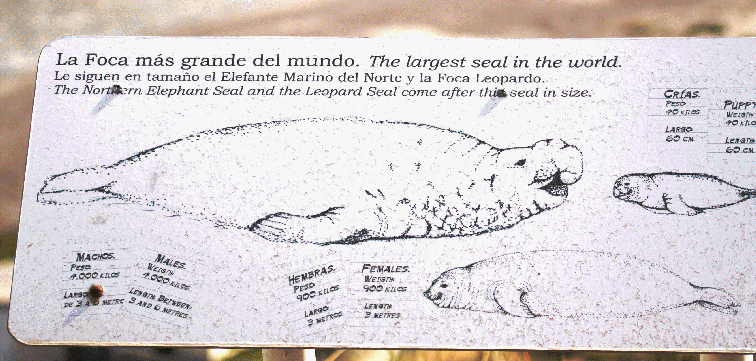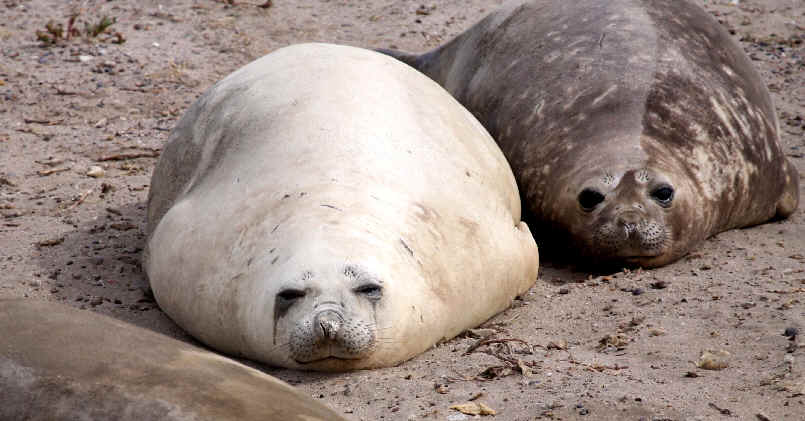 When Southern Elephant Seals shed their skin,
some are light and some are dark.
Here, kind of like vanilla and chocolate.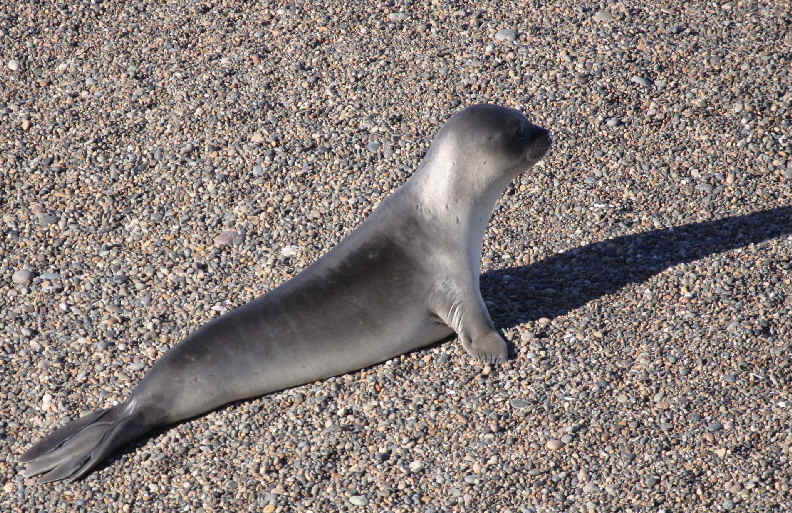 And here's a Southern Elephant Seal pup.
To think it can grow to weigh 2,000 or 7,000 pounds.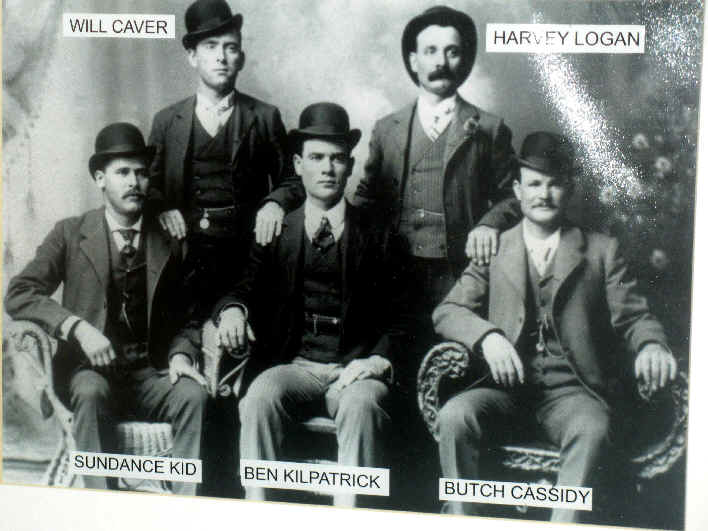 No, this was not our group in 2013,
but in 1905 or so, this group did stay in remote Patagonia
where we did
at what was then a roadhouse, and is now a restored historic inn,
not near anything except a road and a river.
You may notice that two in the group are
"Burch Cassidy" (an alias, his name really was Robert Leroy Parker)
and the "Sundance Kid" (not sure of his real name).
They hid in that part of far-southern South America for about a year,
after robbing an Argentine bank, and before going to Chile,
and then Bolivia, where they died in a shoot-out.
The place where we and they stayed is called "La Leona",
referring to a female Puma, or Mountain Lion.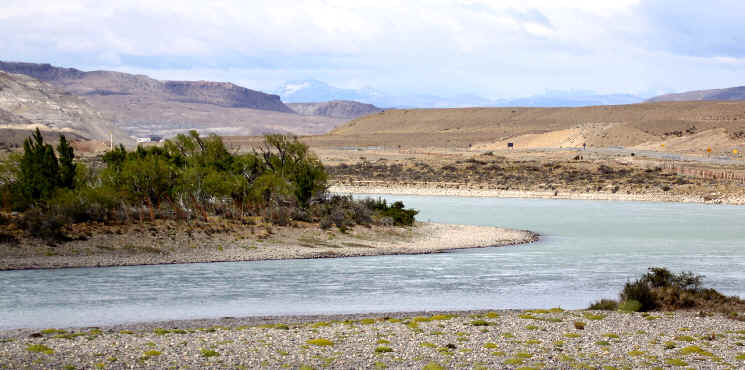 The river at La Leona.
It is one of the rivers that flows in the Argentine Patagonian steppes
from 13 glaciers that descend in the continental ice field in the Andes.
That glacial water flows into two large lakes, Argentino and Viedma.

In this area, after dark, there were no human noises whatsoever,
with only the sounds of the water and the wind.



Web page by Rise Hill