Last time, here, on the Birdline, it was noted that a PRAIRIE FALCON has returned to south-central
, for the 6th consecutive winter season.
In error, it was said that the bird has been in York County. Not so, it's been in
More detailed information follows here about that area where that bird has been, along with a summary of info about the PRAIRIE FALCON at other places in
. I do not know of such a summary having been put together anywhere else.
, where it is uncommon. There is an estimated breeding population of from 4,300 to 6,000 pairs in the
.
(with about 820 pairs).
The density of the species' population throughout its range is generally low except in the Snake River Birds of Prey Natural Conservation Area in
, where it is high.
Wintering is mainly south and east of the breeding range. Major wintering areas include
. It occurs irregularly in the non-breeding season east into
.
may remain in favored areas for varying lengths of time. A few may remain all winter.
At times, the species follows large flocks of prairie-dwelling passerines, particularly HORNED LARKS and EASTERN & WESTERN MEADOWLARKS.
, has been accepted, by the Pennsylvania Society for Ornithology Records Committee, as a wild bird.
, when it was first found in PA during the Newville Christmas Count, the bird was described as being a first-year bird. It was seen twice that winter, with the second time in the general vicinity of Mud Level Road. Photographs were taken that first winter.
As an adult, a single PRAIRIE FALCON has been seen in that area every year since, in the vicinity of Mud Level Road, and roosting in a quarry off Duncan Road.
Generally, it has arrived in late November, and departed by late February or early March.
, it was last seen on March 10.
, it was first reported on January 1, 2008 at Running Pump Road, and last reported on February 6.
At that time, the bird had not yet been accepted by the Pennsylvania Ornithological Records Committee.
, it was reported in the Mud Level Road area from December 4, 2009 to February 26, 2010. During that time, it was seen by many observers.
, the PRAIRIE FALCON returned for a 5th straight year on November 20, to the Mud Level Road area. During the winter of 2010/2011, it was present throughout the period.
, the PRAIRIE FALCON was first reported in the Mud Level Road area on November 29.
Last Saturday, December 10, the bird was looked for, ardently, but was not seen. But the next day, on Sunday, December 11, it was observed, by someone during their first attempt.
Generally, the best success for seeing the bird has been said to be either before 10am, or after 2pm. It roosts in a quarry off Duncan Road, and overall it's been most likely to be found when hunting, when coming off the roost or when returning.
Although the bird has been seen further afield, most sightings have been from the stretch of Mud Level Road between the intersections with Britton Road (to the west) and with Kelso Road (to the east). It does have some perches that it seems to favor.
From US Route 11 & PA Route 696, in Shippensburg, go north on 696 almost 2 miles to Mud Level Road.
. But in the Sibley Guide to Birds (published in 2000, indicating firstly that time does go by), the range map has a sprinkling of green dots in the East, indicating records at the time of printing in
.
Additionally, the National Geographic Complete Guide (Alderfer 2005) indicates records for
In the Pacific: CA, OR, WA
In Canada West: BC
In Canada Central: AB, MB, ON, SK
In Alaska:
none

Anyway, I became intrigued by the "sprinkling of green dots" in Sibley's book. I did not know of the species in the East other than the bird that's been in
Pennsylvania
now 6 winters in a row. So, I thought I'd look into it a bit, and share the findings here.
Information is not here relating to PRAIRIE FALCONS in all the eastern states in the bolded paragraph above, but there is material that's quite interesting relating to some of those states, and one Canadian province.
Close to Pennsylvania, first
Maryland
, where an immature female PRAIRIE FALCON was in Frederick County in October 1950. The bird was banded, and was said to have been shipped in from the West to a boy in Bethesda who lost interest in it.
Another bird at Jug Bay in Anne Arundel County, in February 1994, was thought by some to be a PRAIRIE FALCON, but by others to be a PRAIRIE X PEREGRINE HYBRID, as raised by falconers. Also, a report was confirmed that a female PRAIRIE FALCON had been lost by a falconer in Virginia seven months earlier. So, Maryland remained without a "first record", and, as you may have noticed, is not in the above list of states.
But the circumstances are included here to indicate some factors that could be involved in the determination of whether the species is "wild" in the East - still bearing in mind, that a pattern of vagrancy in the East (if it exists) has not yet been established.
The one
Massachusetts
record is a specimen in the Harvard Museum of Comparative Zoology. It was mislabeled as a GYRFALCON. The location and date on the specimen tag are "Mass. coast 15 (?) Jan 1898". There is no reference to it (as either GYRFALCON or PRAIRIE FALCON) in Howe's 1901 "Birds of Massachusetts" with Grover Allen.
It is now said that there no question about the id as a PRAIRIE FALCON, but details are lacking (and may always be) as to, among other things, the precise location and date.
Ontario
has had 2 accepted records of PRAIRIE FALCONS and 8 rejected. The 2 accepted records, I believe, were in western Ontario, which would be more like the North-Central (or Midwest US) rather than the East.
Ohio
has had 6 records of PRAIRIE FALCONS, all modern. Two were within 10 miles of Lake Erie, in Lorain County in 1940, and in Ottawa County in 2007 (one captured, one photographed). All the others (4) were in central Ohio.
A bird, presumably the same one, wintered 2 years in a row (2003/04 & 2004/05). It was seen by many observers, and it was photographed. It was in a vast, reclaimed strip mine area that could, with a glance, appear to be in Wyoming.
Another was shot at the Franklin County Air Force Base in 1983.
Another bird was shot in Licking County, and later became a specimen in 2005 (not the same bird noted above).
Two occurrences in Ohio (and probably the same bird) involve the occupying of a territory for a considerable period. The others were transients in whatever habitat they happened to be. None of the birds had jesses, bands, bells, or any indicators of falconry.
Regarding the two wintering birds in Ohio, as they hunted, they were observed foraying out from low perches, often haybales and fence posts, or sites as high as utility poles. They were not observed stooping from high soaring.
From a master falconer
, who has studied PRAIRIE FALCONS in Nevada,
the following comments
. He says he knows a number of falconers (in Indiana & further west) who have flown the "desert falcon", or PRAIRIE FALCON.
The species, he says, has occasionally been seen in Illinois and in the Mississippi Valley, but further east, as we know, not common at all.
The PRAIRIE FALCON is closely related, he continues, to the GRYFALCON (which is actually an Arctic "desert falcon"). And they hunt in the manner of GYRS. They are quite capable of long, very fast, powerful stoops (dives), from which they can kill birds (he says) with greater success than PEREGRINES.
In the West, a few falconers prefer the PRAIRIE FALCON because of its high kill success rate.
But getting the bird to go up and take a "pitch", to set its wings at 500 to 1000 feet and await the putting up of game can be problematic.
The species prefers to sit on cliffs or utility poles and shoot out in a fast tail chase to take a fleeing bird, in the manner of a MERLIN.
The PRAIRIE FALCON'S has a preference for taking small mammals. It commonly takes voles, and in the west ground squirrels. Not so in the winter, as ground squirrels hibernate. Voles and small birds are the prime winter diet.
Lastly from the notes of the falconer: Falconers much prefer to use captive-bred longwings, PEREGRINES, GYRFALCONS, or HYBRIDS of such. Presently, he says he knows of only true PRAIRIE FALCON in the hands of an Ohio falconer, and he takes it to Oklahoma and Kansas to hunt with it.
PRAIRIE FALCONS are now rarely flown by falconers anywhere. They are irascible to train. There are now lines of really fine falconry PEREGRINES and PEREGRINE/GYR HYBRIDS that are preferred.
Now, from the falconer's comments, back to those of birders
:
Michigan
currently has 3 accepted records of PRAIRIE FALCONS: one in August 1987 in Calhoun County, one in October 2007 in Wayne County, and one in April 2008 in Huron County.
The August '87 bird was present for 4 days at a larger airport.
The other two records are from Great Lake coast hawkwatches as fly-bys. One, as noted, was in the fall, and the other in the spring.
There have been 2 additional Michigan records since 2008 that are almost certain to be accepted: one during fall migration along the Saginaw Bay/Lake Huron coast, and one along the Lake Michigan coast this past August (2011).
Mississippi
has one accepted record of a PRAIRIE FALCON. It was an adult female that wintered at Enid Lake in Yalobusha County. It was first found on December 7, 1991, and then every year, for 8 consecutive winters, she spent those winters in that vicinity. Many observers saw the bird.
There are a couple old sight records from the Mississippi coast that have, rightly or wrongly, been called "escapees".
And that's our look, here, at the PRAIRIE FALCON in the East. Special thanks for the information goes to Vern Gauthier of Pennsylvania and Phil Davis of Maryland, with additional thanks going to: Matt Garvey in Massachusetts, Mark Cranford in Ontario, Bill Whan and John Blakeman in Ohio, Caleb Putnam in Michigan, Gene Knight in Mississippi, and Bob Keener in Pennsylvania.
One last note about the PRAIRIE FALCON in
Cumberland County, Pennsylvania
. On one occasion, a few years ago, when a PEREGRINE FALCON was in its wintering area, it was observed zipping in and striking the PEREGRINE, and then pursuing it, as both birds flew toward the quarry.
Now, from the Birdline Archives, let's go back about 30 years to when I was doing the Birdline only on the phone. It was not yet, of course, on the internet, nor was it even typed on a computer.
The following is from either my hand-written notes or what I typed on a TYPEWRITER, about the most famous of FALCONS ever in Pennsylvania, the GYRFALCONS that were in Lancaster County during 2 Winters in the Early Eighties.
Here, the scripts of what I read, in early 1982. I hope you enjoy.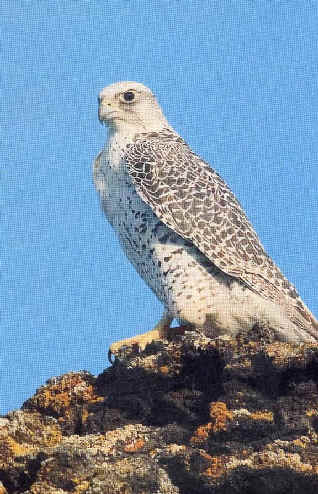 A white Gyrfalcon
From the January 4, 1982 Birdline:

It is a new year, and this is the first edition of the Birdline for 1982. Highlights include these birds, in Pennsylvania: the previously-reported WHITE GYRFALCON, a newly discovered DARK GYRFALCON, a BLACK-LEGGED KITTIWAKE on a lake upstate, a BLACK-BACKED 3-TOED WOODPECKER, some BOREAL CHICKADEES, lots of PINE GROSBEAKS, and some GOLDEN EAGLES.

A review of area Christmas Counts will be given later, but, now, let's begin this tape with a bird that has spent the last 5 weeks or so in an area that is not included in any Christmas Count Circle. And that bird happens to be not only the most outstanding bird that's been in our region, but also anywhere in the Northeast US so far this Winter - the WHITE-PHASED GYRFALCON in the Amish Farm Country of Lancaster County, Pennsylvania. It continues to be seen in that same area of the county, west of New Holland.

It was first discovered there, you may remember, back on November 27 (1981), but now more and more people having been seeing the WHITE-PHASED GYR.

Certainly responsible for this has been the discovery of a tree where the GYRFALCON often spends the night. The bird has been seen either leaving that tree early in the morning, often by 7am, or returning to it around 4 o'clock in the afternoon. The latter time has often provided more rewarding sightings, as the bird stays and the light is better.

In recent days, the GYRFALCON has returned to the tree at about 4pm on December 29, 30, 31 and January 2 and 3. It did not appear there, however, in the late afternoon on January 1, although it was seen in flight in the area, earlier that day.

An area where the bird has been seen, with some regularity, during the day has been a few miles west of the tree. On December 30, for example, it was seen eating a PIGEON and then preening, along Brethren Church Road.

Another bird, described well as a DARK-MORPH GRAY GYRFALCON was seen, around 3pm on January 1, also in Lancaster County, along Doe Run Road, behind the Manheim Shopping Center, east of Manheim, and north of Lancaster. The bird was seen flying and diving, and it was photographed.

Returning to the WHITE-PHASED GYR for a moment, please do not leave the road to get closer to the bird when it is in the roost tree. A few people went onto the field, yesterday afternoon, January 3, and the bird left.

Also in that area of Lancaster County, west of New Holland, numbers of ROUGH-LEGGED HAWKS continue to be seen, both DARK and LIGHT-MORPH BIRDS.
Estimates of those numbers, in that area, range from 50 to 75 ROUGH-LEGGED HAWKS.

Yet another bird from the North was present, in that Amish Farm Country, west of New Holland: a SNOWY OWL. But the bird was not reported again after December 23 (1981).


From the January 9, 1982 Birdline:

Actually, at least 4 GYRFALCONS have been seen in eastern Pennsylvania in the last two months.

Back on November 14, 1981, two hawk-watchers, Ken Kranick and Dave Simpson, were on the Kittatinny Ridge, at a place called Baer Rocks.
Both of these men have had considerable hawk-watching experience, and both of them enjoy spending their time in that pursuit.
Ken, for example, during the 1981 Fall Season, spent 65 days on the ridge watching hawks. He has done much the same for the last 14 years.
The late Maurice Broun - who, as many of you know, was the first curator at Hawk Mountain Sanctuary for many years - spent a number of his later years observing autumn hawk flights, with Ken, at Baer Rocks, located just a few miles south of Bake oven Knob.
It was from Baer Rocks, back on November 14, that Ken and Dave saw a BROWNISH GYRFALCON. The bird flew below them, circled a couple times, and then went on. At one point, it passed within 200 feet of them.
Exactly, one week later, on November 21, Ken and Dave saw another GYRFALCON from Baer Rocks, a bright GRAY BIRD.

It was less than one week later, November 27, when Sidney Lipscutz and Ed Fingerhood were in Lancaster County, looking for LONGSPURS, and found instead the WHITE-PHASED GYRFALCON, a bird that was to become the most sought-after bird in these parts, in a long time - and, in fact, it has continued to be seen and sought after, west of New Holland, as late as yesterday, January 8. People continued looking for it today.

The 4th GYRFALCON in eastern Pennsylvania, as noted earlier this week on the Birdline, was another bird in Lancaster County - a DARK, GRAY GRYFALCON that was found on January 1, when it was seen and photographed from Doe Run Road, east of Manheim.
it may, or may not have been the same bird that was seen today, January 9, but a GRAY GYRFALCON was seen this morning, west of new Holland, by a number of birders as it flew about over the fields by Balmerstown Road, and, in fact, over the tree where, in recent days, the WHITE GYRFALCON has roosted.
That WHITE-PHASED GYRFALCON continued to be seen every day this week.

A white SNOWY OWL has been seen in the area west of New Holland, for the first time since December 23 (1981).


From the January 15, 1982 Birdline:

The biggest story on the Birdline so far this Winter has been, of course, that of the GYRFALCONS (both WHITE and GRAY) in Lancaster County, Pennsylvania. The story has eclipsed all others, but there has been another big story about another type of bird from the North, with the largest incursion of PINE GROSBEAKS into Pennsylvania and New Jersey in years, with unprecedented numbers of them seen.

But now, the latest about GYRFALCONS, and other birds, in Lancaster County, Pennsylvania:
Unfortunately, the latest is that there have been no GYRFALCON SIGHTINGS, in the area west of New Holland, since Saturday, January 9.
The last reported sighting of the WHITE GYRFALCON in that area was early in the morning on Friday, January 8.

The next day, however, did turn out to be an exciting day for birders in that area of Lancaster County because many of those birders, to their surprise, saw a DARK-MORPH GRAY GYRFALCON.
The bird was seen at various spots in the area throughout the day, on Saturday, January 9. But that day was also the last day, at least as of now, that the GRAY GYRFALCON was seen.
The last reported sighting of it was after 4:30pm, when the bird was seen roosting, incredibly, in the same large tree, along Balmerstown Road, where the WHITE GYRFALCON had roosted as recently as 3 nights earlier.
However, when the DARK GYRFALCON was seen in that tree, at dusk, on Saturday, it could be seen from the east, from Farmersville Road, but not from Balmerstown Road. earlier.

The DARK GYRFALCON was not seen leaving the tree the next morning, and, although many birders were in the area throughout the day, on Sunday no GYRFALCONS were seen - that day, or any day since.

The SNOWY OWL in the area was seen, however, on Sunday, January 10, along Musser school Road, and it continued to be seen, south of Route 23, as late as today, January 15.

Birders who were by the GYRFALCON ROOST TREE, north of Route 23, by Balmerstown Road, at dusk, on Saturday, January 9, were treated to a SHORT-EARED OWL hunting over the field, by the tree.
As many as 3 SHORT-EARED OWLS were seen in that area that day, and as late as Tuesday, January 12.


From the January 21, 1982 Birdline:

With bird sightings from the Shore to the Susquehanna, this is the Birdline, with the news of the re-appearance of the WHITE GYRFALCON.

Yes, the WHITE GYRFALCON that has been, this Winter, in the Amish Farm Country, west of New Holland, Pennsylvania, was seen there again, last Sunday, January 17, at 10:10am, by Eby and Hess Roads (an intersection, not a couple of people).
It was seen chasing some PIGEONS, and then it flew off to the east.


From the January 28, 1982 Birdline:

As unbelievable as it may seem, there is more here about both the WHITE and the DARK GYRFALCONS that have been, this Winter, in Lancaster County, Pennsylvania.
The story about the GYRFALCONS in Lancaster County actually began back in November, and that incredible story seems to have no end.
It continues now, on this tape, with the exciting news that on last Sunday afternoon, January 24, two GYRFALCONS, one WHITE and one DARK, were seen together, for about an hour, flying about over a quarry, northeast of Lancaster.
And, GYRFALCON SIGHTINGS have continued, at that quarry, and elsewhere in Lancaster County, since then.

The quarry is located just a few miles west of the famous roost tree along Balmerstown Road, where both the WHITE and the DARK GYRFALCONS were seen, on various occasions, earlier this month.

Incidentally, the WHITE GYRFALCON was seen roosting in that tree, again, last week, late in the afternoon on Tuesday, January 19. The bird that day could only be seen, however, from the east, from Farmersville Road.

Returning now to the quarry, along (aptly) Quarry Road, north of Leacock, here is this week's story of the GYRS so far:
Both the WHITE and DARK GYRFALCONS were, as noted earlier, seen together at the quarry last Sunday afternoon, January 24. Both birds were there around 4pm.
The following morning, on Monday, both birds were seen leaving the quarry at about 7:15.
On Monday afternoon, the DARK GYRFALCON was back again on the cliffs of the quarry. It was there from 3 o'clock on, and the story was much the same on Wednesday, January 27, when the DARK GYR was seen there again, around 4 o'clock.
Also at the quarry have been lots of PIGEONS upon which the DARK GYRFALCON has been seen feeding.

The WHITE GYRFALCON was seen today, January 28, back at the spot where the bird was originally found just about 2 months ago to the day: by Musser School and South Groffdale Roads.

The white SNOWY OWL, previously reported on the Birdline, as being in that same area of the Amish Country, west of New Holland, continued to be present there, along Zeltenreich Road, as late as yesterday, January 27.
Zeltenreich Road is off Musser School Road, which is off South Groffdale Road.


From the February 4, 1982 Birdline:

Our reports begin, on this tape, with those of the GYRFALCONS, again, in Lancaster County.:

There seems to be some question as to how many GYRFALCONS have actually been in Lancaster County lately, and specifically, in the area of the quarry, along Quarry Road, north of Leacock, where GYRFALCONS (in the plural) continued to be seen, as late as today, February 4.

Some people think that recent sightings in that area of Lancaster County have, in actuality, been of two DARK GYRFALCONS and one WHITE GYRFALCON.
Others have noted that when the GRAY GYRFALCON has been seen sitting, as it has been at the quarry, it seems quite dark, but when it's been seen flying, it gives a lighter, gray appearance.

But, anyway, the bottom line, so far at least, is that never has more than one DARK GYRFALCON been seen at one time.

Last Saturday morning, January 30, birders were treated to two GYRFALCONS, one DARK and one WHITE, together, at the quarry, noted earlier, north of Leacock. In fact, those two GYRFALCONS spent a good part of that day together.
Both birds were at the quarry around 7am. Both birds left. However, soon the WHITE BIRD came back, and, a little later, so did the DARK BIRD.
At about 10am, both birds were seen flying around the quarry. One was heard calling. At another time that morning, both GYRFALCONS were seen sitting, close together, on the ledges of the quarry. They were almost side by side.
A short while later, both birds left the quarry, flying off to the east.
A little while later than that, at about 1:45pm, both birds were seen, still together, near the now infamous roost tree along Balmerstown Road.

Today, February 4, both GYRFALCONS were seen again. The GRAY BIRD was seen this morning by the quarry, while the WHITE BIRD was also seen this morning from along Center Square Road, north and east of the quarry.


From the February 18, 1982 Birdline:

During the period from February 4 to 11 (1982), 1,042 people called the Birdline (we had on that old tape recording machine, at that time, a counter).
I want to thank every one of you who called, as it was the first time that the "Birdline" ever received over a thousand calls in one week's time.

Many of those calls, of course, were from people who wanted to hear about the GYRFALCONS that have been this Winter in Lancaster County, Pennsylvania, and again on this tape, you will hear that both of those GYRFALCONS were seen there, this past week, in the Amish Farmland, west of New Holland, and north of Leacock.

And again, this past week, there were sightings of the SNOWY OWL, that's been this Winter in the area west of New Holland, in Lancaster County.
It was seen seen as late as Tuesday, February 16, when it was along Zeltenreich Road. Over the weekend, it was seen on both Saturday and Sunday, along Scenic Road (providing a nice sight, as it was).

That other white bird, the LIGHT-MORPH GYRFALCON, that's been in the same area, was seen on Friday, February 12, just before noon, from along Musser School Road.
Also seen from Musser School Road, that day, was a flock of about 40 SNOW BUNTINGS, including one in breeding plumage.

The DARK GYRFALCON, that's been in that area of Lancaster County, was seen both days last weekend at the Stoltfus Qaurry, north of Leacock.
On Saturday, February 13, it was there in the morning and in the afternoon.
Lots of people saw it there, the next day, on Sunday.
On Monday, February 15, the DARK GYRFALCON was at the quarry in the morning, but in the afternoon, it was in the roost tree along Balmertown Road.

Both the WHITE and the DARK GYRFALCONS were seen swooping together, from Musser School Road, on February 16.

But the Lancaster County Gyrfalcon Story does not end here, far from it. More will be told in later excerpts from the Birdline Archives.


Now, this week, from the Natureline:

Most unusual lately has been the nesting of GREEN SEA TURTLE hatchlings in Delaware, along the seacoast at Cape Henlopen.

It's "most unusual", on two counts.
Firstly, it's the first SEA TURTLE NESTING of any kind in Delaware.
And secondly, whereas LOGGERHEAD SEA TURTLES are more common in offshore waters along the Atlantic Coast, and nest on beaches in the southeastern US, GREEN SEA TURTLES do not nest in areas north of the Caribbean Sea.

Back in August of this year, a female SEA TURTLE was found, laying eggs, on the Delaware beach. She was surprisingly identified as a GREEN SEA TURTLE.
The eggs were deposited in the high tide zone, where they were determined to be vulnerable to beach damage that could result from storms which could happen, as they did, along the mid-Atlantic Coast in the late summer and fall.
Fortunately, the US Fish & Wildlife Service had given permission to move the eggs to a safer location, as later they did hatch.
But the hatching was later than the expected, normal 60-day period. It happened in early December instead of the due date of October 18.
The hatchlings, and some eggs, have since been taken to North Carolina, to the Pine Knoll State Aquarium, where their status was to be determined.
We'll tell you more when we know.


Armas Hill has presented the Birdline, originally from Philadelphia, (and later the Natureline) on the phone and internet for decades (3), and on the radio in Delaware for years (10).

The Birdline (& Natureline) are affiliates of Focus On Nature Tours: www.focusonnature.com

Past Birdlines and Naturelines can be found at: http://www.focusonnature.com/Birdline.htm