Maybe the most unusual bird in the Northeast US this past week has been the SMITH'S LONGSPUR. In Maine, from September 21 until at least September 23 at a place called Norridgewock, northwest of Waterville.
The SMITH'S LONGSPUR normally is in far-northern Canada into eastern Alaska in the summer, and in Arkansas, Oklahoma, and Texas in the winter, and elsewhere in central North America in between.

Who was Smith? GIDEON B. SMITH. Who was he? He lived from 1793 to 1867. In the 1830s, he lived, where he always had until that time, in Maryland. In the 1830s, in that state. there was a boom in the culturing of silk.
Gideon B. Smith was in the middle of it. He invented a new silk reel. He produced millions of silk worm eggs. And he planted, in Baltimore, the first of new strain of mulberry trees that grew with abundant foliage for feeding the silk larvae.
Gideon B. Smith became wealthy, and a subscriber to Audubon's "The Birds of America", and an agent in Baltimore to sell Audubon's work. He was not especially interested in birds, but neither were most of the wealthy subscribers.
He and Audubon met three times in Baltimore. A couple times, Audubon stayed as his guest.
When Audubon and his companions, including Edward Harris, John Bell, and Isaac Sprague, traveled west, Smith, in Baltimore, was expected to publicize their endeavors to current and potential subscribers in Baltimore society.
Birds, during the expedition, were named after Harris, Bell, and Sprague. Audubon named the new longspur after Smith, calling it the "Smith's Lark Finch".

All that notwithstanding, the bird was actually described to science previously in Canada in 1827, when it was collected during John Franklin's second expedition. It was given the name "Painted Buntling", yes, with an "l".
That name did not stick, but the scientific name from the Canadian expedition, a dozen years before Audubon's bird, did have priority, Calcarius pictus.

A FRANKLIN'S GULL, named after John Franklin, was seen in Maryland on September 23 in Prince Georges County, near Washington DC.
The FRANKLIN'S GULL is normally in north-central North America in the summer, and off the west coast of South America in the winter.

In southern New Jersey, along the seacoast, this past week, a WILSON'S PLOVER, named after Alexander Wilson, the "Father of American Ornithology", was present on September 24 in the area of Stone Harbor Point, and possibly across the inlet in North Wildwood.
In southern New Jersrey, inland, 2 EVENING GROSBEAKS were reported on September 22 in the "pinelands", at Atsion Lake in the Wharton Forest.

According to a report just issued by the Ontario Field Ornithologists, the EVENING GROSBEAK is expected to do well this winter in the East, especially in areas with spruce budworm outbreaks.
However, the population should still be, they say, much lower that it was several decades ago, when budworm outbreaks were widespread and extensive.

A couple more CLAY-COLORED SPARROW reports in the East: In Topsham, Maine on September 21, and Cape May, New Jersey, September 22.

A summary, intended here, of some of the hawk migration, thus far this season, will be given next time. That migration, of course, is still continuing.


NATURELINE: Wolves and Coyotes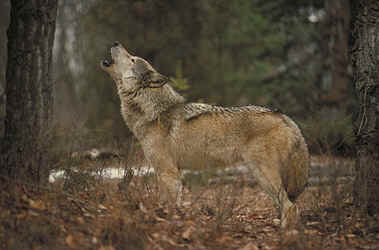 A Wolf

The Eastern Wolf is said to be a distinct species, although it has also been said to be a subspecies of the Gray Wolf or the Red Wolf. Science has shown that it is closely related to them, but that is not the same species as either of them.

The Eastern Wolf is a small to medium sized wolf with a light brown or reddish coat. They also have some longer hairs in their coat that are usually black. As Eastern Wolves gets older, they develop more of those long black hairs.

Eastern Wolves are often mistaken for Coyotes due to their coloring and build.

Well known are the Eastern Wolves in the area of the Algonquin Provincial Park in Ontario, Canada, where they have a large home range. It is believed that packs of Eastern Wolves follow the movements of White-tailed Deer, as a way to have plenty to eat, especially in the winter months.

Eastern Wolves are said to be very dependent upon the social aspects of their pack. They are quite loyal to each other and will do all they can to keep other packs of wolves out of their territory. That is why they are often heard howling, so as to publicize and protect their territories.

Eastern Wolves are most active at night but they can also be seen out during the day.

The Eastern Wolf has a diverse diet. Sometimes animals hunt on their own, but most of the time they hunt with their pack. Some of their prey when they hunt alone include rodents, beaver, and muskrat. Prey when they hunt in their pack includes deer and moose. In some instances, they have even been able to successfully kill a Black Bear.

The alpha and beta animals mate in February, with the young born about two months later.

The Eastern Wolf has been known to mate with different types of Coyotes in their areas. That definitely affects the overall genetics of the species (see below the results of a recent study). It is interesting behavior because otherwise wolves have often been known to aggressively run off Coyotes, and in the case of the Gray Wolf in the west, even kill them.

In a recent genetic study, published in May 2011, and adding fuel to a longstanding debate, it was determined that wolves in the eastern United States are hybrids of Gray Wolves and Coyotes, while Coyotes in that region are actually wolf-coyote-dog hybrids.
There were 16 researchers involved in the study from around the globe. It was said to be the most detailed genetic study of any wild vertebrate species to date.

The study is not likely to have any impact on the management of the endangered Red Wolf in North Carolina and the Eastern Wolf in Ontario, but it offers some fresh insight into their genetic make-up and concludes that those wolves are hybrids that developed over the last few hundred years.

On the other hand, some scientists have argued that the Red Wolf, Canis rufus, and the Eastern Wolf, Canis lycaon, evolved from an ancient wolf species distinct from the larger Gray Wolf, Canis lupus, of western North America.

The recent study, referred to above, showed a gradient of hybridization in wolves, as follows:

In western North America, wolves were pure wolf.
In the western Great Lakes region, they averaged 85 percent wolf and 15 percent Coyote.
Wolves in Algonquin Park in eastern Ontario averaged 58 percent wolf.
The Red Wolf in North Carolina, which as been the subject of extensive preservation and restoration efforts, was found to be 24 percent wolf and 75 percent coyote.

Coyotes, in the northeastern US, which only colonized in the region in the past 60 years, were found to be 82 percent coyote, 9 percent dog, and 9 percent wolf.

In a study, last year, museum specimens and genetic samples were used to show that Coyotes migrating eastward bred with wolves to evolve into a larger form that has become the top predator in the Northeast US, filling a niche left when native eastern wolves were hunted out of existence. This hybridization allowed Coyotes to evolve from the smaller mouse-eater of western grasslands to a larger deer-hunter in eastern forest.

Still a question is how it is that Gray Wolves don't typically breed with Coyotes, but kill them. In the West, wolves don't hybridize with Coyotes, even in the circumstance when single wolves looking for mates have dispersed into the middle of "Coyote country".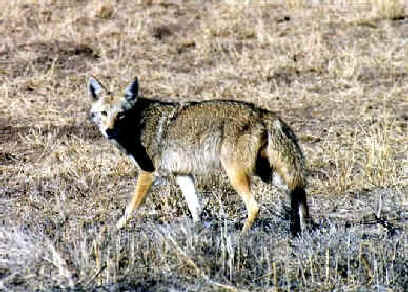 A Coyote
(photo by Marie Gardner)