PO Box 9021, Wilmington, DE 19809, USA
E-mail: font@focusonnatire.com
Phone: Toll-free in USA 1-888-721-3555
or 302/529-1876

Website: www.focusonnature.com

A FOCUS ON NATURE TOUR IN

Wisconsin and Minnesota
USA

including in Wisconsin:
the International Crane Foundation,
the "Birds in Art" Exhibition at the
Leigh Yawkley Woodson Museum in Wausau

And birds & other wildlife outside
at some extraordinary & wild places
such as the Crex Meadows Wildlife Area,
and Manitowish Waters
where we will meet with someone from
the Timber Wolf Alliance.
Yes, some wild places.

Also in nearby Minnesota:
the Hawk Ridge Bird Observatory in Duluth.

From Tuesday, October 6
to Friday, October 16, 2015

(tour: FON/WM-1 '15)


During this tour, we'll visit the renowned International Crane Foundation near Baraboo, Wisconsin.
Much has been done from that special place, to preserve cranes and their habitats throughout the world.
Every species of crane (all 15 of them) can be seen at the ICF near Baraboo.

An excellent book about the cranes of the world, and certainly worth the read, is entitled "The Birds of Heaven: Travels with Cranes", well written by Peter Matthiessen, and nicely illustrated by the artist, Robert Bateman. It would be worth the read either before or after the tour, preferably before.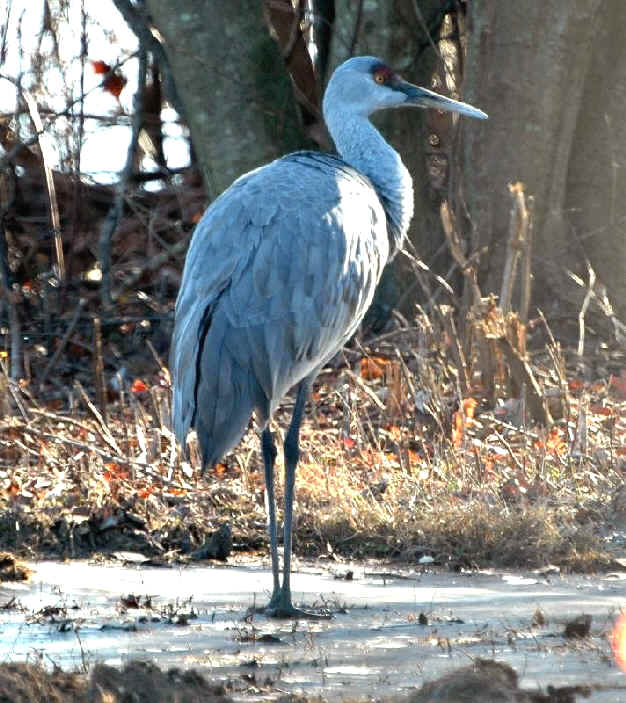 The Sandhill Crane is the most numerous
of the 15 species of cranes in the world.
In Wisconsin, it is the most common crane in the wild.
Also there now in the state are Whooping Cranes,
and at the International Crane Foundation in Baraboo, Wisconsin,
all of the world's 15 species of cranes reside.

Also during this tour in Wausau, Wisconsin, at the Leigh Yawkey Woodson Art Museum, we'll attend the "Birds in Art" Exhibit.
Every year, for a number of years now, that museum has held that exhibit with a simple idea: BIRDS, filtered through the minds and hands of more than 110 artists, creating an exhibition that is always absorbing, thought-provoking, and imaginative. Birds of all shapes and sizes, from backyard feeder favorites to more exotic species from remote corners of the world receive their due. In the grounds surrounding the museum, there are many sculptures of wildlife creatures, both of birds and animals.

And then we'll travel north into the "wilds of northern Wisconsin".
We'll spend our time in the area of the small town of Mercer. That area was so remote years ago that it was there where John Dilinger hid from the law.
Now, the area is still remote and wild enough that Timber Wolves live there. In the area of the Manitowish Waters, we'll have a "wolf lecture" with someone from the Timber Wolf Alliance and we'll be out in the field for some tracking of them, and having some birding as we do.

In 1958, the last wild Timber Wolf at the time died, hit by car. The species, a symbol and integral part of the nature of that wild country was gone.
However, almost 2 decades later, by 1975, the Timber Wolf had officially reestablished itself, and now, as a protected species, and with the efforts of conservationists, it is present in that wild part of northern Wisconsin again. The latest estimate is that there are 800 wolves in that area.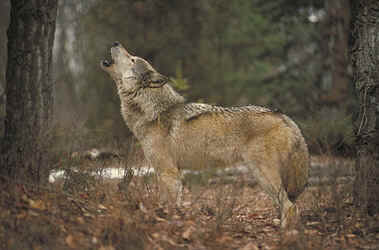 A wolf howling


To read some historical background about the wolves in Wisconsin, you might get the book "The Timber Wolf in Wisconsin" by Dick Thiel, published in 1994.
And for some good reading about the region where we'll be in northern Wisconsin, there's the book "The Waters of Star Lake", a novel by the local author, Sara Rath, relating to the area of Mercer and referring to the wolves.

Next, in Duluth, Minnesota, we'll be at Hawk Ridge. Raptors that can be expected to pass by when we'll be there include: American Kestrel, Merlin, Bald Eagle, Northern Harrier, Sharp-shinned Hawk, Northern Goshawk, Red-tailed Hawk, Rough-legged Hawk, and Golden Eagle. We'll also go in the Duluth area for any "special birds", particularly "boreal species" that may be present.

Lastly, when we are back in Wisconsin, we will go to a special place:
It will be the Crex Meadows Wildlife Area, in far-northern Wisconsin, in what is called Indianhead Country. It is 30,000 acres with a variety of habitats and assortment of wildlife.
In mid-October, there are peak numbers for the year of Sandhill Cranes, Geese (both Canada and Snow), diving ducks, and Bald Eagles.
With the fall foliage at its peak, it will be a great place to be, with much to see and enjoy.
In the area, once part of the Wisconsin Pine Barrens, there is now the state's largest remaining portion of that endangered ecosystem. And along with the water, attracting so many birds, there are sedge marsh and brush prairie among the habitats.
That one place, the Crex Meadows, will, in a way, "have it all" for us, with birds such as waterfowl and cranes, and various mammals, including a resident pack of wolves.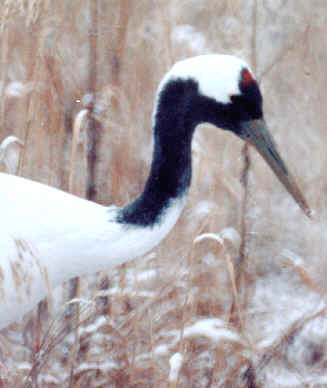 The Red-crowned Crane has been seen
during about 25 FONT tours in Hokkaido, Japan.
Without going there, it will be seen
during our time at the International Crane Foundation
in Wisconsin.

Schedule and Price Information follows.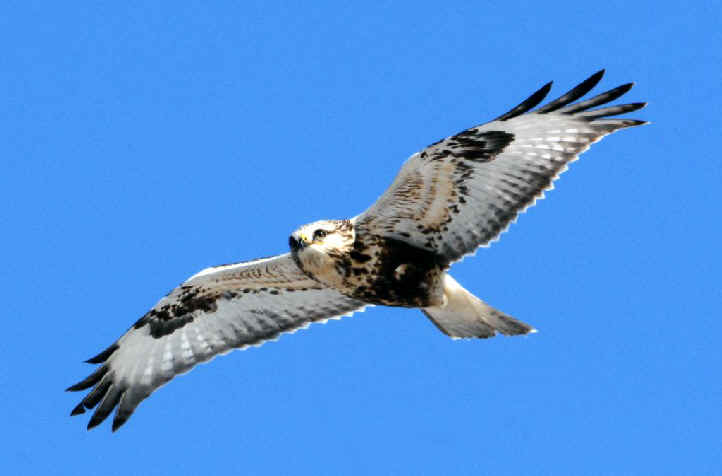 A light-morph of the Rough-legged Hawk

During the days when we'll be at the Duluth Hawk Watch,
Rough-legged Hawks should be there as well.

The basic schedule of the tour:

The tour begins on Tuesday, October 6 mid-day, at the O'Hare Airport in Chicago.
From there, we will go, that afternoon, to Baraboo, Wisconsin, where will spend 2 nights, October 6 & 7. Near Baraboo, we will be visiting the International Crane Foundation.
On October 8, we will travel further north in Wisconsin to Wausau, where we will spend the night of October 8. In Wausau, we will be at the Leigh Yawkey Woodson Art Museum.
During the afternoon of October 9 we'll travel north from Wausau to Mercer, where we'll spend the nights of October 9 & 10 at the Little Bohemia Lodge.
In that wild, remote part of Wisconsin, we'll be in "Wolf Country". At the Discovery Center in Manitowish Waters, with someone from the Timber Wolf Alliance.

Further north yet, and west, we will go on October 11 to Duluth, Minnesota, where, until October 13, we will be birding at the "hawk watch" and elsewhere in the area.
During the morning of October 14, we'll hit a hot spot (for birds & nature that is) in otherwise cool northern Wisconsin, the Crex Meadows Wildlife Area.
After a good time a Crex Meadows, we'll overnight on October 14 a little further south in Wisconsin, and then on October 15 we will travel back to Chicago, to fly home on October 16. The night of October 15 we'll be near the airport in Chicago.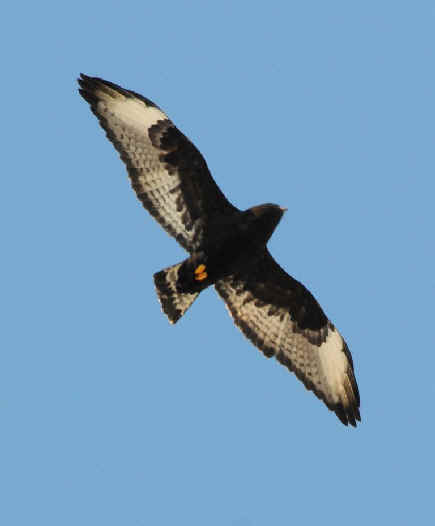 A dark-morph of the Rough-legged Hawk.

Links:
A List & Photo Gallery of North American Birds, in 6 Parts
A Chronological List of Upcoming FONT Birding & Nature Tours

Tour Price: US$ 2,095 per person (based upon double occupancy).
Single supplement: $285.
Includes: All ground transportation during the tour, all overnight accommodations, all breakfasts and lunches, and the services of an expert tour guide.
Does not include: Costs for flights to & from Chicago. Dinners, items of a personal nature.

Tour to be led by Armas Hill
A deposit of US $500 is required to register for this tour.