/
PO Box 9021, Wilmington, DE 19809, USA
E-mail: font@focusonnature.com
Phone: Toll-free in USA 1-888-721-3555
or 302/529-1876
Highlights
FROM some past
FOCUS ON NATURE TOURS

in ARGENTINA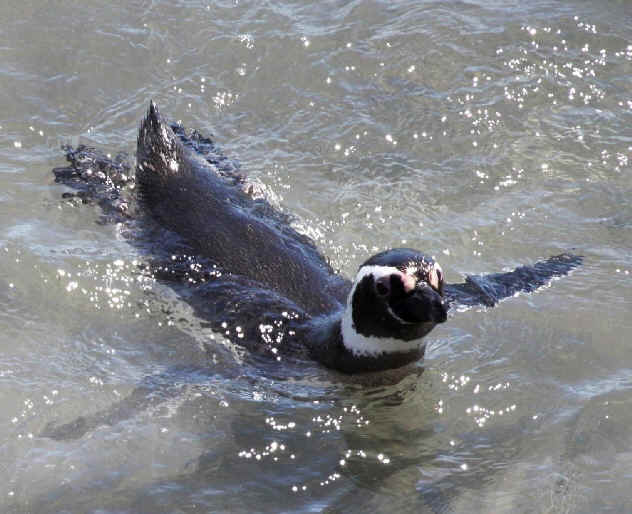 A Magellanic Penguin in the surf
along the seacoast in Patagonia,
photographed during the
FONT Argentina Tour in December 2013
(photo by Marie Gardner)


The following summaries here are with the most-recent tours first.
For some tours there are links below for longer narratives. Also there are links to UPCOMING TOUR ITINERARIES, and lists (some with photos) of BIRDS, MAMMALS, and OTHER NATURE.


Previous Tours:
December 2013

In all, there have been 14 FONT birding & nature tours in Argentina.

Links:
Upcoming FONT Birding & Nature Tours in Argentina
A List & Photo Gallery of Argentina Birds, in 2 Parts
Mammals of Argentina (with some photos)
Butterflies in Argentina, with those at Iguazu Falls (with some photos)

From many places in the world, and from where most of us live, the region of Patagonia in southern South America is long distance away, thousands of miles, or thousands of kilometers, regardless one measures.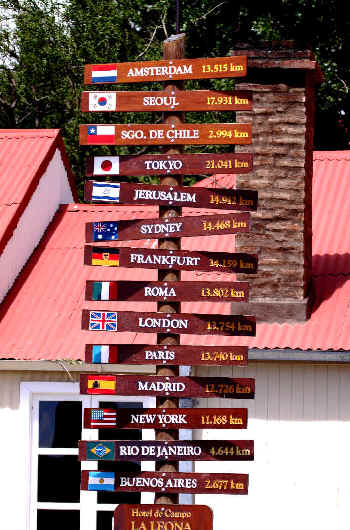 As the sign indicates, only Buenos Aires in Argentina
and Santiago in Chile are relatively close.

And that far-away place, known as Patagonia, is different than others that most of us know.
It is vast. Much of it, in what is known as the steppes, is treeless.
It is often windy, sometimes very windy.
Roads, some of them dirt and gravel, seem at times to be endless. Along those roads, between small towns and between junctions, there is often no sign of people.
In Argentina, we're told, that one of every three people live in and near the capital city of Buenos Aires, by far the largest city in the country. Somewhere else, the second largest Argentine city is not large at all.
A vast country Argentina certainly is, and its southern region of Patagonia is about as unpopulated as it gets, and seemingly empty.

But yet it is a good place to see nature, with especially birds and animals not to be found elsewhere.
And among them are some that unique and special.
And many of those birds and mammals we saw during our December 2013 Southern Argentina Tour, either where there was some truly dramatic scenery as where the treeless plains meet the forested slopes of the high, rocky and snowy peaks of the Andean mountains, or along the also-dramatic and picturesque seacoast, and in between in that land seemingly with nothing.

153 species of birds were found during our tour. Some, such as the Masked Duck and the Masked Gnatcatcher, and the Southern Yellowthroat (formerly the Masked Yellowthroat) were seen only in Buenos Aires. Yes, a Masked Duck was seen in the heart of that bustling city.
But most of our bird species were found in Patagonia.
There were those that were "Magellanic", including the unique Magellanic Plover (that's not really a plover), the Magellanic Penguin (we saw thousands), the Magellanic Oystercatcher, Magellanic Woodpecker, and Magellanic Tapaculo.
Also, the Upland Goose, that we commonly saw, has also been called the "Magellan Goose", the attractive Dolphin Gull has also been called the "Magellan Gull", and the Rock Shag, or Rock Cormorant, has been called the "Magellan Cormorant".
Magellan (that is the explorer Ferdinand Magellan) came from far-away to Patagonian oceanic waters, years ago, in the early 1500s, when he and his crew were the first to circumnavigate the globe.

And there were birds during our tour that were "Austral", including the Austral Rail (a species only found a very few times during the entire 20th Century). the Austral Parakeet (the southernmost parakeet in the world, yes where we were in Patagonia was further south than New Zealand), and the Austral Canastero, the Austral Thrush, the Austral Blackbird, and the Austral Negrito.
The last of these, a dapper little flycatcher, commonly seen and often out in the open, has had some other common names: the Patagonian Negrito, or, as it was known for years, the Rufous-backed Negrito.
The adjective "Austral" means "southern", as in "Australia", but where we were in Patagonia was again further south.

Birds during our Southern Argentina Tour in December 2013 included: tinamous (seen often), rheas, swans (2 species), geese (2 species), ducks (15 species), a penguin (only 1 species, but thousands of them), a giant petrel, grebes (4 species), a flamingo, ibises, egrets, cormorants (or shags), a condor, falcons, such the Aplomado, and other raptors, and rails, gallinules (2 species), coots (3 species), oystercatchers (3 species), plovers including the very attractive Tawny-throated Dotterel with young, some shorebirds (away from the shore), gulls, a tern, a skua, pigeons and doves, parakeets and the Burrowing Parrot, a cuckoo, an owl, a nightjar, hummingbirds, woodpeckers, flycatchers (including some not often seen such as Chocolate-vented Tyrant and the Hudson's Black Tyrant), furnariids including a miner, earthcreepers, cinclodes, hornero, rayadito, canasteros, and a treerunner).
Also, martins and swallows, a wren, gnatcatcher, mockingbirds (3 species), thrushes (4 species), pipits (3 species), siskins (2 species), various icterids, a sparrow (that seemed to be everywhere), a cardinal, a tanager, seedeater, yellow finches (2 species), sierra finches (3 species), and a warbling finch.

3 of the bird species seen during our tour are flightless: the Chubut Steamer Duck (a localized Argentine endemic and a globally threatened species), the Magellanic Penguin, and the Lesser Rhea.
The subspecies of the last of these in southern Argentina is also called the "Darwin's Rhea". In the 1800s, Charles Darwin went to Patagonia, like others and like us, from a long way away.
Along one of the dirt roads during our tour, on the Valdes Peninsula, one morning we truly had quite a sight in front of us. We counted as many as FIFTY Lesser Rheas. One was an adult. All of the others were youngsters, some larger and some smaller. Male Rheas raise the young from a few different females. But, again, seeing just the one adult with 49 young Rheas running about was something extraordinary.

We also saw young of other birds during the tour as December was "that time of year", spring in the Southern Hemisphere.
Such youngsters included those of the Upland Goose, Crested Duck, Black-faced Ibis, Southern Lapwing, Two-banded Plover, and those, already mentioned, of the Tawny-throated Dotterel. And of course those of the Magellanic Penguins, as fluffy as they were.
But only was that one Lesser Rhea with so many, nearly 50, little ones.

The 50 Darwin's, or Lesser Rheas on the road in front of us
during the December 2013 FONT Southern Argentina Tour

Mammals during the tour included: many Guanacos (a cameloid), the Mara (an odd mammal, indigenous to where we were in Argentina), the Small Patagonian Cavy (called locally the "cuis"), the Magellanic Tuco-tuco, the Big Hairy Armadillo (actually better-looking than its name sounds), the Patagonian, or Humboldt's Hog-nosed Skunk, the Lesser Grison, 2 species of Fox: one called the Colpeo (or Zorro Colorado) and the South American Gray (Zorro Gris), and 2 species of wildcats: the Pampas Cat and Geoffroy's Cat.
We saw more Guanacos than imaginable, including one chasing a hare (the European Hare, introduced and now very common in Patagonia).
Along the seacoast, we saw colonies of South American Sea Lions and Southern Elephant Seals. At one place, we were able to sit close to the elephant seals. Generally docile, they lay on the sand of the beach, sometimes making sounds hard to describe (at least pleasantly).
Of course, later we would go, by plane, thousands of miles away. I thought of how those seals would swim, later, hundreds of miles away or more, and dive into the ocean to depths of thousands of feet. Routinely, they dive to about 3,000 feet beneath of the surface of the sea for squid and fish. They have been known to dive as deep as 7,000 feet below. No mammal in the world dives deeper.
From an overlook, along the coast, we saw an Orca, or Killer Whale in the surf.

In all, we saw 15 species of mammals during our December 2013 Southern Argentina Tour, with nearly all of them as with the birds, creatures that one had to be where we were in order see them, in a seemingly-empty place called Patagonia.


Links:
More about the FONT Argentina Tour in December 2013
A Gallery of Photos from our December 2013 Argentina Tour
List of Birds & Other Wildlife during the FONT Argentina Tour - December 2013