PO Box 9021, Wilmington, DE 19809, USA
E-mail: font@focusonnature.com
Phone: Toll-free in USA 1-888-721-3555
or 302/529-1876

Website: www.focusonnature.com


Focus On Nature Tours in

The Cayman Islands
& Jamaica


For Endemic & Specialty Birds,
Butterflies, and Other Nature
on these Caribbean Islands


Two tours that can be done either separately
or in combination.

(tours FON/WI–5A & B, '15)


5A: November 25-28, 2015, in the Caymans

5B: November 28 - December 4, 2015, in Jamaica




Among the Specialty Birds:



In the Caymans
the near-endemic Vitelline Warbler,
also: Rose-throated Parrot, Cuban Bullfinch, Yucatan Vireo
& West Indian Whistling-Duck.

In Jamaica


the Doctorbird, Mountain Witch, Old Woman Bird, Hopping Dick, Mountain Judy,
Little Tom Fool, Big Tom Fool, just plain Tom Fool,
Sarah Bird, Banana Katie, Shine-eye, & Ants Picker.

See the list following the itinerary for an explanation of these names.

Lists of Cayman & Jamaican specialty birds follow the itineraries.


Links:

Bird List - Caymans Bird List - Jamaica

A List & Photo Gallery of Caribbean Birds, in 2 Parts:
Part #1: Guineafowl to Hummingbirds
Part #2: Trogons to Buntings

Rare Birds of the Caribbean, Now & in the Past

Caribbean Butterflies & Moths
(with some photos)

Tropical Plants Of West Indian Islands
(including the Caymans and Jamaica)

Tropical Plants of the Americas
a List in 2 Parts
including some in the Caribbean

Marine Life of the Caribbean
including Sea Turtles, Fish,
Corals & Jellyfish, Mollusks (Shells),
Arthropods (Crustaceans & Echinoderms)

Highlights of some Previous FONT Tours
in the Caymans & Jamaica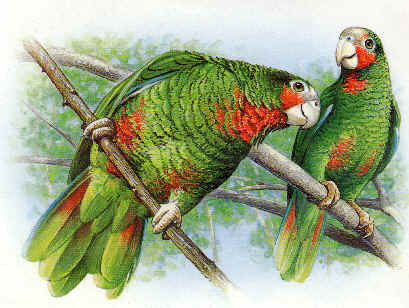 The "Cayman Parrot", Amazona leucocphala caymanensis,
one of two subspecies in the Caymans.
Others are in Cuba and the Bahamas.

Itinerary for Tour WI-5A, in the Cayman Islands:


Wed: Nov 25: Arrival on the Caymans - small islands but with some specialty birds, among them the Vitelline Warbler, a species nearly restricted to the Caymans. There are two subspecies there - the brighter one, only on Grand Cayman Island. This, the first of 3 overnights on Grand Cayman.
Thu: Nov 26: There are other good birds to see on Grand Cayman as well, and we will during this full-day of birding on the island. Among them: Rose-throated Parrot, Cuban Bullfinch, Yucatan and Thick-billed Vireos, and the West Indian Whistling-Duck. Overnight, again, on Grand Cayman.
Fri: Nov 27: An interesting day starting with a morning flight, north and east, to the small island of Little Cayman. A small island it is, only 1 mile wide and 10 miles long. Located in the middle of the Caribbean Sea, south of Cuba. On the small island, one of the largest colonies in the world of Red-footed Boobies (some 3,500 pairs). Also there's a breeding colony of Magnificent Frigatebirds. And there are other species of note on this small island - some endemic subspecies. In all, a nice day, and again an interesting day of birding on a very small isolated island, before flying back to Grand Cayman. (After Little Cayman, that island may even seem big!) Our last night on Grand Cayman.
Sat: Nov 28: Departure from Grand Cayman either for home, or on a flight to Montego Bay to begin our Jamaica Birding Tour.

Itinerary for Tour WI-5B, in Jamaica:

Sat: Nov 28: Arrival at Montego Bay, Jamaica. Birding will begin with an afternoon visit to the Rocklands Feeding Station. Numerous birds can be seen during a relatively short-stay, including the Orangequit and Caribbean (or White-bellied) Dove. Hummingbirds, the exciting Streamertail and Jamaican Mango come in, at close range, to feed. All of the flycatchers of Jamaica are in the area, as is the Jamaican Oriole. Overnight in the area of Montego Bay.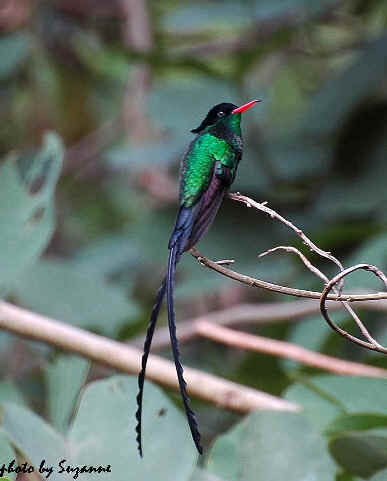 Red-billed Streamertail,
one of the endemic birds in Jamaica
(photo by Suzanne Bradley)


Sun: Nov 29: Most of the day birding in "the Cockpit Country". In this "backcountry" of the island, there are some of the "best" birds of the island, endemics and rarities. Among them, both of the native Jamaican Parrots, the Yellow-billed and Black-billed. Also, the Jamaican, or Jabbering, Crow. Usually, in this area, we get good looks at the Chestnut-bellied Cuckoo (1 of 2 endemic cuckoos on the island). Occurring, as well, is the local and often reclusive Yellow-shouldered Grassquit. It's not actually a grassquit at all, but an endemic genus and species most closely allied to the Greater Antillean Bullfinch. At the day's end, in the "Cockpit Country" during previous tours, we've had some good experiences with the Jamaican Potoo, and the endemic Jamaican Owl. Overnight, again, near Montego Bay.
Mon: Nov 30: Travel east, this day, across the northern side of Jamaica, to Port Antonio - a beautiful area, with wonderful birding. There will be birding along the way, and upon our arrival in Port Antonio, where we'll spend the night.
Tue: Dec 1: Birding, this morning, in the area of Port Antonio. Here, during previous FONT tours, we've had fine looks at the rare Ring-tailed Pigeon, the Jamaican Becard, and Jamaican Euphonia. But the foremost bird of the area is the localized Black-billed Streamertail. We'll also have another opportunity, here, for the Yellow-shouldered Grassquit, that "grassquit" that's not a grassquit. Also, nearby, we'll bird in the John Crow Mountains, where in the past, we've seen two of the more difficult Jamaican endemic birds to find: the Crested Quail-Dove and the Jamaican Blackbird. At cliffs, along the seacoast, not far away, during the latter part of the day, we may see graceful White-tailed Tropicbirds, as we have in the past. Another overnight in the area of Port Antonio.
Wed: Dec 2: This day, birding in the Blue Mountains, where endemic and specialty birds include the Blue Mountain Vireo, the arboreal Jamaican Blackbird (we'll have another shot at it, in case we missed it previously), and the ethereal Rufous-throated Solitaire. Other niceties of the area include: the Arrowhead Warbler, and White-eyed Thrush. In the afternoon, those who wish may visit a factory where the renowned and tasty Blue Mountain Coffee is prepared. Those who wish to may drink some; those who wish to may buy some. Overnight at a nearby guest house in the Blue Mountains.
Thu: Dec 3: This morning we'll depart the Blue Mountains and head west along the southern side of the island, with some birding, along the way, in the desert-area of the Hellshire Hills. Among the birds there is the Bahama Mockingbird (a very localized species on Jamaica). Going from dry to wet, we'll continue that afternoon to some wonderful wetland habitats: the Black River Morass, and the Great Pedro Pond. Numerous waterbirds occur there. Of particular interest: jacanas, gallinules, and grebes, with possibly Yellow-breasted Crake or Spotted Rail. Also, this area can be good for the rare West Indian Whistling-Duck. During one of our recent tours, over 200 of them were seen, well, with the late-afternoon sun shining on them. In the evening, we'll arrive back in Montego Bay, where our tour of the island began. Our last overnight near the airport.
Fri: Dec 4: After some final birding in the morning, departure for home.


Prices:

US $2,795 per person, based upon double occupancy, for a combination of the Cayman Islands and Jamaica tours (5A & 5B), - Nov 25 - Dec 4.
US $1,195 per person, double occupancy, for the Cayman Islands tour only (5A), Nov 25-28.
US $1,995 per person, double occupancy, for the Jamaica tour only (5B), Nov 28 - Dec 4.
Single supplements:

US $345 for the two-tour combination Nov 25 - Dec 4.
US $215 for the Cayman Islands tour only.
US $275 for the Jamaica tour only.

Includes:
• All overnight accommodations.
• Meals, except dinners.
• Ground transportation on the Caymans & in Jamaica.
• With the Cayman Tour: the round-trip flight between Grand Cayman and Little Cayman islands.
• Services of the birding guide.
Does not include: Dinners, alcoholic drinks, and any items of a personal nature. Flights: to/from Jamaica, between Jamaica and Grand Cayman, and from Grand Cayman. Airport tax. Gratuities.

Tours to be led by Armas Hill.
A deposit of US $400 a place on the Cayman Islands tour.
A deposit of US $500 would assure a place on the Jamaica tour,
or the Cayman/Jamaica combination.
Maximum number will be 8 participants.



Some of the Specialty Birds of the Cayman Islands
(A listing of some Jamaican bird specialties follows this Cayman bird list.)


White-tailed Tropicbird
Brown Booby
Red-footed Booby
Reddish Egret
West Indian Whistling-Duck
Purple Gallinule
Wilson's Plover
White-crowned Pigeon
Eurasian Collared-Dove
White-winged Dove
Zenaida Dove
Common Ground-Dove
Caribbean Dove
Rose-throated Parrot (has been called Cuban or Bahama Parrot)
Mangrove Cuckoo
Barn Owl
Short-eared Owl
Antillean Nighthawk
West Indian Woodpecker
Northern Flicker
Caribbean Elaenia
LaSagra's Flycatcher
Gray Kingbird
Loggerhead Kingbird
Grand Cayman Thrush (formerly. now extinct)
Red-legged Thrush
Gray Catbird
Northern Mockingbird
White-eyed Vireo
Thick-billed Vireo
Black-whiskered Vireo
Yucatan Vireo (only place in the Caribbean for this species)
Vitelline Warbler (endemic)
Western Spindalis
Cuban Bullfinch
Yellow-faced Grassquit
Greater Antillean Grackle
Jamaican Oriole (formerly on Grand Cayman Island)



Specialty Jamaican Birds, followed by their Jamaican Bird Names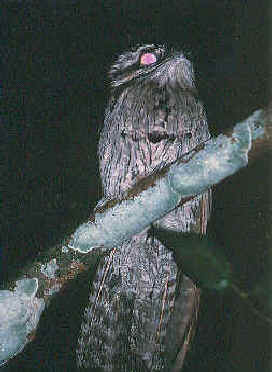 A Jamaican Potoo photographed during a FONT tour

Codes:
(e) endemic to Jamaica
(t) a globally threatened or rare species, designated by Birdlife International.
(nt) a nearly-species globally.



Pied-billed Grebe / Duck-and-Teal
White-tailed Tropicbird / Bo'sun Bird
Brown Pelican / Old Joe
Magnificent Frigatebird / Man o'War Bird
Snowy Egret / Golden Slippers
Little Blue Heron / Blue Gaulin
Cattle Egret / Tick Bird
Black-crowned Night-Heron / Quok
Yellow-crowned Night-Heron / Crab-catcher
West Indian Whistling-Duck (t) / Night Duck
Turkey Vulture / John Crow
American Kestrel / Killy-killy
Clapper Rail / Mangrove Hen
Yellow-breasted Crake / Twopenny Chick
Black-necked Stilt / Captain Lewis
Northern Jacana / River Chink
Plain Pigeon (t) / Blue Pigeon
Ring-tailed Pigeon (e) (t) / Ringtail
White-crowned Pigeon / Baldpate
White-winged Dove / White-wing
Zenaida Dove / Pea Dove
Caribbean Dove / White-belly
Crested Quail-Dove (e) (nt) / Mountain Witch
Ruddy Quail-Dove / Partridge
Chestnut-bellied Cuckoo (e) / Old Man Bird
Jamaican Lizard-Cuckoo (e) / Old Woman Bird
Jamaican Owl (e) / Patoo (with the big eyes)
Jamaican Potoo (e) / Patoo (with the long bill)
Antillean Nighthawk / Gimme-me-bit
Streamertail (e) / Doctorbird
Vervain Hummingbird / Little Doctorbird
Jamaican Tody (e) / Robin Redbreast
Jamaican Elaenia (e) / Sarah Bird
Sad Flycatcher (e) / Little Tom Fool
Rufous-tailed Flycatcher (e) / Big Tom Fool
Stolid Flycatcher / Tom Fool
Gray Kingbird / Petchary
Jamaican Becard (female) (e) / Mountain Judy
Jamaican Becard (male) (e) / Mountain Dick
Jamaican Crow (e) / Jabbering Crow
Rufous-throated Solitaire / Mountain Whistler
White-chinned Thrush (e) / Hopping Dick
White-eyed Thrush (e) / Shine-eye
Black-whiskered Vireo / John To-Whit
Jamaican Vireo (e) / Sewi-sewi
Arrow-headed Warbler (e) / Ants Picker
American Redstart / Butterfly Bird
Bananaquit / Sugar Bird
Jamaican Euphonia (e) / Blue Quit
Jamaican Spindalis (e) / Mark Head
Yellow-shouldered Grassquit (e) / Yellow-back
Jamaican Blackbird (e) (t) / Wildpine Sargeant
Greater Antillean Grackle / Cling-cling
Jamaican Oriole (e) / Banana Katie

Other Jamaican endemics:
Jamaican Parakeet (*), Yellow-billed Parrot (t), Black-billed Parrot (t), Jamaican Mango, Jamaican Woodpecker, Jamaican Pewee (#), Blue Mountain Vireo (nt), Orangequit.
(*) was part of Olive-throated Parakeet (of Central America).
(#) was part of Greater Antillean Pewee.