PO Box 9021, Wilmington, DE 19809, USA
E-mail: font@focusonnature.com
Phone: Toll-free in USA 1-888-721-3555
or 302/529-1876
In the Sea of Japan
Hegura Island
(Hegurajima)

some notes by Armas Hill,
and a list of birds
during 7 FONT tours on the island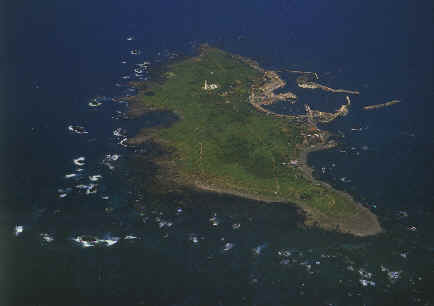 It's an intriguing place, Hegurajima, where during the spring and fall migrations, there's some of the most fascinating birding anywhere. Hegura is a small island, actually tiny. It's less than 1 kilometer wide and less than 2 kilometers long. One can walk the path around the entire coastline of the island in less than an hour.

Some people live on the island. But not many, about 50. There was a small store (no longer), but there is an inn (where fortunately, where one can overnight and have meals). Also on the island: some homes, a school (just recently closed; there was an enrollment of 5), and 1 doctor. The most prominent structure on the island is a lighthouse (the white tower in the photo above).
In the morning, the women of Hegura dive for seaweed. Later in the day, if sunny, they put it out to dry. Men go out on boats to fish.

There's a ferry once a day, in each direction, to and from the island. It's less than a two-hour ferry ride from mainland Honshu, during which there can be some good seabirding. In the spring, the endemic Japanese Murrelet, the "Kanmuri-umisuzume" (a wonderful bird with a wonderful name) can be seen from the boat, along with Rhinoceros Auklets that breed nearby. Streaked Shearwaters and Red-necked Phalaropes can be numerous.

But it's on the island itself where birding can really get interesting. At night, when many landbirds in the spring are migrating north, they come upon the small island in the sea. Given optimum conditions, in the morning, the island can be bursting with birds. They're in the open on fields, in bushes, small trees, under debris by the homes, and along the rocky coast. In short, they're everywhere.

Birds that elsewhere can be notorious skulkers, are often more out in the open. In that category, for example, are the shy Japanese Robin, Siberian Blue Robin, and the White's Ground Thrush.

Routine migrants are enroute from where they've wintered in the Asian tropics to where they'll breed as far north as Siberia. These include the Siberian Rubythroat, Siberian Stonechat, and Yellow-breasted Bunting.

Birds migrating north, generally more common on the Asian mainland in China and Korea, are readily seen. There are a number of birds in that category that we've seen during our 7 previous FONT tours on Hegura Island. These birds have included: Chinese Egret, Chinese Pond Heron, Purple Heron, Hoopoe, Richard's Pipit, Tree Pipit, Pied Wheatear, Isabelline Wheatear, White-throated Rock Thrush, Swinhoe's (or Rufous-tailed) Robin, Dusky Warbler, Radde's Warbler, Mugimaki Flycatcher, Tricolored Flycatcher, Taiga (formerly part of Red-breasted) Flycatcher, Purple-backed (or Daurian) Starling, Black-naped Oriole, Black Drongo, Chinese Grosbeak, Chestnut Bunting, Little Bunting, Yellow-browed Bunting, and Tristram's Bunting.

A list of all the bird species (totaling 179) that have been seen during our 7 FONT Hegura Island tours during the spring (in late-April & in early and mid-May) follows, including those seen nearby from the ferry.
In 2007, we added 22 species to the list.
In 2010, we added yet another 8 species, including our first Eurasian Tree Sparrow (1 bird). The Eurasian Tree Sparrow is extremely common, and widespread, throughout Japan (other than on Hegura).

If you'd really like to go a place in this world, that's totally removed from everything, from hustle, bustle, troubles, whatever, Hegura is it. And it's a place that's fun to bird - a bit like a fantasy, where a birder can be completely immersed in birds.

There's another fascinating aspect of this "bird island" during migration. It's the mingling that can be done with Japanese birders. They're very helpful in sharing what's about. And the whole experience we would have with them is one never to be forgotten.

During a good day in early or mid-May, with a fallout of landbirds, shorebirds, and waterbirds, nearly a hundred species could be seen on the tiny island of Hegura. That's more birds during a day than virtually anywhere else in Japan. And every day can be different, each with a surprise or two, something totally unexpected.

A COMPLETE LISTING OF THE BIRDS FOUND DURING OUR 7 TOURS ON HEGURA ISLAND FOLLOWS.


Links:
Upcoming FONT Birding & Nature Tours in Japan

A List & Photo Gallery of Japan Birds, in 2 parts
Birds found during FONT Japanese Birding Tours in the Spring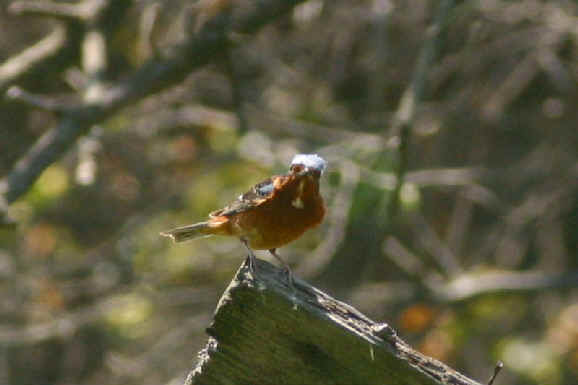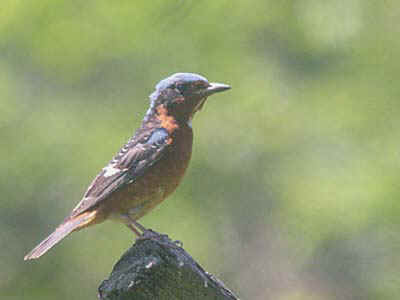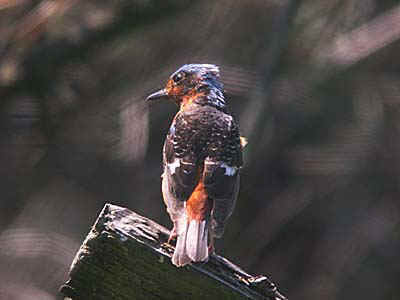 A White-throated Rock Thrush, Monticola gularis,
during the FONT tour on Hegura Island, Japan, May 21, 2005.

This species is an ultra-rarity in Japan.
It is normally on mainland Asia, breeding mostly in Manchuria and eastern Siberia,
and wintering in southern China, and further south in Southeast Asia.
Note in the top photo the white patch on the throat.

(top photograph by Iwasaki Shohgo,
other 2 photographs by Katsuyuki Genma)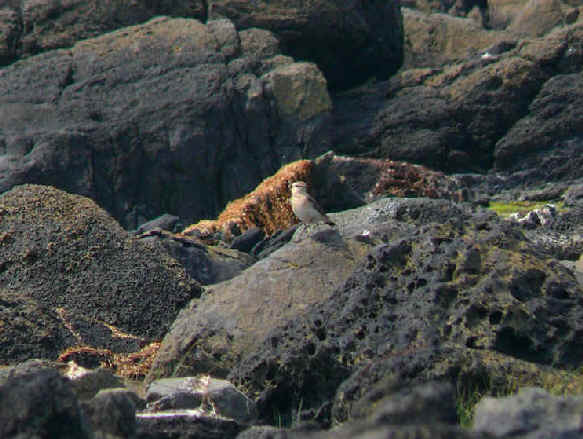 This Isabelline Wheatear was seen along the rocky coastline of Hegura Island
during the FONT tour in May 2007.
The species normally occurs in central and western Asia,
and winters in Africa.
(We've seen the bird during FONT tours in Turkey.)
Somehow, this bird made its way to Hegura Island in the Sea of Japan.
When "A Field Guide to the Birds of Japan" was published in 1982,
there was only one record of this species for Japan.

More bird photographs are included the following bird list.

BIRDS SEEN DURING FONT SPRING TOURS
ON HEGURA ISLAND (and in nearby waters)
(in mid-April & in early and mid-May)

mid-apr: April 11-20
early- may: May 1-10
mid-may: May 11-21


The dates of the FONT tours on Hegura have been:
01 - April 16-17, 2001
02 - May 6-7, 2002
04 - May 15-18, 2004
05 - May 19-21, 2005
06 - May 10-12, 2006
07 - May 9-12, 2007
10 - May 16-18, 2010

Bird names given in both English & Japanese.


Pacific Loon (or Diver) ______ mid-apr, early-may, mid-may 01, 06, 10
Gavia pacifica
Shiroeri-ohamu


Little Grebe ______ early-may, mid-may 07
Tachybaptus ruficollis
Kaitsuburi


Great Crested Grebe ______ mid-apr 01
Podiceps cristatus
Kanmuri-kaitsuburi


Streaked Shearwater ______ mid-apr, early-may, mid-may 01, 02, 04, 05, 06, 07, 10
Calonectris leucomelas
O-mizunagidori


Short-tailed Shearwater ______ mid-apr 01
Puffinus tenuirostris
Hashiboso-mizunagidori


Temminck's (or Japanese) Cormorant ______ mid-apr, early-may, mid-may 01, 02, 04, 05, 06, 07, 10
Phalacrocorax capillatus
Umi-u


Pelagic Shag (or Cormorant) ______ mid-apr, early-may, mid-may 01, 04, 05, 06, 07, 10
Phalacrocorax pelagicus
Hime-u


Black-crowned Night-Heron ______ mid-apr, early may, mid-may 01, 04, 05, 07, 10
Nycticorax nycticorax
Goi-sagi


Striated Heron ______ early-may 07
Butorides striata amurensis
Sasa-goi


Eastern Cattle Egret ______ early-may, mid-may 02, 04, 05, 06, 07
Bubulcus coromandus
Ama-sagi


Little Egret ______ mid-apr, early-may, mid-may 01, 02, 04, 06, 07, 10
Egretta garzetta
Ko-sagi


Chinese (or Swinhoe's) Egret (rare in Japan) ______ early-may, mid-may 06
Egretta eulophotes
Kara-shira-sagi


Intermediate Egret ______ early-may, mid-may 04, 05, 06, 07, 10
Mesophoyx (formerly Egretta) intermedia
Chu-sagi


Great Egret ______ mid-apr, early-may, mid-may 01, 02, 04, 05, 06, 07, 10
Casmerodius albus (has been placed in the genus Ardea)
Dai-sagi


Grey Heron ______ mid-apr, early-may, mid-may 01, 02, 04, 05, 06, 07, 10
Ardea cinerea
Ao-sagi


Purple Heron (rare in Japan) ______ early-may, mid-may 06, 07
Ardea purpurea
Murasaki-sagi


Pacific (or Eastern) Reef-Heron ______ mid-may 04
Egretta sacra
Kuro-sagi


Chinese Pond Heron (rare in Japan) ______ early-may, mid-may 06, 07
Ardeola bacchus
Akagashira-sagi


Eurasian Wigeon ______ early-may, mid-may 02, 04, 06
Anas penelope
Hidori-gamo


Mallard ______ early may, mid-may 04, 05, 07
Anas platyrhynchos
Ma-gamo


Eastern Spot-billed Duck ______ mid-apr, early-may, mid-may 01, 02, 04, 05, 06, 07, 10
Anas zonorhyncha
Karu-gamo


Red-breasted Merganser ______ mid-may 04
Mergus serrator
Umi-aisa


Black-eared Kite ______ mid-apr, early-may, mid-may 01, 02, 04, 05, 06, 07, 10
Milvus lineatus
Tobi


Osprey ______ mid-may 04, 10
Pandion haliaetus
Misago


Oriental Honey Buzzard ______ mid-may 05, 10
Pernis orientalis
Hachikuma


Eastern Marsh Harrier (was considered conspecific with Western Marsh Harrier of Europe, and was then called Northern Marsh Harrier) ______ mid-may 04
Circus spilonotus
Chuhi


Hen Harrier (has been considered conspecific with American Northern Harrier) ______ mid-may 04
Circus cyaneus
Haiiro-chuhi


Eurasian Sparrowhawk ______ mid-may 07
Accipiter nisus
Hai-taka


Japanese (or Lesser) Sparrowhawk ______ early may, mid-may 04, 06, 07, 10
Accipiter gularis
Tsumi


Eastern Buzzard ______ mid-may 10
Buteo japonicus
Nosuri


Grey-faced Buzzard ______ mid-may 06
Butastur indicus
Sashiba


Eurasian Kestrel ______ mid-may 10
Falco tinnunculus
Chogenbo


Eurasian Hobby ______ early may, mid-may 04, 06, 07
Falco subbuteo
Chigo-hayabusa


Amur Falcon (has been called Eastern Red-footed Falcon) ______ 10
Falco amurensis
Akaashi-chogenbo


Peregrine Falcon ______ mid-may 04, 05, 06, 07, 10
Falco peregrinus
Hayabusa


Ruddy (-breasted) Crake ______ mid-may 04
Porzana fusca
Hi-kuina


Common Moorhen ______ early may, mid-may 04, 07
Galinula chloropus
Ban


Eurasian Coot ______ early-may, mid-may 06
Fulica atra
O-ban


Common Ringed Plover ______ early-may 07
Charadrius hiaticula
Hajiro-ko-chidori


Little Ringed Plover ______ mid-apr 01
Charadrius dubius
Ko-chidori


Lesser Sandplover (or Mongolian Plover) ______ mid-may 04, 06
Charadrius mongolus
Medai-chidori


Pacific Golden Plover ______ early may, mid-may 04
Pluvialis fulva
Munaguro


Red Knot ______ mid-may 04
Ko-oba-shigi


Sanderling ______ mid-may 04
Miyubi-shigi


Red-necked Stint ______ mid-may 04, 06
Tonen


Long-toed Stint ______ mid-may 07
Hibari-shigi


Ruddy Turnstone ______ mid-may 04, 06
Kyojo-shigi


Common Snipe ______ mid-apr, early may, mid-may 01, 04, 06, 07
Gallinago gallinago
Ta-shigi


Latham's Snipe ______ early may, mid-may 04, 06, 07
Gallinago hardwickii
Oji-shigi


Jacksnipe ______ mid-apr 01
Lymnocryptes minimus
Ko-shigi


Wood Sandpiper ______ early-may, mid-may 07
Tringa glareola
Takabu-shigi


Common Greenshank ______ early may, mid-may 04, 07
Tringa nebularia
Aoashi-shigi


Green Sandpiper ______ mid-apr, early may, mid-may 01, 06, 07
Tringa ochropus
Kusa-shigi


Common Sandpiper ______ mid-apr, early may, mid-may 01, 04, 05, 06, 07, 10
Actitis hypoleucos
Iso-shigi


Grey-tailed (or Polynesian) Tattler ______ early may, mid-may 04, 05, 06, 07, 10
Tringa brevipes
Kiashi-shigi


Terek Sandpiper ______ mid-may 07
Xenus cinereus
Sorihashi-shigi


Eastern Black-tailed Godwit ______ mid-may 06
Limosa melanuroides
Oguro-shigi


"Eurasian" Whimbrel ______ mid-may 07
Numenius phaeopus variegatus
Chushaku-shigi


Red-necked Phalarope ______ early-may, mid-may 02, 04, 06, 07, 10
Phalaropus lobatus
Akaeri-hireashi-shigi


Black-headed Gull ______ early-may 02
Chroicocephalus ridibundus
Yuri-kamone


Black-tailed Gull ______ mid-apr, early-may, mid-may 01, 02, 04, 05, 06, 07, 10
Larus crassirostris
Umineko


Vega (Herring) Gull ______ mid-apr, early-may, mid-may 01, 02, 04, 05, 06, 07, 10
Larus vegae
Seguro-kamone


Slaty-backed Gull ______ mid-may 04, 06, 07, 10
Larus schistisagus
O-seguro-kamone


Glaucous-winged Gull ______ early may, mid-may 06, 07
Larus glaucescens
Washi-kamome


Common Tern ______ early-may 06
Sterna hirundo longipennis
Ajisashi


Japanese Murrelet ______ mid-apr, early-may, mid-may 01, 04, 06, 07
Synthliboramphus wumizusume
Kanmuri-umisuzume


Ancient Murrelet ______ mid-may 10
Synthliboramphus a, antiquus
Umisuzume


Rhinoceros Auklet ______ mid-apr, early-may 01, 06, 10
Cerorhinca monocerata
Utou


Common (or Feral) Pigeon ______ mid-apr, early-may, mid-may 01, 02, 04, 05, 06, 07
Columba livia
Dobato


Oriental (or Rufous) Turtle Dove ______ mid-apr, early-may, mid-may 01, 02, 04, 05, 06, 07, 10
Streptopelia orientalis
Kiji-bato


Black Wood Pigeon ______ mid-may 04, 10
Columba janthina
Karasu-bato


Eurasian Cuckoo ______ early-may, mid-may 05, 06, 10
Cuculus canorus
Kakko


Oriental Cuckoo ______ early may, mid-may 04, 06, 07, 10
Cuculus optatus
Tsutsudori


Lesser Cuckoo ______ mid-may 04, 05, 06, 10
Cuculus poliocephalus
Hototo-gisu


Japanese Scops-Owl (has been considered part of Collared Scops-Owl) ______ early-may, mid-may 04, 05, 06, 10
Otus semitorques
O-konoha-zuku


Brown Hawk-Owl ______ mid-may 05
Ninox scutulata
Aoba-zuku


Grey Nightjar ______ early-may 06
Caprimulgus jotaka
Yotaka



GreyNightjar photographed on Hegura island during the FONT tour in 2006


Pacific Swift (another name is Asian White-rumped Swift) ______ early may, mid-may 04, 05, 07, 10
Apus pacificus
Amatsu-bame


Common (or Eurasian) Kingfisher ______ early-may, mid-may 02, 04, 07, 10
Kawasemi


Ruddy Kingfisher ______ early-may, mid-may 07
Halcyon coromanda
Aka-shobin


Black-capped Kingfisher (rare in Japan) ______ mid-may 05
Halcyon pileata
Yama-shobin



Black-capped Kingfisher


Eurasian Hoopoe (rare in Japan) ______ mid-apr, mid-may 01, 05, 10
Upupa epops
Yatsugashira


Oriental Dollarbird (closely related to Broad-billed Roller of Africa) ______ mid-may 05, 06, 10
Eurystomus orientalis
Bupposo



Oriental Dollarbird


Greater Short-toed Lark (rare in Japan) ______ mid-apr, mid-may 01, 10
Calandrella brachydactyla
Hime-kotenshi


Eurasian Skylark (on Hegura, not the "Japanese Skylark", but rather Alauda arvensis pekinensis of the Asian mainland) ______ mid-apr, mid-may 01, 10
Alauda arvensis
Hibari


Barn Swallow ______ mid-apr, early-may, mid-may 01, 02, 04, 05, 06, 07, 10
Hirundo rustica gutturalis
Tsubame


Sand Martin (or Bank Swallow) ______ mid-apr, mid-may 01
Riparia riparia
Shodo-tsubame


Red-rumped Swallow ______ early-may, mid-may 04
Cecropis (formerly Hirundo) daurica
Koshiaka-tsubame


Richard's Pipit (very rare in Japan) ______ mid-may 05, 07
Anthus richardi
Mamijiro-tahibari


Olive-backed Pipit (was called Indian Tree Pipit) ______ mid-apr, early-may, mid-may 01, 02, 04, 05, 07, 10
Anthus hodgsoni
Binzui


Tree Pipit (very rare in Japan) ______ early-may 07
Anthus trivialis
Yoroppa-binzui


"Siberian" Buff-bellied Pipit (subspecies japonicus; has been considered the same species as the American Pipit, subspecies rubescens, but they may be specifically distinct) (was, at one time, part of the Water Pipit of the Holarctic, that species now in Eurasia, Anthus spinoletta) ______ mid-apr, mid-may 01, 06, 07
Anthus rubescens japonicus
Tahibari


Eastern Yellow Wagtail (rare in Japan) ______ early may, mid-may 04, 05, 06, 07
Motacilla tschutschensis (a couple different subspecies, in migration, are possible on Hegura Island)
Tsumenaga-sekirei


Grey Wagtail ______ mid-apr, early-may, mid-may 01, 02, 04, 05, 07
Motacilla cinerea
Ki-sekirei


White (or Pied) Wagtail (mostly the subspecies Motacilla alba lugens, that has been known as the Black-backed Wagtail; also the subspecies M. a. ocularis) ______ mid-apr, early-may, mid-may 01, 02, 04, 05, 06, 07, 10
Motacilla alba
Hojiro (or Haku-sekirei)


Brown-eared Bulbul ______ early-may, mid-may 02, 04, 07, 10
Microscelis (formerly Hypsipetes) a. amaurotis
Hiyodori


Ashy Minivet ______ mid-may 04, 06, 07
Pericrocotus divaricatus
Sanshokui


Japanese Waxwing ______ mid-may 10
Bombycilla japonica
Hi-renjaku


Pied Wheatear ______ mid-may 07
Oenanthe pleschanka
Seguro-sabaku-hitaki


Isabelline Wheatear ______ early-may, mid-may 07
Oenanthe isabellina
Inaba-hitaki


Japanese Robin ______ mid-apr 01
Luscinia akahige
Komadori


Swinhoe's (or Rufous-tailed) Robin (rare in Japan) ______ early-may, mid-may 02, 04, 06, 07
Luscinia sibilans
Shima-goma



Swinhoe's Robin


Siberian Blue Robin ______ early-may, mid-may 02, 04, 05, 06, 07,10
Luscinia cyane
Ko-ruri


Siberian Rubythroat ______ mid-apr, early-may, mid-may 01, 04, 05, 06, 07. 10
Luscinia calliope camtschatkensis
No-goma



Siberian Rubythroat



Bluethroat ______ 07
Luscinia s. svecica (this subspecies the: "Red-spotted" or "Arctic" Bluethroat)
Ogawa-komadori


Daurian Redstart ______ mid-apr, mid-may 01, 04
Phoenicurus auroreus
Jo-bitaki


Red-flanked Bluetail (also known as Siberian Bluechat or Orange-flanked Bush-Robin) ______ mid-apr, early-may, mid-may 01, 02, 06, 07, 10
Luscinia cyanura
Ruri-bitaki



Red-flanked Bluetail



Siberian Stonechat ______ mid-apr, early-may, mid-may 01, 02, 04, 06, 07, 10
Saxicola maurus stejnegeri
No-bitaki


Black Redstart (rare in Japan) ______ mid-apr (rare in Japan) 01
Phoenicurus ochruros
Kuro-jo-bitaki


Blue Rock Thrush (red-bellied form) ______ mid-apr, early-may, mid-may 01, 02, 04, 05, 06, 07, 10
Monticola solitarius philippensis
Iso-hiyodori


White-throated Rock Thrush (very rare in Japan) ______ mid-may 05
Monticola gularis
Hime-isohiyo


White's (Ground) Thrush ______ late-apr, early-may, mid-may 01, 02, 04, 06, 07
Zoothera dauma
Tora-tsugumi


Siberian (Ground) Thrush ______ early-may, mid-may 04, 05, 06, 07, 10
Zoothera sibirica
Mamijiro


Brown-headed Thrush ______ mid-apr, early-may, mid-may 01, 02, 04, 07, 10
Turdus chrysolaus
Akahara


Pale Thrush ______ mid-apr, early-may, mid-may 01, 02, 04, 07, 10
Turdus pallidus
Shirohara


Eye-browed (or Grey-headed) Thrush ______ early-may, mid-may 02, 04, 05, 06, 07, 10
Turdus obscurus
Mamichajinai


Dusky Thrush ______ mid-apr, early-may, mid-may 01, 02, 04, 05, 06, 07, 10
Turdus eunomus
Tsugumi



Dusky Thrush



Naumann's Thrush (was part of Dusky Thrush) ______ mid-apr, early-may, mid-may 01, 07, 10
Turdus naumanni
Tsugumi



Naumann's Thrush


Japanese (Grey) Thrush ______ mid-apr, early-may, mid-may 01, 02, 04, 06, 10
Turdus cardis
Kuro-tsugumi


Asian Stubtail (was called Short-tailed Bush-Warbler) ______ mid-apr 01
Urosphena squameiceps
Yabusame


Japanese Bush Warbler ______ mid-apr, early-may, mid-may 01, 02, 04, 05, 06, 07, 10
Cettia diphone
Uguisu


Zitting Cisticola ______ mid-may 10
Cisticola juncidis
Sekka


Oriental Reed Warbler ______ mid-apr, early-may, mid-may 01, 02, 04, 05, 06, 10
Acrocephalus orientalis
O-yoshikiri


Black-browed (or Schenk's) Reed Warbler ______ early-may, mid-may 04, 05, 06, 07, 10
Acrocephalus bistrigiceps
Ko-yoshikiri


Gray's Warbler (was called Gray's Grasshopper Warbler) ______ mid-may 05, 07
Locustella fasciolata
Ezo-sennyu


Eastern Crowned Warbler ______ mid-apr, early-may, mid-may 01, 02, 04, 05, 06, 07, 10
Phylloscopus coronatus
Sendai-mushikui


Sakhalin Leaf Warbler (was part of the Pale-legged Leaf Warbler) ______ mid-apr, early-may, mid-may 01, 02, 04, 05, 06, 07, 10
Phylloscopus borealoides
Ezo-mushikui


Siberian Chiffchaff (very rare in Japan) ______ mid-may 10
Phylloscopus tristis
(Japanese name unknown)


Yellow-browed Warbler ______ early-may, mid-may 04, 07, 10
Phylloscopus inornatus
Kimayu-mushikui


Dusky Warbler (rare in Japan) ______ early-may, mid-may 02, 07
Phylloscopus fuscatus
Muji-sekka


Radde's Warbler (rare in Japan) ______ mid-may 07
Phylloscopus schwarzi
Karafuto-muji-sekka


Arctic Warbler (subspecies borealis) ______ early-may, mid-may 04, 05, 06, 07, 10
Phylloscopus borealis
Meboso-mushikui


Blue-and-white Flycatcher ______ mid-apr, early-may, mid-may 01, 02, 04, 05, 06, 07
Cyanoptila cyanomelana
O-ruri


Asian Brown Flycatcher ______ mid-apr, early-may, mid-may 01, 02, 04, 05, 06, 07, 10
Muscicapa dauurica
Ko-same-bitaki


Dark-sided (or Siberian) Flycatcher ______ early-may, mid-may 04, 05, 06, 07, 10
Muscicapa sibirica
Same-bitaki


Grey-streaked Flycatcher ______ mid-may 04, 05, 06, 07
Muscicapa griseisticta
Ezo-bitaki


Mugimaki Flycatcher ______ early-may, mid-may (rare in Japan) 02, 04, 05, 06, 07, 10
Ficedula mugimaki
Mugimaki


Narcissus Flycatcher ______ mid-apr, early-may, mid-may 01, 02, 04, 05, 06, 07, 10
Ficedula narcissina
Ki-bitaki



Narcissus Flycatcher


Yellow-rumped (or Tricolored) Flycatcher (rare in Japan) ______ early-may, mid-may 04, 06, 07
Ficedula zanthopygia
Mamijiro-ki-bitaki



Yellow-rumped (or Tricolored) Flycatcher


Taiga Flycatcher (was part of Red-breasted Flycatcher) (rare in Japan) _____ mid-may (rare in Japan) 05
Ficedula albicilla
Ojiro-bitaki


Japanese Paradise Flycatcher ______ mid-may 05, 06
Terpsiphone atrocaudata
Sankocho


Coal Tit ______ mid-apr 01
Periparus (formerly Parus) ater
Hi-gara


Varied Tit ______ early-may 07
Poecile (formerly Parus) varius
Yama-gara


Japanese White-eye ______ mid-apr, early-may, mid-may 01, 02, 04, 05, 07, 10
Zosterops japonicus
Mejiro


Bull-headed Shrike ______ mid-apr, mid-may 01, 04, 05, 07, 10
Lanius bucephalus
Mozu


Brown Shrike ______ early-may, mid-may 04, 05, 06, 07
Lanius cristatus
Aka-mozu


Tiger (or Thick-billed) Shrike ______ mid-may 04, 05
Lanius tigrinus
Chigo-mozu


Rook ______ mid-apr, early-may 01, 06
Corvus frugilegus
Miyama-garasu


Carrion Crow ______ mid-apr, early-may, mid-may 01, 04, 06, 07, 10
Corvus corone orientalis
Hashiboso-garasu


Large-billed Crow ______ mid-apr, early-may, mid-may 01, 02, 04, 05, 06, 07, 10
Corvus macrorhynchos
Hashibuto-garasu


Chestnut-cheeked Starling ______ early-may, mid-may 02, 04, 05, 06, 07, 10
Sturnus philippensis
Ko-mukudori


White-cheeked (or Grey) Starling ______ mid-apr, mid-may (seen only infrequently on Hegura) 01, 02, 05, 07
Sturnus cineraceus
Mukudori


Daurian Starling (also called Purple-backed Starling) (rare in Japan) ______ mid-may 07
Sturnus sturninus
Shiberia-mukudori


Black-naped Oriole (rare in Japan) ______ early-may, mid-may 04, 05, 07
Oriolus chinensis
Korai-uguisu



Black-naped Oriole


Black Drongo (rare in Japan) ______ mid-may 07
Dicrurus macrocercus
Ochu


Eurasian Tree Sparrow ______ mid-may 10 (1 bird)
Passer montanus
Suzume


Russet (or Cinnamon) Sparrow ______ mid-apr 01
Passer rutilans
Nyunai-suzume


Brambling ______ mid-apr, early-may, mid-may 01, 02, 06, 07, 10
Fringilla montifringilla
Atori



Brambling


Oriental Greenfinch (has also been called Grey-capped Greenfinch) ______ mid-apr, early-may, mid-may 01, 02, 04, 05, 06, 07, 10
Fringilla coelebs
Kawara-hiwa


Eurasian Siskin ______ mid-apr, early-may, mid-may 01, 02, 04, 05, 06, 07
Carduelis flammea
Ma-hiwa



Eurasian Siskin


Asian Rosy Finch ______ mid-apr 01
Leucosticte arctoa
Hagi-mashiko


Long-tailed Rosefinch ______ mid-apr 01
Uragus sibiricus
Beni-mashiko


Eurasian Bullfinch ______ mid-apr, early-may, mid-may 01, 04
Pyrrhula pyrrhula
Uso


Japanese Grosbeak ______ early-may, mid-may 04, 05, 07, 10
Eophona personata
Ikaru


Chinese Grosbeak (has also been called Yellow-billed Grosbeak, but both the Chinese & Japanese Grosbeaks have yellow bills) (rare in Japan) ______ mid-may 07
Eophona migratoria
Ko-ikaru



Chinese Grosbeaks


Hawfinch ______ mid-apr, early-may, mid-may 01, 04, 05, 06, 07, 10
Coccothraustes coccothraustes
Shime


(Japanese) Grey Bunting ______ early-may, mid-may 02, 04, 05, 07
Emberiza variabilis
Kuroji


Black-faced Bunting (mostly the subspecies personata, which breeds on Hegura; but also, in 2010, Emberiza s. spodocephala, which breeds on the Asian mainland in eastern Siberia & northeast China and winters in eastern & southern China and in Taiwan; these 2 subspecies may be distinct species) ______ mid-apr, early-may, mid-may 01, 02, 04, 05, 06, 07, 10
Emberiza spodocephala
Aoji


Japanese Yellow (or Siebold's) Bunting ______ early-may, mid-may 04, 06, 07
Emberiza sulphurata
Nojiko


Yellow-breasted Bunting ______ mid-may 04, 05
Emberiza aureola
Shima-aoji


Chestnut Bunting (rare in Japan) ______ mid-may 04
Emberiza rutila
Shima-nojiko


Chestnut-eared (or Grey-headed) Bunting ______ mid-may 07, 10
Emberiza fucata
Hoaka


Meadow Bunting ______ mid-may 07, 10
Emberiza ciodes
Hojiro


Rustic Bunting ______ mid-apr, early-may, mid-may 01, 02, 04, 05, 06, 07, 10
Emberiza rustica
Kashiradaka


Elegant Bunting (has been called Yellow-throated Bunting) ______ mid-apr, early-may, mid-may 01, 02, 05, 06, 07
Emberiza elegans
Miyama-hojiro


Yellow-browed Bunting (rare in Japan) ______ mid-may 07, 10
Emberiza chrysophrys
Kimayu-hojiro


Little Bunting (rare in Japan) ______ mid-may 07, 10
Emberiza pusilla
Ko-hoaka


Tristram's Bunting (rare in Japan) ______ early-may, mid-may 02, 04, 06, 07, 10
Emberiza tristrami
Shirohara-hojiro



Tristram's Bunting


Common Reed Bunting ______ mid-apr, early-may, mid-may 01, 06, 07, 10
Emberiza schoeniclus
O-jurin