PO Box 9021, Wilmington, DE 19809, USA
E-mail: font@focusonnature.com
Phone: Toll-free in USA 1-800-721-9986
or 302/529-1876; Fax: 302/529-1085
THE FONT BIRDING & NATURE TOUR IN JAPAN
May 2006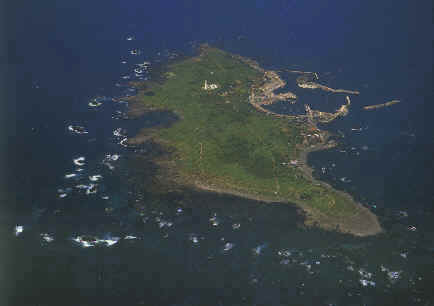 Little Hegura Island, off the west coast of Japan,
is a tremendous and exciting place for bird migration in the spring.

Links:

List of Birds & Other Wildlife during our Japan Spring Tour - May '06
Cumulative List of Birds during our Japan Spring Birding Tours
Upcoming FONT Birding & Tours in Japan
home


The following account written by Armas Hill, leader of the tour:
During the May 2006 FONT birding & nature tour in Japan (our 26th tour there; our 10th in the spring), there were thousands of Streaked Shearwaters seen from the ferry (an hour-and-a-half ride) to Hegura Island in the Sea of Japan. Also in flocks, were hundreds, as many as a thousand, Red-necked Phalaropes.

The water of the sea was smooth. And, as it was like glass, the alcids sitting on the water were relatively easy to spot. Most were Rhinoceros Auklets. There were also Japanese Murrelets, which are endemic to Japan, endangered, and attractive black-and-white birds with a nice Japanese name, "Kanmuri-umisuzume", It's pronounced as it looks.

The alcids breed on rocky islets by which the ferry closely passes. On the slopes of those small islands, thousands of Black-tailed Gulls were at their nesting sites. Many were seen flying close to the boat.

During the return ferry-ride from the island a couple days later, Streaked Shearwaters still abounded. The sea was not as calm, and there was more of a breeze. So more shearwaters were seen in flight, probably as many as 20,000. During the earlier trip to the island, with different conditions, an estimated 10,000 were seen. It was fun to watch so many shearwaters, in flocks lifting from the water and flying about. The species is actually incredibly abundant over oceanic waters around Japan, where the total population is said to be between 2.5 and 5 million.

As noted, our ferry-ride was to and from a place called Hegura Island (or Hegura-jima). That little island is one of the foremost places anywhere in the world to experience bird migration. For its size, it may well be the best piece of land on Earth for such migration, during the spring (and it's also good later in the year, in the late-summer and fall, although FONT has yet to be there then). Such statements are not exaggerations. As many as approximately 360 species of birds have been recorded on Hegura Island. And at least a new species is added every year.

Hegura Island is in the Sea of Japan, off the west coast of Honshu (the main Japanese island). And yes, it is small - only 1 kilometer wide and less than 2 kilometers long. One can easily walk the path around the entire coastline of the island in less than an hour.

Some people live on the island. But not many, about 150. There was a small store (no longer), an inn (where fortunately we can overnight and have meals), some homes, a school (just recently closed; there was an enrollment of 5), and 1 doctor. The most prominent structure on the island is a tall, white lighthouse. In the morning, the women of Hegura dive offshore for seaweed. Later in the day, if sunny, they put it out to dry. Men go out on boats to fish.

People, such as us during our Spring Birding Tour in Japan, go to Hegura to bird. During our 2006 tour, we were on Hegura May 10-12. It was our 5th tour to visit Hegura. 4 of the tours have been in the month of May. Once, we visited in April. In all, during those 5 tours, we've found a cumulative total of 151 species of birds on Hegura Island. A complete list of those birds is elsewhere in this website (there's a link above).

During spring migration, landbirds, shorebirds, and waterbirds occur on Hegura. Many landbirds, especially as they travel at night, on their way north, come across the small island in the sea. Given optimum conditions, in the spring, the island can be filled with birds. They're in the open on fields, or they're in bushes, small trees, under debris by the homes, or along the rocky coast. In short, they can be everywhere.

Birds that elsewhere can be notorious skulkers are often, on Hegura, more out in the open. In that category, for example, are the shy Japanese Robin, Siberian Blue Robin (*), and the White's Ground Thrush (*). (Those with an (*) were found during our May '06 tour.)

Routine migrants are enroute from where they've wintered in the Asian tropics to where they'll breed as far north as Siberia. These include: Siberian Rubythroat (*), Siberian Stonechat (*), and Yellow-breasted Bunting. (Again, those with an (*) were found during our May '06 tour.)

There are, on Hegura, birds migrating north that are generally more common on the Asian mainland along the Chinese and Korean coasts than they are in Japan. There are a number of birds in that category that we've seen during our 5 FONT tours on the island, including: Chinese Egret (*), Chinese Pond Heron (*), Purple Heron (*), Hoopoe, Richard's Pipit, White-throated Rock Thrush, Swinhoe's (or Rufous-tailed) Robin (*), Dusky Warbler, Mugimaki Flycatcher (*), Tricolored Flycatcher (*), Red-throated Flycatcher, Black-naped Oriole, Chestnut Bunting, and Tristram's Bunting (*). (Once again, those species with an (*) were found during our tour in May '06.)

In all, we saw 84 species of birds on Hegura Island in May 2006.

Among them, in addition to those already referred to above with an (*), we also saw:
both Temminck's and Pelagic Cormorants,
Japanese Sparrowhawk, Grey-faced Buzzard, Northern Hobby, and Peregrine Falcon,
Mongolian Plover, Black-tailed Godwit, Red-necked Stint, Green and Common Sandpipers,
Grey-tailed (or Polynesian) Tattler,
Common and Latham's Snipes,
Black-tailed, Vega (Herring), Slaty-backed, and Glaucous-winged Gulls,
Common, Oriental, and Lesser Cuckoos,
a Jungle (or Grey) Nightjar sitting still during the day on a fence, and asleep even as it was surrounded by people with cameras, binoculars, and telescopes (a photo of this bird is now on the home-page of our website: www.focusonnature.com)
the Dollarbird (a Roller),
Buff-bellied Pipit (the Siberian race) and Yellow Wagtail,
Ashy Minivet,
Red-flanked Bluetail (also called either Siberian Bluechat or Orange-flanked Bush-Robin)
Siberian Thrush, Japanese Grey Thrush, Eye-browed Thrush, Dusky Thrush,
Japanese Bush Warbler, Oriental Great Reed Warbler, Black-browed Reed Warbler,
Eastern Crowned Warbler, Sikhalin (or Pale-legged) Warbler, Arctic Warbler,
Blue-and-white Flycatcher (the males are beautiful), Asian Brown Flycatcher,
Siberian (or Dark-sided) Flycatcher, Grey-streaked Flycatcher,
Narcissus Flycatcher (this was certainly a favorite bird of our visit - the attractive males were so common and so tame, sometimes they were in bushes and trees, but other times they were on sidewalks in front of us, on fences beside us - just about anywhere!)
Japanese Paradise Flycatcher (what a gem!),
Brown Shrike,
Brambling, Eurasian Siskin, Hawfinch,
Japanese Yellow Bunting, Yellow-throated Bunting, Rustic Bunting.

Among the most interesting aspects relating to the bird migration when we were at Hegura in May '06 was that there were 3 "special" egrets & herons among others at one corner of the island. With Little, Intermediate, and Great Egrets, and some Grey Herons at pools of water among the rocks by the shore, there were "the 3", 1 of each: Chinese Egret, Chinese Pond Heron, and Purple Heron. It was like a little piece of China at that one spot on the island. And all 3 were "new birds" for us, not just for Hegura, but for Japan.

The Chinese (or Swinhoe's) Egret, that breeds along the coasts of China and Korea, is one of the rarest egrets in the world. The population is estimated as being between 1,800 and 2,500 birds. Other heron-types that are more rare are also in Asia: the White-bellied Heron (of Bhutan, Bangladesh, and Burma, now Myanmar), the White-eared Night-Heron (of China), and the Japanese Night-Heron (breeds in Japan, winters in the Philippines).
The Chinese Egret is similar to the Little Egret of the Old World and the Snowy Egret of the New. It has a shaggy crest when in breeding plumage as our bird was, more so than a Snowy, and not with a plume as had by a Little. We enjoyed a good look at the rare bird.
Our look at the Chinese Pond Heron was nice, simply put, because in its breeding plumage (as our bird was), it was a nice bird to see. It was an attractive bird, with its head, neck, and breast a reddish-brown, its back black, and its belly white.
The Purple Heron is another attractive bird that is in some ways reminiscent of the Tricolored (formerly Louisiana) Heron of North America. It, the Purple Heron that is, ranges across Eurasia. The subspecies on Hegura was Ardea purpurea manilensis, the easternmost of 3 subspecies, occurring from Siberia to the Philippines, but only as a vagrant in Japan.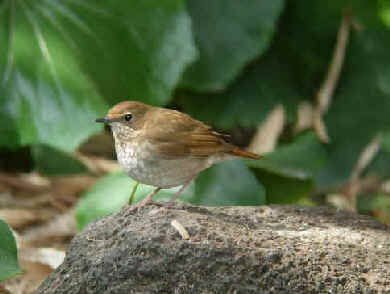 Swinhoe's Robin
Two names of people have been referred to in this narrative in the names of birds, particularly the Swinhoe's Robin and Swinhoe's (or Chinese) Egret, and the Tristram's Bunting. Both of these men, Robert Swinhoe and Henry Baker Tristram, were British ornithologists and collectors in the 1800s. Robert Swinhoe collected specimens, that went to the British Museum in London, from China. Not only were the robin and egret named after him, so was a storm-petrel in the Far East.
Henry Baker Tristram traveled widely and collected specimens in North Africa and the Middle East (Palestine), also for the British Museum. He lived for a while in Bermuda, but during most of his life he lived in England. He collected specimens during a visit to North America in the vicinity of Niagara Falls. His collection of bird specimens, from around the world, was huge. In his early seventies, he printed a catalog listing 17,000 skins in his collection, of about 6,000 species! And during the 10 years of his life after that he accumulated another 7,000 skins that went to the Academy of Natural Sciences in Philadelphia! Tristram contributed articles extensively to the ornithological journal, the Ibis. In addition to the Tristram's Bunting, a bird normally of mainland Asia and not Japan, mentioned here earlier (and that we saw - both male & female - on Hegura Island), a storm-petrel of the Far East was named after him, as one was for Robert Swinhoe.
During May 2006, we saw the Tristram's Bunting on Hegura Island, Japan, 100 years after Henry Baker Tristram died in March 1906.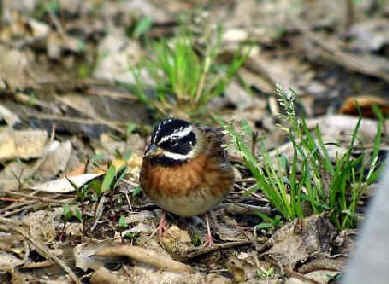 Tristram's Bunting
When we've visited Hegura Island during our tours, we've always had the good fortune to share our experiences with a number of Japanese birders and photographers. Dozens of them have visited there when we have, also (like us) to see the birds, and of course to photograph them too. They journey from throughout Japan to encounter the birds on their journeys. One of the birds during our '06 Hegura tour was a particularly good and well-known traveler, the Peregrine Falcon. Known for its journeying, the bird even has a word synonymous with travel named after it, "peregrination".
One morning on Hegura, a large female Peregrine was sitting on a big rock, by the sea, along the shore. In front of it, there were about 2 dozen Japanese photographers and birders with cameras set up and binoculars lifted up. The Peregrine, resting during its trip probably from the tropics to the tundra, sat there tamely, aware of, but rather oblivious to, the people. When we left Hegura on the ferry later that day, the last bird on the island that we saw was that Peregrine in the distance, perched high atop the communication tower.

During our May '06 tour, nearly 80 (actually 79) species of birds were seen on the main Japanese island of Honshu. Some were particularly notable, including:
the Great Knot, a shorebird that breeds only in eastern Siberia, and winters in Australia and Southeast Asia,
and other shorebirds including Bar-tailed Godwits, Long-billed Plover, Grey-tailed Tattler at a number of locations (even inland), and a fine flock of Mongolian Plovers with many in their richly-colored breeding plumage (the last of these is also called the Lesser Sandplover).
There were some nice birds along streams, including: 3 species of wagtails, the Greater Pied Kingfisher, and the Brown Dipper.
In the forested hills of interior Honshu, we enjoyed Japanese Grosbeaks, the Japanese Pygmy Woodpecker, the Siberian Meadow Bunting, the local race of the Eurasian Jay, and the Varied Tit (along with other tits, Eurasian Nuthatch, Japanese White-eyes, and other birds).
On a reservoir, among waterbirds, a bird that was particularly enjoyed was an adult male Smew, that was in full-breeding plumage, but somehow did not go north to breed.
That Smew was somewhat unexpected, but even more so was another species of duck. After returning to Honshu on the ferry from Hegura, we traveled south along the picturesque coastline of the Sea of Japan with its rocks and cliffs. A fox was "new" for us, but the birds during the ride were those already seen, until, on coastal rocks, a flock of ducks was spotted. We were surprised, that time of year, and at that rather southerly location in Japan, to see 5 Harlequin Ducks, 4 females and a male. We've normally seen that species in Japan either on the northernmost island of Hokkaido, or further north in Honshu on the Pacific Ocean side of the island. Harlequins are a nice sight whenever and wherever they're seen.

Not easily seen (other than on Hegura), but continually heard throughout Honshu, was the loud, almost explosive call of the Japanese Bush Warbler. It's a small bird with a big voice. And the call is well known, as it's heard in many places as the bird hides in the bushes, even in thickets near where people live. The call is known well enough to be heard even inside. Let me explain. There are what are called "family restaurants" in Japan. One called "Joyfull" is similar, sort of, to "Denny's". In such restaurants there are buttons to be pressed on the tables where people sit and eat. A waiter or waitress comes, when one presses that button. When that's done, a chime rings throughout the restaurant. But in "Joyfull" when we pressed the button, there it was again! - that sound, yes, even inside - the loud, explosive call of the Japanese Bush Warbler on speakers throughout the restaurant. As birders when we heard it, we could not help but look.

It can be said that "if you find the restaurant, you find the birds". Well, with the recorded call of the Japanese Bush Warbler inside "Joyfull", not quite. But on Hegura Island, outside, it was true. The Japanese photographers and birders there would put a small pile of feed (seeds or rice), for example, on rocks appropriately situated by the undercover. And, then, the birds would come out to "their restaurant", and views could be had and photos could be taken. We saw a number of birds in that way. As we stood ever so still, birds that would normally be skulkers, were nicely seen. Among them, these birds that have already been mentioned, but let's bring them back now for a final curtain-call: Siberian Rubythroat, Siberian Blue Robin, Red-flanked Bluetail, Siberian Thrush, Tricolored Flycatcher, Swinhoe's Robin, and Tristram's Bunting.
What a wonderful experience it was to see those birds as we did! And it was a wonderful aspect of our '06 tour in Japan in the spring.

to top of page