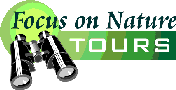 PO Box 9021, Wilmington, DE 19809, USA
E-mail: font@focusonnature.com
Phone: Toll-free in USA 1-800-721-9986
or 302/529-1876





PHOTOS OF
NATURE AND SCENERY
IN SONORA, MEXICO

including birds, butterflies, & MAMMALS

photographed mostly during
the Focus On Nature Tour
in September 2008

(with most photos courtesy of Doris Potter)

Links:

A cumulative list of birds during FONT's Mexico Tours:

List 1: Tinamous to Woodpeckers) (with photos)

List 2: Manakins to Buntings) (with photos)

Birds of Sonora, Mexico (with photos)

Lists of Mammals & Other Wildlife during FONT Mexico Tours (with photos)

Highlights of Previous FONT Tours in Mexico

Upcoming FONT Birding & Nature Tours in Mexico


Photographs follow this narrative written by Armas Hill, leader of the Sep '08 FONT tour in Sonora, Mexico:

Following our tour in Arizona, in September '08, we crossed the border from the United States to Mexico, into Sonora.
We headed toward a place that was to be special to us, for the birds and the other nature that we would experience there. It's the property of a large ranch, about 30,000 acres, in the High Sonoran Desert, where elevations range from about 3,300 to 7,200 feet above sea level, and including a number of habitats, from riparian woodland to desert. Additionally, there would be some spectacular canyons to be explored, and in which some notable wildlife would be found. The scenery, we were told, was to be marvelous, and it was. We arrived at the place well after dark, but the following morning we found the property of the vast ranch to be as good as we were told it would be.

Wildlife does abound in the area. Pumas are said to be common. Deer and Coyote are as well. Many birds occur. During our tour, both Montezuma and Elegant Quail were found. In one of the canyons, we found Rufous-capped Warblers. A Mexican Yellow Grosbeak was seen, as were Five-striped and Rufous-winged Sparrows. The last of these species can be seen locally in southern Arizona, but not as readily as it has been in the past. Overall, the global range of the Rufous-winged Sparrow is nearly restricted to the Mexican state of Sonora.

In all, we saw a good number of birds, of about 70 species, on and near the property of the ranch.

What probably is best about where we were in the remote hills of Sonora is that it IS NOW, as places such as Arizona WERE in the past - before the "development" brought highways, agriculture, and many people. On the property in Sonora , such things are missing. The place is "natural".
Oh, there are some cattle on the ranch, but not many. As one traveled about on the property on tracks in a four-wheel drive vehicle, one had the opportunity to sense, during our visit, what a "natural place" could really be like - and how it was before the highways, agriculture, and many people.
I thought, more than once, as I was in those Sonoran hills, that a place in the United States very similar to where we were is the Big Bend National Park in Texas. Yes, the place had enough to it to be a national park.

As noted, there are a lot of birds and other nature in those Sonoran hills. One of the more notable of the birds is the Mexican subspecies of the Wild Turkey, known as the "Gould's Turkey". It has white in its plumage where other wild turkeys are buffy.

At one point, as we were driving, we noted a huge flock of birds kettling in the sky, hundreds of them, maybe a thousand. A look in the binoculars showed them to be Ravens.

Also in the region, numerous birds occur at Lake Angostura and along the Bavispe River. And, again, not only are birds there, but other wildlife too.

To give again an idea of how remote and wild the area we visited in Sonora, Mexico really is:
As we stood on a hill overlooking Lake

Angostura, we could see across the way a ridge clad on its upper parts with pines. It was there, we were told, that Geronimo had his last hangout. It was in such places that the Imperial Woodpecker once lived, and where today the Eared Quetzal still does.
In a nearby canyon, with steep walls, a couple years ago, a pair of Military Macaws were seen - the most northern sighting of that species, and the closest to the US.



Referring back to Geronimo for a second, one of the reasons why this part of Mexico has been so unpopulated is that it was, for over 150 years, the haunt of the aggressive, even ferocious, Apaches.

During our tour on the Sonoran ranch, our early-morning wake-up call, just outside our windows, was the howling of Coyotes. Throughout the day, there were, as noted, many birds, and also, butterflies in numbers of fine variety, and animals such as the Antelope Jackrabbit and the Coue's White-tailed Deer. Following dusk, owls called. After dark, the stars shone brightly, including a Milky Way that nearly jumped out at us.

As wonderful as the area and the nature were, it was without a doubt, all the more so, due to the kind hospitality of our hosts, Manuel and his family, and David. We learned so much from them, and our excellent Mexican meals on the ranch, reminded us, even though we didnít need reminding, of where we were. All of the time, during our visit, we were, simply put, so very glad to be there.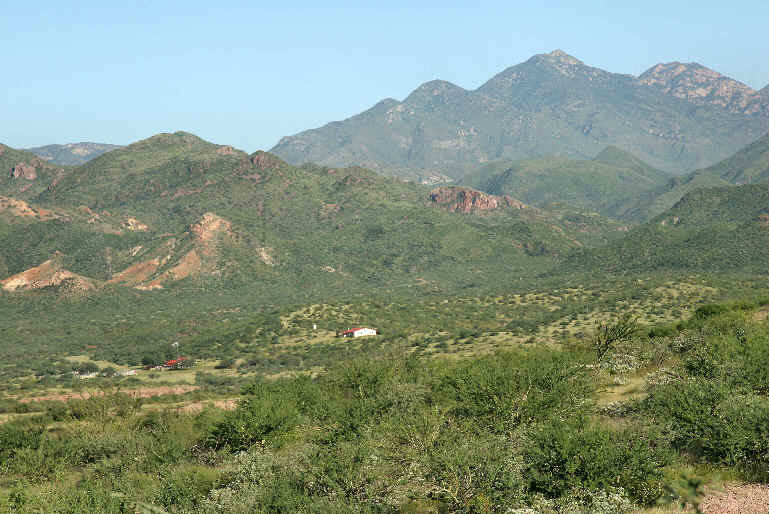 An overall view, showing the ranch where we stayed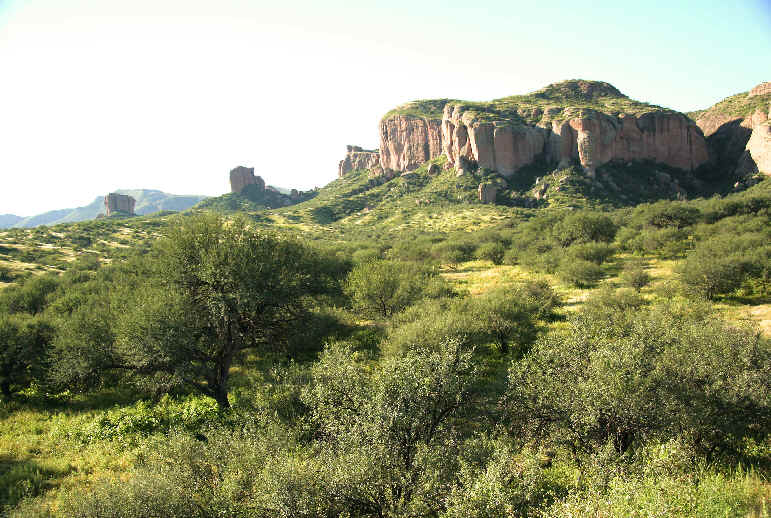 Beautiful scenery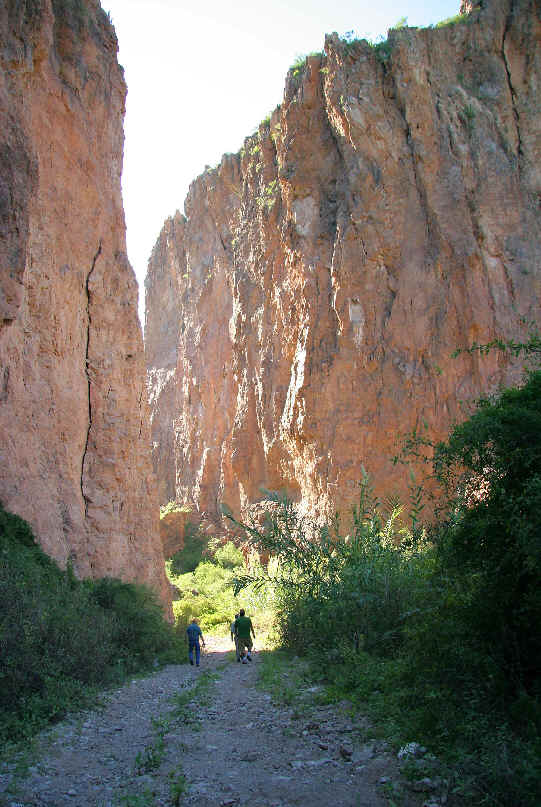 Above & Below: A canyon,
in which we saw Rufous-capped Warbler during our last tour,
and where a couple years ago Military Macaws occurred.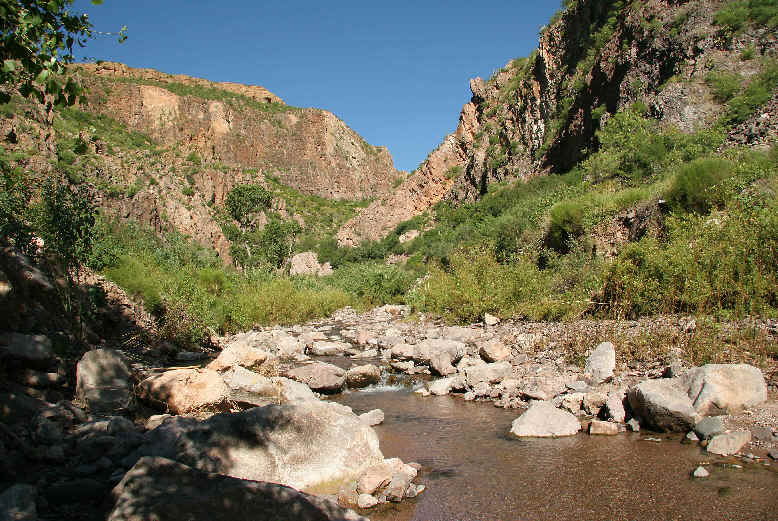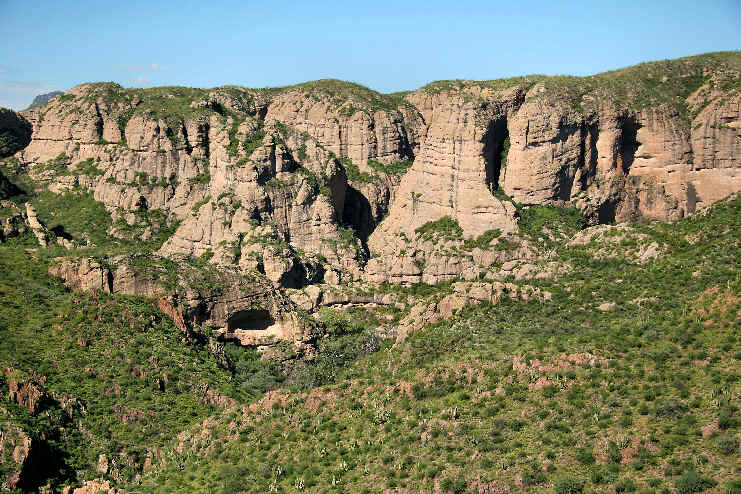 Even more, on the 30,000-acre property of the ranch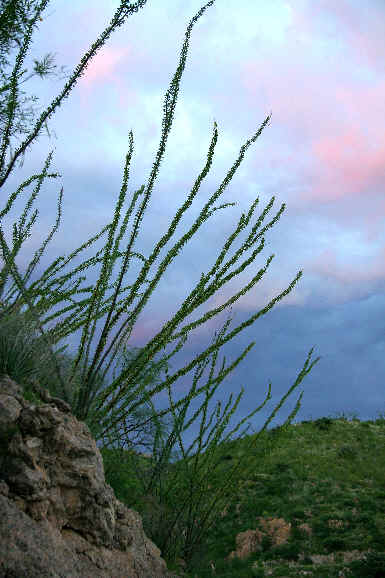 Above: The desert plant known as Ocotillo.
Below: a hillside of it.
When in bloom, its bright red flowers attract hummingbirds.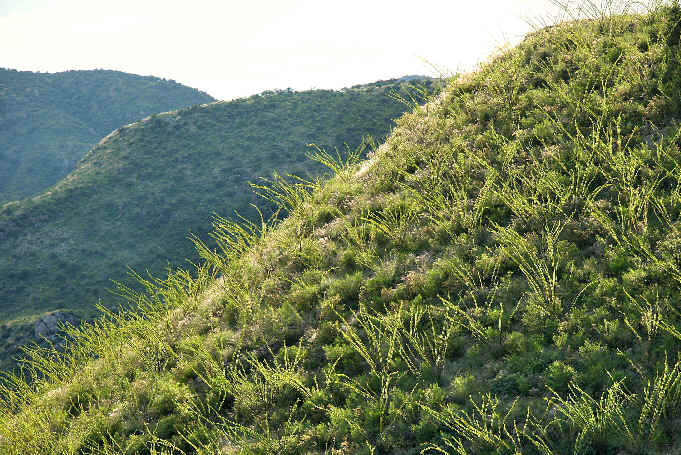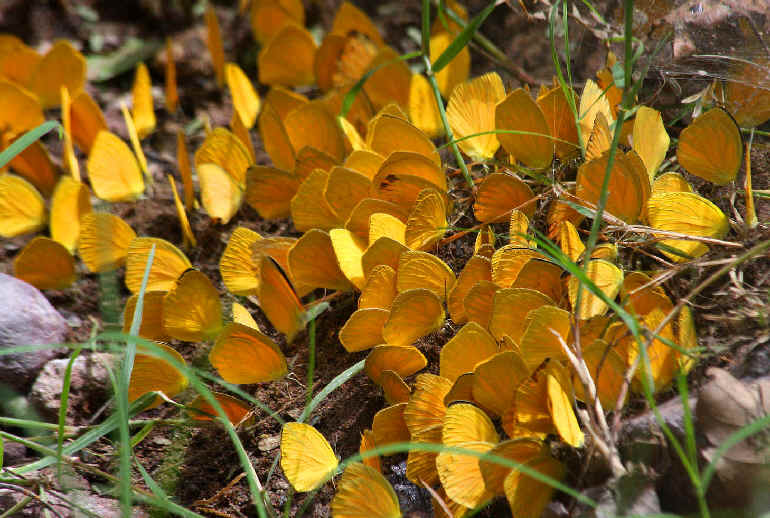 A cluster of butterflies,
during our most-recent tour in Sonora, Mexico.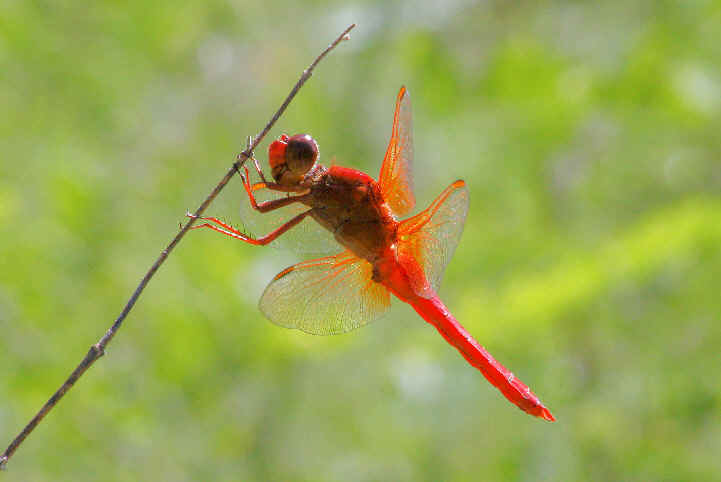 A Dragonfly known as the Neon Skimmer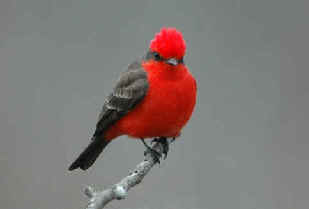 A bright male Vermilion Flycatcher.
A Mexican name for this bird is
"Brazito del Fuego",
meaning "little ball of fire".
(this photo by Howard Eskin)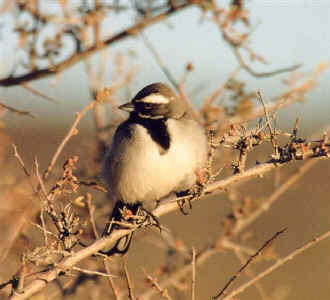 Black-throated Sparrow
(that's also been known as the Desert Sparrow)
(this photo by Marie Gardner)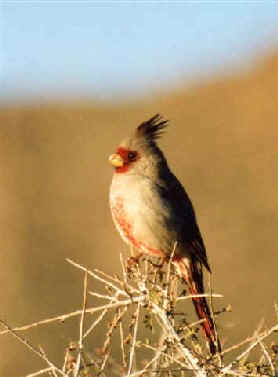 Pyrrhuloxia
(a cousin of the Cardinal)
(this photo by Marie Gardner)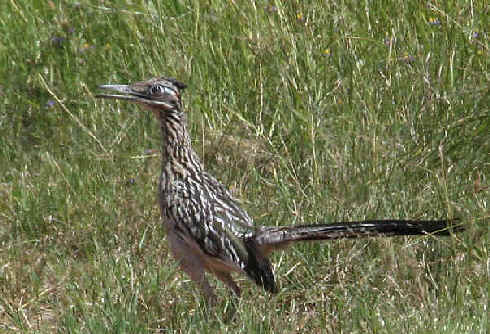 A Greater Roadrunner,
one of 2 species of roadrunners in Mexico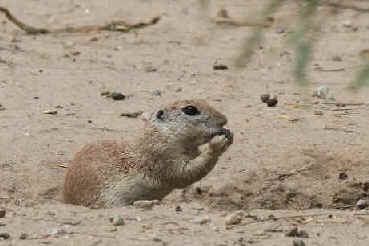 A small mammal, the Round-tailed Ground Squirrel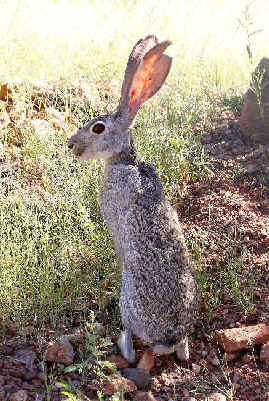 A large animal of its kind, the Antelope Jackrabbit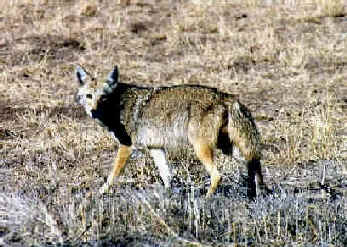 The widespread & adaptable Coyote