For nearly 25 years, Focus On Nature Tours has
conducted birding and nature tours in Central America.
During that time, there have been
30 tours in Costa Rica, 16 in Guatemala,
10 in Panama (5 of them in the Chiriqui highlands),
11 in Mexico, 3 in Honduras, and 3 in Belize.

Our Central American tours scheduled for 2016
include those in Belize, Costa Rica, Guatemala,
Honduras, and Panama.

Other FONT tours have been to the region of the
Yucatan Peninsula of Mexico.
We're scheduled to go there in November 2015.
And we've been to Sonora, in northern Mexico,
in conjunction with tours in Arizona, for birds,
butterflies, mammals, and other nature.

We always look forward to our tour scheduled for
Belize, for birds, butterflies, mammals, and other nature.

For years, there have been 30 FONT birding and nature
tours in Costa Rica, to an assortment of habitats in
both the northern and southern parts of the country,
usually to places less-populated by people but more so
by birds.
In 2016, we have scheduled, as we have in the past,
summer tours to Costa Rica and Panama, when teachers
and others are able to go, who otherwise might not be,
in addition to our tours in both northern & southern
Costa Rica in March.

Our Panama Tour scheduled in 2016 for February will
include places in the Canal Basin that are renowned for
birds & other nature, including the famous Pipeline Road.

Our Guatemala Tours include the highlands, where
Quetzals and Mayas live today, and the lowlands in the
Peten Region, where at Tikal, Mayans lived in the past.
At the end of 2015, scheduled once again our is the
annual FONT Holiday Tour in Guatemala.
You may wish to read an article relating a previous FONT
Guatemala Holiday Tour, that was later in a Washington DC newspaper, written by one of the tour participants:
JAN 2007 GUATEMALA TOUR NEWSPAPER ARTICLE
And you may wish to see a gallery of photos from that tour:
JAN 2007 GUATEMALA TOUR PHOTOS

There are links below to a 4-part bird-list and photo gallery
of Central American birds, noting the more than 900 species
of birds that have been found during FONT tours there,
noting where and when they have been found, along with
information pertaining to subspecies, and with some local
Spanish and Mayan names.
Other links are to lists & photo galleries of Central American
butterflies, moths, mammals, amphibians and reptiles,
and other wildlife, including marine life.
Please take a look and see what there is to be enjoyed
in Central America.


Links to Itineraries for FONT Central American birding tours follow.
As indicated, some of these tours can be done in combination.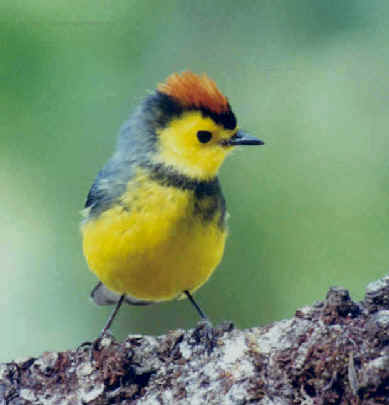 Above: The Collared Whitestart,
a dapper bird that due to its
tameness is known as the
"Amigo de Hombre", or
"The Friend of Man".
Seen, and always enjoyed,
during FONT tours
in Costa Rica & Panama.
This photo taken during
a FONT Costa Rica tour
by Marie Gardner.

Below: a Blue Morpho butterfly
and a Red-eyed Treefrog
Photo of the treefrog
by Rodolphe Alexis