PO Box 9021, Wilmington, DE 19809, USA
E-mail: font@focusonnature.com
Phone: Toll-free in USA 1-888-721-3555
or 302/529-1876
THE FOCUS ON NATURE TOUR IN SWEDEN
September 2007
"A Wonderful Bird Migration in the Land of Linnaeus"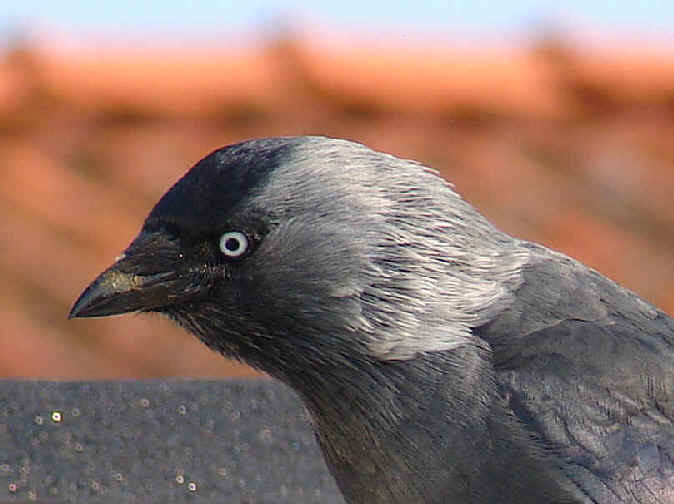 The Western Jackdaw is one the common birds
in the town and villages of southern Sweden.
Links:
Birds during FONT Sweden Tours
Birds & Other Wildlife during our Sweden Tour in September '07
A Photographic Sampling of Swedish Nature & Scenery during the FONT Sep '07 Tour
Upcoming FONT Birding & Nature Tours in Sweden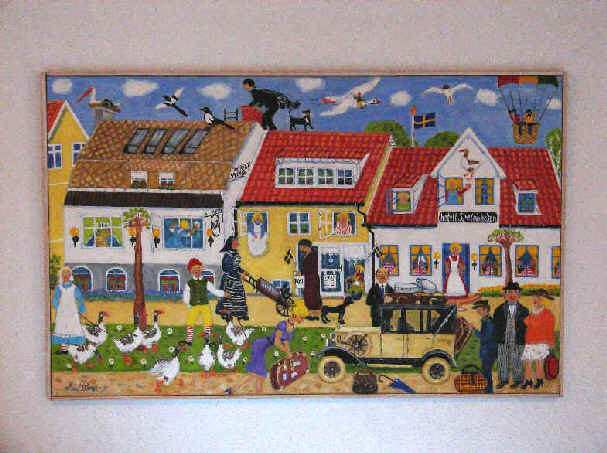 A representation of the town of Skanor, adjacent to Falsterbo,
where we stay during our tour in southern Sweden,
depicting people, birds, our hotel (on the right), and the Swedish flag.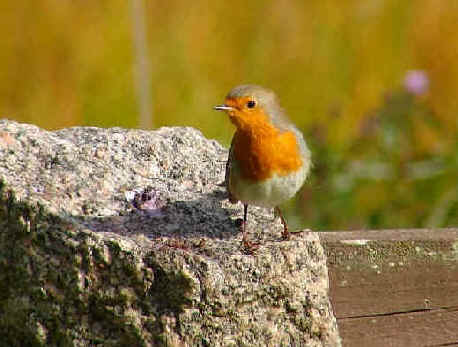 A European Robin
(photo by James Scheib,
during the Sep '07 FONT Sweden tour)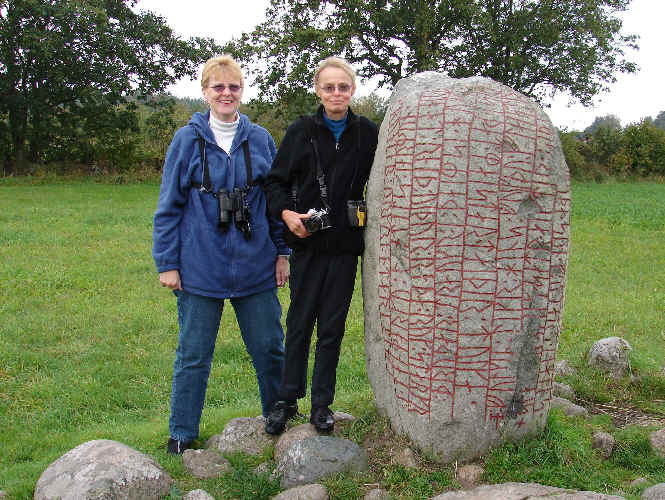 Two FONT Sweden '07 tour participants,
both named Sharon,
on Oland Island
(photo by James Scheib)

The following narrative of the FONT Sep '07 Sweden Tour was written by Armas Hill, leader of the tour:

Our annual early fall tour in Sweden, conducted September, 22-28, 2007, was at a prime time for a fascinating phenomenon - the southbound migration of birds.
We went to two prime places to see it:
Falsterbo and Skanor, at the southernmost tip of Sweden, and a long, narrow island called Oland, in the Baltic off the southeastern coast of Sweden.
The bird migration that we witnessed during this tour was again extraordinary, as it has been for us in previous years.

At Falsterbo, somewhere between 1 and 3 million birds, on their southward migration, are tallied each year from August through October. The migrants are of a good variety, including an assortment of landbirds, shorebirds (or waders), waterbirds of various sorts, and raptors. Given the right weather conditions, Falsterbo can be particularly good for all of these groups, and especially good for raptors.

During our days at Falsterbo, that last week of September, there were always birds about. Early in the morning, overhead a continuous stream of Chaffinches with some Bramblings flew by, while, at times, some other similar birds included: Greenfinch, Goldfinch, Linnet, Siskin, Redpoll, and Serin (these last two species uncommon in southern Sweden). Some of the birds in the sky above were easily visible, such as tight flocks of Wood Pigeons, with some Stock Pigeons among them. Other birds flying by overhead were detected by their flight-calls such as Woodlarks, Skylarks, and Pipits.

Migrating birds go in masses, particularly in the morning, to the tip of the peninsula at Falsterbo. At that tip, there's a golf course. But, because such a place is not private property in Sweden, birders can walk there, in order to be with the masses of birds, as long as they stay on the paths and don't go in the way of the golfers. Along the edge of the golf course, by the sand dunes and the pools and sea beyond, there are bushes that are, during mornings when the migration is good, filled with Blue Tits. Flocks come and go, into and out of those bushes, and that they did for us during our tour. On the pools and sea beyond, there was an assortment of ducks and geese of various species.
By the golf course, there's an old lighthouse dating from the 1700's, and by it, a grove of mostly pines, but also some deciduous trees. In those trees, during the late September migration, there are (and were, for us) numbers of European Robins, Goldcrests, Chiffchaffs, and other small landbirds.
In the sky above the golf course, the bushes, dunes, lighthouse, and trees, as the autumn days proceed, there are raptors in the sky, We saw many during our days at Falsterbo. Most common were Eurasian Sparrowhawks, but also there were numerous Red Kites and Common Buzzards. The plumage of the Buzzard, Buteo buteo, is quite variable. Some of those hawks are light. Others are dark. We saw both, and many with shading in between. Mid-day, during our last day at Falsterbo, just as we were about to leave, a White-tailed Eagle was overhead with the other raptors.

Skanor is the sister-town of Falsterbo. It's a nice little village, where we spent our nights in southernmost Sweden. Birding can be good in and by Skanor, and it was for us. One morning, by the church and cemetery, the bushes and trees were filled with small birds. One could have thrown a stone from there to the nearby marshland filled with reeds. In this perfect "edge" habitat, small birds abounded when we were there. There were many Chiffchaffs, some Black Redstarts, and a nice number of European Robins, in addition to various tits and finches. So many birds at one place, as they were perched in the sunlight, was wonderful.

Also good, nearby in Skanor, by the water's edge, we had a wonderful time along a concrete wall and stone jetty, adjacent to a small harbor where boats were docked. As we walked about, that morning, along the wall and the jetty, there were many wheatears, wagtails, and pipits. The Northern Wheatears would continue on their way to Africa. There were two species of Wagtails: White and Grey. Most were the White Wagtail, a bird that's always wonderful to watch. The Pipits were mostly Meadow, but there were also some Eurasian Rock. All of these birds, in total, dozens of them, were feeding insects by the water, along the shoreline and within the rocks. By the jetty, a large flock of Barn Swallows was also feeding on insects in the air above the water. All of these feeding birds were filling up to continue their migration, some, such as the wheatears, to Africa, and others almost as far to the Mediterranean. All of the birds with us there that morning would soon leave Sweden, except for maybe the very little and shy Winter Wren that would periodically appear from between the rocks.

Always, at places such as Falsterbo and Skanor, where birds migrate, in addition to those that are common, there can be some not so. And there's always the chance for a bird that's not at all expected.
As we were standing one morning, at the end of the golf course at the tip of the peninsula in Falsterbo, a bird in that unexpected category appeared in the sky above us. It was a Black Woodpecker, a large member of the same genus as the American Pileated Woodpecker. Somewhat confused for a while, when the bird saw so much water ahead of it on all sides, it flew about above us for a bit, out in the open where there were no trees, before it flew away. Black Woodpeckers are usually to be found in among the trees, in the forest.

We'll now shift away from Falsterbo, to the other place that we enjoy so much during our Sweden tours, Oland Island:

The southbound migration of birds on that island with the odd name, in the Baltic Sea off the southeast coast of Sweden is also, during late September, very good indeed.
But there are some notable differences between the migrations on Falsterbo and Oland. On the latter, cranes and geese, for example, are much more in evidence. And traveling south along the coasts of the long island, there can be a continual processions of waterbirds. For example, during one of our days on Oland, thousands of Common Eiders were flying, flock after flock, in their way south. One morning, those people who were counting birds there told us that 35,000 Common Eiders were tallied before 10am.
As noted, Oland is long, over a hundred miles, from north to south. And it is narrow, east to west. On it, there's only one very small city. And there are but a few towns, all small. Some are with one store, some are without. However, there are, throughout the island, many barns and farmhouses, virtually all of them well-maintained and all picturesque. These scenes throughout the island make it like seem one big post card. Fitting well in such scenes of countryside settings, was the attractive bed-and-breakfast where we stayed. Our time on Oland, as we traveled about from one end of the island to the other, along the coasts and in between, was for us rather like a couple days out of the "real world" as most of us otherwise know it.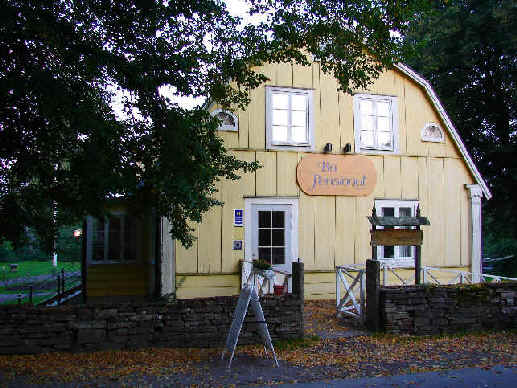 The quaint little hotel where the FONT tour group stayed
on Oland Island in September 2007
(photo by James Scheib)
Bird migration can be good at many places on Oland Island, but it's best at the southern tip, where, as they are at Falsterbo, the birds are more concentrated and obvious. By the lighthouse, in the bushes and small trees by the few buildings, and on the grassy meadow, as well as along the gravelly coastline and in the marsh, there are many birds to be seen. As the birds migrate, day to day, and sometimes hour to hour, the cast of avian travelers changes. Those bushes and low trees, at the south end of the island, can literally overflow with a big number of little birds. Among those little ones, is one of Europe's smallest birds, the Goldcrest. There can be many, as we saw, long with with many Robins, Warblers, and some Flycatchers. With dozens of these birds in the bushes, a flock of Song Thrushes was feeding on the small lawn beneath them. A predator for such birds, the Merlin, flew by in the sky above them.

The large birds that stage a few miles to the north, notably the cranes and the geese, mentioned earlier, are among the birds that were most enjoyable for us to see.
A favorite were the flocks of cranes. We saw hundreds of them, that had just recently left their nesting grounds further north in Scandinavia. They gather together on Oland before flying south to where they'll winter in Spain.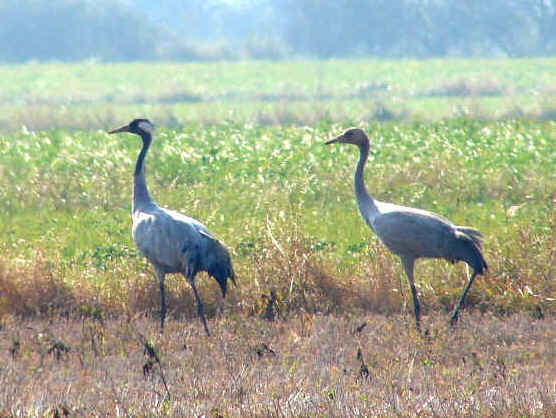 An adult Common Crane (left) with a young bird of the year (right)
photographed on Oland Island during the FONT Sept '07 Sweden Tour
(photo by James Scheib)
Geese of a few species also stage in late September/early October on Oland Island. We saw flocks of Greylag, Barnacle, and Brant. Among one large flock of geese, we saw on Egyptian Goose, an African species that's been feral for years in Holland.
On and by farm fields on Oland, there can be (and were, for us) flocks of migrating finches, such as Chaffinches, Bramblings, Linnets, and Yellowhammers. On one particular field, in addition to the geese, gulls, lapwings, corvids, and finches that were feeding on the ground, there was a large flock of Starlings. Among those Common Starlings, there was one Rosy Starling, a bird normally in eastern Europe and nearby Asia.

Woodpeckers that we encountered on Oland were both the Great and Lesser Spotted, and a nice prize, the Eurasian Green.

Waders (or "shorebirds") that we encountered on Oland were, in addition to the Northern Lapwing, already mentioned, these other Plovers: Common Ringed, Grey, European Golden - as well as these: Pied Avocet (a nice one for us to see that late in the season), Ruff, Dunlin, Common Redshank, Common Greenshank, Eurasian Curlew, and Bar-tailed Godwit.

At both Falsterbo, and at the southern tip of Oland, at a place called Ottenby, there have been, for years, "bird stations", where the passerines are netted and ringed. In Europe, what's called "bird banding' in North America, is called "ringing". This activity has been conducted at both stations since the 1940's, and at both places, since then, about a million birds have been ringed. During one of the days of our tour, "bird number One Million" was ringed at the Ottenby bird station. It was a European Robin.
For us, the dapper, to say the least, European Robin was one of the birds we liked the best. We saw that bird so well, so many times. Not as many times "as a million", but, for us, many times. Even so, we never tired of seeing it.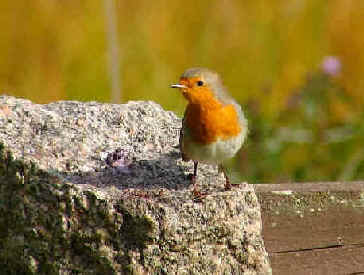 A European Robin
photographed during the FONT 2007 Tour in Sweden
(photo by James Scheib)
The European Robin was just one of 113 species of birds during our September 2007 Sweden Tour. Of those, 76 species were recorded at Falsterbo and Skanor, and 87 species were found on Oland Island.

Given in the following two lists, in order of abundance, are rankings of the top 25 bird species that have been tallied in passage (or on migration) at firstly Falsterbo, and then Ottenby on Oland Island, in the late-Summer & the Fall.
Both lists reflect the counts since records began being kept, at both places, over 50 years ago, in the 1940's.
The NUMBERS given are YEARLY AVERAGES.
The 2 species of Chaffinch and Brambling are combined as the birds travel in mixed flocks of both. Generally, the proportion of Chaffinch to Brambling can be as high as 9 to 1.

At FALSTERBO:
1) Chaffinch/Brambling: 1,000,000
2) Woodpigeon: 180,000
3) Starling: 180,000
4) Common Eider: 75,000
5) Linnet: 46,000
6) Yellow Wagtail: 36,000 (migrates before our annual tours conducted in late Sept or early Oct)
7) Barn Swallow: 32,000 (mostly before our tours)
8) Greenfinch: 27,000
9) Western Jackdaw: 26,000
10) Siskin: 23,000
11) Tree Pipit: 22,000 (mostly before our tours)
12) Fieldfare: 13,000
13) Common Buzzard: 11,000
14) Redwing: 10,000
15) Meadow Pipit: 9,900
16) Rook: 9,200
17) Hooded Crow: 9,200
18) Blue Tit: 8,800
19) Stock Pigeon: 7,800
20) European House Martin: 7,300 (migrates before our tours)
21) Black-headed Gull: 6,700
22) European Honey Buzzard: 6,500 (mostly before our tours)
23) Eurasian Sparrowhawk: 6,100
24) Sand Martin: 5,200 (before our tours)
25) Yellowhammer: 5,100
total: a yearly average of 1,800,000 birds, with some other species, less common, not listed here

At OTTENBY, at the southern end of OLAND ISLAND:
1) Swift: 110,000 (migrates before our annual tours conducted in late Sept or early Oct)
2) Common Starling: 60,000
3) White Wagtail: 23,000
4) Chaffinch/Brambling: 18,000
5) Dunlin: 17,000
6) Linnet: 16,000
7) Eurasian Wigeon: 11,000
8) Common Eider: 10,000 (counts for this species have greatly increased in recent years due to a different, improved counting technique along the coastline of the island)
9) European House Martin: 9,800 (migrates before our tours)
10) Eurasian Oystercatcher: 6,600 (migrates before our tours)
11) Common Black-headed Gull: 6,400
12) Sand Martin: 6,300 (migrates before our tours)
13) Barn Swallow: 5,600 (mostly before our tours)
14) Common Shelduck: 4,000 (mostly before our tours)
15) Yellowhammer: 3,600
16) Eurasian Siskin: 3,400
17) Common /Arctic Terns: 3,300 (migrate before our tours)
18) Greenfinch: 3,200
19) Eurasian Skylark: 3,000 (mostly before our tours)
20) Northern Pintail: 3,000
21) Tree Pipit: 3,000 (mostly before our tours)
22) Stock Pigeon: 2,700
23) Black Scoter: 2,300
24) Eurasian Curlew: 2,200 (mostly before our tours)
25) Northern Lapwing: 2,200
total: a yearly average of about 400,000 birds, with some species, less common, not listed here.

Watching raptors migrate through Falsterbo has been, over the years, a highlight during our FONT Sweden tours. That migration, during many September and October days, is very apparent.
In all, 21 species of raptors have been recorded migrating south at Falsterbo during the 30 years from 1973 to 2003. They are listed below, in order of abundance, with the average number of individuals per year, and maximums & minimums:
1) Eurasian Sparrowhawk: 16,183 max: 30,072 in 2000; min: 3,712 in 1973
2) Common Buzzard: 13,860 max: 18,502 in 1999; min: 7,430 in 1986
3) European Honey Buzzard: 7,486 max: 11,076 in 1974; min: 2,127 in 2001
4) Rough-legged Buzzard (or Hawk): 932 max: 1,619 in 1978; min: 154 in 2003
5) Western Marsh Harrier: 550 max: 1,078 in 2000; min: 113 in 1978
6) Red Kite: 508 max: 1,445 in 2003; min: 33 in 1973
7) Common Kestrel: 475 max: 953 in 2003; min: 192 in 1995
8) Northern (or Hen) Harrier: 268 max: 379 in 2003; min: 107 in 1998
9) Osprey: 241 max: 413 in 2000; min: 110 in 1980
10) Merlin: 204 max: 417 in 2003; min: 98 in 1979
11) Eurasian Hobby: 48 max: 71 in 1986 & 2001; min: 16 in 1996
12) Northern Goshawk: 33 max: 106 in 1991; min: 0 in 2000
13) Peregrine Falcon: 22 max: 76 in 2003; min: 2 in 1977 & 1978
14) White-tailed Eagle: 10 max: 47 in 2003; min: 0 several years
15) Black Kite: 7 max: 19 in 2003; min: 0 several years
16) Montagu's Harrier: 7 max: 19 in 1990; min: 0 several years
17) Lesser Spotted Eagle: 3 max: 14 in 1988 & 1989; min: 0 several years
18) Pallid Harrier: 2 max: 11 in 2001; min: 0 several years
19) Golden Eagle: 2 max: 8 in 1981; min: 0 several years
20) Red-footed Falcon: 2 max: 6 in 1995 & 2001; min: 0 several years
21) Greater Spotted Eagle: 1 max: 5 in 1998; min: 0 several years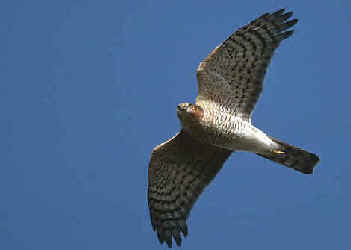 The Eurasian Sparrowhawk is overall
the most common migrating raptor at Falsterbo.

As certainly indicated in this narrative, a substantial number of records have been kept relating to the bird migration in Sweden during the last 60 years. Rather interesting have been the trends, especially during the most recent decades, that may relate to the global warming that's been taking place in Sweden as it has in other parts of the world.
Some species, during their southbound migration, have recently been peaking later in the season than they have in the past. Such species are given below, noting how many days later their median date has been at Falsterbo in the 2000's (thus far) compared to the 1970's:

Greylag Goose: 33 (from Sep 21 to Oct 24)
Red Kite: 9 (from Sep 28 to Oct 7)
Whooper Swan: 8 (from Oct 30 to Nov 7)
Hen Harrier: 8 (from Oct 4 to Oct 12)
European Goldfinch: 8 (from Oct 21 to Oct 29)
Common Crane: 6 (from Sep 18 to Sep 24)
Stock Pigeon: 6 (from Oct 4 to Oct 10)
Western Jackdaw: 4 (from Oct 17 to Oct 21)
Common Buzzard: 3 (from Oct 5 to Oct 8)
Yellowhammer: 3 (from Oct 28 to Oct 31)

* * * * * * * * * * * * * * * * * * * * *
When we travel between Falsterbo and Oland, it's about a 5-hour drive through the Swedish countryside. We usually stop for lunch, about midway, near the little town of Almhult. We did again this year, having a meal such as Swedish meat balls with vegetables. The food was good and all was well. It was a sunny, bright, and warm fall day. Just outdoors, in the small trees, as we ate, some Great Tits were flitting about. It's always nice, during a stop, when there's a bird or two with us, and dapper ones at that.

But what was really interesting was that later, that evening, in the small quaint hotel where we stayed, I read in a book that Carl Linnaeus was born back in 1701 on a farm by Almhult, very near where earlier in the day we had eaten our Swedish lunch.
Later, during our trip that day, in the afternoon, we stopped for gas in the small city of Vaxjo. I also read that evening, in that same book, that Linnaeus had gone to primary school in Vaxjo, the same city where, along the way, we got gas and a snack.
In that part of Sweden, away from the towns and small cities, it's very much a land of forests, lakes, farms, and fields.
Why would a man back in the 1700's in such a remote part of the world - and away from the major cities of the time - be of interest to us, nowadays, on a birding tour in 2007?
And who was this Carl Linneaus, anyway?

He's notable because every time that we look in a bird book we see something for which he has been responsible, during more than the last two centuries, and for which he'll continue to be, probably forever.

In 1735, Carl Linneaus, the Swedish doctor and botanist, published the first edition of his "Systema naturae", which contained the basis of the modern taxonomy that's used today, for both flora and fauna.
During former centuries, living things had been classified by their function and behavior, rather than according to their form and structure. As an example, some birds were roughly categorized as simply "waterbirds".

Firstly, as noted, Linnaeus was a botantist. In 1753, he published his "Species Plantarum", and the next year, "Genera Plantarum". The two volumes established the principle of international recognition of scientific plant names. Since his work, classification has extensively been improved, and still yet undergoes modification. But it was from Linnaeus's work that an enormous catalog grew that enabled naturalists for the first time to proceed with the confidence that he or she was working with a plant whose identity had already been determined.
Linnaeus had worked out a binomial system of nomenclature in which two words, mostly the internationally understood Latin, or sometimes Greek, were used to name all plants. First as to the genus and then the species, the two designated words would define a unique and natural unit.
No longer, as in the past, would a single Latin word designate a particular plant, nor would there be any more cumbersome conglomerations of Latin words. For example, the Cherry tree, that Linnaeus simplified to "Physalis angulata" had been: "physalis amno ramisissime ramis angulosis glabris follis dentoserratis", meaning "bladder-footed annual, many-branches with angled branches and smooth, deeply toothed leaves".

By 1758, Linnaeus published his 10th edition of "System naturae", in which he established the same system, as he had for plants, of taxonomic classification for zoologists in relation to birds and mammals. In it, there was, for those creatures, the first international "name bank" for scientists to use, with the same binomial structure, of mostly Latin and sometimes Greek, giving first genus and then the species. Over the years, some names have changed, and there has been some modification, but the system put in place by Linnaeus has remained the same.

Overall, Linnaeus's taxonomic system caught on quickly in much of Europe. However, there were some scientists who adapted it with the ulterior motive of renaming well-known birds and animals and then getting credit for their description. And British naturalists, on the whole, ignored it as they preferred to stay with the English bird names that were used by the English naturalist John Ray, in his "Ornithologieae libri tres" in 1676.
It was not until 1922 that there was a more standard worldwide agreement regarding ornithological scientific names and taxonomy, only after an International Commission on Nomenclature had been founded in 1901.

In his "System naturae", Linnaeus listed 564 species of birds, in 85 genera (the plural of genus). Of course, not all of these were birds of Sweden, or even Europe. Linnaeus, in his 1758 work, done in Sweden, described such birds as the Ostrich of Africa, the Golden Pheasant and the Indian Peafowl of Asia, and a number of species from the Neotropics, including various macaws, parrots, toucans, and even the Harpy Eagle. He also described some North American birds based on collections and accounts by various people including Peter Kalm, a Swede who traveled in parts of eastern North America procuring information regarding nature and sending it back to Linnaeus in Sweden. Also, an especially pertinent source for Linnaeus regarding North American birds was the work, "A Natural History of Florida, Carolina, and the Bahama Islands", published in 1754, by the early American naturalist, Mark Catesby. North American species described by Linnaeus included the Whooping Crane and the Ivory-billed Woodpecker. (This, of course, was years before there was a United States of America.)

Back when it began, in 1735, "System naturae" was only a slim pamplet. That first edition was actually published in the Netherlands where Linnaeus lived at that time, about a year. It was but 11 pages. During years that followed, as "System naturae" grew into a mutivolume work, Linnaeus's idea's evolved, as more & more plant and animals specimens were sent to him from all over the globe. (Some bird specimens that he received from the recently-explored Americas as well as Asia & Africa, from which he described and named species, were to referred to in the last paragraph.)
During those decades, Linnaeus had great pride in his work. In fact, he was a bit vain as he liked to say in Latin: "Deus creavit, Linnaeus disposuit". In English, that means "God created, Linnaeus organized".

Many of the birds that we saw during our September '07 Sweden tour were described by Linnaeus, either back in 1758 in the 10th edition of "System naturae", or later as additions in subsequent editions in 1761 & 1766.
Oddly, some other birds during our tour were not so described by Linnaeus - even though one might think they would have been (such as the Mute Swan and the Herring Gull, both of course common and obvious birds in Sweden).

These following birds, seen during our Sweden Sep '07 tour, were described by Linneaus in 1758. Given first is the current scientific name (usually, but not always, that given by Linnaeus), followed by the Swedish common name (used by those at the time of Linnaeus & since in "their part of the world"), and then lastly, the current English name.

1) Perdix perdix, Rapphona, Grey Partridge
2) Pasianus colchicus, Fasan, Common Pheasant
3) Podiceps cristatus, Skaggdopping, Great Crested Grebe
4) Phalacrocorax carbo, Storskarv, Great Cormorant
5) Ardea cinerea, Hager, Grey Heron
6) Anser anser, Gragas, Greylag Goose
7) Branta bernicla, Sadgas, Brant Goose
8) Branta canadensis, Kanadagas, Canada Goose (even though it was a North American, and not a Swedish bird)
9) Tadorna tadorna, Gravand, Common Shelduck
10) Anas platyrhynchos, Grasand, Mallard
11) Anas strepera, Snatterand, Gadwall
12) Anas penelope, Blasand, Eurasian Wigeon
13) Anas acuta, Stjartand, Northern Pintail
14) Anas clypeata, Skedand, Northern Shoveler
15) Anas crecca, Kricka, Eurasian Teal
16) Aythya ferina, Brunand, Common Pochard
17) Aythya fuligula, Vigg, Tufted Duck
18) Somateria mollissima, Ejder, Common Eider
19) Bucephala clangula, Knipa, Common Goldeneye
20) Mergus serrator, Smaskrake, Red-breasted Merganser
21) Haliaeetus albicilla, Havsorn, White-tailed Eagle
22) Milvus milvus, Glada, Red Kite
23) Accipiter nisus, Sparvhok, Eurasian Sparrowhawk
24) Accipiter gentilis, Duvhok, Northern Goshawk
25) Buteo buteo, Ormvrak, Common Buzzard
26) Circus aeruginosus, Brun karrhok, Western Marsh Harrier
27) Falco columbarius, Stenfalk, Merlin
28) Falco tinnunculus, Tornfalk, Common Kestrel
29) Gallinula chloropus, Rorhona, Common Moorhen
30) Fulica atra, Sothona, Eurasian Coot
31) Grus grus, Trana, Common Crane
32) Recurvirostra avosetta, Skarflacka, Pied Avocet
33) Vanellus vanellus, Tofsvipa, Northern Lapwing
34) Pluvialis squatarola, Kustpipare, Grey Plover
35) Pluvialis apricaria, Ljungpipare, European Golden Plover
36) Charadrius hiaticula, Storre strandpipare, Common Ringed Plover
37) Actitis hypoleucos, Drillsnappa, Common Sandpiper
38) Calidris alpina, Karrsnappa, Dunlin
39) Tringa totanus, Rodpena, Common Redshank
40) Philomachus pugnax, Brushane, Ruff
41) Numenius arquata, Storspov, Eurasian Curlew
42) Limosa lapponica, Myrspov, Bar-tailed Godwit
43) Larus fuscus, Silltrut, Lesser Black-backed Gull
44) Larus marinus, Havstrut, Great Black-backed Gull
45) Larus canus, Fiskmas, Common (or Mew) Gull
46) Cepphus grylle, Tobisgrissla, Black Guillemot
47) Columba oenas, Skogsduva, Stock Dove
48) Columba palumbus, Ringduva, Common Wood Pigeon
49) Apus apus, Tornsvala, Common Swift
50) Picus viridis, Grongoling, European Green Woodpecker
51) Dendrocopos major, Storre hackspett, Great Spotted Woodpecker
52) Dendrocopos minor, Mindre hackspett, Lesser Spotted Woodpecker
53) Dryocopus martius, Spillkraka, Black Woodpecker
54) Garrulus glandarius, Notskrika, Eurasian Jay
55) Nucifraga cryocatactes, Notkraka, Spotted Nutcracker
56) Pica pica, Skata, Eurasian Magpie
57) Corvus corax, Korp, Common Raven
58) Corvus frugilegus, Raka, Rook
59) Corvus cornix, Kraka, Hooded Crow
60) Corvus monedula, Kaja, Western Jackdaw
61) Parus major, Talgoxae, Great Tit
62) Cyanistes caerulus, Blames, Blue Tit
63) Periparus ater, Svartmes, Coal Tit
64) Poecile palustrus, Entita, Marsh Tit
65) Hirundo rustica, Ladusvala, Barn Swallow
66) Aegithalos caudatus, Stjartmes, Long-tailed Bushtit (has been called Long-tailed Tit)
67) Lullula arborea, Tradlarka, Woodlark
68) Alauda arvensis, Sanglarka, Eurasian Skylark
69) Regulus regulus, Kungsfagel, Goldcrest
70) Troglodytes troglodytes, Gardsmyg, Northern (or Winter) Wren
71) Turdus merula, Koltrast, Common Blackbird
72) Turdus pilaris, Bjorktrast, Fieldfare
73) Sturnus vulgaris, Stare, Common Starling
74) Sturnus roseus, Rosenstare, Rosy Starling
75) Erithacus rubecula, Rodhake, European Robin
76) Saxicola rubetra, Buskakvatta, Whinchat
77) Oenanthe oenanthe, Stenskvatta, Northern Wheatear
78) Anthus trivialis, Tradpiplarka, Tree Pipit
79) Anthus pratensis, Angspiplarka, Meadow Pipit
80) Motacilla cinerea, Sadesrla, White Wagtail
81) Passer domesticus, Grasparv, House Sparrow
82) Passer montanus, Pilfink, Eurasian Tree Sparrow
83) Fringilla montifringilla, Bofink, Common Chaffinch
84) Fringilla montifringilla, Bergfink, Brambling
85) Carduelis carduelis, Steglits, European Goldfinch
86) Carduelis spinus, Gronsiska, Eurasian Siskin
87) Carduelis flammea, Grasiska, Common Redpoll
88) Carduelis chloris, Gronfink, European Greenfinch
89) Carduelis cannabina, Hampling, Eurasian Linnet
90) Plectrophenax nivalis, Snosparv, Snow Bunting
91) Emberiza calandra, Kornsparv, Corn Bunting
92) Emberiza citrinella, Gulsparv, Yellowhammer
93) Emberiza schoenicius, Savsparv, Common Reed Bunting

These additional birds, seen during our September '07 tour, were also described by Linnaeus, but later:
in 1761:
94) Aythya marila, Bergand, Greater Scaup
in 1766:
95) Alopochen aegyptiaca, Nilgas, Egyptian Goose, (we saw a vagrant during our tour, among a mixed flock of wild geese, Grey Lag and Barnacle)
96) Circus cyaneus, Blakarrhok, Northern Harrier
97) Larus ridibundus, Skrattmos, Common Black-headed Gull
98) Serinus serinus, Gulhampling, European Serin

And so, that's 98 of the 114 species of birds seen during the FONT September '07 Sweden that were described to science in the 1700's in Sweden by Carl Linnaeus.

Those birds, during our tour, that were not described by Linnaeus included:
Little Grebe (described by the Russian scientist, Peter Simon Pallas in 1764)
Mute Swan (somehow not described until 1789, by Johann Friedrich Gmelin; at that time, that German scientist had taken over the work of Linnaeus, with the 12th edition of "Systema naturae")
Barnacle Goose (somehow not described until 1803)
Black Kite (described in 1783; the one bird, by the way, that we saw in Sept '07 was the first for a FONT tour in Sweden)
Spotted Redshank (described by Pallas in 1764)
Common Greenshank (described Gunnerus in 1767)
Herring Gull (described by Pontoppidan in 1763 - seems as if Linnaeus "by-passed" some of the gulls) (A note regarding Mr. Pontoppidan follows, at the end of this narrative. He is also credited, by the way, with describing the Rough-legged Hawk.)
Sandwich Tern (described John Latham, of England, in 1787)
Common (or Feral) Pigeon (Linnaeus apparently did not heed the Feral Pigeon; the wilder form from cliffs further south in Europe was described in 1789 by Gmelin)
Eurasian Collared Dove (described in 1838, but in those days this bird occurred in Asia; it only arrived into Europe, spreading and becoming common there in mid 20th Century; of the birds we saw during our Sweden tour, the latest to be described to science)
Song Thrush (described in 1831, another "late" one in that regard)
Black Redstart (this bird was first described in 1774 from an Asian specimen)
Common Chiffchaff (described in 1817; one of a few similar-looking Phylloscopus warblers)
European Rock Pipit (described in 1798; quite similar to the Water Pipit that's common in Europe)
Grey Wagtail (described in 1771 by a man in England named Marmaduke Tunstall, who also described, in his same publication that year, the Peregrine Falcon)

Not many birding tours anywhere (or maybe any), would have as high a percentage of birds found that had been described by founder of modern ornithological taxonomy, Carl Linnaeus.
14 of the bird species list above, as described by Linnaeus, have scientific names in which the genus and the species, that is the first and second names, are the same. That also would likely be a high number for birds in that category. These birds were:

Perdix perdix, Grey Partridge
Anser anser, Greylag Goose
Tadorna tadorna, Common Shelduck
Milvus milvus, Red Kite
Buteo buteo, Common Buzzard
Grus grus, Common Crane
Vanellus vanellus, Northern Lapwing
Apus apus, Common Swift
Pica pica, Eurasian Magpie
Oenanthe oenanthe, Northern Wheatear
Regulus regulus, Goldcrest
Troglodytes troglodytes, Winter Wren
Carduelis carduelis, European Goldfinch
Serinus serinus, European Serin

11 of these birds even have 3 names that are the same as the subspecies seen in Sweden was the first to be described. The other 3 species in the list above are monotypic, that is they have no subspecies.
The birds with 3 identical scientific names include:

Perdix perdix perdix, Grey Partridge: 7 other subspecies, later described, in Eurasia
Anser anser anser, Greylag Goose: one other subspecies in Asia, described in 1871
Milvus milvus milvus, Red Kite: one other subspecies only on the Cape Verde Islands off Africa
Buteo buteo buteo, Common Buzzard: 10 other subspecies, later described, across Eurasia
Grus grus grus, Common Crane: one other subspecies in eastern Asia, described in 1894
Apus apus apus, Common Swift: one other subspecies, breeding in Asia, described in 1870
Pica pica pica, Eurasian Magpie: 10 other subspecies, later described, in Europe, Asia, & Africa
Oenanthe oenanthe oenanthe, Northern Wheatear: 3 other subspecies, later described, in Eurasia & Africa
Regulus regulus regulus, Goldcrest: 12 other subspecies, later described, one as recently as in 1954
Troglodytes troglodytes troglodytes, Winter Wren: as many as 40 more subspecies later described in Eurasia, Africa, and North America
Carduelis carduelis carduelis, European Goldfinch: 13 other subspecies. later described, in Eurasia, including one as recently as in 1953 in Siberia (as to the bird's common name, it should be called the "Eurasian Goldfinch")

In birds, such as these 13 species, the first described subspecies is called the nominate. Of the 87 other species, from the list of 98 above, described by Linnaeus, 68 are also nominate subspecies, that is with other subspecies that followed them. The other dozen or so species of the 98 are monotypic, that is, again, without subspecies.

Among the 68 nominate subspecies, there's one that was particularly interesting. During our Sept '07 tour, as we were at the north end of Oland Island, at a very peaceful and quiet spot along the coast, a small black-and-white bird was first on a rock, and then on the surface of the water. Then, it disappeared. The bird was a Black Guillemot.
There are 5 populations, or subspecies, of Black Guillemots, throughout the northern reaches of the Northern Hemisphere, in places as far-flung as Alaska, Canada, Greenland, Iceland, the Faroe Islands, Great Britain, and Maine in the US. But the single bird that we saw at the north end of Oland Island was of the nominate race limited only to the Baltic, and the only subspecies that was described by Linnaeus, back in 1758.

Linnaeus has been (he was, and still is) with an impact on all of us regarding names, as he was (and still is) "the father of modern taxonomy".
The role that he's had with nomenclature over the centuries is intriguing, and maybe ironic, because even with himself there's a story as to Linnaeus's names. He had many. Variants included: "Carl Linnaeus", "Carolus Linnaeus", "Carl von Linne", and sometimes just "Carl Linne". There's often some confusion about his real Swedish name, as opposed to the Latinized form "Carolus Linnaeus" that he most often used when he published his scientific works in Latin.

To begin with, during the time when Linnaeus lived, most Swedes had no surnames.
His grandfather was named Ingemar Bengtsson (son of Bengt), according to Scandinavian tradition.
His father was known as Nils Ingemarsson (son of Ingemar).
Only for purpose of a registration, for example, to enter a university, did one need a surname. When Linnaeus's father entered the academic world, he gave himself the Latin surname, Linnaeus, referring to a large linden (a type of lime) tree on his property. When he gave the name Carl to his son, the boy's name became Carl Linnaeus because his father had a surname.
When the young student, Carl Linnaeus, enrolled in school, he registered as "Carolus Linnaeus", having both of his names in Latin rather than Swedish.
In later life, after he was nomination to be a nobleman by the Swedish king was confirmed in 1761, he took the name Carl von Linne. "Linne" was a shortened form of Linnaeus. "von" signifies ennoblement. This name is less suitable in relation to the works that he published prior to 1761. In fact, on the title page of the his second edition of "Species plantarum", published in 1762, the name of the author is given as "Carolus Linnaeus", but in its genitive form "Caroli Linnaei". After that, however, it was always printed as either "Carolus a Linne" or "Carl von Linne".
After having a stroke in 1774, Linnaeus died in January 1778.

During his life, in addition to his works in relation to taxonomy and the classification of flora and fauna, Linnaeus practiced medicine, specializing in the treatment of syphilis. And, regarding something else, he's continued to have, until this day, yet another impact on the lives of many people. In about 1743, Linnaeus designed the thermometer scale that's now in use by reversing what had been invented by Anders Celsius. 100 degrees on that scale had been the melting point of ice, and 0 degrees had been water's boiling point.
Years before, when Linnaeus was a university student at Uppsala in Sweden, he met the astronomer, Celsius, who in fact helped him, during some rough times, by offering him room and board. Celius was quite impressed with the young student's knowledge and botanical collections.

In the middle of the summer of 1749, Linnaeus visited Falsterbo and Skanor - walking about, I'm sure, at places where we did, but at a different season, not when the bird migration would have been so much in evidence. He wrote about his visit there in his book, "Skanska Resa":
" The country is flat and low-lying.... The ground is generally known as the heath and is thin and overburdened with windborne sand."
Of Skanor, Linnaeus wrote: "It is situated a couple musket shots from the north sea.. The road to the village from the mainland can scarcely be seen and instead you drive along the beach when the tide is out."
(Of course, travel in those days was by horse & cart.)
Linnaeus continued about Skanor: "If seeking a quiet retreat, one can hardly find anywhere in Sweden quieter than this, for here no people of the classes reside."
Of Falsterbo, he wrote: "It is even a smaller village... Shifting sands have swept across all the lanes. The lantern (in an iron basket hanging from a high pole) shines from the southernmost point so that seafarers do not become wrecked on the reef that runs for a whole mile (10 kilometers)." (That's what "a mile" was in those days.)
Regarding the area, Linnaeus wrote about everyday life, the countryside and the flora and fauna. He noted that he found amber, bog-myrtle, and fennel in abundance, and what was lacking were rats, walnut trees, and forest. His observations on the birdlife were few, although he noted that Oystercatchers "patrolled all the beaches", and that Lapwings "flew in profusion".
What a pity that Linnaeus did not visit Falsterbo and Skanor at the time of year that we did, when there's such a large, obvious, and wonderful migration of birds!

And now, here's the note, promised earlier, regarding Pontoppidan, who lived at the same time as Linnaeus, but in neighboring Norway. He was actually Bishop Erik Ludvigsen Pontoppidan.
It was mentioned a few paragraphs back that he described the Herring Gull and the Rough-legged Hawk. He did so in his "Natural History of Norway", published in 1755.
Also in that work, it's interesting that he wrote of a huge snake-like, maned sea serpent, that had been seen passing a ship in the ocean off the coast of Norway, in 1746. Commonly known at the time as the "kraken", what the bishop was describing was a Giant Squid, a huge creature that to this day has never been seen "alive and well" in the ocean. There have, over the years, been occurrences of either sick individuals floating on the surface of the sea, or washed up on shore. The Giant Squid, at about 50-feet in length, is larger than any other form of life known on Earth other than 3 species of big whales.
In the water, from the coast, during our September '07 Sweden Tour, of course, we saw no maned sea serpant. But we did see the head of a Harbor Seal in the Baltic Sea, as it peered at us.
Other mammals during our tour included: Fallow Deer (introduced onto Oland Island centuries ago, on property that was once that of the king), Western Roe Deer, Elk (called Moose in North America), Common Pipstrelle (in migration on Oland), and the European Rabbit. Like so many of the birds during our tour, these were described by Linnaeus in the 1758 edition of "System naturae".

How good it was for us to bird and travel in Sweden, that land of Linnaeus, in September 2007. We look forward to going back again.