Focus On Nature Tours has been conducting birding tours
in Europe for nearly 2 decades, in places as diverse as
Bulgaria, Iceland, Spain, Sweden, Poland, Hungary,
and Romania.

Our upcoming birding and nature tours in Europe
in 2015 and 2016 include those in the Canary Islands,
Estonia, Iceland, Spain, and Sweden.

Our tours in Estonia are scheduled for April 2016
and June 2016 to go to some wonderful, wild areas, for
birds, butterflies, mammals (including the Brown Bear),
and some varied and interesting plant-life, including,
in June, a number of orchids.

Iceland, one of the most scenic places on earth, is,
simply put, a fascinating place to visit, and a great place
to bird -- either in early June (when birds are nesting)
or in the Fall (when not only are there birds, migrants and
lingering summer-residents, but also good displays in the
night-time sky of Aurora Borealis).
Among the birds we see in Iceland, either along the coast
or in the interior of the island, are: White-tailed Eagle,
Gyrfalcon, and Ptarmigan.
Our Icelandic birding in June has also included breeding sites
for many seabirds, such as Great Skua, and various species
of alcids, notably Puffin.
Our next, annual Fall Tour in Iceland is scheduled for
September-October 2015. It can be done either in conjunction
with our tour in Sweden, the preceding week, or apart from it.
Our next late Spring Iceland Tour is scheduled for June 2016.

The fall Sweden tour is among the best anywhere
for experiencing an outstanding bird migration.
We did our first such tour there in 1996.
We'll be doing this enjoyable tour again in September 2015.

In Spain, there have been 25 FONT tours, with birding from
southern locations, such as Coto Donana, Gibraltar, and Grenada,
north to the French border.
During those tours, 288 species of birds have been found.
Next year, we go to Spain again, including the Canary Islands,
in May, and had a great time experiencing the bird-life,
and other nature including butterflies and wildflowers,
along with the culture & cuisine of the country.

As said, other FONT European birding tours have taken place
in Bulgaria, Poland, Hungary, and adjacent
Romania & Slovakia.
Since 1991, there have been 58 FONT birding tours in Europe
(with, as noted, 25 in Spain, and 20 in Iceland).
Click below to upcoming itineraries and a two-part list
and photo gallery of the 451 birds that have been found
during FONT tours in Europe, noting subspecies and the
latest taxonomy.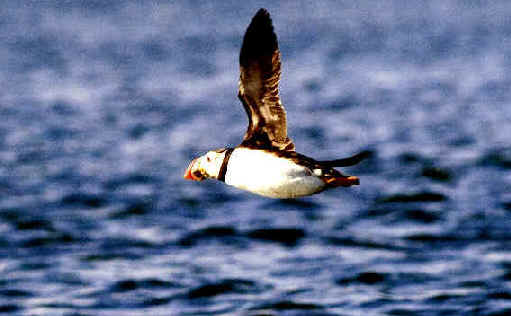 Atlantic Puffin (above, photographed in Iceland) and
Razorbill and Common Murres (below) are among alcids seen in ICELAND during the FONT Late-Spring Tour.
(In Europe, Common Murres are called Guillemots.)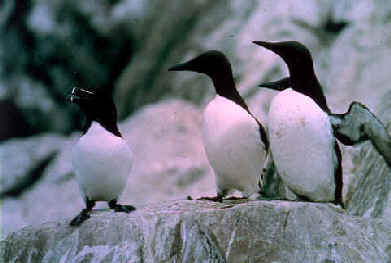 Aurora Borealis in Iceland in October