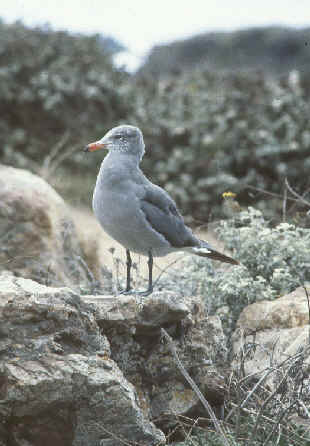 Birds found during our
West Coast USA
Birding & Nature Tour

in September 2005

in Washington State &
central California

List compiled by Armas Hill



PHOTO AT RIGHT: A HEERMANN'S GULL
along the California coast


Dates & Codes:


1: September 9-14, 2005
in WASHINGTON STATE

in the southwestern part of the state from
Ocean Shores and Westport south to the
Columbia River (sw)

in the Cascade Mountains (cm)
and east of the Cascades (ec)

(In 2005, the pelagic trip normally taken from Westport, WA
was cancelled due to bad weather.)


2: September 15-18, 2005
in central CALIFORNIA
north of San Francisco, mostly in the area of Point Reyes (pr)
in San Francisco (sf)

along the Pacific Coast from San Francisco south to Monterey (pc)
inland, mostly east of Gilroy in the southern Central Valley (cv)

There was a pelagic trip from Monterey, CA on Sept. 17 (mp)



(t): a globally threatened or rare species, designated by Birdlife International.
(t1): critical (t2): endangered (t3): vulnerable
(nt): a near-threatened species globally.
(i): introduced species.
(h): heard only

(CA:e): endemic to California
(CA:qe): a California quasi-endemic (nearly endemic to California)

Species in capital letters are rare where they were seen during the tour (California).


Links:
Cumulative List of Birds during our West Coast Tours 1991-2006
In cumulative lists of birds, scientific names are given & subspecies are noted.
A list of Mammals during our September '04 West Coast USA tour follows the bird-list.
Upcoming West Coast USA Birding Tours


Bird-List:

Pacific Loon - 1:sw 2:pr


Common Loon - 1:sw 2:pr


Red-necked Grebe - 2:pr


Horned Grebe - 2:pr


Eared Grebe - 1:sw 2:cv


Pied-billed Grebe - 1:sw 2:pr,cv


Western Grebe - 1:sw


Clark's Grebe - 2:cv


Black-footed Albatross (t3) - 2:mp


Northern Fulmar - 2:mp


HAWAIIAN PETREL (t3) - 2:mp


Sooty Shearwater - 1:sw 2:mp


Short-tailed Shearwater - 2:mp


Pink-footed Shearwater (t3) - 2:mp


Buller's Shearwater (t3) - 2:mp


Ashy Storm-Petrel (nt) (CA:qe) - 2:mp


Black Storm-Petrel - 2:mp


Least Storm-Petrel - 2:mp


Brown Pelican - 1:sw 2:pr,sf,pc,mp


American White Pelican - 2:pr,cv


Double-crested Cormorant - 1:sw,ec 2:pr,pc,cv


Pelagic Cormorant - 1:sw 2:pc


Brandt's Cormorant - 2:pc


American Bittern - 2:cv (6 at one location)


Black-crowned Night-Heron - 2:pr,cv


Green Heron - 2:sw


Snowy Egret - 2:pr,pc,cv


Great Egret - 2:pr,pc,cv


Great Blue Heron - 1:sw,ec 2:pr,pc,cv


Canada Goose - 1:sw,ec


Wood Duck - 1:sw


Mallard - 1:sw 2:pr,cv


Gadwall - 2:pr,cv


Northern Pintail - 1:sw 2:pr,cv


American Wigeon - 1:sw,ec 2:pr,cv


Northern Shoveler - 1:sw


Cinnamon Teal - 2:pr,cv


Blue-winged Teal - 2:cv


Green-winged Teal - 1:sw,ec 2:pr,cv


Redhead - 2:cv


Ring-necked Duck - 1:ec


Lesser Scaup - 1:sw


Surf Scoter - 1:sw 2:pr


American Scoter - 1:sw


White-winged Scoter - 1:sw


Common Goldeneye - 1:sw


Bufflehead - 2:cv


Common Mergasner - 1:sw


Ruddy Duck - 2:cv


Turkey Vulture - 1:sw 2:pr,pc,cv


Osprey - 1:sw 2:pr


Golden Eagle - 2:pr


Northern Harrier - 1:sw 2:pr,pc


Sharp-shinned Hawk - 1:ec 2:pr,pc


Cooper's Hawk - 1:ec 2:pr


Red-shouldered Hawk - 2:pr,pc


Swainson's Hawk - 1:ec


Red-tailed Hawk - 1:sw,ec 2:pr,pc,cv


Merlin - 1:cm


American Kestrel - 1:ec 2:pr,pc,cv


California Quail - 1:ec 2:pr,pc,cv


Sora - 2:cv


American Coot - 2:pr,cv


Sandhill Crane - 2:cv


Black-bellied (or Gray) Plover - 1:sw 2:pr


Pacific Golden Plover - 1:sw


Snowy Plover - 1:sw


Killdeer - 1:sw,ec 2:pr,pc,cv


Black Oystercatcher - 2:pr


Black-necked Stilt - 2:pr,pc,cv


Greater Yellowlegs - 2:pr,cv


Lesser Yellowlegs - 1:sw 2:cv


Whimbrel - 1:sw


Long-billed Curlew (nt) - 2:pr


Willet - 1:sw 2:pr,pc


Marbled Godwit - 1:sw 2:pr,pc


Ruddy Turnstone - 2:pc


Black Turnstone - 1:sw 2:pc


Wandering Tattler - 1:sw


Surfbird - 1:sw


Red Knot - 1:sw


Sanderling - 1:sw 2:pr


Pectoral Sandpiper - 1:ec


Least Sandpiper - 1:ec 2:pc


White-rumped Sandpiper - 1:ec


Baird's Sandpiper - 1:ec


Western Sandpiper - 1:sw 2:pr,pc


Short-billed Dowitcher - 1:sw


Long-billed Dowitcher - 1:sw


Red-necked Phalarope - 2:pr


Parasitic Jaeger - 1:sw 2:mp


Pomarine Jaeger - 2:mp


South Polar Skua - 2:mp


Bonaparte's Gull - 1:sw


Mew Gull - 1:sw


Ring-billed Gull - 1:sw 2:pr,cv


California Gull - 1:sw 2:pc,mp


"American" Herring Gull - 1:sw


Glaucous-winged Gull - 1:sw


Western Gull - 1:sw 2:pr,pc,mp,cv


Heermann's Gull (nt) - 1:sw 2:pr,pc,mp


Black-legged Kittiwake - 1:sw


Caspian Tern - 1:sw


Forster's Tern - 2:pc


Common Murre - 1:sw 2:pc,mp


Pigeon Guillemot - 1:sw 2:mp


Marbled Murrelet (nt) - 1:pr


Rhinoceros Auklet - 2:mp


Common (or Feral) Pigeon (i) - 1:sw,ec 2:pr,pc,cv


Mourning Dove - 1:ec 2:pr,pc,cv


Red-masked Parakeet (i) - 2:sf


Great Horned Owl - 1:ec 2:pr


Anna's Hummingbird - 2:sf,pr,cv


Belted Kingfisher - 1:sw,ec 2:pr,pc,cv


Acorn Woodpecker - 2:pr


Downy Woodpecker - 1:sw


"Red-shafted" Northern Flicker - 1:sw,cm 2:pr


Pileated Woodpecker - 1:pr


Pacific-slope Flycatcher - 2:pr


Willow Flycatcher - 2:pr


Black Phoebe - 2:pr,cv


Say's Phoebe - 2:pr


Eastern Kingbird - 2:pr


Loggerhead Shrike - 2:cv


Hutton's Vireo - 1:cm


Violet-green Swallow - 1:ec


Tree Swallow - 2:cv


Barn Swallow - 1:sw,ec 2:pr (inc 1 albino in WA)


Steller's Jay - 1:sw,cm 2:pr


Western Scrub-Jay - 1:sw 2:pr,cv


Black-billed Magpie - 1:ec


Yellow-billed Magpie - 2:cv


Northern Raven - 1:sw,cm,ec 2:pr,pc,cv


American Crow - 1:sw,ec 2:sf,pr,pc,cv


Northwestern Crow - 1:sw


Black-capped Chickadee - 1:sw 2:pr


Mountain Chickadee - 1:cm


Chestnut-backed Chickadee - 1:sw,cm 2:pr


Red-breasted Nuthatch - 1:sw,cm


Brown Creeper - 1:sw


Wrentit - 2:pc


Bewick's Wren - 1:sw 2:pr,pc


Winter Wren - 1:sw


Marsh Wren - 2:cv


American Dipper - 1:cm


Golden-crowned Kinglet - 1:sw


Ruby-crowned Kinglet - 1:cm


Western Bluebird - 1:ec


Varied Thrush - 1:sw


American Robin - 1:sw,ec 2:pr


Swainson's Thrush - 2:pr


Northern Mockingbird - 2:cv


European Starling (i) - 1:sw,ec 2:sf,pr,pc,cv


American Pipit - 1:ec


Cedar Waxwing - 1:sw


Orange-crowned Warbler - 1:sw 2:pr


American Yellow Warbler - 1:sw 2:pr


"Audubon's" Yellow-rumped Warbler - 1:cm,ec


Black-throated Gray Warbler - 1:sw


Hermit Warbler - 1:sw


Common Yellowthroat - 1:sw 2:pr


Western Meadowlark - 1:ec 2:cv


Red-winged Blackbird - 1:sw 2:pr,cv


Tricolored Blackbird - 2:pr,cv


Brewer's Blackbird - 1:ec 2:sf,pr,pc,cv


Brown-headed Cowbird - 1:ec 2:pr,cv


Black-headed Grosbeak - 2:pr


Rose-breasted Grosbeak - 2:pr


Spotted Towhee - 1:sw 2:pr


California Towhee - 2:pr


Rufous-crowned Sparrow - 2:cv


Brewer's Sparrow - 2:pr


Chipping Sparrow - 1:sw


Savannah Sparrow - 1:sw,ec 2:pr


Vesper Sparrow - 2:pr


Golden-crowned Sparrow - 1:sw


White-crowned Sparrow - 1:sw,ec 2:pr,pc,cv


"Slate-colored" Fox Sparrow - 1:sw


Song Sparrow - 1:sw,ec 2:pr,pc,cv


Lincoln's Sparrow - 1:sw,ec


"Oregon" Dark-eyed Junco - 1:cm 2:pr


Evening Grosbeak - 1:sw


Purple Finch - 1:sw


House Finch - 1:sw,ec 2:pr


American Goldfinch - 1:sw,ec 2:pr


House Sparrow (i) - 1:sw,ec 2:sf,pr,pc,cv





Mammals during our West Coast USA Tour in Sept 2005



Codes:

1 - in Washington State
sw: southwest
cm: Cascade Mountains
ec: east of Cascades

2 - in California
pr: Point Reyes area
pc: Pacific coast, San Francisco south to Montery
mp: Monterey pelagic trip 9/17
cv: southern Central Valley


(i): introduced in North America
(i/wNA): introduced in western North America



1. Douglas's Squirrel - 1:sw

2. Eastern Gray Squirrel (i/wNA) -1:sw

3. Western Gray Squirrel - 2:pr

4. California Ground Squirrel - 2:cv

5. Townsend's Chipmunk - 1:sw

6. Yellow Pine Chipmunk - 1:cm

7. Merriam's Chipmunk - 2:pr

8. Northwestern Deermouse - 1:sw

9. Nutria (i) - 1:sw

10, Coyote - 2:cv

11. Mule (or "Black-tailed") Deer - 1:sw,ec 2:pr

12. "Columbian" White-tailed Deer - 1:sw (an endangered subspecies)

13. (Common) Fallow Deer (i) - 2:pr

14. (Tule) Elk - 2


15. Sea Otter - 2:pc,mp

16. Harbor Seal - 1:sw, 2:pr,pc

17. California Sea Lion - 2:pc,mp

18. Pacific White-sided Dolphin - 2:mp

19. Baird's Beaked Whale - 2:mp (up to 8 seen, 4 together on water surface close to boat)

20. Humpback Whale - 2:mp (also 8 seen, 2 - mother & calf - breaching)