PO Box 9021, Wilmington, DE 19809, USA
E-mail: font@focusonnature.com
Phone: Toll-free in USA 1-888-721-3555
or 302/529-1876
BIRDS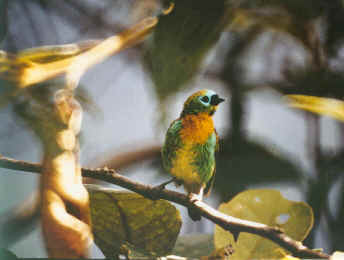 during
Focus On Nature Tours

in
Minas Gerais
Brazil



A List of Birds in Minas Gerais
compiled by Armas Hill



465 species of birds have been found during FONT tours, since 1992, in Minas Gerais (& adjacent Espiritu Santo).
During one of our Minas Gerais tours, we traveled into Espiritu Santo to see the extremely rare CHERRY-THROATED TANAGER.



Codes:
MN: in the state of Minas Gerais
ES: nearby, in the adjacent state of Espiritu Santo

In the following list, months of the tours are noted during which the birds have been found.

(t): a globally threatened or rare species, designated by Birdlife International
(t1): critical (t2): endangered (t3): vulnerable
(nt): a near-threatened species globally

(BRe): species endemic to Brazil (BRqe): quasi (or nearly) endemic to Brazil
(BRi): introduced species in Brazil

(ph): species with a photo in the FONT web-site


Photo at upper right:
BRASSY-BREASTED TANAGER, a colorful Brazilian endemic
Photo below: the BRAZILIAN MERGANSER, one of the rarest of the world's birds,
has been found during 6 FONT tours in Minas Gerais.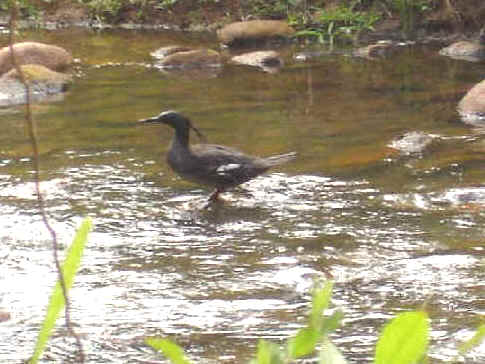 Links:
Upcoming FONT Birding & Nature Tours in Brazil

A Complete List of Brazil Birds, in 4 parts:
Part #1: Tinamous to Doves Part #2: Macaws to Flycatchers
Part #3: Antshrikes to Grosbeaks Part #4: Vireos to Grosbeaks
Birds during FONT Tours in Mato Grosso, Brazil
Rare & Threatened Birds of Brazil (with some photos)
Mammals & Other Wildlife during FONT Tours in Brazil (with some photos)

Directory of Photos in this Website
Solitary Tinamou (nt) (BRqe) ______ MN may,oct
Tinamus solitarius


Little Tinamou ______ MN oct
Crypturellus soui


Yellow-legged Tinamou (nt) (BRe) ______ MN sep,oct
Crypturellus noctivagus


Brown Tinamou ______ MN may,sep,oct
Crypturellus obsoletus


Small-billed Tinamou ______ MN may
Crypturellus parvirostris


Tataupa Tinamou ______ MN oct
Crypturellus tataupa


Red-winged Tinamou ______ MN sep,oct
Rhynchotus rufescens


Spotted Nothura ______ MN mar.sep,oct
Nothura maculosa


Lesser Nothura ______ MN
Nothura minor


Greater Rhea (nt) (ph) ______ MN sep
Rhea americana


Scaled Chachalaca ______ MN aug
Ortalis squamata


Rusty-margined Guan ______ MN may.sep,oct
Penelope superciliaris


Dusky-legged Guan (ph) ______ MN may,sep,oct
Penelope obscura


Spot-winged Wood Quail ______ MN may,sep,oct
Odontophurus capueira


White-faced Whistling Duck (ph) ______ MN mar,may,oct
Dendrocygna viduata


Black-bellied Whistling Duck (ph) ______ MN mar
Dendrocygna autumnalis


Muscovy Duck (ph) ______ MN mar,sep,oct
Cairina moschata


Brazilian Teal (ph) ______ MN mar,may,sep,oct
Amazonetta brasiliensis


BRAZILIAN MERGANSER (t1) (BRqe) (ph) ______ MN mar,aug,sep,oct (photo above)
Mergus octosetaceus

The very rare BRAZILIAN MERGANSER has been seen during a number of FONT tours: in March 1997, in October 1998, in August 2002, in October 2003, in September 2006, and in March 2008.
Each time, our sightings have been in a remote part of western Minas Gerais State

Recent estimates have put the population of the species at only about a hundred pairs. Some say, however, that's too high a number. With large territories, and favoring remote areas, the merganser is not usually an easy bird to see.
The range of the bird has included southeast Brazil, northeast Argentina, and adjacent Paraguay. It's probably now extinct in Paraguay, and may be in Argentina (where the population has been critically small). Actually, in the mid-20th Century, the species was thought to be extinct altogether. It was re-found in 1948. Now, just over 50 years later, the bird is still "too close" to extinction.


Pied-billed Grebe (ph) ______ MN may,sep,oct
Podilymbus podiceps


Least Grebe (ph) ______ MN may,sep,oct
Tachybabtus dominicus


Wood Stork (ph) ______ MN aug
Mycteria americana


Buff-necked Ibis (ph) ______ MN mar,aug,sep,oct
Theristicus caudatus


Green Ibis ______ MN
Mesembrinibis cayennensis


Bare-faced Ibis ______ MN sep,oct
Phimosus infuscatus


Striated Heron (ph) ______ MN may,sep,oct
Butorides striatus


Rufescent Tiger Heron (ph) ______ MN may,sep
Tigrisoma lineatum


Black-crowned Night Heron ______ MN sep,oct
Nycticorax nycticorax


Capped Heron (ph) ______ MN may
Pilherodius pileatus


Whistling Heron (ph) ______ MN may,oct
Strigma sibilatrix


Cattle Egret (ph) ______ MN mar,may,aug,sep,oct
Bubulcus ibis


Snowy Egret (ph) ______ MN may,aug,sep,oct
Egretta thula


Great Egret (ph) ______ MN mar,may,aug,sep,oct
Ardea alba


Cocoi Heron (ph) ______ MN mar,sep,oct
Ardea cocoi


Neotropic Cormorant (ph) ______ MN aug,sep,oct
Phalacrocorax brasilianus


Anhinga (ph) ______ MN aug
Anhinga anhinga


King Vulture (ph) ______ MN oct
Sacoramphus papa


Black Vulture (ph) ______ MN mar,may,aug,sep,oct ES oct
Coragyps atratus


Turkey Vulture (ph) ______ MN mar,may,aug,sep,oct
Cathartes aura


Lesser Yellow-headed Vulture (ph) ______ MN may
Cathartes burrovianus


Southern Crested Caracara (ph) ______ MN mar,may,aug,sep,oct
Caracara cheriway


Yellow-headed Caracara ______ MN mar,may,aug,sep,oct
Milvago chimachima


Laughing Falcon (ph) ______ MN aug,sep,oct
Herpetotheres cachinnans


Barred Forest Falcon ______ MN oct
Micrastur ruficollis


Collared Forest Falcon ______ MN may,oct
Micrastur semitorquatus


American Kestrel (ph) ______ MN mar,may,aug,sep,oct
Falco sparverius


Bat Falcon (ph) ______ MN may,oct
Falco rufigularis


Aplomado Falcon (ph) ______ MN mar,aug,sep,oct
Falco femoralis


Osprey (ph) _____ MN mar
Pandion haliaetus


Swallow-tailed Kite (ph) ______ MN oct ES oct
Elanoides forficatus


White-tailed Kite (ph) ______ MN mar,sep,oct
Elanus leucurus


Rufous-thighed Kite ______ MN oct
Harpagus diodon


Plumbeous Kite _______ MN mar,sep,oct
Ictinia plumbea


Crane Hawk (ph) ______ MN oct
Geranospiza caerilescens


Rufous-thighed Hawk ______ MN oct (formerly part of Sharp-shinned Hawk)
Accipiter erythronemius


Bicolored Hawk ______ MN sep,oct
Accipiter bicolor


Gray-bellied Hawk (nt) ______ MN oct
Accipiter poliogaster


Mantled Hawk (nt) (BRqe) ______ MN sep
Leucopternis polionotus


Great Black Hawk (ph) ______ MN sep,oct
Buteogallus urubitinga


Savannah Hawk (ph) ______ MN may,aug,sep,oct
Buteogallus meridionalis


Crowned Solitary Eagle (t3) (ph) ______ MN mar,sep
Harpyhaliaetus coronatus


Black-chested Buzzard-Eagle (ph) ______ MN sep,oct
Geranoaetus melanoleucus


Roadside Hawk (ph) ______ MN mar,may,aug,sep,oct ES oct
Buteo magnirostris


Short-tailed Hawk (ph) ______ MN oct
Buteo brachyurus


White-tailed Hawk ______ MN mar,may,aug,sep,oct
Buteo albicaudatus


Ornate Hawk-Eagle ______ MN sep
Spizaetus ornatus


Black Hawk-Eagle ______ ES oct
Spizaetus tyrannus


Red-legged Seriema (ph) ______ MN mar,may,aug,sep,oct
Cariama cristata


Blackish Rail ______ MN may,sep,oct
Pardirallus nigricans


Gray-necked Wood-Rail (ph) ______ MN mar,may,sep,oct
Aramides calopterus


Slaty-breasted Wood-Rail (BRqe) ______ MN sep,oct
Aramides saracura


Ash-throated Crake ______ MN
Porzana albicollis


Rufous-sided Crake ______ MN may
Laterallus melanoiphalus


Common Gallinule ______ MN may,sep,oct
Gallinula galeata


Purple Gallinule (ph) ______ MN
Porphyrula martinicus


Limpkin (ph) ______ MN sep,oct
Aramus gurauna


Wattled Jacana (ph) ______ MN mar,may,aug,sep,oct
Jacana jacana


Southern Lapwing (ph) ______ MN mar,may,aug,sep,oct
Vannelus chilensis


Semipalmated Plover (ph) ______ MN oct
Charadrius semipalmatus


Collared Plover _____ MN mar
Charadrius collaris


Upland Sandpiper ______ MN oct
Bartramia longicauda


Greater Yellowlegs ______ MN oct
Tringa melanoleuca


South American Snipe ______ ES oct
Gallinago paraguaiae


Common (or Feral) Pigeon ______ MN mar,may,aug,sep,oct
Columba livia


Picazuro Pigeon ______ MN mar,may,aug,sep,oct
Patagioenas picazuro


Pale-vented Pigeon ______ MN may,oct,sep
Patagioenas cayennensis


Plumbeous Pigeon ______ MN may,sep,oct
Patagioenas plumbea


Eared Dove (ph) ______ MN mar,aug,sep,oct ES oct
Zenaida auriculata


Ruddy Ground Dove ______ MN mar,may,aug,sep,oct ES oct
Columbina talpacoti


Plain-breasted Ground Dove ______ MN may,sep,oct
Columbina minuta


Scaled Dove (ph) ______ MN mar,may,aug,sep,oct
Columbina squammata


Purple-winged Ground Dove (t2) ______ MN oct
Claravis godefrida


White-tipped Dove ______ MN may sep oct ES oct
Leptotila verreauxi


Gray-fronted Dove ______ MN oct
Leptotila rufaxilia


Ruddy Quail-Dove ______ MN oct
Geotrygon montana


Violaceous Quail-Dove ______ MN may
Geotrygon violacea


Blue-winged Macaw (t3) ______ MN may,sep,oct
Primolius maracana


White-eyed Parakeet (or Conure) (ph) ______ MN mar,may,aug,sep,oct
Psittacara (formerly Aratinga) leucophtalmus


Golden-capped Parakeet (or Conure) (t3) (BRe) ______ MN aug,oct
Aratinga auricapillus


Peach-fronted Parakeet (or Conure) (ph) ______ MN mar,may,oct,sep,oct
Eupsittula (formerly Aratinga) aurea


Blue-winged Parrotlet ______ MN mar,oct
Forpus xanthopterygius


Plain Parakeet (BRe) ______ ES oct
Brotogeris tirica


Yellow-chevroned Parakeet ______ MN mar,may,aug,oct
Brotogeris chiriri


Pileated Parrot (nt) (BRqe) ______ MN may ES oct (also called Red-capped Parrot)
Pionopsitta pileata


Scaly-headed Parrot ______ MN may,sep,oct
Pionus maximiliani


Mealy Amazon (or Parrot) ______ MN sep,oct
Amazona farinosa


Vinaceous-breasted Amazon (or Parrot) (t2) (BRqe) ______ MN may,oct
Amazona vinacea


Smooth-billed Ani (ph) ______ MN mar,may,aug,sep,oct
Crotophaga ani


Dark-billed Cuckoo ______ MN oct
Coccyzus melacoryphus


Squirrel Cuckoo (ph) ______ MN may,aug,sep,oct ES oct
Piaya cayana


Striped Cuckoo ______ MN aug,sep,oct
Tapera naevia


Guira Cuckoo (ph) ______ MN mar,may,aug,sep,oct ES oct
Guira guira


American Barn Owl (ph) ______ MN aug,sep,oct
Tyto furcata


Rusty-barred Owl (BRqe) ______ MN oct
Strix hylophila


Tropical Screech Owl ______ MN sep,oct
Megascops choliba


Ferruginous Pygmy Owl (ph) ______ MN sep,oct
Glaucicium brasilanum


Burrowing Owl (ph) ______ MN mar,may,aug,sep,oct
Athene cunicuaria


Short-eared Owl (ph) ______ MN mar
Asio flammeus


Striped Owl (ph) ______ MN sep
Pseudoscops clamator


Great Potoo ______ MN
Nyctibius grandis


Common Potoo ______ MN oct
Nyctibius griseus


Short-tailed Nighthawk ______ ES oct
Lurocalis semitorquatus


Nacunda Nighthawk ______ MN aug
Podager nacunda


Least Nighthawk ______ MN mar,sep,oct
Chordeiles acutipennis


Pauraque (ph) ______ MN mar,sep,oct
Nyctidromus albicollis


Band-winged Nightjar ______ MN sep,oct
Caprimulgus longirostris


Little Nightjar (ph) ______ MN sep
Caprimulgus parvulus


Scissor-tailed Nightjar (ph) ______ MN mar,oct
Hydropsalis torquata


Sickle-winged Nightjar (nt) ______ MN oct
Eleothreptus anomalus


White-collared Swift ______ MN mar,sep,oct
Streptoprocne zonaris


Biscutate Swift ______ MN may,aug,oct
Streptoprocne biscutata


Great Dusky Swift ______ MN sep,oct
Cypseloides senex


Ashy-tailed Swift ______ MN sep,oct
Chaetura meridionalis


Gray-rumped Swift ______ MN oct
Chaetura cinereiventris


Swallow-tailed Hummingbird (ph) ______ MN mar,may,aug,sep,oct
Eupetomena macroura


Rufous-breasted Hermit ______ MN may,oct
Glaucis hirsutus


Scale-throated Hermit ______ MN sep,oct
Phaethornis eurynome


Dusky-throated Hermit ______ MN ES oct
Phaethornis squalidus


Planalto Hermit (ph) ______ MN may,sep,oct
Phaethornis pretrei


Cinnamon-throated Hermit ______ MN
Phaethornis nattereri


Reddish Hermit ______ MN may
Phaethornis ruber


Minute Hermit (BRe) ______ MN sep,oct
Phaethornis idaliae


Gray-breasted Sabrewing ______ MN sep,oct
Campylopterus largipennis


Black Jacobin (ph) ______ MN may,sep
Florisuga fuscus


White-vented Violetear (ph) ______ MN mar,may,sep,oct
Colibri serrirostris


Black-throated Mango (ph) ______ MN sep
Anthracothorax nigricollis


Black-breasted Plovercrest (ph) ______ MN oct
Stephanoxis lalandi


Frilled Coquette (BRe) (ph) ______ MN:sep ES oct
Lophornis magnifica


Black-bellied Thorntail ______ MN may,oct
Popelairia langsdorffi


Ruby Topaz ______ MN sep,oct
Chrysolampis mosquitus


Glittering-bellied Emerald (ph) ______ MN may,aug,sep,oct
Chlorostilbon aureoventris


Fork-tailed Woodnymph ______ MN may,sep,oct
Thalurania furcata


Violet-capped Woodnymph ______ MN sep,oct
Thalurania glaucopis


Rufous-throated Sapphire ______ MN may,aug,sep
Hylochlaris sapphirina


White-chinned Sapphire ______ MN oct
Hylocharis cyanus


White-throated Hummingbird (ph) ______ MN may,sep,oct
Leucochloris albicollis


White-tailed Goldenthroat ______ MN may
Polytmus guainumbi


Versicolored Emerald ______ MN mar,sep,oct
Amazilia versicolor


Glittering-throated Emerald ______ MN mar,may,sep,oct
Amazilia fimbriata


Sapphire-spangled Emerald ______ MN may,sep,oct
Amazilia lactea


Sombre Hummingbird (BRe) ______ MN may,oct
Aphantochroa cirrhochloris


Brazilian Ruby (BRe) ______ MN sep,oct ES oct
Clytolaema rubricauda


Hyacinth Visorbearer (nt) (BRe) (ph) ______ MN may,sep,oct
Augastes scutatus


Horned Sungem ______ MN oct
Heliactin bilophus


Stripe-breasted Starthroat (BRe) (ph) ______ MN sep,oct
Heliomaster squamosus


Amethyst Woodstar ______ MN may,oct
Calliphlox amethystina


Green-backed (formerly White-tailed) Trogon (ph) ______ MN oct
Trogon melanopterus


Black-throated Trogon ______ MN sep,oct
Trogon rufus


Surucua Trogon (BRqe) ______ MN sep,oct
Trogon surrucura


Ringed Kingfisher (ph) ______ MN mar,may,sep,oct
Megaceryle torquata


Green Kingfisher (ph) ______ MN mar,oct
Chloroceryle americana


Amazon Kingfisher ______ MN mar,sep,oct
Chloroceryle amazona


Rufous-capped Motmot ______ MN oct
Baryphthengus ruficapillus


Three-toed Jacamar (t2) (BRe) ______ MN oct
Jacamaralcyon tridactyla


Rufous-tailed Jacamar (ph) ______ MN may,sep,oct
Galbula ruficauda


White-eared Puffbird ______ MN aug,sep,oct
Nystalus chacuru


Caatinga Puffbird ______ MN oct (was, now with the Chaco Puffbird, part of the former "Spot-backed Puffbird")
Nystalus maculatus


Crescent-chested Puffbird (BRe) ______ MN oct
Malacoptila striata


Toco Toucan (ph) ______ MN mar,may,aug,sep,oct
Ramphastos toco


Channel-billed Toucan (ph) ______ MN may,oct ES oct
Ramphastos vitellinus


Green-billed (formerly called Red-breasted) Toucan (BRqe) ______ MN may,sep ES oct
Ramphastos dicolorus


Black-necked Aracari ______ MN oct
Pteroglossus aracari


Spot-billed Toucanet (BRqe) ______ ES oct
Selenidera maculirostris


Blond-crested Woodpecker ______ MN sep,oct
Celeus flavescens


Campo (or Field) Flicker (ph) ______ MN mar,may,aug,sep,oct
Colaptes campestris


Green-barred Woodpecker ______ MN sep,oct
Chrysoptilus (formerly Colaptes) melanochloros


Yellow-browed Woodpecker (nt) (BRqe) ______ MN oct
Piculus aurilentus


Yellow-fronted Woodpecker (BRqe) (ph) ______ MN oct
Melanerpes flavifrons


White Woodpecker (ph) ______ MN mar,may,aug,sep
Melanoerpes candidus


Little Woodpecker ______ MN may,sep,oct
Veniliornis passerinus


Yellow-eared Woodpecker (BRe) ______ MN may,oct ES oct
Veniliornis maculifrons


Lineated Woodpecker ______ MN may,oct ES oct
Dryocopus lineatus


Robust Woodpecker ______ MN may
Campephilus robustus


White-wedged Piculet ______ MN may
Picumnus albosquamatus


White-barred Piculet ______ MN may,sep,oct
Picumnus cirratus


Pin-tailed Manakin (BRe) ______ MN
Ilicura militaris


White-bearded Manakin (ph) ______ MN may,sep,oct
Manacus manacus


Helmeted Manakin (BRqe) ______ MN sep,oct
Antilophia galeata


Blue Manakin ______ MN may,sep,oct ES oct
Chiroxiphia caudata


Black-tailed Tityra ______ ES oct
Tityra cayana


Black-crowned Tityra ______ MN oct
Tityra inquisitor


Greenish Schiffornis ______ MN sep ES oct
Schiffornis virescens


Green-backed Becard ______ MN sep
Pachyramphus viridis


White-winged Becard ______ MN oct
Pachyramphus polychopterus


Black-capped Becard ______ MN may
Pachyramphus marginatus


Chestnut-crowned Becard ______ MN sep,oct ES oct
Pachyramphus castaneus


Sharpbill ______ ES oct
Oxyruncus cristatus


Swallow-tailed Cotinga (nt) (BRqe) (ph) ______ MN may,sep,oct
Philalura flavirostris


Hooded Berryeater (nt) (BRe) ______ ES oct
Carpornis cucullatus


Cinnamon-vented Piha (t3) (BRe) ______ MN sep,oct ES oct
Lipaugus lanioides


Bare-throated Bellbird (nt) ______ ES oct
Procnias nudicollis


Red-ruffed Fruitcrow ______ MN may,oct
Pyroderus scutatus


Gray-hooded Flycatcher (BRqe) ______ MN may
Mionectes rufiventris


Sepia-capped Flycatcher (ph) ______ MN may,oct ES oct
Leptopogon amaurocephalus


Drab-breasted Bamboo-Tyrant _____ MN oct ES oct
Hemitriccus diops


Hangnest Tody-Tyrant (nt) (BRe) ______ MN may
Hemitriccus nidipendulus


Eye-ringed Tody-Tyrant (nt) (BRe) ______ MN
Hemitriccus orbitalis


Pearly-vented Tody-Tyrant ______ MN may
Hemitriccus margaritaceiventer


Ochre-faced Tody-Flycatcher ______ MN may,sep,oct
Poecilotriccus plumbeiceps


Yellow-lored Tody-Flycatcher (BRe) ______ MN may,sep,oct
Todirostrum poliocephalum


Common Tody-Flycatcher ______ MN may,sep,oct
Todirostrum cinereum


Planalto Tyrannulet (BRqe) ______ MN may,oct
Phyllomylas fasciatus


Greenish Tyrannulet (BRqe) ______ MN may,sep,oct
Phyllomylas virescens


Rough-legged Tyrannulet ______ MN sep
Phyllomylas burmeisteri


Gray-capped Tyrannulet (nt) (BRe) ______ MN sep,oct
Phyllomylas griseocapilla


Southern Beardless Tyrannulet ______ MN mar,may,sep,oct
Camptostoma obsoletum


Mouse-colored Tyrannulet ______ MN sep,oct
Phaeomylas murina


Yellow Tyrannulet ______ MN may,sep,oct
Capsiempis flaveola


Southern Scrub Flycatcher ______ MN may,oct
Sublegatus modestus


Campo Suiriri ______ MN
Suiriri islerorum


Gray Elaenia ______ MN oct
Myiopagis caniceps


Greenish Elaenia ______ MN sep
Myiopagis viridicata


Yellow-bellied Elaenia (ph) ______ MN mat,sep,oct
Elaenia flavogaster


White-crested Elaenia ______ MN oct
Elaenia albiceps


Small-billed Elaenia ______ MN oct
Elaenia parvirostris


Highland Elaenia ______ MN may,sep,oct
Elaenia obscura


Plain-crested Elaenia ______ MN may,sep,oct
Elaenia cristata


Lesser Elaenia ______ MN sep,oct
Elaenia chiriquensis


Sooty Tyrannulet ______ MN mar,may,sep,oct
Serpophaga migricans


White-crested Tyrannulet ______ MN may,oct
Serpophaga subcristata


Sharp-tailed Grass-Tyrant (nt) ______ MN aug,sep,oct
Culicivora caudacuta


Gray-backed Tachuri (nt) (BRe) ______ MN may,sep,oct
Polystictus superciliaris


Southern Bristle Tyrant (nt) (BRqe) ______ MN sep
Phylloscartes eximius


Mottle-cheeked Tyrannulet ______ MN sep,oct
Phylloscartes ventralis


Bay-ringed Tyrannulet (nt) ______ MN
Phylloscartes sylviolus


Yellow-olive Flatbill ______ MN oct
Tolmomyias sulphurescens


White-throated Spadebill ______ MN sep,oct
Platyrinchus mystaceus


Black-tailed Myiobius ______ MN sep
Myiobius atricaudus


Yellow-rumped Myiobius (ph) ______ MN sep
Myiobius barbatus


Bran-colored Flycatcher ______ MN sep,oct
Myiophobus fasiatus


Cliff Flycatcher (ph) ______ MN may,aug,sep,oct
Hirundinea ferruginea


Fuscous Flycatcher ______ MN
Cnemotriccus fuscatus


Euler's Flycatcher ______ MN oct
Lathrotriccus euleri


Tropical Pewee (ph) ______ MN may.sep,oct
Contopus cinereus


Gray Monjita ______ MN mar,may,aug,sep,oct
Xolmis cinerea


White-rumped Monjita ______ MN mar,may,aug,sep,oct
Xolmis velatus


Blue-billed Black Tyrant ______ MN may,sep ES oct
Knipolegus cyanirostris


Velvety Black Tyrant (BRe) (ph) ______ MN may,aug,sep,oct
Knipolegus nigerrimus


Crested Black Tyrant (ph) ______ MN mar,aug,sep,oct
Knipolegus lophotes


Masked Water Tyrant ______ MN mar,may,aug,sep,oct
Fluvicola nengeta


White-headed Marsh Tyrant (ph) ______ MN mar,may,sep,oct
Arundinicola leucocephala


Cock-tailed Tyrant (nt) (ph) ______ MN mar,aug,sept,oct
Alectrurus tricolor


Streamer-tailed Tyrant ______ MN mar,may,aug,sep,oct
Gubrenetes yetapa


Yellow-browed Tyrant ______ MN sep,oct
Satrapa icterophrys


Cattle Tyrant (ph) ______ MN mar,may,aug,sep,oct
Machetornis rixosa


Long-tailed Tyrant (ph) ______ MN may,sep,oct
Colonia colonus


Shear-tailed Gray-Tyrant (nt) ______ MN may,sep
Muscipipra vetula


Rufous Casiornis ______ MN
Casiornis rufus


Eastern Sirystes ______ MN may,sep,oct ES oct
Sirystes sibilator


Dusky-capped Flycatcher ______ MN may.sep,oct
Myiarchus tuberculifer


Short-crested Flycatcher ______ MN may,sep,oct
Myiarchus ferox


Brown-crested Flycatcher ______ MN mar,may,aug,sep,oct
Myiarchus tyrannulus


Swainson's Flycatcher ______ MN mar,sep,oct
Myiarchus swainsoni


White-throated Kingbird (ph) ______ MN may,sep,oct
Tyrannus albogularis


Tropical Kingbird (ph) ______ MN mar,may,aug,sep,oct ES oct
Tyrannus melancholicus


Fork-tailed Flycatcher (ph) ______ MN aug,sep,oct ES oct
Tyrannus savana


Variegated Flycatcher ______ MN sep,oct
Empidonomus varius


Crowned Slaty Flycatcher ______ MN sep,oct
Griseotyrannus aurantioatrocristatus


Boat-billed Flycatcher ______ MN may,sep,oct
Megarhynchus pitangua


Streaked Flycatcher (ph) ______ MN sep,oct
Mylodynastes maculatus


Rusty-margined Flycatcher ______ MN may,oct
Myiozetetes cayanensis


Social Flycatcher (ph) ______ MN mar,may,aug,sep,oct
Myiozetetes similis


Piratic Flycatcher ______ MN sep,oct
Legatus leucophalus


Lesser Kiskadee ______ MN sep
Philohydor (formerly Pitangus) lictor


Great Kiskadee (ph) ______ MN mar,may,aug,sep,oct ES oct
Pitangus sulphuratus


Gray-hooded Attila (BRe) ______ MN may
Attila rufus


Great Antshrike (ph) ______ MN
Taraba major


Variable Antshrike ______ MN may,sep,oct ES oct
Thamnophilus caerulescens


Rufous-winged Antshrike ______ MN sep
Thamnophilus torquatus


Rufous-capped Antshrike ______ MN oct
Thamnophilus ruficapillus


Chestnut-backed Antshrike ______ MN may,sep,oct
Thamnophilus palliatus


Sooretama Slaty Antshrike (BRe) ______ MN may,sep,oct
Thamnophilus ambiguus


Planalto Slaty Antshrike (BRqe) ______ MN sep,oct
Thamnophilus pelzelni


Giant Antshrike ______ MN may,sep
Batara cinera


Large-tailed Antshrike (BRqe) ______ MN may,sep,oct
Mackenziaena leachi


Tufted Antshrike (BRqe) ______ MN may,oct
Machenziaena severa


Cinereous Antshrike ______ MN
Thamnomanes caesius


Plain Antvireo ______ MN sep
Dysithamnus mentalis


Silvery-flanked Antwren (BRe) ______ MN sep
Myrmotherula luctuosa


Unicolored Antwren (t3) (BRe) ______ MN sep
Myrmotherula unicolor


Black-capped Antwren (nt) ______ MN oct
Herpsilochmus atricapillus


Large-billed Antwren (BRqe) ______ MN
Herpsilochmus longirostris


Rusty-backed Antwren ______ MN may
Formicivora rufa


Serra Antwren (nt) (BRe) ______ MN may,sep,oct
Formicivora serrana


Ferruginous Antbird (BRe) ______ MN sep,oct
Drymophila ferruginea


Ochre-rumped Antbird (nt) (BRe) ______ MN sep,oct
Drymophila ochropyga


Dusky-tailed Antbird ______ MN may,oct
Drymophila malura


Scaled Antbird (BRe) ______ MN oct
Drymophila squamata


White-shouldered Fire-eye (BRqe) ______ MN may,sep,oct
Pyrigiena leucoptera


White-bibbed Antbird (BRe) ______ ES oct
Myrmeciza loricata


Rufous Gnateater ______ MN may,sep,oct
Conopophaga lineata


Serra do Mar Tapaculo (BRqe) ______ MN (has been called Mouse-colored Tapaculo)
Scytalopus speluncae


White-breasted Tapaculo (BRe) ______ MN may,oct
Scytalopus indigoticus


Brasilia Tapaculo (t3) (BRe) ______ MN oct
Scytalopus novacapitalis


Cryptic Antthrush (BRe) ______ MN sep ES oct
Chamaeza meruloides


"Imperial" Variegated Antpitta (ph) ______ MN oct ES oct
Grallaria varia imperator


Speckle-breasted Antpitta (BRqe) ______ MN sep ES oct
Hylopezus nattereri


Campo Miner ______ MN oct
Geobates poeciloptera


Rufous Hornero (ph) ______ MN mar,may,aug,sep,oct ES oct
Furnarius rufus


Band-tailed Hornero (BRe) ______ MN may,sep,oct
Furnarius figulus


Rufous-capped Spinetail (BRqe) ______ MN may,sep,oct
Synallaxis ruficapilla


Sooty-fronted Spinetail ______ MN may,oct
Synallaxis frontalis


Pale-breasted Spinetail ______ MN oct
Synallaxis albescens


Spix's Spinetail ______ MN may,sep,oct (has also been called Chicli Spinetail)
Synallaxis spixi


Gray-bellied Spinetail (qe) ______ MN sep
Synallaxis cinerascens


Yellow-chinned Spinetail ______ MN may,aug,sep
Certhiaxis cinnamomea


Pallid Spinetail (BRe) ______ MN may,oct
Cranioleuca pallida


Cipo Canastero (t2) (BRe) ______ MN may,oct
Asthenes luizae

The CIPO CANASTERO was discovered only as recently as 1985 in the Brazilian state of Minas Gerais, where it is very localized. When the species was initially found, it was a surprise as all other canasteros occur much further to the west in South America, mostly in Andean habitats. We've seen it during nearly all of our tours in Minas Gerais.


Rufous-fronted Thornbird (ph) ______ MN may,sep,oct
Phacellodomus rufifrons


Orange-eyed Thornbird (BRe) (ph) ______ MN oct
Phacellodomus ferrugineigula


Firewood-gatherer ______ MN sep,oct
Anumbius annumbi


White-collared Foliage-gleaner (BRe) ______ MN ES oct
Anabazenops fuscus


Buff-browed Foliage-gleaner ______ MN
Syndactyla rufosuperciliata


White-browed Foliage-gleaner (nt) (BRqe) ______ MN may,oct
Anabacerthia amaurotis


Black-capped Foliage-gleaner ______ MN may,oct
Philydor atricapillus


Buff-fronted Foliage-gleaner ______ MN may,sep
Philydor rufum


Ochre-breasted Foliage-gleaner (BRqe) ______ MN
Philydor lichtensteini


White-eyed Foliage-gleaner (BRqe) ______ MN may
Automolus leucophthalmus


Henna-capped Foliage-gleaner (nt) (BRqe) ______ MN
Hylocryptus rectirostris


Streaked Xenops ______ MN may,oct ES oct
Xenops rutilans


Plain Xenops ______ MN may
Xenops minutus


Sharp-tailed Streamcreeper ______ MN sep,oct
Lochmias nematura


Black-billed Scythebill ______ MN may
Campylorhamphus falcularius


Plain-winged Woodcreeper ______ MN may
Dendrocincla turdina


Olivaceous Woodcreeper ______ MN may,sep,oct
Sittasomus griseicapillus


White-throated Woodcreeper (BRqe) ______ MN sep ES oct
Xiphocolaptes albicollis


Lesser Woodcreeper (BRqe) ______ MN sep
Xiphorhyncus fuscus


Scaled Woodcreeper (BRe) ______ MN may,sep,oct ES oct
Lepidocolaptes squamatus


Narrow-billed Woodcreeper (ph) ______ MN mar,sep,oct
Lepidocolaptes angustirostris


Rufous-browed Peppershrike ______ MN may,aug,sep,oct
Cyclarhis gujanensis


Red-eyed Vireo ______ MN sep,oct
Vireo olivaceus


Rufous-crowned Greenlet ______ MN may ES oct
Hylophilus poecilotis


Gray-eyed Greenlet (BRe) ______ MN may,sep
Hylophilus amaurocephalus


Lemon-chested Greenlet ______ MN may,oct
Hylophilus thoracicus


Ashy-headed Greenlet ______ MN
Hylophilus pectoralis


White-naped Jay (BRe) ______ MN
Cyanocorax cyanopogon


Curl-crested Jay ______ MN may,aug,sep,oct
Cyanocorax cristatellus


White-winged Swallow ______ MN may,sep,oct
Tachycineta albiventer


White-rumped Swallow ______ MN mar,may,aug,sep,oct
Tachycineta leucorrhoa


Brown-chested Martin (ph) ______ MN may.sep,oct
Progne tapera


Gray-breasted Martin ______ MN sep,oct ES oct
Progne chalybea


Purple Martin (ph) ______ MN oct
Progne subis


Blue-and-white Swallow ______ MN mar,may.aug,sep,oct ES oct
Notiochelidon cyanoleuca


Tawny-headed Swallow ______ MN mar,may,aug,sep
Alopochelidon fucata


Southern Rough-winged Swallow ______ MN may,aug,sep,oct
Stelgidopteryx ruficollis


Barn Swallow (ph) ______ MN oct
Hirundo rustica


American Cliff Swallow ______ MN oct
Petrochelidon pyrrhonota


Moustached Wren ______ MN may,oct
Thryothorus genibarbis


Sedge (or Grass) Wren (ph) ______ MN oct
Cistithorus platensis


"Southern" House Wren ______ MN may,aug,sep,oct ES oct
Troglodytes aedon


Black-capped Donacobius (ph) ______ MN aug,oct
Donacobius atricapillus


Masked Gnatcatcher ______ MN may
Polioptila dumicola


Chalk-browed Mockingbird (ph) ______ MN mar,may,aug,sep,oct
Mimus saturninus


White-necked Thrush ______ MN may
Turdus albicollis


Eastern Slaty Thrush ______ MN sep
Turdus subalaris


Rufous-bellied Thrush (ph) ______ MN may,sep,oct ES oct
Turdus rufiventris


Pale-breasted Thrush ______ MN may,sep,oct ES oct
Turdus leucomelas


Creamy-bellied Thrush ______ MN mar,may,sep,oct
Turdus amaurochalinus


Yellowish Pipit ______ MN sep,oct
Anthus lutescens


Hellmayr's Pipit ______ MN mar,oct
Anthus hellmayri


Ochre-breasted Pipit (t2) ______ MN oct
Anthus nattereri


Purple-throated Euphonia ______ MN may,sep,oct ES oct
Euphonia chlorotica


Violaceous Euphonia ______ MN sep
Euphonia violacea


Green-chinned Euphonia (nt) ______ MN sep
Euphonia chalyba


Chestnut-bellied Euphonia ______ ES oct
Euphonia pectoralis


Blue-naped Chlorophonia (ph) ______ MN
Chlorophonia cyanea


Hooded Siskin (ph) ______ MN sep,oct
Carduelis magellanica


Southern Yellowthroat ______ MN
Geothlypis velata


Tropical Parula ______ MN may,oct
Setophaga (formerly Parula) pitiyumi


Stripe-crowned Warbler ______ MN may,sep,oct (has been called Golden-crowned Warbler)
Basileuterus culicivorus


Flavescent Warbler ______ MN oct
Basileuterus flaveolus


White-bellied Warbler ______ MN may,sep,oct
Basileuterus hypoleucus


White-striped Warbler (BRe) ______ MN may,sep,oct
Basileuterus leucophrys


Riverbank Warbler ______ MN oct
Phaeothlypis (formerly Basileuteris) rivularis


Red-rumped Cacique ______ MN may,sep,oct
Cacicus haermorrhous


Shiny Cowbird ______ MN mar,aug,sep,oct ES oct
Molothrus bonariensis


Giant Cowbird ______ MN sep
Molothrus oryzivora


Baywing (ph) ______ MN sep
Agelaioides badius


Crested Oropendola (ph) ______ MN mar,may,sep,oct
Psarocolius decumanus


Chestnut-capped Blackbird (ph) ______ MN may,sep,oct
Chrysomus ruficapillus


Unicolored Blackbird (ph) ______ MN oct
Agelaius cyanopus


Chopi Blackbird ______ MN mar,aug,sep,oct
Gnorimopsar chopsi


Forbes's Blackbird (t1) (BRe) ______ MN may
Curaeus forbesi

The FORBES'S BLACKBIRD has been considered a critically endangered species as it has a very small total population actually comprised of very small subpopulations in the Brazilian states of Alagoas, Pernambuco, and Minas Gerais. Thus the rare of this rare Brazilian endemic is severely fragmented in the eastern part of the country.
Being all-black, without any really distinctive features other than a slender bill and a unique voice, the most notable aspect of the bird is its rarity.
The small numbers (about an estimated 150 birds at one time said to be in Alagoas, and about 40 at most in one area of Minas Gerais) has made the Forbes's Blackbird a rather mysterious "phantom-like" species, not often seen.
We were fortunate to see 3 Forbes's Blackbirds during the FONT tour in Minas Gerais, not far from Serra do Cipo, in May 2011.
The birds, at about 4pm, were in the tops of palm trees in the valley of a small river. Their slender bills and recognizable call were well noted before they flew away from us.


Campo Troupial (BRe) ______ MN may
Icterus jamacaii


Yellow-rumped Marshbird (ph) ______ MN mar,aug,sep,oct
Pseudoleistes guirahuro


White-browed Blackbird (ph) ______ MN may,oct
Sturnella superciliaris


Bananaquit (ph) ______ MN mar,may,sep,oct
Coereba flaveola


Blue Finch (nt) (BRqe) ______ MN sep,oct
Porphyrospiza caerulescens


Grassland Sparrow ______ MN mar,may,aug,sep,oct
Myospiza humeralis


Rufous-collared Sparrow (ph) ______ MN mar,may,aug,sep,oct
Zonotrichia capensis


Sayaca Tanager (ph) ______ MN mar,may,aug,sep,oct
Thraupis sayaca


Azure-shouldered Tanager (nt) (BRe) ______ MN oct ES oct
Thraupis cyanoptera


Golden-chevroned Tanager (BRe) (ph) ______ MN may,sep,oct ES oct
Thraupis ornata


Palm Tanager ______ MN mar,may,sep,oct
Thraupis palmarum


Silver-beaked Tanager (ph) ______ MN sep,oct
Ramphocelus carbo


Green-headed Tanager (ph) ______ MN oct
Tangara seledon


Gilt-edged Tanager (BRe) (ph) ______ MN may,sep,oct
Tangara cyanoventris


Brassy-breasted Tanager (BRe) (ph) ______ MN may,sep,oct
Tangara desmaresti


Burnished-buff Tanager ______ MN mar,may,aug,sep,oct
Tangara cayana


Yellow-backed Tanager ______ MN sep,oct
Hemithraupis flavicollis


Fawn-breasted Tanager ______ MN sep
Pipraeidea melanonota


Diademed Tanager ______ MN may,sep
Stephanophurus diadematus


Red Tanager ______ MN may,sep
Piranga saira


Olive-green Tanager (BRe) ______ MN
Orthgonys chloricterus


White-lined Tanager ______ MN sep
Tachyphonus rufus


Ruby-crowned Tanager ______ MN may,sep,oct
Tachyphonus coronatus


Flame-crested Tanager ______ MN oct
Tachyphonus cristatus


Black-goggled Tanager ______ MN may,sep,oct
Trichothraupis melanops


Guira Tanager ______ MN oct
Hemithraupis guira


Rufous-headed Tanager (BRe) ______ MN may,sep ES oct
Hemithraupis ruficapilla


Orange-headed Tanager ______ MN sep
Thlypopsis sordida


White-rumped Tanager (nt) (ph) ______ MN mar,sep,oct
Cypsnagra hirundinacea


Hooded Tanager ______ MN sep,oct
Nemosia pileata


CHERRY-THROATED TANAGER (t1) (BRe) ______ ES oct
Nemosia rouri

The Cherry-throated Tanager is one the rarest birds ever seen during any FONT tour.


Brown Tanager (nt) (BRe) ______ MN may,sep ES oct
Orchesticus abeillei


Cinnamon Tanager (BRe) ______ MN may,aug,sep,oct
Schistochlamys ruficapillus


Magpie Tanager ______ MN may,sep,oct ES oct
Cissopis leveriana


Swallow Tanager (ph) ______ MN may,aug,sep,oct
Tersina viridis


Blue Dacnis (ph) ______ MN mar,may,sep,oct
Dacnis cayana


Chestnut-vented Conebill ______ MN may,sep,oct
Conirostrum speciosum


Blue-black Grassquit ______ MN mar,may,aug,sep,oct
Volatinia jacarina


Plumbeous Seedeater ______ MN mar,may,sep,oct


Lined Seedeater ______ MN mar
Sporophila plumbea


Yellow-bellied (inc. Dubois') Seedeater ______ MN mar,may,aug,sep,oct
Sporophila nigricollis
Sporophila nigricollis ardesiaca (Dubois' Seedeater)


Double-collared Seedeater ______ MN may,sep,oct
Sporophila caerulescens


Capped Seedeater ______ MN mar,oct
Sporophila bouvreuil


Saffron Finch (ph) ______ MN mar,may,aug,sep,oct
Sicalis flaveola


Stripe-tailed Yellow Finch ______ MN mar,may,aug,oct
Sicalis citrina


Uniform Finch ______ MN sep
Haplospiza unicolor


Coal-crested Finch (nt) ______ MN
Charitospiza eucosma


Gray Pileated Finch ______ MN may,sep,oct
Coryphospingus pileatus


Pampa Finch (ph) ______ MN sep,oct
Embernagra platensis


Serra Finch (nt) (BRe) ______ MN may,oct
Embernagra longicauda


Wedge-tailed Grass-Finch (ph) ______ MN mar,may,aug,sep,oct
Emberizoides herbicola


Black-masked Finch (t3) ______ MN may.sep,oct
Coryphaspiza melanotis


Bay-chested Warbling Finch (BRe) ______ MN sep
Poospiza thoracica


Red-rumped Warbling Finch ______ MN may,sep
Poospiza lateralis


Cinereous Warbling-Finch (nt) (BRe) ______ MN may,oct
Poospiza cinera


Buff-throated Saltator (ph) ______ MN oct
Saltator maximus


Green-winged Saltator ______ MN may,sep,oct
Saltator similis


Black-throated Saltator ______ MN mar,may,aug,sep,oct
Saltator atricollis


Black-throated Grosbeak (BRqe) ______ MN
Saltator (formerly Pitylus) fuliginosus


Ultramarine Grosbeak ______ MN sep
Cyanocompsa brissonii


Common Waxbill (BRi) (ph) ______ MN oct
Estrilda astrild


House Sparrow (BRi) ______ MN mar,may,aug,sep,oct
Passer domesticus