A Focus On Nature Tour

in Colorado & adjacent Nebraska & Wyoming

For Grouse and Other Birds, and Other Nature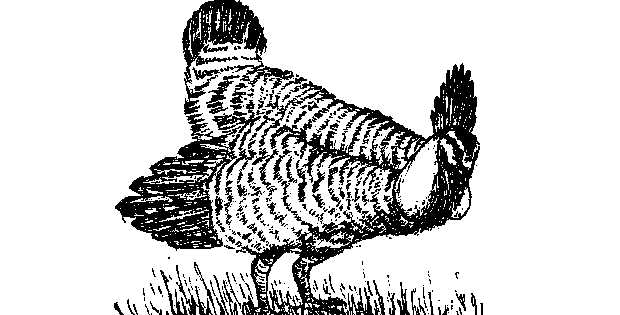 Two Prairie Chickens & a Ptarmigan.
and the Grouses: The Dusky (it was the Blue)

the Sharp-tailed, the Sage, and the Gunnison.

Also other birds, such as "northern finches" .

And some mammals too.

In all, lots of fun!

(tour: FON/CO '16)

April 12–21, 2016
Tour to be led by Armas Hill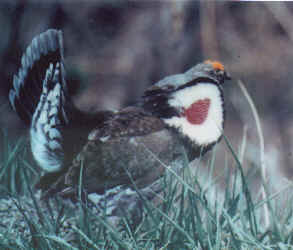 A male Dusky Grouse
(formerly called the Blue Grouse)
photographed by Alan Brady during
a FONT tour in Colorado for grouse & more.

Above Prairie Chicken drawing above by Sally Brady.

Links:
Birds & Mammals during previous FONT Colorado Tours in April
A List and Photo Gallery of Birds of Colorado & Nearby States, in 2 parts:
Part #1: Quails to Woodpeckers Part #2: Flycatchers to Buntings
A Feature about the Grouse of Colorado, Nebraska, and Kansas
Mammals during FONT Colorado Tours (with some photos)
Highlights from Previous FONT Birding & Nature Tours in Colorado




Itinerary:

Tue, Apr. 12: Arrival at Colorado Springs, Colorado. Overnight there near the airport.

Wed, Apr. 13: After an early breakfast, departure from Colorado Springs for our first birding in the areas of LaJunta and Ordway. There, some good general birding with Long-billed Curlew, Franklin's Gull, Avocet, Black-necked Stilt, Snowy Plover, and various raptors to be seen.
Then, travel to Elkhart, Kansas where we'll check over the place where early the next morning we'll be looking for booming Lesser Prairie Chickens. Overnight in Elkhart.

Thu, Apr. 14: At dawn, we'll be on the grasslands to see and hear the booming Lesser Prairie Chickens, one of the rarest species of birds in North America.
Travel will then be north along the Kansas–Colorado border, during which time we'll look for Ferruginous Hawk and Prairie Falcon. With luck we may also find Harris's Sparrow.
In the area of Wray, Colorado, we'll do the late-day preliminary scouting of the Greater Prairie Chicken spot, where we would be the next morning. Overnight in Wray.
Fri, Apr. 15: At dawn, we will be out to see the Greater Prairie Chickens and to hear their "boom" that's different than that of the Lesser.
We will then head for the Pawnee National Grasslands, another fine birding area. Mountain Plovers and both McCown's and Chestnut-collared Longspurs should be on nesting territory. Overnight in Greeley.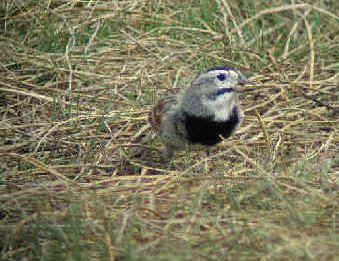 McCown's Longspur,
photographed during a FONT Colorado Tour in April.
(This, and most of the photos of the finches
following this itinerary, Rick Greenspan.)

Sat, Apr. 16: Travel west into the Rockies. In the late afternoon (if time and/or weather permits), a visit to Guanella Pass, we'll make our first attempt to see White-tailed Ptarmigans still in their all-white winter plumage. Overnight in Georgetown.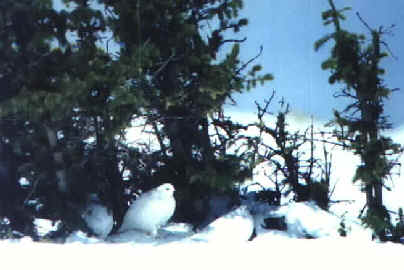 In the snow, an all-white
White-tailed Ptarmigan,
photographed during a
Focus On Nature Tour
in Colorado in April.


Sun, Apr. 17: If we have not already seen the ptarmigan, we'll devote some time again this morning to it. Later in the day, we'll continue our travel west, looking along the way for birds such as Dipper, Rosy Finches (with luck all three kinds), and Cassin's Finch.
In the late afternoon, we'll go out to a place for the Sage Grouse. These grouse usually come to their lekking site very late in the day. Overnight in Walden.
Mon, Apr. 18: Even though we may have seen the Sage Grouse the previous evening, we'll go for the bird again this morning, as the early display can be spectacular.
At the same time, we'll also keep our eyes and ears open for the Sage Thrasher.
As we bird, this morning, our eyes should also notice the beauty of the place where we'd be.
More birding in various habitats in the area of Walden could produce Pine Grosbeaks in the coniferous forest, Red-naped Sapsuckers in the aspens, and Mountain Bluebirds in the open country. In the afternoon, we'll continue to Craig, where we will overnight.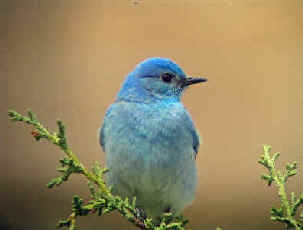 Mountain Bluebird (above)
in the Colorado Mountains (below)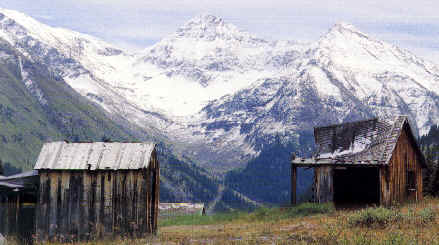 Tue, Apr. 19: We'll be out early this morning to see the Sharp-tailed Grouse on their dancing ground. Maybe the Dusky (formerly Blue) Grouse will also be in that same area (as we've seen it there in the past).
Sandhill Cranes nest in the vicinity. We should hear and see them - in pairs.
We'll travel this afternoon south, through various habitats, and some wonderfully scenic places, south to Gunnison, where we'll spend the night.
We'll make a late-day attempt (maybe successfully) to see Gunnison's version of the Sage Grouse at its lek. That population, long isolated from the Sage Grouse, is now considered a separate species, the Gunnison Grouse.
Wed, Apr. 20: If we didn't see the Gunnison Sage-Grouse the previous evening, we'll go for it early this morning. Afterwards we'll travel a road on which during our previous tours, we've had superb looks at male Dusky (formerly Blue) Grouse, tamely close to us, in full breeding attire.
In the afternoon, we'll head toward Colorado Springs, by way of a place called Buena Vista ("good view") where hopefully we'll have just that of the Pinyon Jay.
As we have our last "good view" of some of the most spectacular scenery anywhere on earth. Our last overnight back in Colorado Springs.

Thu, Apr 21: Departure for home from the Colorado Springs Airport.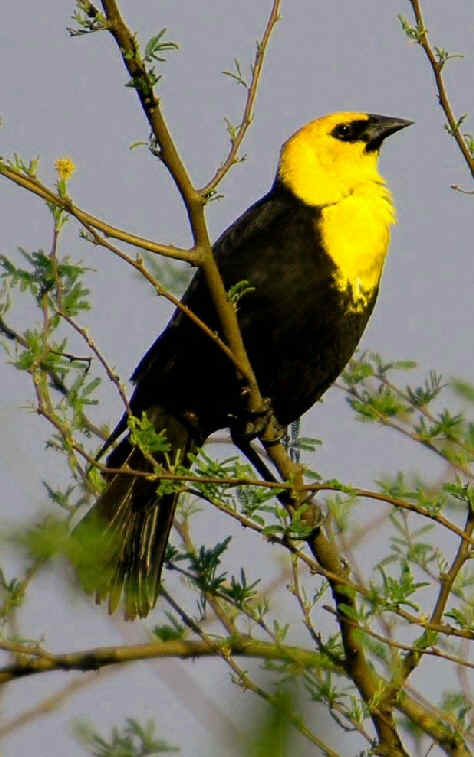 We see and enjoy the Yellow-headed Blackbird
in Colorado and Wyoming in April
(photo by Howard Eskin)




Price: $2,195 per person (based upon double-occupancy)
Single-supplement: $255.

Includes:
All overnight accommodations.
Breakfasts & Lunches (Apr. 13-20).
Ground transportation.
Services of FONT leader.

Does not include:
Dinners
Meals on Apr 12 and Apr 21
Drinks and any items of a personal nature.
Air transportation.
Gratuities.


FONT can arrange air travel, and would seek the best possible fares.

A deposit of US $500 is required to register for this tour.

Our appreciation to Bill Drummond, of Massachusetts, and various people in Colorado for generously sharing information with FONT for this tour.



Some Finches in Colorado and Wyoming
in April

Photographed during previous FONT tours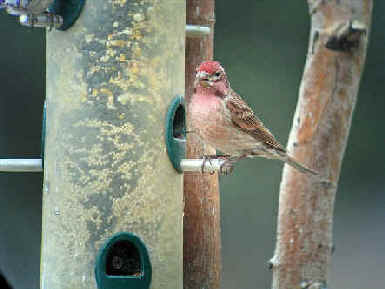 Cassin's Finch

Red Crossbill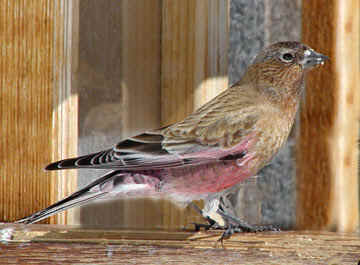 Brown-capped Rosy-Finch

Gray-crowned Rosy-Finch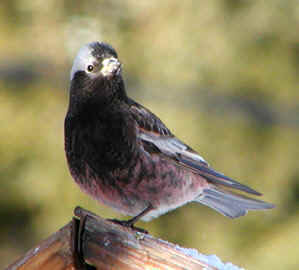 Black Rosy-Finch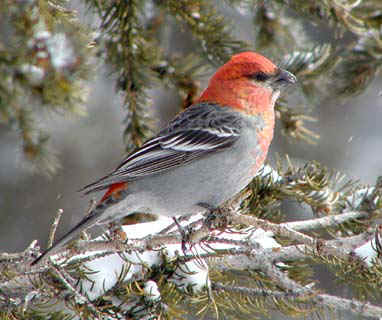 Pine Grosbeak (male)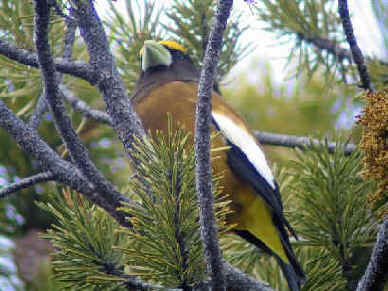 Evening Grosbeak