PO Box 9021, Wilmington, DE 19809, USA
E-mail: font@focusonnature.com
Phone: Toll-free in USA 1-888-721-3555
or 302/529-1876
A Focus On Nature Tour
in NORTHERN
COSTA RICA

For birds, butterflies,
and other nature

To a varied assortment of habitats.
In each, to places uncrowded, off the "beaten path".
Thus, with more birds and nature to be enjoyed.
This tour to places such as including Laguna del Lagarto,
Arenal, Cano Negro, and Guanacaste

March 7-15, 2015

(tour: FON/CR–1 '15)



This tour can be done in combination with the tour that follows
in southern Costa Rica
March 14-22, 2015
tour: FON CR-2 '15
Tour to be led by Armas Hill,
who has birded in Costa Rica numerous times since 1978.
722 species of birds have been found
during FONT tours in Costa Rica.

Links:
A List of Costa Rican Birds Birds during Previous FONT Northern Costa Rica Tours
Some Previous FONT Costa Rica Tour Highlights Other Upcoming Central America Tour Itineraries
Costa Rica Mammals (with some photos) Costa Rica Amphibians & Reptiles

Central America Butterflies & Moths_(with some photos)
Tropical Plants of the Americas (including those in Costa Rica)
Feature: "Alexander Skutch - A Naturalist in Costa Rica"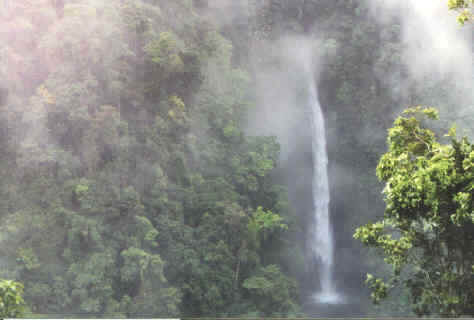 Waterfall in Costa Rica,
photograph by Marie Z. Gardner, during a previous FONT birding tour
Itinerary (price follows):
Sat: Mar. 7, '14 Arrival in Costa Rica. Birding, this day, as time permits. Overnight in San Jose.
Sun: Mar. 8 After an early morning departure from the hotel, some excellent Caribbean Slope birding at the Canyon Virgen del Socorro, a particularly good place for an assortment of tanagers and other colorful birds, including the Red-headed Barbet. We'll be stopping at some places particularly good for hummingbirds.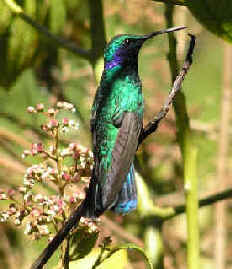 A Green Violetear
photographed during a FONT tour

In the afternoon, we'll continue traveling north to Laguna del Lagarto in the Caribbean lowlands with overnight accommodation there. Laguna del Lagarto has become one of the prime attractions of our Northern Costa Rica Birding Tour. Not only is there still excellent birding in and by the good forest (the area, also being remote, has birding as we remember from years gone by), there are also some particularly good birds, as noted in the next paragraph.
Mon Mar. 9 A full day of birding in the area of Laguna del Lagarto. Many species of birds will be seen. Among the highlights here during our tours: Agami Heron, Ocellated Antbird, Snowy Cotinga, White-fronted Nunbirds, and Great Green Macaw. There are excellent trails in the lowland rainforest. There will also be a boat-ride, with fine birding, along the Rio San Carlos, toward the Nicaraguan border. In that area, the largest remaining tract of lowland rain forest in Central America. Scarlet Macaw, King Vulture, and some interesting raptors are possible. Overnight at Laguna del Lagarto.
Tue: Mar. 10 A second morning of birding at Laguna del Lagarto.
In the afternoon, travel to the town of Fortuna de San Carlos near Arenal Volcano. Overnight in Fortuna.
Wed: Mar. 11 An excellent morning boat-ride along the River Cano Negro toward an area of marsh near the Nicaraguan border, the only haunt in Costa Rica for the Nicaraguan Grackle. A fine assortment of long-legged waders is likely, including this time of year, the Jabiru. During this ride previously we've found Sungrebe, Boat-billed Heron, and Great Potoo.
Late in the afternoon, return to Fortuna, for a second overnight.
Thu: Mar. 12 A morning with some very good birding in the area of the Arenal Observatory Lodge, but even the most ardent birders can be distracted if the Arenal Volcano is active. It can be spectacular. Even though a safe distance away, it can be exciting by day, and after dark, a thrill. Regarding the birds in the area, there's an excellent variety, and that ardent birder could have yet another thrill with a sighting of a spectacular male Bare-necked Umbrellabird, as we have here during one of our tours in the past. Also notable during our previous tours: were as many as 30 Scarlet-thighed Dacnis in one tree, Rufous-breasted Antthrush, and Hermit Warbler.
In the afternoon, travel to the dry region of northwestern Costa Rica known as Guanacaste. In this area, there are a number of bird specialties not found in other parts of the country, such the White-throated Magpie-Jay, Yellow-naped Parrot, Black-headed Trogon, Streak-backed Oriole, and Lesser Ground-Cuckoo (just to name a few.) We've found one of the specialties of the region, the Thicket Tinamou, to be easier to see, than otherwise, in July. Overnight near the town of Liberia.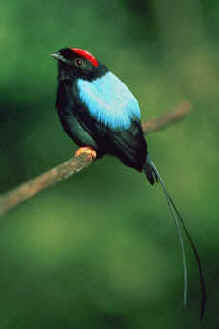 Long-tailed Manakin
Fri: Mar. 13 An early morning visit to the Lomas Barbudal Reserve, an area of excellent deciduous forest, for our final Guanacaste birding. A top attraction for us, each time there, has been the Long-tailed Manakin, and we've seen Collared Forest-Falcon on a number of our visits. A number of other birds of the "gallery forest" also occur.
In the afternoon, a boat-ride at a place that can be very good for birds: an area of waterways in coastal mangroves near Tamarindo. Here, in the past, in July, we've found Zone-tailed Hawk and Plumbeous Kite. Once, previously, Reddish Egret among a group of egrets and herons coming to an evening roost. A number of other birds fly into the area, at day's end, as well, notably parrots. This night, again, near Liberia.
Sat: Mar. 14 A last morning of birding in Guanacaste, including a visit to the Palo Verde National Park, where during previous we've seen many birds, and among them the large Jabiru, a rarity in Costa Rica. This tour should again be the same: many birds, including the Jabiru. In the afternoon, travel to San Jose, where we'll spend the last night.

Sun: Mar. 15 Departure from Costa Rica, for those going home. For those continuing on our tour FON CR-2 in southern Costa Rica, the birding will begin along the Pan American Highway, south of San Jose.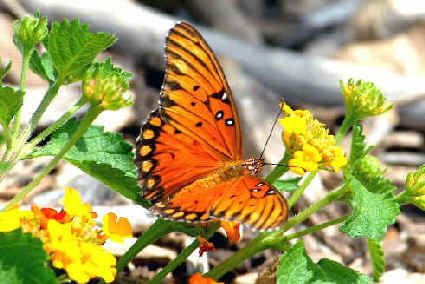 Price: $2,395, per person, based upon double-occupancy. Single supplement (when applicable): $305

Includes:
All overnight accommodations.
All meals Mar 8-14.
Transportation within Costa Rica.
A FONT or Costa Rican birding guide familiar with the birds and localities.
Does not include:
International air fare to/from Costa Rica.
Airport departure tax (approx $20).
Any items of a personal nature. Gratuities.
If done in conjunction with another FONT tour, the reduced price is:

with tour FON/CR 2, Mar 14-22, 2012: $US 3,895


"Focus On Nature Tours" can arrange air travel in relation to this tour, seeking the best possible fare.
A deposit of $400, per person, will assure a place on the tour.