PO Box 9021, Wilmington, DE 19809, USA
E-mail: font@focusonnature.com
Phone: Toll-free in USA 1-800-721-9986
or 302/529-1876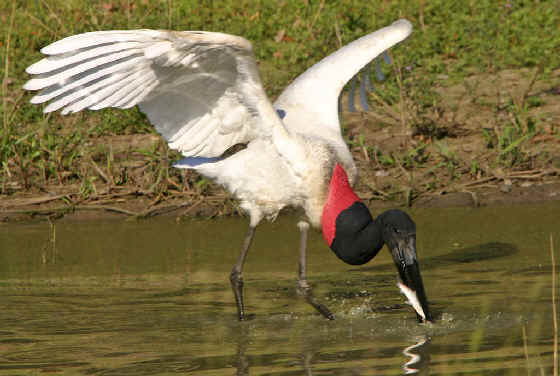 Birds and
Other Wildlife
during the
Focus On Nature Tour
in Brazil

in March 2009

including adjacent
BOLIVIA
Dates:

March 4-14, 2009


Codes:

in Brazil:
sp: Sao Paulo in southeast Brazil
ms: Mato Grosso do Sul, from Campo Grande west to Corumba, mostly in the Pantanal
mt: Mato Grosso, mostly in the areas of Serra das Araras & Chapada das Guimaraes

in Bolivia, west of Corumba, Brazil: BL

(BRe): Brazilian endemic
(BRqe): Brazilian quasi- (or near-) endemic
(BRi): introduced species in Brazil

(t): a threatened or rare species, designated by Birdlife International.
(t1): critical
(t2): endangered
(t3): vulnerable
(nt): a near-threatened species globally

(ph): species with a photo in this FONTwebsite
Directory of Photos in this Website

UPPER RIGHT PHOTO: a JABIRU in Mato Grosso do Sul.
At one place during our Mar '09 tour, on a river island near Corumba, there were nearly 400 of these birds,
standing or walking on the island or circling about in the sky above.

Links:

Cumulative List of Birds during our Brazil Tours:
Part 1 (Tinamous thru Flycatchers)
Part 2 (Antshrikes thru Grosbeaks)
In the above cumulative lists of birds, scientific names are given & subspecies are noted.
Rare & Threatened Birds of Brazil (with photos)

Mammals & Other Wildlife during our Brazil Tours (with photos)
A list of Mammals during our Brazil tour in March 2009 follows the bird-list below.

Upcoming FONT Birding & Nature Tours in Brazil

The following list compiled by Armas Hill, leader of the tour.

Bird-List:

Undulated Tinamou _____ ms


Red-winged Tinamou _____ mt


Spotted Nothura _____ ms


Greater Rhea (nt) _____ ms,mt


Chaco Chachalaca _____ ms


Rusty-margined Guan _____ ms


Common Piping Guan _____ ms


Bare-faced Curassow _____ ms


Southern Screamer _____ ms


White-faced Whistling Duck _____ ms


Black-bellied Whistling Duck _____ ms


Brazilian Teal _____ ms


Muscovy Duck _____ ms


Jabiru _____ ms


Wood Stork _____ ms,mt


Maguari Stork _____ ms


Buff-necked Ibis _____ ms,mt


Plumbeous Ibis _____ ms


Bare-faced Ibis _____ ms


Green Ibis _____ ms


Roseate Spoonbill _____ ms


Striated Heron _____ ms


Cocoi Heron _____ ms


Capped Heron _____ mt


Whistling Heron _____ ms


Western Cattle Egret _____ ms


Little Blue Heron _____ ms


Snowy Egret _____ ms,mt


Great Egret _____ ms


Rufescent Tiger-Heron _____ ms


Black-crowned Night Heron _____ ms


Neotropic Cormorant _____ ms,mt BL


Anhinga _____ ms,mt


Black Vulture _____ sp,ms,mt


Turkey Vulture _____ ms,mt BL


Lesser Yellow-headed Vulture _____ ms


Southern Crested Caracara _____ ms,mt BL


Yellow-headed Caracara _____ ms,mt


Barred Forest-Falcon _____ mt


American Kestrel _____ ms,mt BL


Aplomado Falcon _____ mt


Osprey _____ ms.mt BL


Swallow-tailed Kite _____ mt


Pearl Kite _____ mt


Snail Kite _____ ms


Long-winged Harrier _____ ms


Crane Hawk _____ ms


Great Black Hawk _____ ms


Savanna Hawk _____ ms,mt


Black-collared Hawk _____ ms


Roadside Hawk _____ ms,mt BL


White-tailed Hawk _____ ms


Harpy Eagle (nt) _____ mt (adult at a nest)


Red-legged Seriema _____ ms,mt


Rufous-sided Crake _____ ms


Gray-necked Wood Rail _____ ms,mt


Purple Gallinule _____ ms


Limpkin _____ ms


Wattled Jacana _____ ms,mt


White-backed Stilt _____ ms


Southern Lapwing _____ sp,ms,mt


Collared Plover _____ ms


Solitary Sandpiper _____ ms,mt


Spotted Sandpiper _____ ms


Large-billed Tern _____ ms


Picazuro Pigeon _____ sp,ms


Pale-vented Pigeon _____ mt


Plumbeous Pigeon _____ mt


Common (or Feral) Pigeon (BRi) _____ ms,mt BL


Ruddy Ground-Dove _____ sp,ms,mt BL


Plain-breasted Ground Dove _____ ms,mt


Picui Ground-Dove _____ ms BL


Long-tailed Ground Dove _____ ms


Scaled Dove _____ ms,mt BL


White-tipped Dove _____ ms,mt BL


Hyacinth Macaw (t2) _____ ms


Blue-and-yellow Macaw _____ ms


Red-and-green Macaw _____ mt


Golden-collared Macaw _____ ms


Red-shouldered Macaw _____ mt


White-eyed Parakeet _____ ms,mt


Peach-fronted Parakeet _____ ms,mt


Nanday (or Black-hooded) Parakeet _____ ms


Monk Parakeet _____ ms BL


Yellow-chevroned Parakeet _____ ms,mt


Turquoise-fronted Amazon _____ ms


Smooth-billed Ani _____ ms,mt BL


Greater Ani _____ ms


Squirrel Cuckoo _____ mt


Striped Cuckoo _____ ms


Guira Cuckoo _____ ms,mt BL


Tropical Screech Owl _____ mt


Ferruginous Pygmy Owl _____ ms


Burrowing Owl _____ ms,mt


Common Potoo _____ ms


Short-tailed Nighthawk _____ ms


Little Nightjar _____ ms


Scissor-tailed Nightjar _____ ms,mt


Rufous Nightjar _____ mt


Pauraque _____ ms


Swallow-tailed Hummingbird _____ sp,ms


White-vented Violetear _____ ms,mt


Black-throated Mango _____ mt


Ruby Topaz _____ ms


Glittering-bellied Emerald _____ ms


White-chinned Sapphire _____ ms


Gilded Sapphire _____ ms


Versicolored Emerald _____ mt


Horned Sungem _____ mt


Blue-crowned Trogon _____ mt


Ringed Kingfisher _____ ms


Green Kingfisher _____ ms


Amazon Kingfisher _____ ms,mt


Blue-crowned Motmot _____ mt


Rufous-tailed Jacamar _____ ms,mt


Swallow-winged Puffbird _____ mt


White-eared Puffbird _____ mt


Black-fronted Nunbird _____ mt


Toco Toucan _____ ms,mt


Channel-billed Toucan _____ mt


Lettered Aracari _____ mt


Chestnut-eared Aracari _____ mt


Pale-crested Woodpecker _____ mt


Campo (or Field) Flicker - ms,mt


Green-barred Woodpecker _____ ms


White Woodpecker _____ ms,mt


Yellow-tufted Woodpecker _____ mt


Little Woodpecker _____ ms


Lineated Woodpecker _____ mt


Crimson-crested Woodpecker _____ ms,mt


White-wedged Piculet _____ ms


Masked Tityra _____ mt


Black-crowned Tityra _____ mt


White-naped Xenopsaris _____ ms


Green-backed Becard _____ ms


White-winged Becard _____ mt


Black-capped Becard _____ mt


Crested Becard _____ mt


Common Tody-Flycatcher _____ sp,ms


Yellow Tyrannulet _____ ms


Southern Scrub Flycatcher _____ mt


Chapada Suiriri _____ mt


Yellow-bellied Elaenia _____ ms


Plain-crested Elaenia _____ mt


Plain Inezia (formerly Plain Tyrannulet) _____ mt


Cliff Flycatcher _____ mt


Tropical Pewee _____ mt


Gray Monjita _____ mt


White-rumped Monjita _____ ms,mt


White Monjita _____ ms


Black-backed Water Tyrant _____ ms BL


White-headed Marsh Tyrant _____ mt


Cattle Tyrant _____ ms,mt BL


Rufous Casiornis _____ mt


Eastern Sirystes _____ mt


Brown-crested Flycatcher _____ mt


Tropical Kingbird _____ ms,mt BL


Fork-tailed Flycatcher _____ ms BL


Social Flycatcher _____ sp,ms,mt


Boat-billed Flycatcher _____ mt


Streaked Flycatcher _____ mt


Rusty-margined Flycatcher _____ ms BL


Lesser Kiskadee _____ ms


Great Kiskadee _____ sp,ms,mt BL


Rufous-winged Antshrike _____ mt


Great Antshrike _____ ms


Barred Antshrike _____ ms


Planalto Slaty Antshrike _____ mt


Plain Antvireo _____ mt


Large-billed Antwren _____ mt


White-backed Fire-eye _____ mt


Rufous Hornero _____ sp,ms,mt BL


Pale-legged Hornero _____ ms


Pale-breasted Spinetail _____ ms


Yellow-chinned Spinetail _____ ms


Rusty-backed Spinetail _____ ms


Rufous-fronted Thornbird _____ ms


Greater Thornbird _____ ms


Gray-chested Cachalote _____ ms


Russet-mantled Foliage-gleaner _____ mt


Plain Xenops _____ mt


Olivaceous Woodcreeper _____ mt


Great Rufous Woodcreeper _____ ms


Narrow-billed Woodcreeper _____ ms,mt


Rufous-browed Peppershrike _____ mt


"Chivi" Red-eyed Vireo _____ ms


Ashy-headed Greenlet _____ mt


Curl-crested Jay _____ mt


Plush-crested Jay _____ ms


Purplish Jay _____ ms,mt


White-winged Swallow _____ ms,mt BL


Brown-chested Martin _____ ms


Gray-breasted Martin _____ ms,mt BL


Blue-and-white Swallow _____ sp


Southern Rough-winged Swallow _____ ms


Moustached Wren _____ mt


Buff-breasted Wren _____ mt


Fawn-breasted Wren _____ ms


Thrush-like Wren _____ ms,mt


"Southern" House Wren _____ ms


Black-capped Donacobious _____ ms,mt


Masked Gnatcatcher _____ ms


Chalk-browed Mockingbird _____ ms,mt


Rufous-bellied Thrush _____ sp,ms,mt


Pale-breasted Thrush _____ ms,mt BL


Yellowish Pipit _____ ms


Violaceous Euphonia _____ mt


Purple-throated Euphonia _____ mt


Thick-billed Euphonia _____ mt


Southern Yellowthroat _____ ms


White-bellied Warbler _____ mt


Crested Oropendola _____ ms,mt


Yellow-rumped Cacique _____ mt


Shiny Cowbird _____ ms,mt


Baywing _____ ms BL


Giant Cowbird _____ ms,mt


Unicolored Blackbird _____ ms


Chopi Blackbird _____ ms,mt BL


Epaulet Oriole _____ ms


Orange-backed Troupial _____ ms


White-browed Blackbird _____ ms


Yellow-rumped Marshbird _____ ms


Bobolink _____ ms


Bananaquit _____ sp,ms


Grassland Sparrow _____ ms,mt BL


Rufous-collared Sparrow _____ sp


Red-crested Cardinal _____ ms


Yellow-billed Cardinal _____ ms


Sayaca Tanager _____ se,ms,mt BL


Palm Tanager _____ ms,mt


Silver-beaked Tanager _____ mt


Burnished-buff Tanager _____ mt


Red Tanager (formerly part of Hepatic Tanager) _____ ms


Orange-headed Tanager _____ ms


White-lined Tanager _____ ms,mt


White-rumped Tanager _____ mt


Shrike-like Tanager _____ mt


Black-faced Tanager _____ mt


Magpie-Tanager _____ mt


Swallow-Tanager _____ mt


Blue Dacnis _____ mt


Blue-black Grassquit _____ ms,mt


Plumbeous Seedeater _____ mt


Lined Seedeater _____ ms


Marsh Seedeater _____ ms


Rusty-collared Seedeater _____ ms,mt


Double-collared Seedeater _____ mt


Tawny-bellied Seedeater _____ ms


Capped Seedeater _____ mt


Lesser Seed Finch _____ ms,mt


Saffron Finch _____ se,ms,mt BL


Red Pileated Finch _____ mt


Buff-throated Saltator _____ ms


Green-winged Saltator _____ mt


"Southern" Grayish Saltator _____ ms


Black-throated Saltator _____ mt


House Sparrow (BRi) _____ sp,ms,mt BL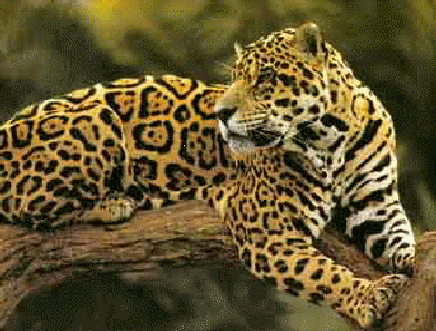 Mammals & Other Wildlife
during the
Focus On Nature Tour
in Brazil

in March 2009
Photo at right:
A JAGUAR
Ours, during this tour,
was seen after dark, feeding.



Dates:

March 4-14


Codes:

(e): classified as endangered
(v): classified as vulnerable


GIANT ANTEATER _____ ms
Myrmecophaga tridactyla


Nine-banded Armadillo _____ ms,mt
Euphractus sexcinctus
Azara's Agouti _____ mt
Cuniculus paca


Capybara _____ ms
Hydrochaeris hydrochaeris


Pantanal Cat _____ ms
Felis braccata


OCELOT (v) _____ ms
Felis pardalis
JAGUAR (v) _____ ms
Panthera tigris


Crab-eating Fox _____ ms
Cerdocyon thous


Hoary Fox _____ ms
Lycalppex vetulus


Neotropical River Otter _____ ms
Lutra longicaudus


South American Coati _____ ms
Nasua nasua


Black Howler Monkey _____ ms,mt
Alouatta caraya


Brown Tufted Capuchin _____ mt
Cebus apella


Marsh Deer (v) _____ ms
Blastocerus dichotomus


Gray (or Brown) Brocket Deer _____ mt
Mazama gouazoubira


Red Brocket Deer _____ ms
Mazama americana


Pampas Deer _____ mt
Ozotoceros bezoarticus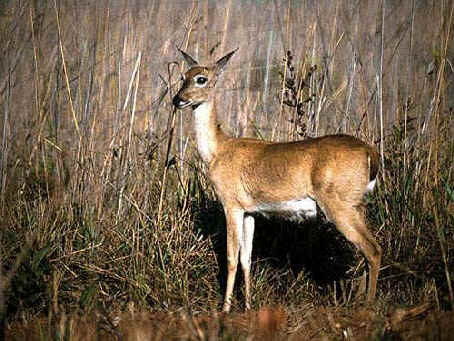 Pampas Deer

White-lipped Peccary _____ ms
Tayassu pecari


Lesser Fishing Bat _____ ms
Noctilio albiventris


other bats _____ ms,mt



Also during the tour:

only as a road-kill: Southern Tamandua


__________________________________________________________________________


OTHER WILDLIFE:


Spectacled Caiman _____ ms (including "baby caimans")
Caiman crocodilus yacare


Black Tegu _____ ms
Tupinambus teguixin


toads, lizards, gecko