P.O. Box 9021
Wilmington DE 19809 USA
Phone: (302) 529-1876
or toll-free

: 1-888-721-3555
tours@focusonnature.com

website: www.focusonnature.com
Rare Birds in Brazil

noting some seen during
Focus On Nature Tours

including, among others:
Brazilian Merganser, Cherry-throated Tanager,
Hyacinth Macaw, Forbes' Blackbird,
Harpy Eagle, and Crowned Solitary Eagle


The following list and data was compiled & written by Armas Hill,
using classifications designated by Birdlife International,
with the status of birds as in the most recent update.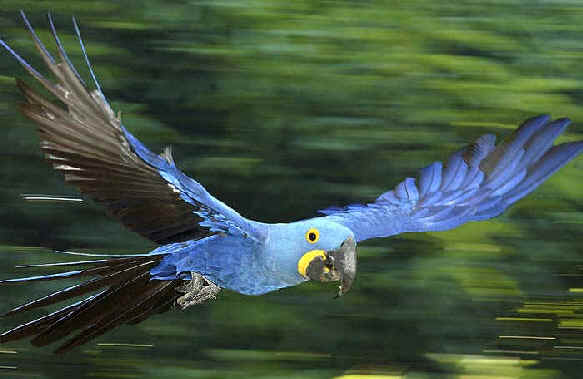 A Hyacinth Macaw in flight

Codes:
(BRe): endemic to Brazil (BRqe): quasi-endemic, or nearly endemic to Brazil



Regions in the country where birds have been seen during FONT tours noted in the list as follows:

AF: Alta Floresta area, in northern Mato Grosso
AM: Amazonia
BR: Brasilia
ES: Espirito Santo
IG: Iguacu Falls
MN: Minas Gerais
MS: Mato Grosso do Sul
MT: Mato Grosso (excluding Alta Floresta area)
RS: Rio Grande do Sul (far-southern Brazil)
SE: southeast Brazil (the states of Rio de Janeiro & Sao Paulo)

Links:
Upcoming FONT Birding & Nature Tours in Brazil Some Highlights from Past FONT Brazil Tours
A List & Photo Gallery of Brazil Birds, in 4 Parts:
Part #1: Tinamous to Doves Part #2: Macaws to Flycatchers
Part #3: Antshrikes to Woodcreepers Part #4: Vireos to Grosbeaks

Lists of Birds in Various Areas in Brazil:
Minas Gerais Mato Grosso & Mato Grosso do Sul Rio Grande do Sul Southeast Brazil
Directory of Photos in this Website





SPECIES OF BRAZIL BIRDS

Classified as: CRITICALLY THREATENED

Belem Curassow Brazilian Merganser White-collared Kite Purple-winged Ground Dove

Araripe Manakin Kinglet Calyptura Rio Branco Antbird Stresemann's Bristlefront

Hoary-throated Spinetail Alagoas Foliage-gleaner Forbes' Blackbird Cherry-throated Tanager

Cone-billed Tanager
Classified as: ENDANGERED

Chestnut-bellied Guan Red-billed Curassow Dark-winged Trumpeter Hyacinth Macaw

Lear's Macaw Golden Parakeet Golden-tailed Parrotlet Brown-backed Parrotlet

Red-tailed Amazon Red-spectacled Amazon Red-browed Amazon

Vinaceous-breasted Amazon White-winged Nightjar Hook-billed Hermit Varzea Hermit

Buff-throated Purpletuft Banded Cotinga White-winged Cotinga Wied's Neopelma

Kaempfer's Tody-Tyrant Atlantic Royal Flycatcher Restinga Antwren Black-hooded Antwren

Fringe-backed Fire-eye Marsh Tapaculo Cipo Canastero Bahia Spinetail Scaled Spinetail

Saffron-cowled Blackbird Yellow Cardinal

Classified as: VULNERABLE
Gray Tinamou Lesser Nothura White-crested Guan Blue-throated Piping Guan
Black-fronted Piping Guan Black Curassow Wattled Curassow Southern Rockhopper Penguin

Macaroni Penguin White-chinned Petrel Agami Heron White-necked Hawk Crowned Solitary Eagle

Rufous-faced Crake Olrog's Gull Ruddy Pigeon Sapphie Quail-Dove Golden-capped Parakeet

Crimson-bellied Parakeet Pearly Parakeet Blue-throated Parakeet Scarlet-shouldered Parrotlet

White-bellied Parrot Vulturine Parrot Festive Amazon Yellow-faced Amazon Blue-bellied Parrot

Scaled Ground-Cuckoo Dot-eared Coquette Three-toed Jacamar Black-girdled Barbet

White-bellied Piculet Opal-crowned Manakin Gray-winged Cotinga Black-headed Berryeater

Cinnamon-vented Piha Bare-throated Bellbird Black-capped Piprites Buff-breasted Tody-Tyrant

Fork-tailed Tody-Tyrant Sao Paulo Tyrannulet Black-and-white Monjita Cock-tailed Tyrant

Rondonia Bushbird White-bearded Antshrike Plumbeous Antvireo Salvadori's Antwren

Unicolored Antwren Guianan Streaked Antwren Band-tailed Antwren Ash-breasted Antbird

Black-tailed Antbird Bare-eyed Antbird Striated Softtail Pink-legged Graveteiro

Canebrake Groundkeeper Uniform Woodcreeper Mato Grosso Woodcreeper Hoffmann's Woodcreeper

Ochre-breasted Pipit Pearly-breasted Conebill Black-masked Finch Cinereous Warbling-Finch

Temminck's Seedeater Buffy-fronted Seedeater
Classified as: NEAR-THREATENED
Solitary Tinamou Great Tinamou White-throated Tinamou Yellow-legged Tinamou

Gray-legged Tinamou Black-capped Tinamou Greater Rhea Crestless Curassoe

Marbled Wood Quail Orinoco Goose Magellanic Penguin Black-browed Albatross

Zigzag Heron Orange-breasted Falcon Gray-bellied Hawk Mantled Hawk Harpy Eagle

Crested Eagle Ornate Hawk-Eagle Blue-winged Macaw Black-capped Parakeet

Caica Parrot Orange-cheeked Parrot Bald Parrot Kawall's Amazon Rusty-barred Owl

Bahian Nighthawk Long-trained Nightjar Sickle-winged Nightjar Saw-billed Hermit

Hyacinth Visorbearer Red-necked Aracari Saffron Toucanet Mottled Piculet Guianan Piculet

Yellow-browed Woodpecker Swallow-tailed Cotinga White-tailed Cotinga Black-and-gold Cotinga

Hooded Berryeater Hangnest Tody-Tyrant Eye-ringed Tody-Tyrant Gray-capped Tyrannulet

Sharp-tailed Grass Tyrant Gray-backed Tachuri Southern Bristle Tyrant Oustelet's Tyrannulet

Serra do Mar Tyrannulet Chapada Suiriri Olive-sided Flycatcher Castelnau's Antshrike

Spot-breasted Antvireo Brown-bellied Antwren Rufous-tailed Antbird Ochre-rumped Antbird

Rio de Janeiro Antbird Guianan Warbling Antbird White-lined Antbird White-breasted Antbird

Spotted Bamboowren Slaty Bristlefront Brasilia Tapaculo White-breasted Tapaculo Campo Miner

Araucaria Tit-Spinetail Long-tailed Cinclodes



Species in Brazil classified as CRITICALLY THREATENED:


1 BELEM CURASSOW ______ MT (BRe)
Crax pinima

Crax pinima, which has been called "Natterer's Bare-faced Curassow", was conspecific with Crax fasiolata (above).

As of 2014: A tiny captive population of Crax pinima exists, but there have been no confirmed records of it in the wild since 1978.
According to Birdlife International, "Any remaining wild population must be extremely small, and is likely to still be declining."
Thus, now their classification of "critically endangered".

Crax pinima has been restricted to Maranhao and Para in northeastern Amazonia, therefore being a Brazilian endemic.
It is said now to be extinct in around Belem, in Para.
It may survive in western Maranhao at the Reserva Biologica do Gurupi and in nearby areas.
The species was not found recently during extensive fieldwork around Paragominas in eastern Para (2003)>
During other even extensive fieldwork in Para from 1998 to 2009, the only reports came from local people who said that the species occurs in very low numbers in the Agropalma Group Forrestal Reserves in Tailandia, where it was said to be even more rare than Mitu tuberosum.
In 2009, 5 individuals (3 females and 2 males) were seized in illegal trade and were sent to a conservation breeding center.

A female Belem Curassow, or "Nattterer's Bare-faced Curassow" as it was known at the time, was seen during a FONT tour in the 1990s, along the riverbank of the Rio Cristalino, near Alta Floresta, in northern Mato Grosso, Brazil.



2 BRAZILIAN MERGANSER ______ MN (BRqe or now BRe)
Mergus octosetaceus
The very rare BRAZILIAN MERGANSER has been seen during 6 FONT tours in Brazil: in March 1997, October 1998, August 2002, October 2003, September 2006, and March 2008.
Each time, our sightings have been in a remote part of western Minas Gerais.

Recent estimates have put the population of the species at only about 100 pairs. Some say, however, that's too high a number. With large territories, and favoring remote areas, the Brazilian Merganser can be a hard bird to find.
The range of the bird has included southeast Brazil, northeast Argentina, and adjacent Paraguay. It's probably now extinct in Paraguay, and may be so in Argentina (where the population has been critically small).
Actually, in the mid-20th Century, the species was thought to be extinct. It was re-found in 1948. Now, just over 50 years later, this rarity is still "too close" to extinction.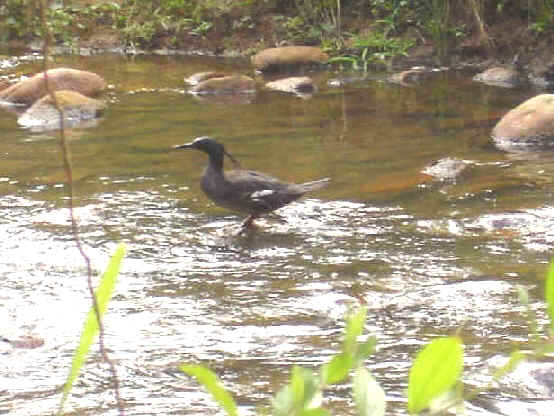 The very rare Brazilian Merganser in Minas Gerais, 2006.
A pair was seen during the FONT tour in September of that year.
There have been sightings during FONT tours in Minas Gerais
during 6 different years.
(Photo courtesy of Renilda Dupin)


3 WHITE-COLLARED KITE (also called FORBES' KITE) ______ (BRe)
Leptodon forbesi

The White-collared Kite is a mid-sized that occurs in the states of Alagoas and Pernambuco in northeastern Brazil, where it inhabits humid forests below 600 meters above sea level.
It is one of the most endangered raptors in the world, with a very limited range in which there has been an ongoing destruction of its forest habitat.

But Leptodon forbesi has apparently been rare fro years. The species was described in 1922 by H.K. Swann from a single specimen collected by W. A. Forbes in 1882 in Pernambuco.
That specimen is in a natural history museum in England (in Tring). It was thought by some to be an aberrant-plumaged (perhaps immature) Gray-headed Kite, Leptodon cayanensis, but more recently was recognized as a valid species by others.
In 1987, a pair was collected in Alagoas, and another female of unknown age was also collected, elsewhere in Alagoas, although no detailed descriptions or photographs of those specimens were published. It was stated, at that time, that Leptodon forbesi was not an abnormal immature of Laptodon cayanensis.

In all only 5 museum specimens of this enigmatic species are known. In addition to the four just mentioned, there is one in the zoological museum at the University of Sao Paulo, in Sao Paulo.

Still, today, little is known about the White-collared Kite in life, regarding its morphology, plumage variation, ecology, and geographical range.



4 PURPLE-WINGED GROUND DOVE ______ MN (BEqe)
Claravis godefrida

The rare Purple-winged Ground was seen during the FONT tour in Minas Gerais, Brazil in October 2009 in the area of Caraca.
The species at that time was classified as endangered.
Its decline has continued since then, with (as of 2012) the reclassification of it as being critically endangered.
The population has been suspected to be declining at a rate of up to about 20 per cent during 10 years, along with habitat loss within the species' highly restricted range. With the patchy nature of a preferred habitat of bamboo stands and with the impact of habitat fragmentation, the species may well be declining at a more rapid rate.
The range of the Purple-winged Ground Dove has been from Bahia south through eastern Brazil to rarely Paraguay and northeastern Argentina.
It inhabits humid Atlantic forest, with apparently a preference for edge habitats in rather hilly, broken terrain. It was at such a place that we saw it in October 2009.



5 ARARIPE MANAKIN ______ (BRe)
Antilophia bokermanni

Antilophia bokermanni was first described as recently as 1998. Its known range is extremely small, occurring at just a few locations on the northeastern slope of the Chapada do Araripe in the southern part of the Brazilian state of Ceara.
Its estimated population is about 800 individuals, is an area of suitable habitat of only 28 square kilometers.

In January 2012, a new and unexpected locality for the Araripe Manakin was discovered, in dense forest on the top of the Araripe Plateau, in an area that has been protected as a national forest (known as FLONA). 10 breeding territories were found in that small area of just 1 kilometer by 30 meters. About 5 similar small areas of such habitat occur on the plateau. Even though small, it does mean that the distribution and size of the bird's population is slightly greater than previously thought.



6 KINGLET CALYPTURA ______ (BRe)
Calyptura cristata

The little Kinglet Calyptura is a bird that has been in the family Cotingidae, and is believed to be closely related to the also-small purpletufts.
It is very rare, so much so that it appears to be on the brink of extinction.

After an absence of sightings for over a century, the Kinglet Calyptyra was rediscovered in late October 1996, when two birds were observed on the slopes of Serra dos Orgaos, north of Rio de Janeiro. Those birds were seen several mornings, but unfortunately they proved to be just a tantalizing glimpse before the species once more lapsed into obscurity.
Long lost, and dramatically re-found, the Kinglet Calyptura has since been lost again.

In February 2006 (ten years after the 1996 sightings), a single bird was reported near Ubatuba in Sao Paulo state. That sighting was not confirmed.

It seems that the Kinglet Calyptyra occurs at varying altitudes, but perhaps it is most likely to be found between 200 and 1,000 meters above sea level in humid forest canopies, where it would forage on insects, seeds, and fruits including mistletoes.

Even though the species is, as noted here, extremely rare, if it still exists, it may not have been in the past, as there are a number of museum specimens.



7 RIO BRANCO ANTBIRD ______ (BRqe)
Cercomacra carbonaria



8 STRESEMANN'S BRISTLEFRONT ______ (BRe)
Merulaxis stresemanni

Until 1995, the Stresemann's Bristlefront, a reclusive tapaculo, was known from only two specimens: the type-specimen collected near Salvador in the 1830s, and a second taken near Ilheus in 1945 in coastal Bahia.
There was another, third specimen, of unknown provenance, that was found subsequently to be in a European museum in Berlin, having been seemingly collected in the "early 19th Century".

The re-discovery in 1995 was of a single bird, tape-recorded and photographed near a place called Una in Bahia. Despite searching, there have been no subsequent findings of the bird at that locality.
But the species has been found since in the Jequitinhonha Valley in Minas Gerais, near the border with Bahia, where it was in a strip of humid valley forest, much of which had been cleared for agriculture.



9 HOARY-THROATED SPINETAIL ______
Synallaxis kollari



10 ALAGOAS FOLIAGE-GLEANER ______ (BRe)
Philydor novaesi



11 FORBES' BLACKBIRD ______ MN (BRe)
Curaeus forbesi

The Forbes's Blackbird has been considered a critically endangered species as it has a very small total population actually comprised of very small subpopulations in the Brazilian states of Alagoas, Pernambuco, and Minas Gerais. Thus the rare of this rare Brazilian endemic is severely fragmented in the eastern part of the country.

Being all-black, without any really distinctive features other than a slender bill and a unique voice, the most notable aspect of the bird is its rarity.

The small numbers (about an estimated 150 birds at one time said to be in Alagoas, and about 40 at most in one area of Minas Gerais) has made the Forbes's Blackbird a rather mysterious "phantom-like" species, not often seen.

We were fortunate to see 3 Forbes's Blackbirds during the FONT tour in Minas Gerais, not far from Serra do Cipo, in May 2011.
The birds, at about 4pm, were in the tops of palm trees in the valley of a small river. Their slender bills and recognizable call were well noted before they flew away from us.



12 CHERRY-THROATED TANAGER ______ ES (BRe)
Nemosia rourei
The Cherry-throated Tanager is one of the rarest birds ever seen during any FONT tour, anywhere in the world.
Our sighting was on October 9, 1998 in the Brazilian state of Espirito Santo, just east of Minas Gerais.
The attractive male was seen well that day by everyone in our group (ours was the first birding group EVER to see the species). 6 hours of searching and waiting were worth it. Two birds of the species were in a moving mixed species flock that we encountered. That flock was seemingly led by the vocal Eastern Sirystes.

The Cherry-throated Tanager is one of the least-seen bird species in the world. In the 19th Century, it was known only from a lone specimen in a European museum. That bird was collected in 1870 in the area of Muriae, in Minas Gerais state, along the Paraiba River.

In the 20th century, the species was sighted once, in 1941, in Espiritu Santo (at Jatiboca), prior to its very exciting re-discovery by Brazilian ornithologists shortly before our tour in 1998. We were most grateful to have been given permission to enter private land (and to stay overnight there), and to have the great cooperation of the local biologists, enabling us to see Nemosia rourei, the Cherry-throated Tanager as we did.



13 CONE-BILLED TANAGER ______ (BRe)
Conothraupis mesoleuca

The Cone-billed Tanager has been one of the more-famous of the "lost bird species of South America", with others including the Kinglet Calyptura, the Blue-eyed Ground Dove, and the Cherry-throated Tanager (all of these noted above).

In August 1938, a doctor (Dr. A. Vellard), travelling through Mato Grosso in Brazil, gathered a small collection of birds typical to the region. He shot and stuffed a few dozen species that he encountered. Later, he showed his skins to a prominent French ornithologist (Berlioz), who realized that one of them - a black bird with a white belly, and with a stout and conical beak - was a "new species". The bird was then given the common name "Cone-billed Tanager", and at first it was put into its own genus, Rynchopthraupis.
Later, scientists decided that it was similar to another better-known South American bird, the Black-and-white Tanager of Peru and Ecuador, and it was shifted to the genus Conothraupis, where the bird has remained.
The 1938 specimen was collected in dry forest habitat near a place named Juruena.

60 years later, in 2004, the Cone-billed Tanager was re-discovered, seen again fro the first time since the single specimen had been initially found.
In October 2004, a Brazilian ornithologist (Dante Buzzetti) visited the Emas National Park, in south-central Brazil, following up a possible sighting the previous year by a Brazilian bird guide (Braulio Carlos). (Note: Braulio has on occasion been with us on FONT tours in Brazil.)

At dawn at Emas (in October 2004), Buzzetti heard a bird call he did not recognize. His playing of that call on a tape recorder attracted a medium-sized brown bird that he was unable to identify. A few days alter, he heard a melodious song and again using playback, it brought in a male Cone-billed Tanager.
Later that day, Buzzetti was able to confirm that the brown bird that he had earlier seen was a female Cone-billed Tanager, the first ever to be seen.

The following month, Buzzetti and Carlos together, filmed what were presumably the same pair of birds. Unlike published illustrations (all based on the single museum specimen of 1938), in life the bill of the Cone-billed Tanager was strikingly pale, rather than black.

Since 2004, Cone-billed Tanagers have been found again in the Emas National Park. In late 2005, at least 3 birds were found there in gallery forest.


Species in Brazil classified as ENDANGERED:


14 CHESTNUT-BELLIED GUAN ______ MT (BRe)
Penelope ochrogaster



15 BLACK-FRONTED PIPING GUAN ______ SE (BRqe)
Pipile jacutinga



16 RED-BILLED CURASSOW ______ (BRe)
Crax blumenbachi



17 DARK-WINGED TRUMPETER ______ AF (BRe)
Psophia viridis



18 HYACINTH MACAW ______ MS MT (BRqe) (also another photo at the top of the file)
Anodorhynchus hyacinthinus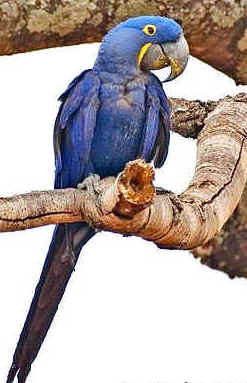 A Hyacinth Macaw
photographed during a FONT tour

(photo by Andy Smith)

The Hyacinth Macaw is the largest parrot in the world. During the 20th Century, it declined greatly due to trading and hunting. In the 1980's, there was a massive illegal trade, with at least 10,000 birds taken from the wild. 50 per cent of those were destined for the Brazilian market. In 1983-84, over 2,500 were flown out of Bahia Negra, Paraguay.

Currently, some 2,500 to 5,000 wild birds are estimated as remaining in the wild, with the vast majority in Brazil, mostly in the Pantanal region. A few still occur in easternmost Bolivia and northeast Paraguay.

Nesting is during July-December in large tree cavities and on cliffs. Two eggs are usually laid, but only one normally fledged.

The Hyacinth Macaw has been seen during every FONT tour in Mato Grosso and Mato Grosso do Sul.

Other similar macaws in Brazil and in nearby South America have, unfortunately, become extinct, notably the GLAUCOUS MACAW and the SPIX'S MACAW.

The GLAUCOUS MACAW occurred formerly in southern Brazil, particularly in western Rio Grande do Sul, and in adjacent Argentina and Uruguay, and apparently in southern and eastern Paraguay.

The SPIX'S MACAW is now extinct in the wild. In the 1990's, one individual remained in interior northeast Brazil. No longer. The initiatives to provide effective protection for the last wild birds failed. Endeavors at establishing a captive-breeding program using stock held in private collections around the world (perhaps totaling no more than 20 birds) have been unsuccessful.



19 LEAR'S MACAW (also called INDIGO MACAW) ______ (BRe)
Anodorhynchus leari



20 GOLDEN PARAKEET ______
Guarouba cuarouba



21 GOLDEN-TAILED PARROTLET ______
Touit surdus



22 BROWN-BACKED PARROTLET ______
Touit melanonotus



23 RED-TAILED AMAZON ______ SE (BRe)
Amazona brasiliensis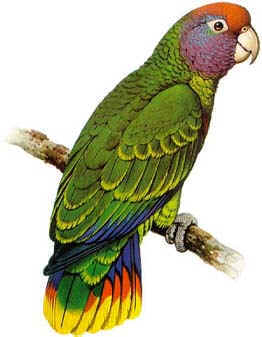 24 RED-SPECTACLED AMAZON ______ RS (BRqe)
Amazona pretrei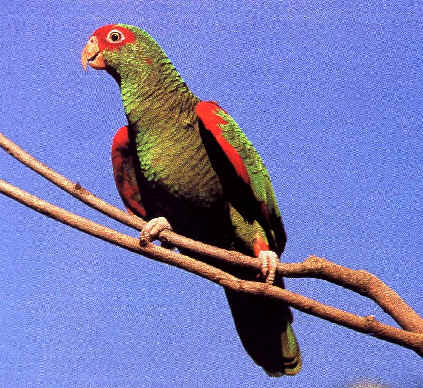 The Red-spectacled Amazon has a small range in southern Brazil and northeast Argentina (and possibly also in Uruguay & Paraguay). It is closely associated with Araucaria-dominated forest. Recently, its population has seriously declined. A comparison of population estimates in 1971 and 1997 indicate that the decline of the species has been at a rapid rate of equivalent to 22% in 10 years.

The Red-spectacled Amazon has been seen during FONT tours in Rio Grande do Sul.



25 RED-BROWED AMAZON ______ (BRe)
Amazona rhodocorytha



26 VINACEOUS-BREASTED AMAZON ______ MN RS SE (BRqe)
Amazona vinacea



27 WHITE-WINGED NIGHTJAR ______
Eleothreptus candicans



28 HOOK-BILLED HERMIT ______ (BRe)
Glaucis dohrnii



29 VARZEA PICULET ______
Picumnus varzeae



30 BUFF-THROATED PURPLETUFT ______ SE (BRe)
Iodopleura pipra

The Buff-throated Purpletuft is a small bird, just over 3 inches in length, and a member of the cotinga family. It occurs at only a very few places in a severely fragmented range in eastern Brazil. During FONT tours, we've seen it only in the area of Ubatuba, near the seacoast in Sao Paulo state. In that area, our sightings have been at borders of humid forests, secondary woodland, and cacao plantations such as Fazenda Capricorno.

The bird tends to perch on high exposed branches. There is some evidence that it may be associated with a single species of a tall, fine-leaved deciduous tree which is locally common and often supports clumps of mistletoe. The bird feeds primarily on berries, particularly those of mistletoe, supplemented by anthropods.



31 BANDED COTINGA ______ (BRe)
Cotinga maculata



32 WHITE-WINGED COTINGA ______ (BRe)
Xipholena atropurpurea



33 WIED'S NEOPELMA (was called WIED'S TYRANT-MANAKIN) ______ (BRe)
Neopelma aurifrons



34 KAEMPFER'S TODY-TYRANT ______ (BRe)
Hemitriccus kaempferi



35 ATLANTIC ROYAL FLYCATCHER ______ SE (BRe)
Onychorhynchus swainsoni



36 RESTINGA ANTWREN ______ SE (BRe)
Formicivora littoralis

A recent study (published in 2011) of morphometric, vocal and plumage analyses indicated that Formicivora littoralis, the Restinga Antwren, lacked characteristics to differentiate it from the Serra Antwren, Formicivora serrana. And so it recommended that the two be conspecific, with littoralis as a subspecies of Formicivora serrana.

The Serra Antwren, a Brazilian endemic, and now classified as a species of "least concern" was described in 1929 from the Brazilian state of Minas Gerais.
Subspecies F. s. interposita and F. s. littoralis were described in the late 1980s. from specimens taken in the state of Rio de Janeiro (at two different locations).
Two years later, in 1990, F. s. littoralis was elevated to species status and given the vernacular name of Restinga Antwren.

Formicivora (serrana) littoralis lives in a habitat known as "restinga" that is a beach-scrub habitat rich in cacti and bromeliads on sand dunes, and in other scrub vegetation on coastal hillsides.
The birds usually forage in pairs, remaining close to the ground in dense thickets.
The bird has a highly restricted range around Cabo Frio in Rio de Janeiro state.

Both the Serra Antwren and the Restinga Antwren have been seen during FONT tours. The Serra Antwren in the states Minas Gerais and Rio de Janeiro. The "Restinga Antwren" in Rio de Janeiro state.



37 BLACK-HOODED ANTWREN ______ SE (BRe)
Formicivora erythronotos

Only in a very limited area of southeastern Brazil, the Black-hooded Antwren is very rare. For years, it was only known from Nova Friburgo (north of the city of Rio de Janeiro), where it was feared extinct, due to habitat destruction, and with the last reliable record during the second half of the 19th Century.

However, it was recently re-discovered, in 1987, in a secondary swampy wooded area near the mangrove line at sea level along the southern coast of Rio de Janeiro state.

The rare Black-hooded Antwren has been found during FONT tours at the appropriate locality in Rio de Janeiro state.



38 FRINGE-BACKED FIRE-EYE ______ (BRe)
Pyriglena atra

In 2011, with efforts by the Brazilian Institute for Biodiversity Conservation, two private nature reserves were created in the state of Bahia to help and protect the endangered Fringe-backed Fire-eye, a bird that is a symbol for conservation of the coastal Atlantic Forest.
The two new reserves (Olho-de-FogoRendado, 103 hectares and Curio, 13 hectares) are both in the municipality of Sao Sebastiao do Passe, in a narrow belt of Atlantic Forest along the north coast of Bahia.

The global geographic range of the Fringe-backed Fire-eye is about 5,000 square kilometers, and thought to be declining due to loss of the bird's habitat which is lowland forest with undergrowth.
The species has been found in forest fragments of around 50 hectares, but it has been found to have disappeared within 2 years at one locality that was reduced from almost 200 hectares to 40 hectares.
Remaining forest fragments have become smaller and more isolated.



39 MARSH TAPACULO (has also been called TALL-GRASS WETLAND TAPACULO) ______ (BRe)
Scytalopus iraiensis

The Marsh Tapaculo was first sighted in April 1997 in wetlands beside the Irai River near Curitiba in southern Brazil.

Until recently, it was known to be at about two dozen sites in eastern Parana and Rio Grande do Sul (Brazilian states), but it has since also been found in the highlands of Minas Gerais - far north of its previously known range.

Recently discovered birds in Mians Gerais have been, among other places, in the national parks of Serra do Cipo and Serra de Canastra, and in the reserve at Serra do Caraca.



40 CIPO CANASTERO ______ MN (BRe)
Asthenes luizae
The Cipo Canastero was discovered only as recently as 1985 in the Brazilian state of Minas Gerais, where it is very localized.
When it was initially found, it was quite a surprise as all other canasteros occur much further west in South America, mostly in Andean habitats.

We've seen the Cipo Canastero during nearly every FONT tour in Minas Gerais.

The range of this species is but a dot on a Brazilian map, where its habitat is a limited area of rocky outcrops, and associated dry vegetation.

Also occurring there are 2 other notable Brazilian endemics, both rare, but not as rare as the canastero. These other two species, designated as "near-threatened" by Birdlife International, are the Gray-backed Tachuri (a flycatcher) and the Hyacinth Visorbearer (a hummingbird). Both have been seen during every FONT tour in the area.



41 BAHIA SPINETAIL ______ (BRe)
Synallaxis whitneyi



42 SCALED SPINETAIL ______
Cranioleuca muelleri



43 SAFFRON-COWLED BLACKBIRD ______ RS
Xanthopsar flavus



44 YELLOW CARDINAL ______ RS
Gubernatrix cristata

The Yellow Cardinal occurs in far-southern Brazil in Rio Grande do Sul and in adjacent Uruguay.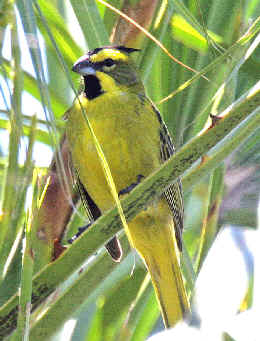 The Yellow Cardinal


Species in Brazil classified as VULNERABLE:


45 GRAY TINAMOU ______ MT
Tinamus tao



46 LESSER NOTHURA ______ MN
Nothura minor



47 WHITE-CRESTED GUAN ______
Penelope pileata



48 BLUE-THROATED PIPING-GUAN ______ AF MS MT
Pipile cumanensis



49 BLACK CURASSOW ______
Crax alector



50 WATTLED CURASSOW ______
Crax globulosa



51 SOUTHERN ROCKHOPPER PENGUIN ______ (rare in Brazil in oceanic waters off Rio Grande do Sul)
Eudyptes chrysocome



52 MACARONI PENGUIN ______ (rare in Brazil in oceanic waters off Rio Grande do Sul)
Eudyptes chrysolophus



53 WHITE-CHINNED PETREL ______ RS
Procellaria aequinoctialis



54 AGAMI HERON ______ AF AM MT
Agamia agami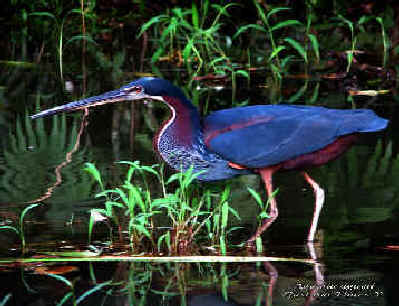 Agami Heron
55 WHITE-NECKED HAWK ______ SE (BRe)
Leucopternis lacernulata



56 CROWNED SOLITARY EAGLE ______ MN MT
Harpyhaliaetus coronatus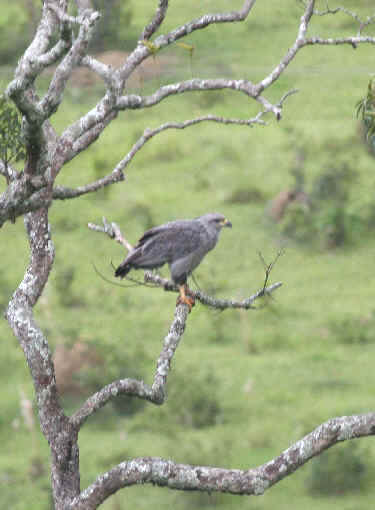 A Crowned Solitary Eagle photographed
in the Brazilian state of Minas Gerais,
during the FONT tour in March 2008.

(photo by Marie Gardner)
The Crowned Solitary Eagle is a large, gray bird, occurring sparsely over a large range mostly in Brazil, but also in Bolivia, Paraguay, and Argentina.
In its big geographic range of over 3 million square kilometers, this rare bird has been found at about a hundred localities. But a number of those places, however, relate to sightings back in the 19th Century.

The species is classified by Birdlife International as "vulnerable" because "it occurs at very low densities ... in fragmented habitat" and because "the severity of threats strongly suggest a significant and continuing decline".

Birdlife International suggests that the total population of the bird is somewhere between 2,500 and 10,000 individuals.

However, others say that surely such an estimate is too high for a species which is so thinly scattered and almost everywhere rare or, at best, scarce. A total of just 1,000 breeding birds (500 pairs) would give an average density over the entire range of 1 pair in 6,000 square kilometers (that would be 75 x 80 kilometers). The pattern of current, or recent, sightings does not indicate that many birds. So, even though classified as "vulnerable", the species may well be more so than others in that category.

Juveniles are said to remain with their parents for several years. Breeding is less than annual. Birds have a large home range.

The Crowned Solitary Eagle can be described as indolent, sluggish, and partially crepuscular, as they most actively feed at dusk and dawn. Their favored prey are skunks and armadillos, animals that are themselves mostly crepuscular.
Population densities are lower in the chaco and cerrado habitats than in rich grasslands.

The spread of agriculture, with burning, mechanization, and pesticides, and intensive cattle-raising continue to destroy suitable lightly wooded habitats and natural grasslands throughout much of the bird's range. Forestation of grasslands with eucalyptus is further affecting foraging areas. The species is also hunted. And so, with the combination of these factors, the decrease continues.

Adults have a long, occipital crest. Hence, "crowned" in its name. The species is now called the Crowned Solitary Eagle as there is another large raptor called the Crowned Eagle in Africa.

The Crowned Solitary Eagle and the more-northerly Montane Solitary Eagle (a black, not gray, bird, formerly called the Solitary Eagle) are the only two members of their genus.

Male and female Crowned Solitary Eagles are similar. Females only average about 3 per cent larger.

The Crowned Solitary Eagle is not a "true eagle". It is a buteonine.
But, regardless as to how it is classified, it is large. Of the 100 raptors in North and South America, only 6 have larger wingspans. In that sense, only the Andean and California Condors, the Bald and Golden Eagles, the Harpy Eagle, and the King Vulture are bigger. In South America, only 3 species of raptors have larger wingspans than the Crowned Solitary Eagle.
In terms of length, only 7 North & South American raptors are larger, with the Crested Eagle added to 6 species just noted as bigger than the Crowned Solitary Eagle.
93 (out of 100) species of American raptors have smaller wingspans than the Crowned Solitary Eagle. In terms of both body length and wingspan, the Crowned Solitary Eagle is about twice as big as the Plumbeous Kite.

The Crowned Solitary Eagle has been seen during a few FONT tours in Brazil, in Mato Grosso and Minas Gerais.
But the best sighting was during our March 2008 tour in Minas Gerais when both male and female birds were seen, closely, both perched and in flight.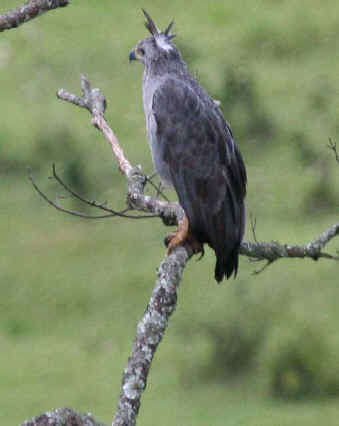 The Crowned Solitary Eagle,
showing the crown,
photographed during the FONT March 2008 Brazil Tour.
(photo by Marie Gardner)


57 RUFOUS-FACED CRAKE ______
Laterallus xenopterus



58 OLROG'S GULL _____ RS
Larus atlanticus



59 RUDDY PIGEON ______ AF AM MT
Patagioenas subvinacea



60 SAPPHIRE QUAIL-DOVE ______
Geotrygon saphirina



61 GOLDEN-CAPPED PARAKEET ______ MN (BRe)
Aratinga auricapilla

The Golden-capped Parakeet is an attractive species restricted to forested areas of southeast Brazil. Its decline is due to habitat fragmentation and trapping.

It is closely related to the Sun Parakeet of northern Brazil and the Jandaya Parakeet of northeast Brazil.

The Golden-capped Parakeet has been seen during most FONT tours in Minas Gerais, where the species is found in scattered areas. Outside Minas Gerais, there are some recent records from several sites in Sao Paulo state, from single sites in Rio de Janeiro and Parana states, and from two areas in Goias state. There have been no records from Espiritu Santo state since 1950.


62 CRIMSON-BELLIED PARAKEET ______ AF
Pyrrhura perlata



63 PEARLY PARAKEET ______
Pyrrhura lepida



64 BLUE-THROATED PARAKEET ______ (BRe)
Pyrrhura cruentata



65 SCARLET-SHOULDERED PARROTLET ______
Touit huetii



66 WHITE-BELLIED PARROT ______ AF
Pionites leucogaster



67 VULTURINE PARROT ______ AF
Pyrilia vulturina



68 FESTIVE AMAZON ______
Amazona festiva



69 YELLOW-FACED AMAZON ______ BR
Amazona xanthops

The Yellow-faced Amazon has been seen during FONT Brazil Tours near the country's capital city of Brasilia.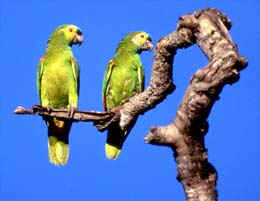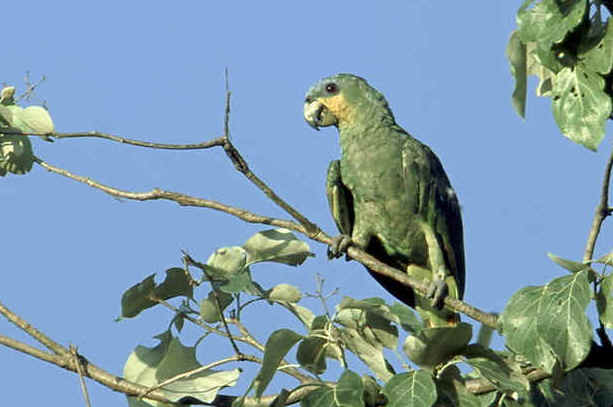 70 BLUE-BELLIED PARROT ______ (BRqe)
Triciaria malachitacea



71 SCALED GROUND-CUCKOO ______
Neomorphus squamiger



72 DOT-EARED COQUETTE ______ AF MT (BRqe)
Lophornis gouldii



73 THREE-TOED JACAMAR ______ MN SE (BRe)
Jacamaralcyon tridactyla

The Three-toed Jacamar is a Brazilian endemic that has, during recent years, undergone a major decline in numbers, and a contraction of range. Habitat clearance has been mainly responsible. The population is now estimated to be from 250 to 1,000 birds.

The species can continue in relatively small woodlots where there are mudbanks in which to nest. The occurrence of this rarity is localized.

It has been seen during FONT tours since 1997, mostly in Minas Gerais, but most recently in 2011, in a remote part of Rio de Janeiro state, just a few kilometers from the Minas Gerais border.



74 BLACK-GIRDLED BARBET ______ AF MT (BRe)
Capito dayi



75 WHITE-BELLIED PICULET ______
Picumnus spilogaster



76 OPAL-CROWNED MANAKIN ______
Lepidothrix iris



77 GRAY-WINGED COTINGA ______ (BRe)
Tijuca condita



78 BLACK-HEADED BERRYEATER ______ (BRe)
Carpornis melanocephala



79 CINNAMON-VENTED PIHA ______ ES MN (BRe)
Lipaugus lanioides



80 BARE-THROATED BELLBIRD ______ ES IG SE (BRqe)
Procnias nudicollis



81 BLACK-CAPPED PIPRITES ______ SE (BRqe)
Piprites pileatus



82 BUFF-BREASTED TODY-TYRANT ______ (BRe)
Hemitriccus mirandae



83 FORK-TAILED TODY-TYRANT ______ (BRe)
Hemitriccus furcatus



84 SAO PAULO TYRANNULET ______ SE (BRqe)
Phylloscartes paulistus



85 BLACK-AND-WHITE MONJITA ______ RS
Heteroxolmis dominicana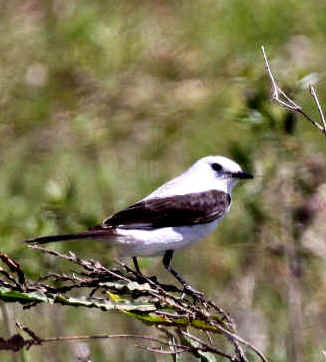 A Black-and-white Monjita
photographed during a FONT tour in Rio Grande do Sul, Brazil
(photo by Marie Gardner)
86 COCK-TAILED TYRANT ______ BR MN MT (BRqe)
Alectrurus tricolor

With extensive and continuing habitat loss throughout its range, the Cock-tailed Tyrant has had a rapid population decline. The favored habitat is seasonally wet and dry grasslands. It remains locally common in a few scattered protected areas in the Brazilian states of Minas Gerais and Goias. In the former, where we've seen it during a number of FONT tours, in the Serra da Canastra National Park, it has been said to be migratory, arriving in mid-August and departing by January. However, we've also seen the species there, in numbers, during March, most recently during our tour in that month in 2008.

Breeding is said to occur at the start of the wet season in September-October.

Only one time have we seen the species in Mato Grosso, in cerrado habitat in Chapada dos Guimaraes.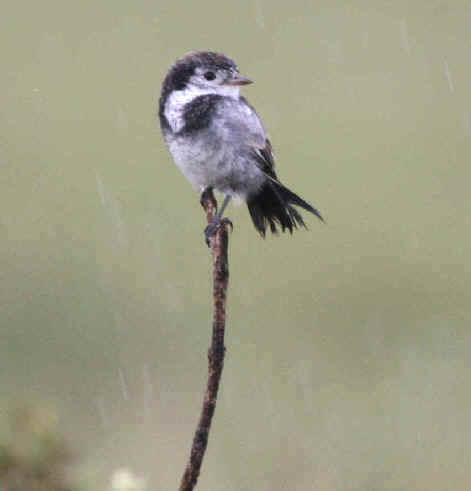 A Cock-tailed Tyrant photographed during the March 2008 FONT Brazil Tour
at Canastra National Park in Minas Gerais.
(photo by Marie Gardner)

87 RONDONIA BUSHBIRD ______
Clytoctantes atrogularis



88 WHITE-BEARDED ANTSHRIKE ______ SE
Biatas nigropectus



89 PLUMBEOUS ANTVIREO ______ (BRe)
Dysithamnus plumbeus



90 SALVADORI'S ANTWREN ______ SE (BRe)
Myrmotherula minor



91 UNICOLORED ANTWREN ______ SE (BRe)
Myrmotherula unicolor



92 GUIANAN STREAKED ANTWREN ______
Myrmotherula surinamensis



93 BAND-TAILED ANTWREN ______ (BRe)
Mymotherula urosticta



94 ASH-BREASTED ANTBIRD ______
Myrmoborus lugubris



95 BLACK-TAILED ANTBIRD ______
Myrmoborus melanurus



96 BARE-EYED ANTBIRD ______
Rhegmatorhina gymnops



97 STRIATED SOFTTAIL ______ (BRe)
Thripophaga macroura



98 PINK-LEGGED GRAVETEIRO ______ (BRe)
Acrobatornis fonsecai



99 CANEBRAKE GROUNDKEEPER ______ RS (BRqe)
Clibanornis dendrocolaptoides
The Canebrake Groundcreeper is a little-known species that occurs in small and fragmented populations. Its range is only in southern Brazil (in the states of Rio Grande do Sul, Parana, Santa Catarina, and southern Sao Paulo), and in southeast Paraguay and in northeast Argentina. In the portions in that range in Argentina, Paraguay, and Sao Paulo, Brazil, there have been very few records.
Most recent records of the bird have been in the Brazilian states of Santa Catarina and Parana, But we saw the bird in the state of Rio Grande do Sul (near Santa Catarina).

In the book "Threatened Birds of the World" (a Birdlife International publication), it's stated that there have been "no records in Rio Grande do Sul since 1973".

The bird is said to be rare in thickets and dense vine-tangles near streams where deciduous and Araucaria forests meet. It was in such a habitat that we found it during our October '06 tour.



100 UNIFORM WOODCREEPER ______
Hylexetastes uniformis



101 BRIGIDA'S WOODCREEPER (or MATO GROSSO WOODCREEPER) ______
Hylexetastes brigidai



102 HOFFMANN'S WOODCREEPER ______
Dendrocolaptes hoffmannsi



103 OCHRE-BREASTED PIPIT ______ MN (BRqe)
Anthus nattereri



104 PEARLY-BREASTED CONEBILL ______ AM
Conirostrum margaritae



105 BLACK-MASKED FINCH ______ MN
Coryphaspiza melanotis



106 CINEREOUS WARBLING FINCH ______ MN (BRe)
Poospiza cinerea



107 BUFFY-FRONTED SEEDEATER ______ SE (BRqe)
Sporophila frontalis



108 TEMMINCK'S SEEDEATER ______ SE
Sporophila falcirostris



Species in Brazil classified as NEAR-THREATENED:



109 SOLITARY TINAMOU ______ IG MN SE (BRqe)
Tinamus solitarius



110 GREAT TINAMOU ______ AF MT
Tinamus major



111 WHITE-THROATED TINAMOU ______
Tinamus guttatus



112 YELLOW-LEGGED TINAMOU ______ MN (BRe)
Crypturellus noctivagus



113 GRAY-LEGGED TINAMOU ______
Crypturellus duidae



114 BLACK-CAPPED TINAMOU ______
Crypturellus atrocapillus



115 GREATER RHEA ______ MN MS MT RS
Rhea americana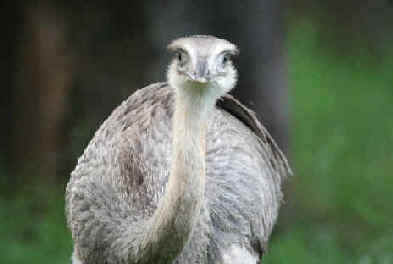 A Greater Rhea photographed during a FONT tour in Brazil



116 CRESTLESS CURASSOW ______
Mitu tomentosum



117 MARBLED WOOD-QUAIL ______ AF MT
Odontophorus gujanensis



118 ORINOCO GOOSE ______
Neochen jubata



119 MAGELLANIC PENGUIN ______ RS SE
Amazona leucocephala
During recent years, the total population of the Magellanic Penguin has been decreasing.
As of 2012, that population has been estimated as being 1.3 million pairs, with 950,000 breeding along the coast of Argentina, at least 100,000 in the Falkland (Malvinas) Islands, and at least 200,000 nesting in Chile.

In Argentina, there are just over 60 sites where Magellanic Penguins breed.
In Chile, there are at least 10 locations.

Recent population trends have been different at various colonies. The two largest colonies in Argentina have had decreases during the last decade, but other smaller colonies have grown.

Outside their breeding season, Magellanic Penguins migrate north to the coast and offshore waters of Brazil.
During FONT Brazil Tours, they have been seen in Rio Grande do Sul and near Ubatuba in Sao Paulo state.

Magellanic Penguins, tracked by satellite and GPS sensor tags during their breeding season, have been found to typically forage more than 100 kilometers from their nesting sites, and sometimes, at various colonies in Argentina, as much 600 kilometers from the sites.
Individual Magellanic Penguins show a high site fidelity, with nearly all birds returning to the colony in which they were born, and with most adults using the same burrow year after year.

As vagrants, Magellanic Penguins have occurred as far north (in the Pacific Ocean) as El Salvador in 2007, and south to Avian Island on the Antarctic Peninsula, and also as far away as New Zealand and Australia.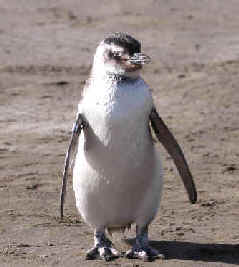 A Magellanic Penguin photographed
during a FONT Brazil Tour in Rio Grande do Sul



120 BLACK-BROWED ALBATROSS ______ RS
Thalassarche (has been Diomedea) melanophrys

Black-browed Albatrosses have been seen from shore during FONT Brazil Tours in Rio Grande do Sul.



121 ZIGZAG HERON ______ AF MT
Zebrilus undulatus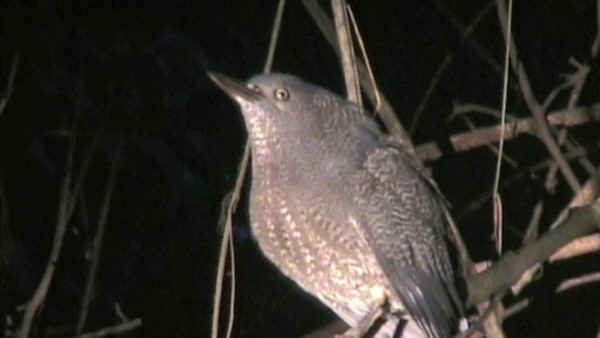 Zigzag Heron
(photo by Frank Stermitz)


122 ORANGE-BREASTED FALCON ______ MS MT
Falco deiroleucus



123 GRAY-BELLIED HAWK ______ MN SE
Accipiter poliogaster



124 MANTLED HAWK ______ MN SE (BRqe)
Leucopterbis polionotus

The Mantled Hawk is rare and local in lowland and mid-elevation forests of eastern Brazil from Alagoas south to Rio Grande do Sul. It is nearly endemic to Brazil, with only very few in adjacent Uruguay, and just one record recently in Paraguay. Deforestation and agricultural practices have been cited as causes for the species' decline.



125 HARPY EAGLE ______ AF AM MT
Harpia harpyja
The Harpy Eagle has been seen during a half a dozen FONT tours in the Brazilian state of Mato Grosso, and also in the state of Amazonas.

Our first sighting of this massive raptor was back in August 1993 in the northern part of Mato Grosso in the area of the Rio Cristalino north of Alta Floresta. The bird was at a nest in a huge tree in the forest. 2 years later, in August 1995, during a boat-trip along the river, an adult Harpy Eagle was observed perched in a big dead tree by the river, just prior to 2 younger birds being seen flying about, nearby, upriver. Photos were taken.

Later, in 1998, 2000, and during 2 tours in 2004, Harpy Eagle were observed at and near a nest, with young, during FONT tours in southern Mato Grosso state, at Serra das Araras.
In 2004, a young bird (already big) was seen at that nest during our tour in August. Two months later, in October, during another FONT tour, that same bird was seen again. The bird was still by the nest (and it was even bigger). Its loud call could be heard a long distance away, as it begged for food.
One of the adults, during the October 2004 tour, was seen nearby, flying not far above the canopy of the forest.

In Amazonian Brazil, during our February 2010 tour, an adult Harpy Eagle was perched high in a tall tree by one of the tributaries of the Amazon on the south side of the big river.

The Harpy Eagle is sparsely distributed throughout its extensive range in Central & South America.
It has been extirpated in a large part of its former range, particularly in the north in central & northern Central America, and in the south in northern Argentina and southern Brazil.
The species occurs in interrupted expanses of lowland tropical forest. The low overall population and a slow reproductive rate make shooting a significant threat.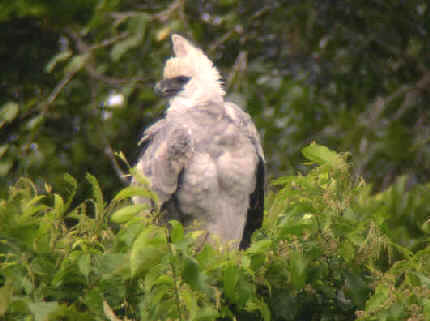 An immature Harpy Eagle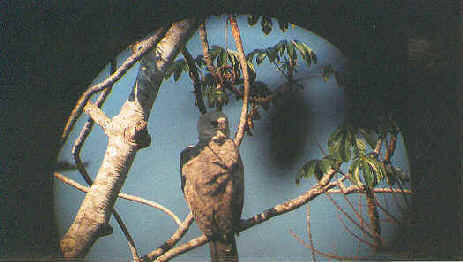 Another young Harpy Eagle, photographed through a telescope,
during a FONT tour in Mato Grosso, Brazil


THE FOLLOWING IS FROM NOTES WRITTEN BY ARMAS HILL
RELATING TO ONE OF HIS EARLY TRIPS IN BRAZIL IN THE 1980s:

"From the area of the city of Belem, near the mouth of Amazon River, two of my remembrances are still vivid years later.
One, as I walked along a trail in the jungle, is of an agitated Amazonian Royal Flycatcher up in the tree with its orange erect crest. The bird was agitated as there was a snake moving on a nearby branch.
And secondly, when I was at the zoo in Belem, I saw closely my first Harpy Eagle. That captive bird was big, granted, but what struck me the most at the time, and I can still remember in my mind, were its huge talons and massive claws. I had never seen such things, and seeing them closely made an impression that I've never forgotten."


The Harpy Eagle is the biggest raptor in the Americas and the most powerful in the world.
The massive claws of the Harpy Eagle are more powerful than those of virtually every other bird. They can pierce the skull of a monkey or a sloth, the bird's main prey.
Although the large Harpy Eagle often seems docile and doesn't seem to move much, when it does it can move between tree branches at up to 80 kilometers (about 50 miles) an hour during one of its almost silent and often lethal hunting flights.
Female Harpy Eagles are over a meter (3.3 feet) in length and weigh as much as 10 kilograms (22 pounds). They can lift prey weighing more than 12 kilograms (26 pounds) with little effort, tear it to pieces and carry it back to the nest.
There, at the nest, the adult feeds the morsels to its single chick.
One chick is raised every 2 and half years. The juvenile stays in its parent's territory during that period, and will breed itself after 6 years.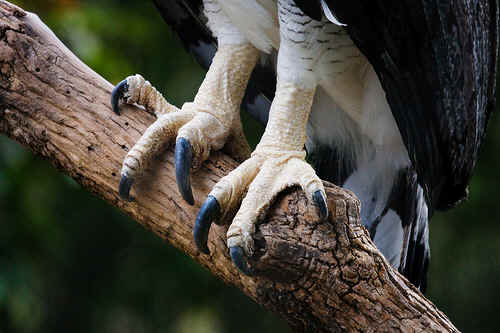 Above: the massive claws of a Harpy Eagle

Below: the orange erect crest of the Royal Flycatcher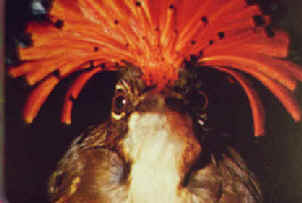 126 CRESTED EAGLE ______
Morphnus guianensis (the only member of its genus)



127 ORNATE HAWK-EAGLE ______ AF MN MS MT SE
Spizaetus ornatus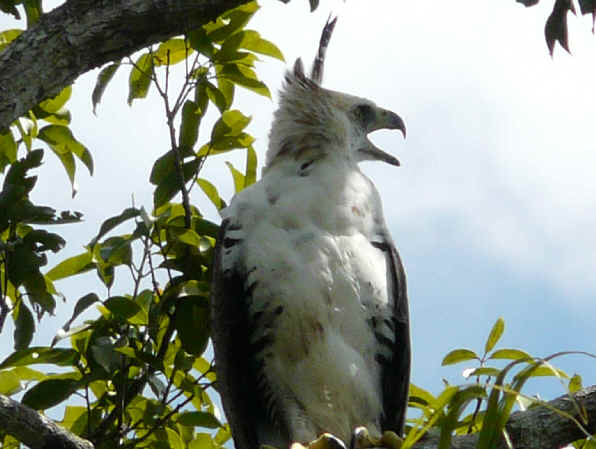 Ornate Hawk-Eagle
128 BLUE-WINGED MACAW (also called ILLIGER'S MACAW) ______ BR IG MN MT (BRqe)
Primolius (formerly Propyrrhura) maracana



129 BLACK-CAPPED PARAKEET ______
Pyrrhura rupicola



130 CAICA PARROT ______
Pyrilla caica



131 ORANGE-CHEEKED PARROT ______
Pyrilla barrabandi



132 ORANGE-HEADED PARROT (also called the BALD PARROT) ______ (BRe)
Gypopsitta aurantiocephala

Although just recently described in 2002, the Orange-headed Parrot has had, during that short time it's been known, 2 English common names. It's also been called the Bald Parrot.
The species has also had, during that short time, 2 scientific names. It was first called "Pionopsitta aurantiocephala", but has since been put in the new genus Gypopsitta, in which it is the only member.

It is unusual, to be sure, that such a large and colorful bird could have gone undetected for as long as it did. But actually it was noticed as it had been assumed to be the immature Vulturine Parrot, Pionopsitta vulturina, seen flying in flocks separated from adults.

The Orange-headed Parrot occurs only in Brazil, in the lower Madeira and upper Tapajos River valleys, and particularly along the Sao Benedito and Cururu tributaries of the Teles Pires River. It seems to favor gallery forest and "campinarana" white sand soil forest (as near the Thaimacu Lodge, and by the Serra de Cachimbo as can be seen from the Cuiaba-Santarem Road).

To Tony Juniper, one of the authors of "A Guide to the Parrots of the World", the discovery of the Orange-headed Parrot was quite significant, as he said: "I think these days the discovery of any new species is a red-letter day ... as (shown by this bird) a species could possibly go extinct without ever having been noticed".



133 KAWALL'S AMAZON (also called WHITE-CHEEKED AMAZON) ______ AF (BRe)
Amazona kawalli

What has been known as the "Kawall's Parrot", or Kawall's Amazon, (also called the White-cheeked Amazon) was described in 1989, from a single caged bird that was noticed in the Brazilian city of Sao Paulo.

This large parrot was later found to be widespread across much of southern Amazonia, where it was first seen in the wild in 1996.
It was obviously overlooked, and apparently so simply because it was not known to exist and because it so resembled the common Mealy Amazon.


134 RUSTY-BARRED OWL ______ MN SE (BRqe)
Strix hylophila



135 BAHIAN NIGHTHAWK (also called PLAIN-TAILED NIGHTHAWK) ______ (BRe)
Nyctiprogne vielliardi



136 LONG-TRAINED NIGHTJAR ______ SE (BRqe)
Macropsalis creagra



137 SICKLE-WINGED NIGHTJAR ______ MN
Eleothreptus anomalus

The Sickle-winged Nightjar, throughout its range, is generally scarce. There are apparently fragmented populations in central and southeast Brazil. Outside Brazil, the species has been found rarely in eastern Paraguay and northern Argentina. Nearly all records have been of lone individuals, and many times there has been only a single record at a particular locality. Some records have been of southern breeders migrating north in the austral winter (May-Aug).

Habitats where the bird has been found include: gallery forest, chaco-woodlands, cerrado, grasslands, savannas, marshlands, and swamps.

The species was seen during the FONT tour at Serra da Canastra National Park in Minas Gerais state in October 2006.



138 SAW-BILLED HERMIT ______ SE (BRe)
Ramphodon naevius
The Saw-billed Hermit is the largest of the South American hummingbirds known as hermits. Others have longer tails, but in terms of weight, this is the biggest. Its length is 15 centimeters. Only one other hermit, with a longer tail, has a greater length - the Great-billed Hermit of northern Brazil and the Guianas has a length of 16 centimeters.

The Saw-billed Hermit only occurs in southeastern Brazil, where it is relatively common in lowland Atlantic forest and in nearby second growth. The species is considered "near-threatened" by Birdlife International as its overall population can be adversely affected by deforestation and agricultural conversion.

We've seen the Saw-billed Hermit during FONT tours in the Ubatuba area, and, recently, the species was enjoyed when during our March 2008 tour, we birded at the Fazenda Capricorno, located on the Tropic of Capricorn.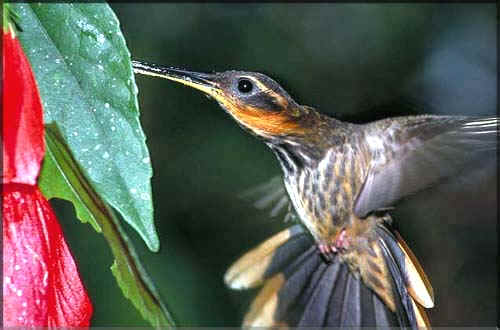 Saw-billed Hermit

139 HYACINTH VISORBEARER ______ MN (BRe)
Augastes scutatus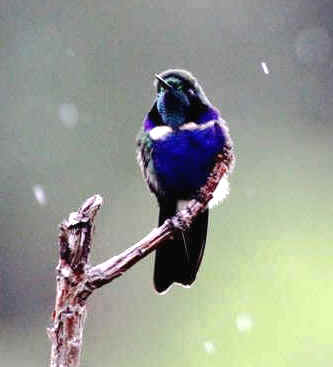 A Hyacinth Visorbearer photographed during a FONT tour


140 RED-NECKED ARACARI ______ AF MT
Pteroglossus bitorquatus



141 SAFFRON TOUCANET ______ IG SE (BRqe)
Baillonius bailloni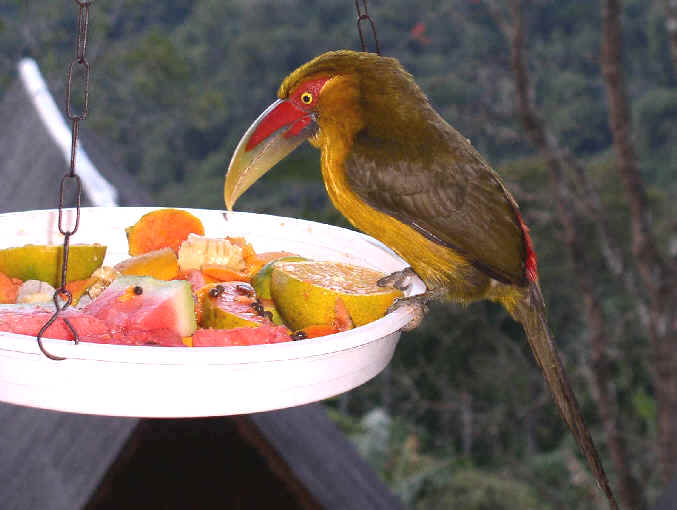 A Saffron Toucanet at a feeder in southeast Brazil,
having breakfast as we were during a FONT tour.


142 MOTTLED PICULET ______ RS
Picumnus nebulosus



143 GUIANAN PICULET ______
Picumnus minutissimus



144 YELLOW-BROWED WOODPECKER ______ RS MN SE (BRqe)
Piculus aurlentus



145 SWALLOW-TAILED COTINGA ______ MN SE (BRqe)
Phibalura flavirostris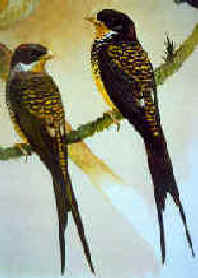 The Swallow-tailed Cotinga has been a favorite
during FONT tours in southeast Brazil


146 WHITE-TAILED COTINGA ______
Xipholena lamellipennis



147 BLACK-AND-GOLD COTINGA ______ SE (BRe)
Tijuca atra

The Black-and-gold Cotinga is a Brazilian endemic with a very limited range, occurring from 1,000 to 2,000 meters above sea level in Rio de Janeiro state, extreme eastern Sao Paulo state, and adjacent Minas Gerais state, where it is occurs in montane Atlantic Forest. It is found in the canopy and the middle level of the forest, where it makes its distinctive, unusual call.

The Black-and-gold Cotinga has been seen during FONT tours in Southeast Brazil in more than one of the areas favored by the bird,



148 HOODED BERRYEATER ______ ES SE (BRe)
Carpornis cucullatus



149 HANGNEST TODY-TYRANT ______ MN SE (BRe)
Hemitriccus nidipendulus



150 EYE-RINGED TODY-TYRANT ______ MN SE (BRe)
Hemitriccus orbitatus



151 GRAY-CAPPED TYRANNULET ______ MN SE (BRe)
Phyllomyias griseocapilla



152 SHARP-TAILED GRASS TYRANT ______ BR MN
Culicivora caudacuta



153 GRAY-BACKED TACHURI ______ MN (BRe)
Polystictus superciliaris



154 SOUTHERN BRISTLE-TYRANT ______ IG SE (BRqe)
Phylloscartes eximius



155 OUSTALET'S TYRANNULET ______ SE (BRe)
Phylloscartes oustaleti



156 SERRA DO MAR TYRANNULET ______ SE (BRe)
Phylloscartes difficilis



157 CHAPADA SUIRIRI ______ MT
Suiriri islerorum

The Chapada Suiriri was recently described, in 2001.



158 OLIVE-SIDED FLYCATCHER ______ AM
Contopus cooperi



159 CASTELNAU'S ANTSHRIKE ______
Thamnophilus cryptoleucus



160 SPOT-BREASTED ANTVIREO ______ SE
Dysithamnus stictothorax



161 BROWN-BELLIED ANTWREN ______
Myrmotherula gutturalis



162 RUFOUS-TAILED ANTBIRD ______ SE (BRe)
Drymophila genei



163 OCHRE-RUMPED ANTBIRD ______ MN SE (BRe)
Drymophila ochropyga



164 RIO DE JANEIRO ANTBIRD ______ SE (BRe)
Cercomacra brasiliana



165 GUIANAN WARBLING ANTBIRD ______
Hypocnemis cantator



166 WHITE-LINED ANTBIRD ______
Percnostola lophotes



167 WHITE-BREASTED ANTBIRD ______
Rhegmatorhina hoffmannsi



168 SPOTTED BAMBOOWREN ______ SE (BRqe)
Psilorhamphus guttatus



169 SLATY BRISTLEFRONT ______ SE (BRe)
Merulaxis ater



170 BRASILIA TAPACULO ______ MN (BRe)
Scytalopus novacapitalis

The Brasilia Tapaculo is similar to a number of other small, black tapaculos, in that it haunts then undergrowth. This species, however, is endemic to central Brazil, where it is rare and local.
During FONT tours, we've had some good looks at this little denizen, since our first, which was in the Serra de Canastra National Park, in March 1997.



171 WHITE-BREASTED TAPACULO ______ MN SE
Eleoscytalus (formerly Scytalopus) indigoticus



172 CAMPO MINER ______ MN MT
Geobates poecilopterus



173 ARAUCARIA TIT-SPINETAIL ______ RS SE
Leptasthenura setaria



174 LONG-TAILED CINCLODES ______ RS (BRe)
Cinclodes pabsti

The Long-tailed Cinclodes is a Brazilian endemic restricted to a very limited range in the southern part of the country, in northeast Rio Grande do Sul and southeast Santa Catarina states.
It was described to science as recently as 1969, by the prominent Brazilian ornithologist Helmut Sick.

All of the other cinclodes occur in South America in the Andes and Patagonia. The most widespread member of the genus, the Bar-winged Cinclodes, also occurs in the Brazilian state of Rio Grande do Sul, but only during the austral winter.

There is no estimate of the population of the Long-tailed Cinclodes, but the species, overall, is not common, and it is believed to be declining at a moderately rapid rate due to habitat loss. Up to 60 per cent of the grassland habitat in the bird's range has been converted to pine plantations.
It appears that the species can persist for about 2 years in an area after it has been planted with pines, but it is displaced by the time the trees reach 7 meters in height.

The following commentary about the Long-tailed Cinclodes is from a book written by Helmut Sick, a classic entitled "Birds in Brazil".. It was translated into English in 1993.

"The Long-tailed Cinclodes is one of the largest of the furmariids (ovenbirds). It can remind one of a Chalk-browed Mockingbird."

(And that it did when we found the bird during the FONT Tour in Rio Grande do Sul in October 2010! And the mockingbirds were also in the vicinity.)

Continuing with Mr. Sick's description:

"The posture (of the Long-tailed Cinclodes) is erect, its legs strong, it's tail long.
It nests in Rio Grande do Sul from September to November, and overnights in galleries excavated in embankments. In such holes, the eggs are placed on a lining of grass and feathers.
The species is less dependent on the presence of water than other cinclodes.
The bird walks and runs on the ground, and perches on posts and rocks or stone fences.
It flies well, but it does not migrate."

Although now isolated, and never coming in contact with other cinclodes, the Long-tailed Cinclodes is most closely related to, and is considered a superspecies with Cinclodes fuscus, the Bar-winged Cinclodes and Cinclodes comechingonus, the Cordoba Cinclodes, a localized species endemic to mountains in north-central Argentina.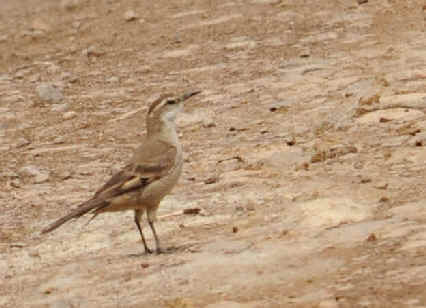 A Long-billed Cinclodes photographed during the
FONT Brazil Tour in Rio Grande do Sul, in October 2010
(photo by Bob Enever)

175 CHESTNUT-THROATED SPINETAIL ______ AF
Synallaxis cherriei



176 CABANIS' SPINETAIL ______
Synallaxis cabanisi



177 WHITE-BROWED FOLIAGE-GLEANER ______ MN SE
Anabacerthia amaurotis



178 GRAY-THROATED LEAFTOSSER ______
Sclerurus albigularis



179 LONG-TAILED WOODCREEPER ______ AF AM
Deconychura longicauda



180 ZIMMER'S WOODCREEPER ______ AM
Dendroplex kienerii



181 AZURE JAY ______ RS (BRqe)
Cyanocorax caeruleus



182 TOOTH-BILLED WREN ______ AF
Odontorchillus cinereus



183 CREAMY-BELLIED GNATCATCHER ______ SE
Polioptila lactea



184 GREEN-CHINNED EUPHONIA ______ IG MN SE
Euphonia chalybea



185 AZURE-SHOULDERED TANAGER ______ ES RS SE (BRe)
Thraupis cyanoptera



186 SHRIKE-LIKE TANAGER ______ BR MT
Neothraupis fasciata



187 BROWN TANAGER ______ ES MN SE (BRe)
Orchesticus abeillei



188 BLACK-LEGGED DACNIS ______
Dacnis nigripes



189 BICOLORED CONEBILL ______ SE
Conirostrum bicolor



190 BLUE FINCH ______ MN MT (BRqe)
Porphyrosspiza caerulescens



191 DARK-THROATED SEEDEATER ______ MT
Sporophila ruficollis



192 COAL-CRESTED FINCH ______ BR MN MT
Charitospiza eucosma



193 SERRA FINCH ______ MN (BRe)
Embernagra longicauda



194 RED-AND-BLACK GROSBEAK ______
Periporphyrus erythromelas


References:
Threatened Birds of the World (a Birdlife International publication), Lynx Ediciones, 2000, and "recently recategorized species" since then, through 2014.