PO Box 9021, Wilmington, DE 19809, USA
E-mail: font@focusonnature.com
Phone: Toll-free in USA 1-888-721-3555
or 302/529-1876

Website: www.focusonnature.com

A Focus On Nature Tour
in
Costa Rica

In the Summer

For Birds, Butterflies,
and Other Nature

To a varied assortment of habitats.
In each, to places uncrowded, off the "beaten path".
Thus, with more birds and nature to be enjoyed.
This tour mostly to places in Northern Costa Rica,
including Laguna del Lagarto and Arenal,
Guanacaste, Carara & the Talamanca Mountains

July 9-22, 2016
(tour: FON/CR–3 '16)

Tour to be led by Armas Hill,
who has birded in Costa Rica numerous times since 1978.
About 425 species of birds have been found
during previous FONT Costa Rica tours in the Summer.

Links:
Birds during FONT Costa Rica Tours in July A Complete List of Costa Rica Birds

A List & Photo Gallery of Central American Birds, in 4 parts
Costa Rica Mammals and some Other Wildlife (with some photos)

Amphibians & Reptiles of Costa Rica & Panama (with some photos)
A List & Photo Gallery of Central American Butterflies & Moths (with some photos)

Feature: "Alexander Skutch - A Naturalist in Costa Rica"
Some Previous FONT Costa Rica Tour Highlights
Other Upcoming FONT Birding & Nature Tours in Central America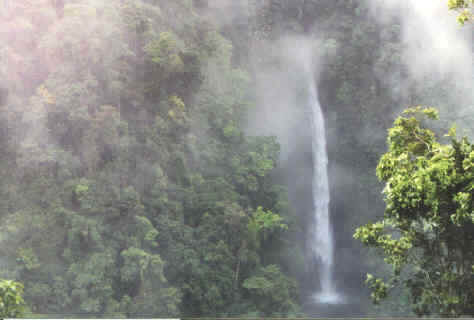 A Waterfall in Costa Rica,
photograph by Marie Gardner, during a FONT tour

Itinerary (price follows):
Sat: Jul 9, '16 Arrival in Costa Rica. Birding, this day, as time permits. Overnight in San Jose.
Sun: Jul 10 Travel south from San Jose to the mountains known as the Cordillera de Talamanca. Easily reached by the Pan-American Highway, these highlands provide excellent birding, with an another assortment of species. Our destination will be one of the most beautiful of the valleys in the mountains, where the Rio Savergre flows between the forested slopes. Our hotel, there, the Albergue de Montana, at an elevation of 6500 feet above sea level.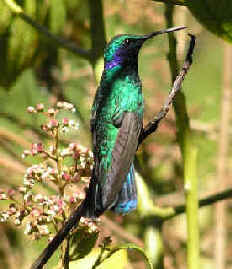 A Green Violetear
photographed during a FONT tour

Mon: Jul 11 A full-day of birding in the beautiful, comfortable valley, and the nearby mountains. In the forests, by the Rio Savergre, among the birds, there's one considered by many to be among the most beautiful of all, the Resplendent Quetzal. A rare bird, with the tail of the male flowing two feet behind it. Our opportunity for enjoying quetzals should be excellent.
Other birds in the forest, as well, will range from the striking Emerald Toucanet to the warbler known as the Collared Redstart. To "Ticos", or Costa Ricans, it's also known as the "amigo de hombre", or "friend of man". Besides being attractive, it's tame and inquisitive.
What should also be close at hand will be hummingbirds, coming to the feeders around the hotel dining room. Our overnight, again, the Albergue de Montana.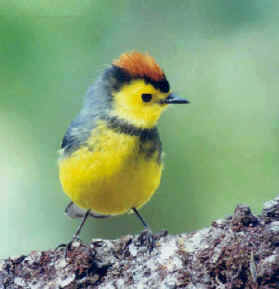 A Collared Redstart,
or "Amigo del Hombre"
photographed during a FONT tour
in the mountains of Costa Rica

Tue: Jul 12 More highland birding, in the morning, at various places, heights and habitats, along the Pan American Highway. The road reaches a height of about 10,000 feet, the highest altitude along the entire highway from Alaska to Tierra del Fuego.
Bird specialties include: the Peg-billed, and Large-footed Finches, Timberline Wren, Volcano and Fiery-throated Hummingbirds, Flame-throated Warbler, and Long-tailed Silky-Flycatcher.
Overnight in San Isidro de General.
Wed: Jul 13 Much of this day, birding at a special place, "Los Cosingos", where the late naturalist Alexander Skutch lived for many years, and where we have visited many times during FONT tours since the 1990's. At this special place, during those tours, we've seen a some special birds including the Turquoise Cotinga, Rufous Piha, various tanagers, manakins, and honeycreepers, and the Fiery-billed Aracari. It is the last of these birds after which Mr. Skutch's property was named. A flock of those aracaris are called "Los Cosingos".
Other birds to be sought in the area include the Red-breasted Blackbird (a recent arrival in Costa Rica from Panama) and the Fork-tailed Flycatcher. Overnight again in San Isidro de General.

Thu: Jul 14 Travel, with birding along the way of course, to the Pacific seacoast, and then north along the coast. We'll spend do some birding in the area of the Carara Biological Reserve, where among the birds we'll see there will be Scarlet Macaws. At the end of this interesting day, we'll be back in the area of San Jose.

Fri: Jul 15 Travel, this day, north from San Jose to Laguna del Lagarto in the rainforest of the Caribbean lowlands with overnight accommodation there for 3 nights.
Laguna del Lagarto has become one of the prime attractions of our Costa Rica birding & nature tours. The next paragraph gives an idea as to why.
Sat & Sun: Jul 16 & 17 Two full days of birding in the area of Laguna del Lagarto, where many species of birds and other wildlife will be seen.
Among the highlights here during our tours have been: Agami Heron, Ocellated Antbird, Snowy Cotinga, White-fronted Nunbirds, and Great Green Macaw.
There are excellent trails in the lowland rainforest. There will also be a boat-ride, with fine birding, along the Rio San Carlos, toward the Nicaraguan border. In that area, the largest remaining tract of lowland rain forest in Central America.
Scarlet Macaw, King Vulture, and some interesting raptors are likely to be seen. Overnights at Laguna del Lagarto.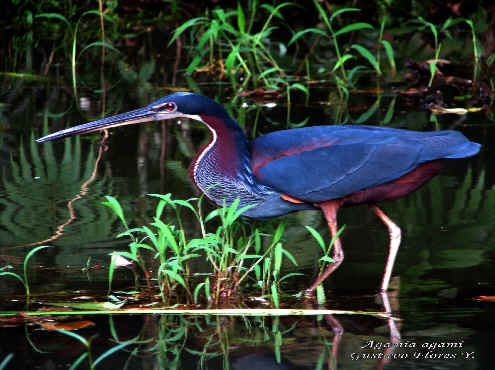 The rarely-seen Agami Heron
was seen during the FONT tour
at Laguna del Lagarto in March 2010

Mon: Jul 18 A final morning of birding at Laguna del Lagarto.
In the afternoon, travel to the town of Fortuna de San Carlos near Arenal Volcano. Our first birding in the area, and overnight near Fortuna.
Tue: Jul 19 A morning of birding in the area of the Arenal Observatory Lodge, but even the most ardent birders can be distracted if the Arenal Volcano is active. It can be spectacular. Even though a safe distance away, it can be exciting by day, and after dark, a thrill. Regarding the birds in the area, there's an excellent variety, and that ardent birder could have yet another thrill with a sighting of a spectacular male Bare-necked Umbrellabird, as we have here during one of our tours in the past. Also notable during our previous tours: as many as 30 Scarlet-thighed Dacnis in one tree, Rufous-breasted Antthrush, and the Northern Nightingale Wren with its beautiful song.

Wed: Jul 20 A morning boat-ride along the River Cano Negro toward an area of marsh near the Nicaraguan border, the only haunt in Costa Rica for the Nicaraguan Grackle. A fine assortment of long-legged waders is likely, including this time of year, the Jabiru. During this ride previously we've found Sungrebe, Boat-billed Heron, and Great Potoo. In the afternoon, back to Fortuna for the night.
Thu: Jul 21 Travel back to San Jose, with some final birding along the way. Overnight in San Jose.

Fri: Jul 22 Departure from Costa Rica.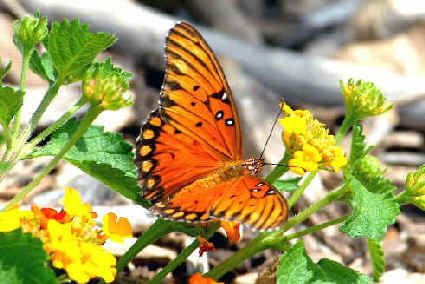 Price: $2,850, per person, based upon double-occupancy. Single supplement (when applicable): $295

Includes:
All overnight accommodations.
All meals: July 10 to 21
Transportation within Costa Rica.
A FONT or Costa Rican birding guide familiar with the birds and localities.
Does not include:
International air fare to/from Costa Rica.
Airport departure tax (approx $20).
Any items of a personal nature. Gratuities.

"Focus On Nature Tours" can arrange air travel, and would seek the best possible air fare.
A deposit of $500, per person, will assure a place on the tour.