PO Box 9021, Wilmington, DE 19809, USA
E-mail: font@focusonnature.com
Phone: Toll-free in USA 1-888-721-3555
or 302/529-1876
A Focus On Nature Tour
in SOUTHERN
COSTA RICA

For Birds, Butterflies,
and Other Nature

March 12-20, 2016
(tour: FON/CR-2, '16)


Itinerary & price follows.

In Costa Rica, a Birding Tour different than most,
for Birds with a "Southern Tint".
Closer to those of South America: antbirds, manakins, flycatchers,
and some species endemic to only southwestern
Costa Rica and adjacent Panama.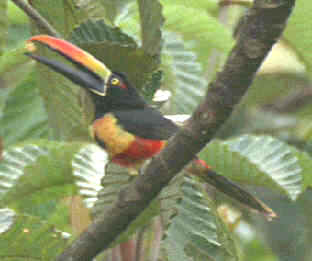 Fiery-billed Aracari,
a photo taken
during a FONT Southern Costa Rica Tour




Tour to be led by Armas Hill, well-experienced in Costa Rica, with its places, birds, and wildlife, having traveled & birded there numerous times, since 1978.

This tour can be done, if desired, in conjunction with the preceding tour FON CR-1 in northern Costa Rica, Mar 5-12, 2016


Other Links:
A List of Costa Rican Birds Birds during Previous FONT Southern Costa Rica Tours
Costa Rica Mammals (with some photos) Central America Butterflies & Moths (with some photos)

Previous FONT Costa Rica Tour Highlights Upcoming FONT Birding & Nature Tours in Central America
Feature: "Alexander Skutch - A Naturalist in Costa Rica"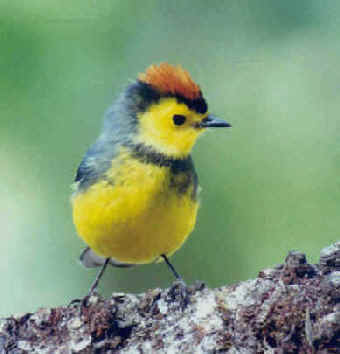 The Collared Whitestart,
a dapper bird
in the mountains of southern Costa Rica
and western Panama

Itinerary (price follows):
Sat, Mar. 12: Arrival in Costa Rica. Overnight in San Jose.
Sun, Mar. 13: After an early morning departure from San Jose, some great highland birding, in a forest with tropical oaks and bromeliads in the Talamanca Mountains, south of Cartago. Birds in this area should include, among others: 2 species of Silky-Flycatchers, various species of hummingbirds, Nightingale-Thrushes, and some oddities: the Buffy Tufted-cheek and Zeledonia. Also possible: the Peg-billed Finch (over a half-dozen of these were seen in this area during one of our recent tours). There's a good chance that we'll see the Resplendent Quetzal, considered one of the most beautiful birds in the world. In the afternoon, some more montane birding at and above the timberline. For: Timberline Wren, Large-footed Finch, Volcano Hummingbird, Volcano Junco, and others, among them two "stunners": the Fiery-throated Hummingbird and the Flame-throated Warbler. At the day's end, we'll descend from the mountains, as we head south toward the town of San Isidro and then west to the Pacific coast. We'll overnight by the Pacific Ocean.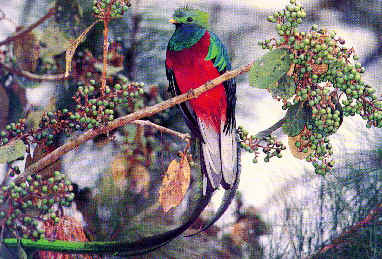 Male Resplendent Quetzal
Mon, Mar 14: We'll continue south, in the morning, with birding enroute, toward the Panamanian border. Our destination will be the town of San Vito, inland at mid-elevation in the Coto Brus Valley . There's some very good birding in that area. Near the town, for example, there's a marsh with, among others, two notable birds: the Masked Duck and what's been the Masked Yellowthroat, the latter a form that's now split, the "Chiriqui Yellowthroat". Our first overnight in San Vito.
Tue, Mar 15: From San Vito this day, we'll go further into the interior highlands to one of the "wildest" areas in Costa Rica, and away from people, the La Amistad International Park. There will be quite an assortment of birds, among them various hummingbirds, tanagers, manakins, and more. We'll take a ride, on a 4-wheel drive vehicle, deep into the forest. Overnight at a lodge by the entrance to the La Amistad Park.
Wed, Mar 16: Another morning of finding birds, butterflies, mammals, and other nature in the La Amistad area. We'll ascending again into the highlands, where during our previous tours we've seen Three-wattled Bellbirds and a number of other birds too. Overnight back in San Vito.

Thu, Mar 17: From San Vito we'll travel downward toward the Pacific Coast, with birding (of course!) enroute, to Golfito, by the Golfo Dulce, the "sweet gulf". Our first overnight in Golfito.
Fri, Mar 18: Near Golfito, we'll have some excellent and enjoyable birding. A number of birds indigenous only to this area of southwestern Costa Rica and adjacent Panama will be sought. Among them, the Golden-naped Woodpecker, Fiery-billed Aracari, Black-hooded Antshrike, Baird's Trogon, and the Riverside Wren. Some birds in this area favor the forest, others nearby mangroves. In all, many birds should be seen, nearly a hundred species during the day. A list of the specialty birds of the region follows the itinerary.
Among the birds of the area is one truly special, that we've seen in southwestern Costa Rica in the past (it only occurs there. It's the rare Black-cheeked Ant-Tanager. It's one of the very few bird species endemic to Costa Rica. Our second overnight in Golfito.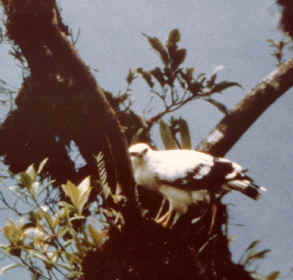 The White Hawk
occurs in the area of Golfito.
(photo by Alan Brady)

Sat, Mar 19: After some final morning birding in the Golfito area, travel back north to San Jose, with the final overnight of the tour there.
Sun, Mar 20: Transfer to the airport for those departing from Costa Rica.

Price: US$ 2,395 per person, based upon double-occupancy.

Single supplement: US$ 325
Prices include: All accommodations. All meals Mar 13-19. Transportation within Costa Rica. Services of the FONT birding guide familiar with the birds and localities.
Prices do not include: Meals on the first & last days. Drinks and any items of a personal nature. Air transportation to/from Costa Rica. Airport departure tax. Gratuities.

If done in conjunction with another FONT tour, the reduced price is:

with tour FON/CR 1, Mar 7-14: $US 3,895


"Focus On Nature Tours" can arrange air travel in relation to this tour, seeking the best possible fare.
A deposit of US$ 400, per person,
is required to reserve a place on the tour.


Birds that only occur in southwestern Costa Rica
& adjacent far-western Panama:

Charming (or Beryl-crowned) Hummingbird
White-crested Coquette
Baird's Trogon
Fiery-billed Aracari
Golden-naped Woodpecker
Black-hooded Antshrike
Turquoise Cotinga
Yellow-billed (or Antonia's) Cotinga
Orange-collared Manakin
Black-bellied Wren
Riverside Wren
Scaly-breasted (or Whistling) Wren (occurs south to southern Panama)
Spot-crowned Euphonia
Black-cheeked Ant-Tanager
(not in Panama, endemic actually to the area of the Osa Peninsula)
Black-headed Brush-Finch