PO Box 9021, Wilmington, DE 19809, USA
E-mail: font@focusonnature.com
Phone: Toll-free in USA 1-888-721-3555
or 302/529-1876

Website: www.focusonnature.com

A Focus On Nature Tour

in
ESTONIA


For Birds and Other Nature

Among the Birds:
Grouse, including Capercaillie,
Owls and Woodpeckers,
Displaying Ruffs,
and as many as a thousand
Steller's Eiders

These in a Scenic and Wild Land

April 4-10, 2016
Tour with Armas Hill,
to be led by expert local Estonian guides

Itinerary follows below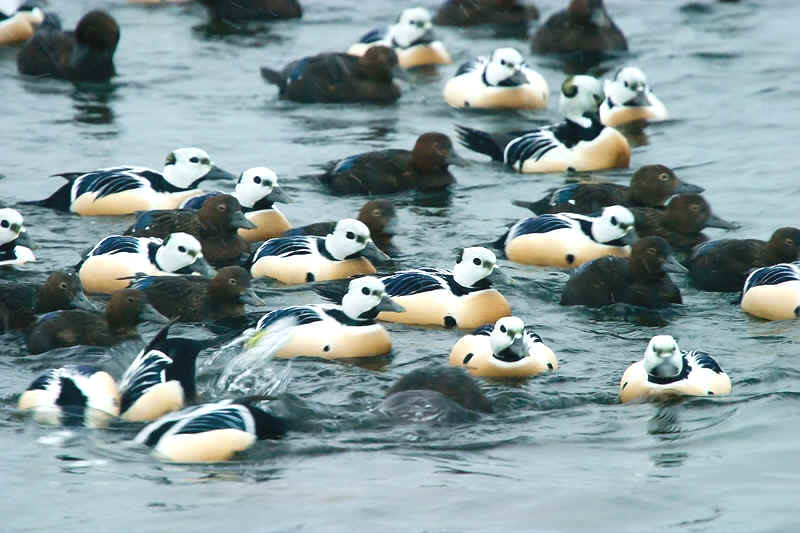 Steller's Eiders

In April, BIRDS to be found in Estonia can include:
as noted, hundreds, up to a thousand Steller's Eiders,
Woodpeckers drumming in the forest
including White-backed, Three-toed, Grey-headed, Black.
Owls including Ural, Pygmy,
Tengmalm's (or Boreal), and the large Eagle Owl.
And birds at their leks such as
Black Grouse and Ruffs.

Also Birds arriving into Estonia in April,
including these:
Thrush Nightingale, Bluethroat, Savi's Warbler,
Penduline Tit, and Citrine Wagtail.

Among the MAMMALS we could see during this tour in Estonia are:
Raccoon Dog, Roe Deer, Red Deer (known in North America as Elk),
Red Fox, European Beaver, Elk (known in North America as Moose),
European Pine Marten, European Badger,
Ringed Seal, Grey Seal, Wild Boar, Eurasian Lynx, and Grey Wolf.

Links:
A Photo Gallery of Estonian Scenery & Nature
A List & Photo Gallery of European Birds, in 2 Parts:
Part #1: Grouse to Puffin Part #2: Sandgrouse to Buntings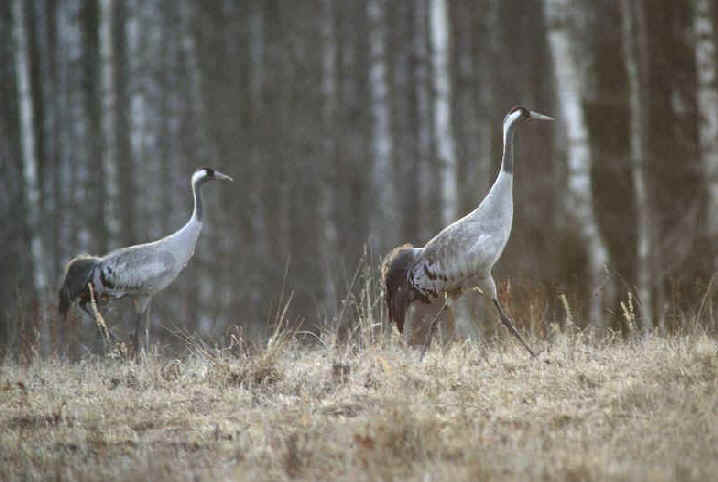 Common Cranes in Estonia

Itinerary:
Mon, Apr 4:
Our tour begins at the Tallinn Airport in Estonia. From there, we'll travel to the northwest coastal region of the country, where we'll spend one night. Along the way, we'll do our first Estonian birding.
Overnight will be at a hotel in Roosta. Nearby, in the evening at the taiga forest, we may hear our first calls of the Eagle Owl, Pygmy Owl, and Ural Owl.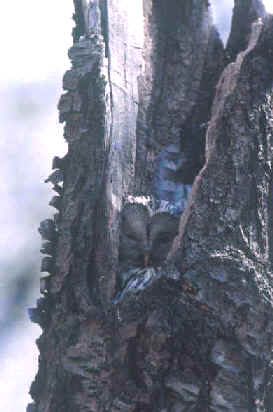 A Ural Owl in a tree cavity
Tue, Apr 5:
At the Silma Reserve, there is a mix of coastal meadows, lagoons, and reedbeds, with many ducks, some Slavonian (or Horned) and Red-necked Grebes, various geese, Common Cranes, and both Penduline and Bearded Tits.
At the Nova forests, there are both Hazel Grouse and Capercaille.
Another place that we'll be visiting this deserves special mention - Pooosaspea - a small spit, pointing north, that is one of the best places for observing the migration of waterbirds to the Arctic.
Late in the day, we'll take a ferry to Saaremaa.

Wed & Thu, Apr 6 & 7:
On Saaremaa, Estonia's largest island, we will spend two days, exploring the headlands and bays along mostly the western coast. Thousands of sea-ducks spend the winter, and migrate in the spring, along this coast.
Our main target here will be the Steller's Eider, which will still be present after wintering in the area. This area has the largest concentration of the Steller's Eiders in Europe.
Other waterbirds will include Long-tailed Ducks, Common Scoters (although in recent years not as common as they were), and both Red-throated and Arctic Loons.
Landbirds should include, among others: Eurasian Siskins, Bramblings, and Chaffinches.
Also on Saaeremaa there are several good places for Ruffs. In April, there would be groups of displaying males.
In addition to the birds already mentioned here, we'll also be on "alert" for rarities that may be found.
In the Viidumae Nature Reserve, we'll search for owls.
April 3 will be our second night on Saaremaa. Late in the day on April 4 we'll go back to the mainland.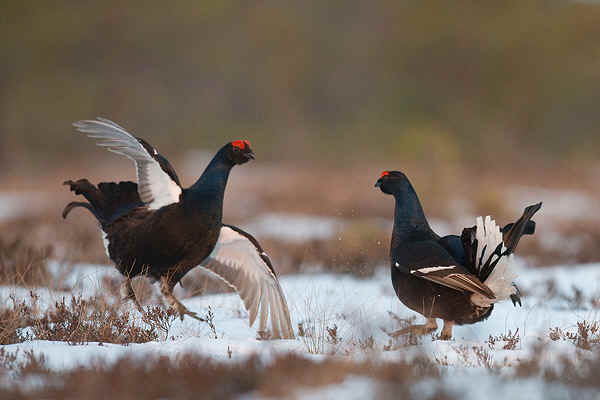 Displaying Black Grouse

Fri Apr 8:
Early in the morning, we'll visit the forests of the Soometsa Reserve in the Haademeeste area to see and listen to displaying Black Grouse and Capercaille.
In the afternoon, we'll go the Nigula Nature Reserve, a fine landscape of bogs with a fine number of birds.
Lastly this day, we'll drive to Matsalu, visiting wet fields at the Audru polder for swans and geese, including hopefully some rarities.

The Parnu-Haademeeste region has diverse habitats and is rich in bird-life. In this area, virtually all of the Estonian woodpeckers occur, including Black, Grey-headed, Three-toed, and White-backed.
Although it can be hard to find other places, in Estonia the White-backed Woodpecker is common throughout the country.

Overnight at Matsalu.

Sat, Apr 9:
Matsalu is known as a place rich in birds - one of the richest places in Europe. Being there can be an incredible experience in nature.
Migration routes cross and tens of thousands of birds either pass through, stop for a while, or stay to later nest.
The Matsalu National Park is a birder's paradise. Cranes flying above in a line can make one beam, and the sound created by large flocks of geese taking flight can be tremendous.

About 50 islands and smaller islets are in the national park area. Most of them are located in the Sea Strait. Small islands in the Matsalu Bay can only be seen when the tide is low. These small islands can fill up with birds during their migration.

In the nearby bog at Tuhu we may well see Black Grouse again. At the time of our tour, Bean Geese and both Whooper and Bewick's Swans should be abundant.

In Matsalu, there are a number of towers at prime birding spots. One of those towers is at a prime spots for Ruffs, for us to enjoy one more time during the tour.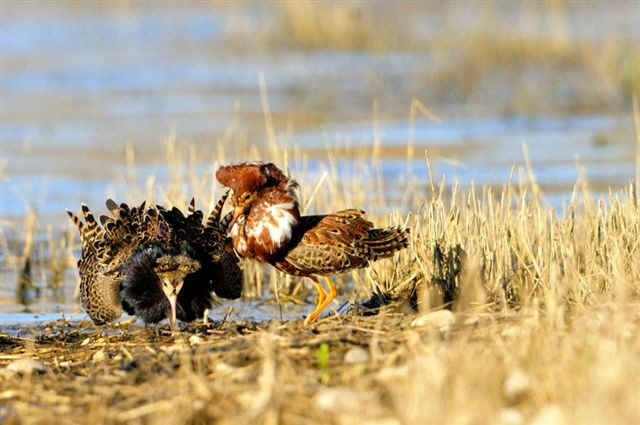 Displaying Ruffs in Estonia

Sun, Apr 10:
We'll take a look around the medieval old town of Taillinn before going to the airport four our flight home.
It can be said that Tallinn is one of the best and most completely preserved medieval towns in Europe, and it is a true gem of Estonian architecture.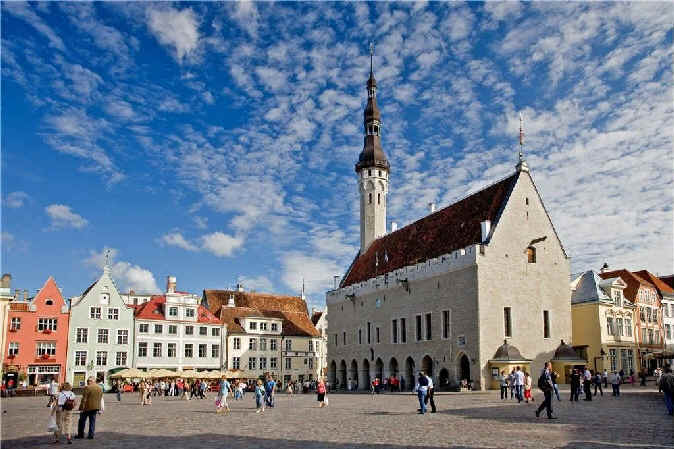 Taillinn

Departure from Estonia, with good memories, having seen some extraordinary nature including many good birds, some mammals, and scenic countryside.

Price, in US dollars, based on double occupancy:
$2,095

Single supplement: $295

Price includes:
All overnight accommodations and land transportation within Estonia.
All meals.
Price does not include:
Drinks and other items of a personal nature.
Flights to/from Estonia.


A deposit of $500 will assure a place on the tour.