PO Box 9021, Wilmington, DE 19809, USA
E-mail: font@focusonnature.com
Phone: Toll-free in USA 1-888-721-3555
or 302/529-1876

Website: www.focusonnature.com
A FOCUS ON Nature Tour
in Brazil

for birds, butterflies,
MAMMALS, and other nature

at iguazu falls

and In the pantanal
of Mato Grosso do Sul


and other habitats
of Mato Grosso DO SUL
including Cerrado and forest


August 9-23, 2016 (tour: FON/BR–2, '16)


This tour includes some prime places & habitats
for birds, butterflies, and other nature


It's been our Tour for "Jabiru & Jaguar"

One of these (the Jabiru) is always easy to see.
The other (the Jaguar) more difficult,
but we'll be at places among the best in the world to see it.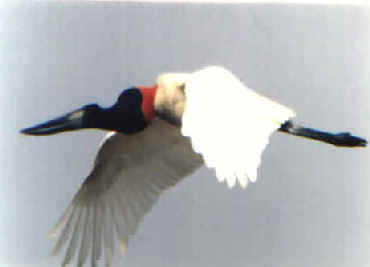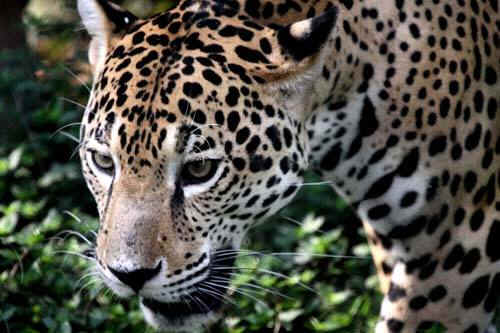 Not only are the "J & J" to be sought.
We'll be in Areas with other Spectacular Nature
and where Concentrations occur of
an Assortment of Birds & Other Wildlife

During this tour well over 200 species of birds should be seen,
as well as numerous butterflies,
mammals, and other nature.

Tour to be led by Armas Hill, who has traveled and birded in Brazil
many times, with over 40 visits to the country, since 1982
(with the assistance of local Brazilian guides).

Often staying not at hotels, but at lodges
where wildlife is just outside the door !

For birds such as wild Hyacinth Macaws
in their natural environment,
and flocks of Jabirus and numerous other birds
in the fabulous Pantanal,
(truly one of the most fantastic birding areas in the world),
this is the tour!

This could also be called our "Tuiuiu Tour",
as that's the local word in the Pantanal for the "Jabiru".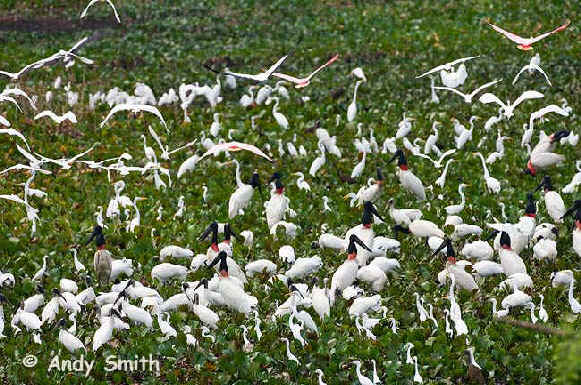 Birds in the Pantanal of Mato Grosso do Sul,
mostly Egrets & Jabiru Storks,
photographed during our Sep '06 Brazil Tour


Links:
A List & Photo Gallery of Brazilian Birds, in 4 parts:
Part #1: Tinamous to Doves Part #2: Macaws to Flycatchers
Part #3: Antshrikes to Woodcreepers Part 4: Vireos to Grosbeaks
List of Birds in Mato Grosso & Mato Grosso do Sul

Rare & Threatened Birds of Brazil (with some photos)
Brazilian Mammals & Other Wildlife (with some photos)
Butterflies of Brazil & Argentina, including those at Iguazu Falls (with some photos)
Highlights from Some Previous FONT Birding & Nature Tours in Brazil
A Photo Gallery of Birds & Animals during a previous FONT Mato Grosso Tour
Itinerary (prices follow):
Tue, Aug 9: Arrival in Brazil at the Sao Paulo airport in the morning (after overnight flight departing USA the previous evening, Mon, Aug 8).
After the arrival at the airport into Brazil, a flight from Sao Paulo to Foz do Iguazu. Our first overnight at a hotel at the edge of the national park at Iguazu Falls.

Wed, Aug 10 thru Sun Aug 14:
In the area of the spectacular Iguazu Falls, we'll have some wonderful times with both birds and butterflies in the two national parks on both sides of the river, one of which is in Brazil and the other in Argentina.
We'll also, during a portion of one day, visit Paraguay, where there would be a different habitat with some different birds, butterflies, and other nature.

In the area of Iguazu, numerous birds are to be seen, including toucans, trogons, and tanagers of various sorts. Some notable other birds inhabiting the forest would include the Ruff-ruffed Fruitcrow and Robust Woodpecker. Swarms of Great Dusky Swifts occur at the falls.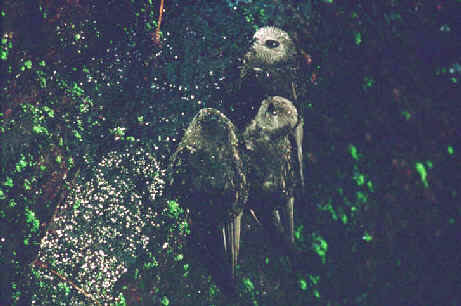 Great Dusky Swifts photographed during a FONT tour at Iguazu Falls

The area of Iguazu Falls is one of the best places in the world to see a wonderful assortment of butterflies.
A colorful array of them there, attracted by the moisture of the falls, include: swallowtails, sulphurs, metalmarks, and brushfoots.
Among the brushfoots: various leafwings, daggerwings, emperors, sailors, catones, and eighty-eights, just to mention a few.
There is a link at the top of this itinerary to a list and photo gallery of butterflies in southern Brazil & northern Argentina.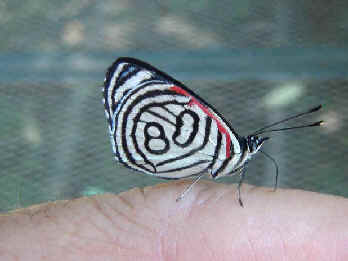 Both at photographed at Iguazu,
above: Diaethria candrena, the Candrena Eighty-eight,
below: Callicore pygas, the Pygas Eight-eight.
But the Argentine name for the upper butterfly
is "Ochenta" meaning "Eighty"
(photos by Sherry Nelson)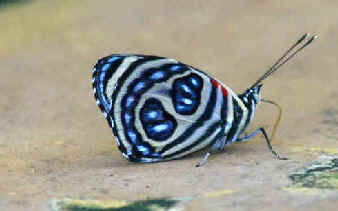 Five nights (Aug 9, 10, 11, 12, 13) at Iguazu, giving us 4 full days, with one in Argentina, one in Paraguay, and two in Brazil.

Sun, Aug 14: Basically a travel day, with flights from Foz do Iguazu to the city of Campo Grande in the state of Mato Grosso do Sul. Flights would be the best routing possible, but possibly via Sao Paulo. Overnight in Campo Grande.

Mon, Aug 15: From Campo Grande, we'll travel west into a region rich in wildlife, and especially birds, the Pantanal. We'll be in the southern portion of the Pantanal.

The accommodations and the meals at the various lodges, where we'll be staying in the Pantanal, are good indeed, but the best aspect of the tour would be the close accessibility there to some spectacular wildlife. Travel in the Pantanal, from the lodges, would be in vehicles (designed for observation) during day-trips and night-trips, and by boat.
Overnights at the lodges would be 3 nights at one, 2 nights at another. (Aug 15-17 and Aug 18-19).
The lodges where we'll staying in the Pantanal are about 150 and 200 miles from Campo Grande respectively. There will, of course, be birding between the lodges & along the way, both ways, between Campo Grande & the Pantanal.
Tue, Aug 16 thru Fri, Aug 19: During these days, our diversified experience in the Pantanal, with birds (many birds!) and other nature, including mammals, reptiles, and again, butterflies.
There are lists of the birds & other wildlife of the Pantanal (that we've seen there during our previous tours) elsewhere in this website.

Just a few of the birds to be seen in the region of the Pantanal, in Mato Grosso do Sul, would be:
Hyacinth Macaw (the largest macaw in the world), Golden-collared Macaw, Great Rufous Woodcreeper, Red-billed Scythebill, Helmeted Manakin, and the Mato Grosso Antbird.

Among what's particularly spectacular (during the dry season), relating to birds, would be large concentrations of waterbirds.
Ducks can be numerous in certain rice-fields (where, during our previous tours, we've seen many whistling-ducks, comb-ducks, and some others).
Other aquatic birds, numerous in the Pantanal, would be: egrets, herons, ibises, and storks (Wood and Maguari Storks and Jabiru).
During one day of an August/September tour in the Pantanal, we saw an estimated one thousand Jabiru, either on the ground or soaring in the sky!
Also adding to this mix of waterbirds would be Limpkins and Roseate Spoonbills.
Both Sunbitterns and Sungrebes also occur.
And Boat-billed Herons do as well, and with good fortune, the rare skulker, the Agami Heron can be seen.

Landbirds, in the trees or in the air, would be parrots and parakeets, and raptors of various kinds.
Possible at dusk, and after dark, would be 2 species of Potoos (the Great & the Common), nightjars & nighthawks, and an owl or two. (During our previous tours, we enjoyed tremendous looks, after dark, of Striped Owls and Barn Owls.)

Mammals after dark should be those that are common, such as fox and bats, but it must be noted there's JAGUAR in the area. With good luck .......
During previous FONT tours in Mato Grosso do Sul, we've seen this elusive cat. We'll be making, if necessary, 2 night-time excursions for it, and other creatures. Pumas can also be seen (with luck).

During one of our tours in this region, we experienced an incredible two nights of mammal observation, with nice looks at:
7 Ocelots, a Pantanal (formerly Pampas) Cat, 2 Brazilian Tapirs, a Maned Wolf, in addition to a number of other animals including: Marsh Deer, Crab-eating Foxes and Crab-eating Raccoons, and Giant Anteaters. During a previous stay at one of the lodges, we saw as many as 8 Giant Anteaters.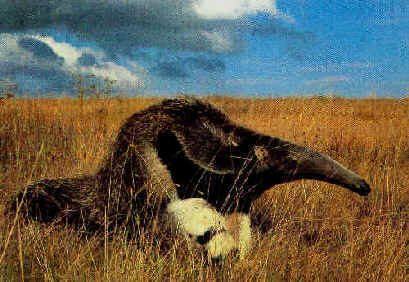 the Giant Anteater
Another anteater, the Tamandua is also possible. During the day, monkeys and marmosets can be seen in the trees. Numerous caimans will be in and near the water.

During our overnights in the Pantanal (and after our evening excursions), we should hear, from the lodges, an assortment of sounds including those of limpkins, owls, and nightjars. At dawn, howler monkeys.

Sat, Aug 20: Travel south into the vast, open country of Mato Grosso do Sul to the beautiful area of Bonito.
"Bonito" means "beautiful".
Our first of 2 nights in Bonito, at a nice hotel, not in the small town, but out in the country, in forest by a river. In that forest, during a previous tour, there was a good assortment of birds and an especially nice assortment of butterflies.

Sun, Aug 21: A visit this morning to a large sinkhole, rather like a quarry, that is renowned for macaws, on the big cliffs and elsewhere in the area. And, of course, there will be other birds of note too.
This will be a full-day with birds, butterflies, and nature observation and photography, including the region of a national park near Bonito. In that wild, remote region, the Harpy Eagle is among the birds that nest.
Overnight again near Bonito.

Mon, Aug 22: After a last morning of birding near Bonito, travel in the afternoon to the city of Campo Grande. This will be our last night in the state of Mato Grosso do Sul, at a hotel convenient to the airport from which we will depart the next day.

Tue, Aug 23: After some final morning birding as time permits at a park in Campo Grande, we'll depart from the airport there, on a flight to Sao Paulo to connect with departures, in the evening, from Brazil on overnight flights home (arriving in North America the a.m. of Wednesday, Aug 24.)


Price:

For the tour, Aug 9-23:

US $3,575 per person, based upon double occupancy
Single supplement: US $335

Price includes:
All overnight accommodations.
All meals (from mid-day Aug 9 thru mid-day August 23).
Ground transportation within Brazil.
Services of the FONT birding tour leader.
Price does not include:
Drinks and other items of a personal nature.
International flights to/from Brazil.
Domestic flights within Brazil.

A deposit of US $500 required to register for the tour.



some birds & animals
in the Pantanal of Mato Grosso do Sul

as photographed during a previous FONT tour

All of the following photographs were taken during the tour
by Andy Smith of Pennsylvania, USA - © - all rights reserved.
www.andysmithphotography.com

Our Upcoming Birding & Nature Tours in Brazil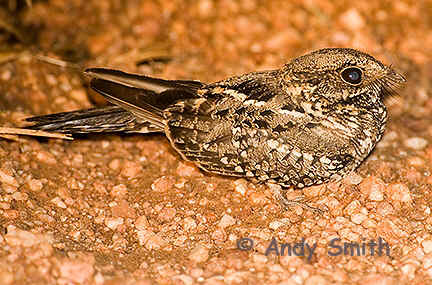 Little Nightjar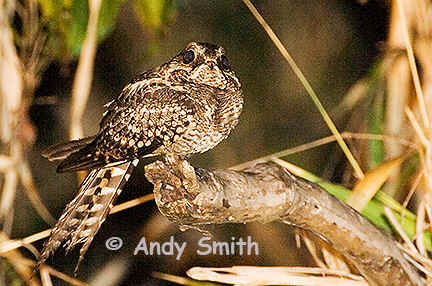 Scissor-tailed Nightjar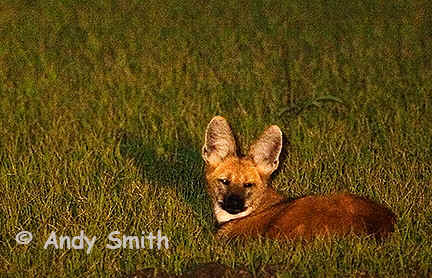 Maned Wolf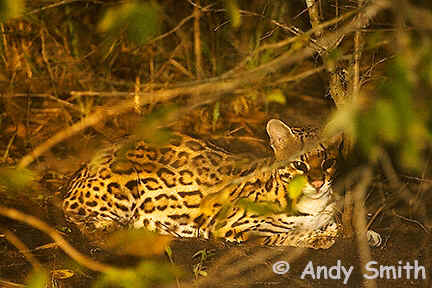 Ocelot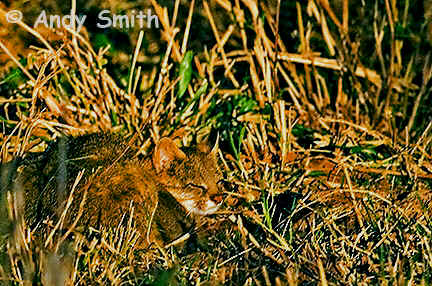 Pantanal Cat
(formerly Pampas Cat)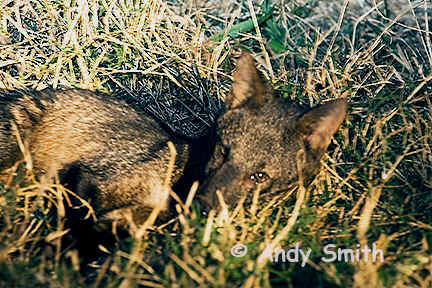 Crab-eating Fox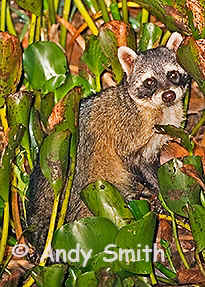 Crab-eating Raccoon