PO Box 9021, Wilmington, DE 19809, USA
E-mail: font@focusonnature.com
Phone: Toll-free in USA 1-888-721-3555
or 302/529-1876
A FOCUS ON NATURE TOUR
in

Central and Eastern
Panama

A week-long tour

For Birds, Butterflies,
and Other nature


July 22-29, 2016
(tour: FON/PN-2 '16)


Itinerary & price follows.
Just over a week with some fine birding,
with visits in bird-rich locales in the Canal Basin
(including Gamboa and the Pipeline Road),
and then travel east, with birding in
the eastern Panama province & Darien.


Tour to be led by Armas Hill.
Panama is a tremendous place for birding, with a wide range of tropical landscapes including accessible rainforest and higher altitude cloud forests.
Throughout Panama, there are over 900 species of birds, 1500 species of trees and over 7000 vascular plants. During this tour, there will certainly be a lot to see!

Links:
A List & Photo Gallery of Central American Birds, in 4 parts
Mammals in Central America (with some photos)
A List & Photo Gallery of
Central American Butterflies & Moths, in 6 parts
Other FONT Birding & Nature Tours in Central America
Some Previous Panama Tour Highlights

Itinerary (price follows):
Fri. Jul 22, '15: Arrival mid-day in Panama. From the airport, transfer to the Gamboa Rainforest Resort, where, upon arrival, we'll have lunch, at the water's edge, with birds by us such as Purple Gallinule, Wattled Jacana, and Black-bellied Whistling-Duck. Here, during our previous tours, both Striated and Green Heron have been seen together. And Southern Lapwings have been nearby. In various habitats at Gamboa, many birds are to be seen. And so they will be that first afternoon there, even though it's afternoon (and not morning, which will even be better the next day). In the evening, we may see potoos and other nightbirds from a boat on the water after dark. Our first overnight, of 2, at the Gamboa Rainforest Resort.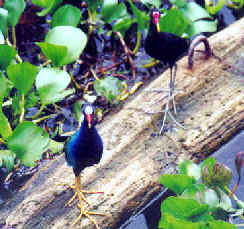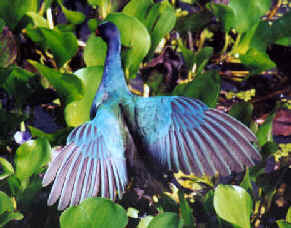 Purple Gallinule (left & right photos) and Wattled Jacana (left photo)
at Gamboa. (Photos by Marie Z. Gardner, during FONT tour - © all rights reserved)

Mon. Jul 23: A full-day of fine birding at Gamboa, where during our previous tours, colorful birds have included these: the Blue Cotinga, Green Shrike-Vireo, Crimson-backed Tanager, Lemon-rumped Tanager. And we're apt to see, as we have in the past, birds accompanying a swarm of ants. Among those have been the Ocellated and Bicolored Antbirds, and Greater Ani.
In the afternoon, we'll bird along the nearby Plantation Road, which can be a good place for Great Jacamar, in addition to an assortment of forest birds, such as motmots, puffbirds, and flycatchers including a bentbill, spadebill, and flatbill. Overnight again at Gamboa.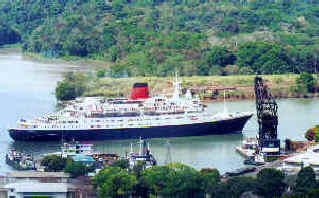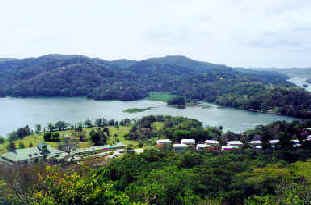 Views from the tower at Gamboa.
The Panama Canal (left) and the Gamboa Lodge (right).
(Photos by Marie Gardner during a FONT tour)

Tue. Jul 24: An early breakfast and much of the day birding at the renowned Pipeline Road (one of the best birding localities anywhere in the world) in the Sobernia National Park, not far from Gamboa.
Antbirds, antthrushes, antshrikes, and antwrens are among the many birds to be found. Others can include the Black-breasted Puffbird, motmots (normally for us, Rufous, Broad-billed, and Blue-crowned), and trogons (with the Slaty-tailed a favorite). The Cinnamon Woodpecker has been another favorite. And, during one of our recent tours here, the favorite of all the birds of the tour was a Semiplumbeous Hawk tamely perched on a tree-limb just above us. Good birding can always be had along Pipeline Road. Later in the day, we'll head back to Panama City, and overnight would be east of the city (near the international airport).

Wed. Jul 25: Travel this day east along the Pan American Highway to the area of Nusagandi, particularly Burbayar, where there's fine forest in the ridge, along the Continental Divide, known as Serrania de San Blas. That fine forest is home to a number of birds including Tanagers such as Tawny-crested, Rufous-winged, and Black-and-yellow. Also in the area are: Stripe-headed Wren, Blue-fronted Parrotlet, Crimson-bellied Woodpecker, Yellow-eared Toucanet, and a number of antbirds. Among them, the Dull-mantled Antbird, Black-crowned Antpitta, Black-headed Antthrush, and Speckled Antshrike. Overnight at Burbayar.

Thu. Jul 26: After a morning of birding in the Burbayar area, travel further east into Darien. Birding this day could produce some very good birds, including some restricted to eastern Panama and nearby Colombia, such as the Double-banded Graytail, Black Antshrike, and White-eared Conebill. Overnight in Darien, in the town of Santa Fe.

Fri. Jul 27: A full-day of birding in Darien province, region with still a large amount of forest, an some open country will hills clad with large, and somewhat odd, Cuipo trees. We'll bird at a number of places and we'll see numerous birds Some that we've seen during previous tours have included: Capped Heron, Pearl Kite, Red-and-green Macaw, One-colored Becard, Pied Water-Tyrant, and Orange-crowned Oriole. In the evening we'll look for nightjars and owls. Overnight in Meteti.

Sat. Jul 28: This morning we'll take a boat-ride on a remote river in the Darien foothills. During this ride for us in the past, birds included: Red-throated Caracara (a wonderful bird to see in Central America), Agami Heron (a wonderful bird to see anywhere), Crane Hawk, Green-and-rufous and American Pygmy Kingfishers, White-headed Wren, Purple Fruitcrow and others. Three of the species we've seen along the river have names from indigenous people of the jungle of South America: ani, aracari, and anhinga. It was the Greater Ani that was in the foliage along the river, and the colorful Collared Aracari that was in the trees. Anhingas (or "Snakebirds") were with us in the river, with only their necks and heads above the water. On the shore, one time, it wasn't a "snakebird", but a snake itself that we saw. Our boatmen were indigenous people of the jungle of Central America, of the Embera tribe. For our overnight, we'll be back again in Santa Fe.

Sun. Jul 29: Early in the morning, we'll begin our drive back to the international airport near Panama City. Departure (for most) on the flights home from Panama. (For those who can not leave on an afternoon flight, overnight at a hotel near the airport, for departure the am of Mon. Jul 30.)


Price: $US 2,795 per person, based upon double occupancy:
Single supplement: $315
Price includes:
| | |
| --- | --- |
| | All overnight accommodations |
| | All meals July 23-28 |
| | Transportation within Panama. |
| | Entrance fees to national parks and other boat tour as specified |
| | Services of the FONT birding guide. |
Price does not include:
International Airfare to/from Panama
Meals July 22 & 29
Departure taxes
Drinks & any items of a personal nature.
gratuities

Some of the accommodations during the Darien portion of this tour may be basic. But, on the positive side, they'll be near the good birding.
"Focus on Nature Tours" can arrange air travel, seeking the best possible air fare.

A deposit of US$ 500, per person,
is required to register for this tour.


Top of Page.