PO Box 9021, Wilmington, DE 19809, USA
E-mail: font@focusonnature.com
Phone: Toll-free in USA 1-888-721-3555
or 302/529-1876
A Focus On Nature Tour
in
Panama


A WEEK-LONG TOUR

FOR BIRDS, BUTTERFLIES,
AND OTHER NATURE


February 13-20, 2016

(tour: FON/PN-

1, '16)

Itinerary & price follows.


A week with some fine birding,
with visits to bird-rich locales in the Canal Basin
in the area of Gamboa,
including Pipeline Road & Barro Colorado Island,
and some fine forested areas near the Caribbean.


Tour to be led by Armas Hill,
well-experienced in Central American birding
since 1978.

Panama is an tremendous place for birding, with a wide range of tropical landscapes including accessible rainforest and higher altitude cloud forests. In Panama, there are over 900 species of birds, 1500 species of trees and over 7000 vascular plants.
This "getaway" week-long tour will only be in the Canal Basin, but yet it will produce a good number of birds, and provide a truly fine experience.




Links:

A Central America Bird-List & Photo Gallery, Part 1 of 4
(with links to Parts 2 to 4)

Mammals in Central America
(with some photos)

& Moths in Central America,
a List & Photo Gallery in 6 Parts

Other FONT Birding & Nature Tours in Central America

Previous Panama Tour Highlights

Itinerary (price follows):

Sat. Feb 13: Arrival in Panama. From the airport, we'll travel, not far, into the former U.S. Canal Zone, particularly to the area of the Gamboa Rainforest Resort, where (for those arriving early in the afternoon), the birding will begin. In the various habitats at Gamboa, many birds are to be seen. And so they will be that first afternoon there, even though it's afternoon (and not morning, which will even be better the next day). Our first overnight, of 4, at Gamboa.

S

un. Feb 14: A full-day of fine birding at Gamboa, where during our previous tours, colorful birds have included these: the Blue Cotinga, Green Shrike-Vireo, Crimson-backed Tanager, Lemon-rumped Tanager. And we're apt to see, as we have in the past, birds accompanying a swarm of ants. Among those birds have been Ocellated and Bicolored Antbirds, and Greater Ani.
In the afternoon, we'll bird along the nearby Plantation Road, which can be a good place for Great Jacamar, in addition to an assortment of forest birds, such as motmots, puffbirds, and flycatchers including a bentbill, spadebill, and flatbill. Overnight again at Gamboa.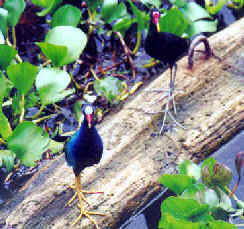 Purple Gallinule (left & right photos) and Wattled Jacana (left photo)
at Gamboa. (Photos by Marie Z. Gardner, during a FONT tour)

Mon. Feb 15: After breakfast, a guided excursion to the Barro Colorado Natural Monument. This full-day venture has been acclaimed by naturalists, journalists, and scientists as one of the best experiences in Panama.
Barro Colorado became an island when the Chagres River basin was flooded to create Lake Gatun during the construction of the Panama Canal. It was made a Biological Reserve in 1923, and since 1946 the Smithsonian Tropical Research Institute has administered the island. Departure from Gamboa (the mid-point of the Panama Canal) onboard a boat for a 45-minute trip through Gatun Lake to Barro Colorado. Once on the island, we'll explore the flora and fauna (and particularly the birds). Lunch will be at the research station on the island. In the afternoon, we'll return to Gamboa, where again we'll spend the night.
Tue. Feb 16: An early breakfast and much of the day birding at the renowned Pipeline Road (one of the best birding localities anywhere in the world) in the Sobernia National Park, not far from Gamboa. Antbirds, antthrushes, antshrikes, and antwrens are among the many birds to be found. Others can include the Black-breasted Puffbird, motmots (last March, for us, Rufous, Broad-billed, and Blue-crowned), and trogons (with the Slaty-tailed a favorite). The Cinnamon Woodpecker has been another favorite. And, during our most-recent tour here, the favorite of all the birds of the tour was a Semiplumbeous Hawk tamely perched on a tree-limb just above us. Good birding can always be had along Pipeline Road. Our last overnight at Gamboa.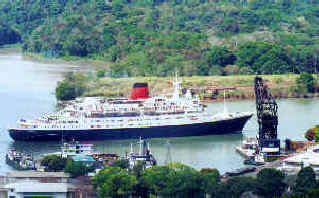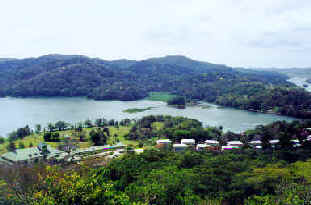 The Chagres River (left), and the villas where we stay at the Gamboa Resort (right).
(Photos by Marie Z. Gardner, during FONT tour - © all rights reserved)
Wed. Feb 17: After some morning birding and breakfast at Gamboa (our last), we'll travel toward Colon and the Caribbean coast. The vegetation there differs from previous places during the tour, and so it will be a birdy area with different birds. Some birds we'll only see in this area, near the north end of the Panama Canal. Among them could be a number of raptors, and various birds such as the Pied Puffbird, Spot-crowned Barbet, White-headed Wren, among others. Overnight at a nice new hotel, by a lake, near Colon.
Thu. Feb 18: Birding continues, this day, with a visit to Fort Sherman, a former U.S. military base, where we should see some birds not easily found elsewhere in the Canal Area lowlands. Among the birds, a variety of: tinamous, tanagers, trogons, and toucans, along with forest-falcons, flycatchers, motmots, manakins, and more. A second overnight near Colon.

Fri. Feb 19: After breakfast, another morning of birding. After lunch, travel back toward Panama City, with some afternoon birding at the Tocumen Marshes. This wetland is located east of the city. Now largely converted to rice fields, the area contains a number of ponds good for freshwater birds such as rails, herons, other waterbirds, and some shorebirds. Birds typical of Pacific savannas can also be found here, including a variety of raptors (including the Savanna Hawk). Our last overnight of the tour in Panama City.
Sat. Feb 20: (For those not on an early departing flight), some final morning birding, at an excellent place for it, in the dry-forest of the Metropolitan Park. Then, transfer to the International Airport for flights home from Panama.



Price: $US 2,495 per person, based upon double occupancy:
Single supplement: $
290
Price includes:
| | |
| --- | --- |
| | All accommodations |
| | All meals. |
| | Transportation within Panama. |
| | Entrance fees to national parks and other boat tour as specified |
| | Services of the FONT birding guide. |
Price does not include:
| | |
| --- | --- |
| | International Airfare to/from Panama |
| | Drinks & any items of a personal nature. |
| | gratuities |
"Focus on Nature Tours" can arrange air travel, seeking the best possible air fare.

A deposit of US$

500, per person, will assure a place on the tour.