PO Box 9021, Wilmington, DE 19809, USA
E-mail: font@focusonnature.com
Phone: Toll-free in USA 1-888-721-3555
or 302/529-1876

Website: www.focusonnature.com

A Focus On Nature Tour

In BELIZE

for Birds, Butterflies, Mammals,
and Other Nature
and with some SNORKELING too,
for those who wish
to see some underwater Marine Life


March 25 - April 3, 2016
(tour: FON/BZ-1 '16)

Tour to be led by Armas Hill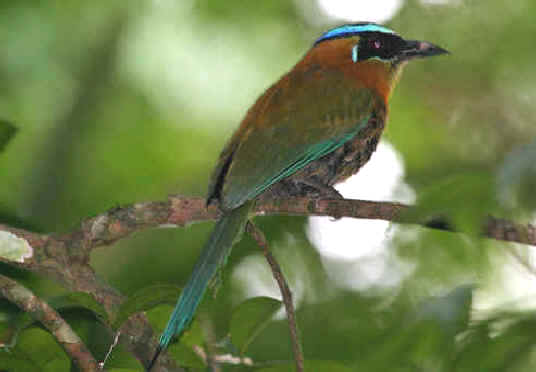 Blue-crowned Motmot

Links:
Birds during previous FONT Belize Tours

A List & Photo Gallery of Central American Birds in 4 parts
Belize Mammals & Other Wildlife (with some photos)
A List & Photo Gallery of Central American Butterflies & Moths in 6 parts
Marine Life, including that of the Coral Reef, of Belize & the Yucatan
Some Highlights from some previous FONT tours in Belize
Galleries of Photos from Previous FONT Belize Tours: April 2011 March 2007
Upcoming FONT Birding & Nature Tours in Central America

Tour Itinerary:


Fri, Mar 25:
Arrival in Belize, and we'll travel, in the afternoon, to the Crooked Tree Wildlife Sanctuary, one of the most-renowned places in the country for nature in general and birds in particular. In the area, there are several fresh-water lagoons connected by waterways. There are numerous birds in the area, including the Agami Heron and Sungrebe. We'll take a boat-trip. There are some nests in the region of the large stork called the Jabiru.
During our tour in March 2007, a Belizean rarity was present at Crooked Tree, a Southern Lapwing. That species is common, even abundant, in South America. In Central America, above the Panama Canal, the species has recently been spreading north.
Crooked Tree is renowned as it was designated as Belize's first "Ramsar site" (named after the Ramsar conference on wetlands in Iran) in 1998 "as a wetland habitat of international importance for waterfowl". The reserve was created in the previous decade, in 1984, by the Belize Audubon Society. As stated, birds are numerous, and there's a good assortment. In fact, two-thirds of Belize's total birds have been recorded in the sanctuary. February is an excellent time to visit as the lagoons shrink during the dry season, forcing birds and other wildlife to congregate for food and water. Our first overnight, at Crooked Tree.
Sat, Mar 26:
Some more birding in the earlier morning at Crooked Tree, and then the birding will continue through the entire day as we travel north to Orange Walk, to go to the Mayan ruins at Lamanai. The setting of the ruins and the adjacent forest habitat will give us a good day, with many species of birds. There will be boat-rides, along the New River, to and from Lamanai. At the end of the day, we'll return to Crooked Tree, for a second overnight.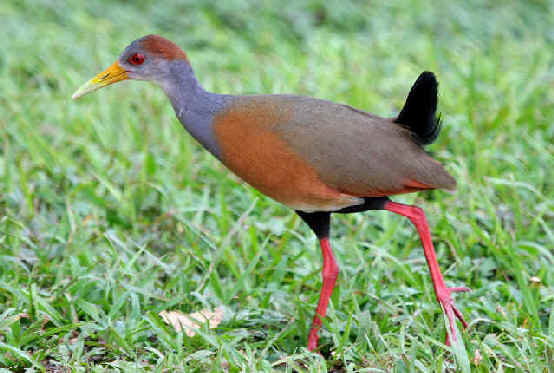 Gray-necked Wood-Rail

Sun, Mar 27:

This will be our last morning of birding in the Crooked Tree area. It will be followed by travel, mid-day, to the area of Cristo Rey, in western Belize, not far from the Guatemalan border, and by the Macal River. It's a great area in which to see motmots, parrots and parakeets, hummingbirds, and assortments of flycatchers and raptors. There are many other tropical birds too, such as tanagers, trogons, tityras, and toucans. During our tour in this region in 2007, we saw about 120 species of birds in this one area referred to the Cayo District. As many 4 species of tinamous were found. One interesting sighting was of as many as 30 Blue Ground Doves at one place. By day, we saw a Northern Potoo, as still as could be, on a big branch of a large tree. At dusk, Yucatan Poorwill was seen. After dark, we saw as many as 6 Barn Owls on fenceposts. Our first of 3 overnights in the area.
Mon, Mar 28:
This day, we'll be birding, in our quest to find as much as we can of the avian assortment just mentioned in the previous paragraph. Among the places to which we'll go will be the area of the Mennonite community of Spanish Lookout. Itís a farming settlement with neat and well-maintained farms, and white-fenced fields. About 20 minutes beyond that community is an outstanding place for birds, the Laguna Aguacate. Both the forest by the lake (the laguna), and the lake itself are outstanding. This day, there will be birds in the varied habitats of savannah and open farmland, in addition to the lake and its adjacent subtropical forest. Overnight again in the area of Cristo Rey.
Tue, Mar 29:
This day, we'll go south to the Mountain Pine Ridge Forest Reserve, where among the birds there will be an assortment of tanagers, orioles, warblers and woodpeckers. Black-headed Siskins can occur in flocks. Among outstanding birds this day, there's a good chance for Orange-breasted Falcon and King Vulture. In this area, during our 2007 tour, we also saw a number of Swallow-tailed and Plumbeous Kites. Our last overnight at Cristo Rey.
Wed, Mar 30:
This morning, we'll depart from the Cayo District, and head east, beyond Belmopan (the capital of Belize, founded in 1970). We'll stop at the Guanacaste National Park. The name comes from the giant Guanacaste tree, which can reach a height of 130 feet and a diameter of 6 feet. Birds, other than those already found thus far during our tour, are likely. One of the species we saw again & again, as we traveled the roads in Belize during our 2007 tour, was the Laughing Falcon. That one is always nice to see and hear.
Additional animals, as we continue through our tour, are possible too.
From the park, we take the "Hummingbird Highway" south to the area of the Cockscomb Basin Wildlife Sanctuary. This will be our first of 2 overnights in that area. We'll be spending 2 nights in that wonderful area for wildlife, with a full day of birding and exploration in between.

Thu, Mar 31:
Our full-day in the area of the Cockscomb Basin Wildlife Sanctuary. Very early in the morning, we'll look along the road for animals. The sanctuary is most famous for the Jaguar that lives there. And other animals are apt to be seen. The birding will start early, and the morning birding in the area should be superb. In this area, during our tour in 2007, we found many fine birds, among them: White Hawk, Ruddy Quail-Dove, Slaty-tailed Trogon, the small Smoky-brown Woodpecker, the larger Pale-billed Woodpecker, Dusky Antbird, White-collared Manakins at a lek, Northern Schiffornis (that used to be a "manakin"), Red-legged Honeycreeper, Olive-backed Euphonia, and Crimson-collared Tanager, just to name a few. Our second overnight in the area.
Fri, Apr 1:

Travel north to Belize City. From there, we'll take a water-taxi to Caye Caulker, a small offshore island, by the Caribbean Sea. The boat-ride is about an hour and 20 minutes to the island. This night will be our first of 2 overnights on the small island of Caye Caulker.

Sat, Apr 2:

A full-day along the Belizean Caribbean Coast, where there are a number of things to do. Of course, the birding that we'll do is one of those things. During our 2007 tour on the island, we saw a nice number of bird species, and among them some notables, such as: White-crowned Pigeon, Yucatan Vireo, Black Catbird (a near-threatened species), Scrub Euphonia, and Mangrove Warbler. The male of the last of these was especially nice to see. The Yucatan Vireo and the Black Catbird are nearly restricted in Belize to coastal habitat, as occurring on Caye Caulker.

Among other things that could be done during this, our last full day in Belize, there's snorkeling and beachcombing.

Again, as to the birding, there will be species, in addition to the "notables" just mentioned. among them will be the frigatebirds, pelicans, terns and gulls, shorebirds, and herons and egrets.
The waters of the coral reef, not far offshore, abound with tropical fish. Also occurring there are sharks and rays -- there are Nurse Sharks, 3 meters long, and some enormous stingrays.
The coral reef is just one part of the marine environment. There are seagrass beds, and mangroves, again with more birds. Our last overnight in Belize on Caye Caulker.

Sun, Apr 3:
In the morning, the water-taxi from Caye Caulker back to Belize City, where we'll connect to the flights for home from the international airport.

Price: $2,595, per person, based upon double-occupancy. Single supplement (when applicable): $275

Includes:
All overnight accommodations.
All meals Mar 25 - Apr 2.
Drinks (other than alcoholic).
Transportation on land & water within Belize.
A FONT birding guide familiar with the birds and localities.
Does not include:
International air fare to/from Belize.
Airport departure tax.
Alcoholic drinks.
Any items of a personal nature. Gratuities.

A deposit of $500, per person, will assure a place on the tour.


SOME NOTES ABOUT BELIZEAN NATURE:
Regarding the JAGUAR: Itís the biggest predator in the New World, and needs a lot of space to roam. Itís ironic that Belize, one of the smallest countries in the New World, has the greatest concentration of Jaguars.
Regarding some of the LIFE in the SEA: The CORAL REEF in Belize is 250 kilometers long, the most extensive in the New World.
Some of the FISH of the REEF include: Atlantic Spadefish, Banded Butterfly Fish, Bar Jack, Blue-striped Grunt, Blue Tang, Dog Snapper, Foureye Butterfly Fish, French Grunt, Green Moray, Honey Damselfish, Nurse Shark, Queen Triggerfish, Schoolmaster, Sergeant Major, Smallmouth Grunt, Southern Stingray, Spanish Grunt, Spotfin Butterfly Fish, Spotted Drum, Trunkfish, White Grunt, Yellow Jack, Yellowtail Damselfish, Yellowtail Snapper.