PO Box 9021, Wilmington, DE 19809, USA
E-mail: font@focusonnature.com
Phone: Toll-free in USA 1-800-721-9986
or 302/529-1876; Fax: 302/529-1085
Birding in the Spring
in Central & Southern Japan

May 12-29, 2016

(tour: FON/JA-2, '16)

With, first, about a week of birding on Honshu,
including the small Hegura Island in the Sea of Japan,
a magnet for migrating birds at a prime time

Followed by birding
for Specialties & Endemics
in Southern Japan

On the Islands of Nansei Shoto,
particularly Ishigaki and Iriomote
and Okinawa and Amami

And in Kyushu


Among the southern Japanese bird specialties and endemics:
the Ryukyu Serpent-Eagle, the Malayan Night-Heron, Ruddy Kingfisher
and Japanese Paradise Flycatcher, Okinawa Rail and Pryer's Woodpecker,
Amami Woodcock, Ryukyu Robin, and Lidth's Jay.

And, the colorful Fairy Pitta!

These just a few of the many interesting birds to be found.


Included in the tour beautiful natural settings with forest and volcanoes,
and hot springs, and some fine Japanese meals.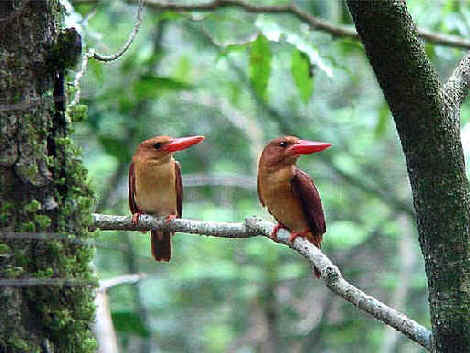 2 Ruddy Kingfishers photographed
during a FONT Spring Tour on Kyushu

Links:

A List & Photo Gallery of Japan Birds, in 2 Parts:
Part #1: Pheasants to Pittas
Part #2: Minivets to Buntings
List of Birds during previous FONT Spring & Summer Japan Tours
Japan Past Tour Highlights

Birds of Hegura Island (with photos)
Birds of the Island of Okinawa
Rare Birds during our Japan Tours (with photos)

Butterflies of Japan (with some photos)

Mammals of Japan (with some photos)
Itinerary:
Thu: May 12, '16 Arrival in Japan. Most participants would be arriving at Narita airport, (2 hours north of Tokyo). Overnight at good hotel accommodation by Narita airport.
(Departure from the United States, for example, would have been the previous day, Wed. May 11. Remember travel west from the US to Japan crosses the international date line.)
Fri: May 13 Birding, this day, at places by the upper Tokyo Bay particularly good for shorebirds (or waders), such as the Great Knot, Far Eastern Curlew, and Lesser Sandplover (also known as Mongolian Plover). A dozen or more shorebird species should be seen (and other birds too). Overnight again near Narita.

Sat: May 14 Travel to Haneda Airport, in Tokyo, for a flight to Kanazawa. From there, travel by van, with birding enroute, to the coastal fishing town of Wajima on the picturesque Noto Peninsula by the Sea of Japan. Overnight in Wajima.
Sun: May 15 A morning pelagic trip from Wajima to Hegura Island (about 2 hours offshore). During the boat trip, seabirds that are possible include: the Japanese Murrelet, Rhinocreos Auklet, and Swinhoe's Storm-Petrel. Streaked Shearwaters should be plentiful. Red-necked Phalaropes could be. Our first overnight on Hegura Island, at the minshuku, or "Japanese inn".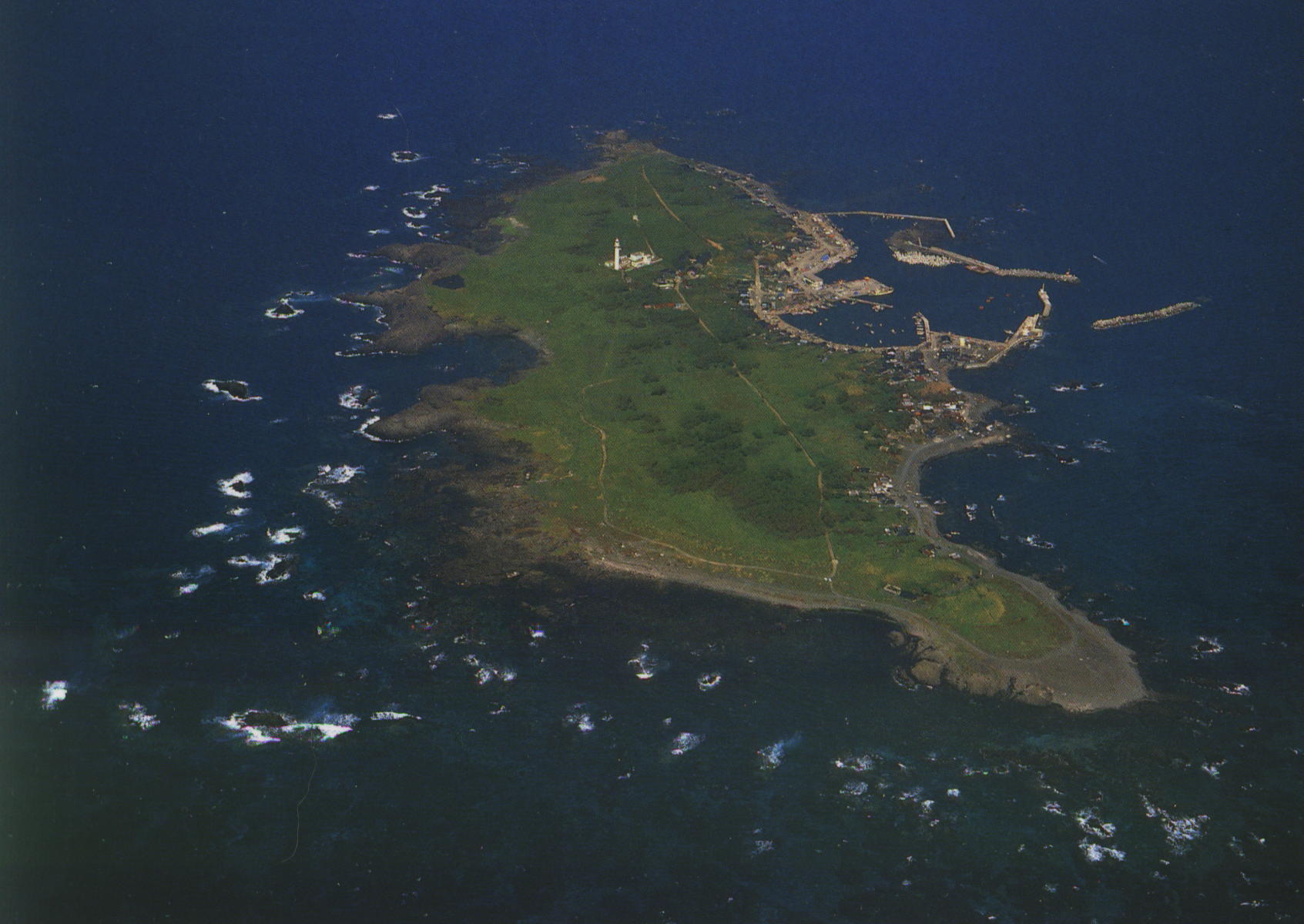 Hegura, a small island with many birds in migration.
The lighthouse in the middle of the island, the harbor to the right.

Mon: May 16 Hegura Island is a small place (less than 1 kilometer by 2 kilometers in area), but birding there in mid-May can be tremendous.
During our previous tours on Hegura Island in late April and in early and mid May, we have experienced some great fall-outs of migrating birds.
This year, we're hoping for another at a time when there can be even more variety. Over 60 species of birds during a day in May on Hegura is easy. About 80 species is likely. Nearly a hundred species is possible.

As there are no tall trees or dense forest on the island, birds that can be hard to see elsewhere can be easily seen on Hegura - birds such as the Japanese Robin and the Siberian Rubythroat. More such birds are noted in a paragraph below.

Many of the migrant birds on Hegura are those that go north to Hokkaido or mainland Asia. A number of species that occur regularly on Hegura are rare elsewhere in Japan. Again, birds in this category are noted in a paragraph below.

A complete listing of Hegura birds during FONT tours is linked to this itinerary.

During our previous tours on Hegura Island (in 2001 2002, 2004, 2005, 2006, and 2007), participants found the birding experience there to be among the best they've ever had.

Among the birds that elsewhere can be notorious skulkers, but are often more out in the open on Hegura Island, there are these examples: the shy Japanese Robin, Siberian Blue Robin, and the White's Ground Thrush.

Among the routine migrants, we've seen on Hegura, enroute from where they've wintered in the Asian tropics to where they'll breed as far north as Siberia, are these: Siberian Rubythroat, Siberian Stonechat, and Yellow-breasted Bunting.

And in the most interesting category of birds migrating north, generally more common on the Asian mainland in China and Korea, than in Japan, are the following that we've seen during our 6 previous FONT tours on Hegura Island: Chinese Egret, Chinese Pond Heron, Purple Heron, Hoopoe, Richard's Pipit, Tree Pipit, Pied Wheatear, Isabelline Wheatear, White-throated Rock Thrush, Swinhoe's (or Rufous-tailed) Robin, Dusky Warbler, Radde's Warbler, Mugimaki Flycatcher, Tricolored Flycatcher, Taiga (formerly part of Red-breasted) Flycatcher, Purple-backed (or Daurian) Starling, Black-naped Oriole, Black Drongo, Chinese Grosbeak, Chestnut Bunting, Little Bunting, Yellow-browed Bunting, and Tristram's Bunting.

Other birds, among the 172 species, that have been seen during FONT tours on Hegura Island have included: Pacific Reef Heron, Crested Honey Buzzard, Grey-faced Buzzard, Japanese Sparrowhawk, Eurasian Hobby, Lesser Sandplover, Long-toed Stint, Latham's Snipe, Terek Sandpiper, Oriental Cuckoo, Lesser Cuckoo, Brown Hawk-Owl, Grey Nightjar, Ashy Minivet, Brown Shrike, Tiger Shrike, Bluethroat, Red-flanked Bluetail, Siberian Thrush, Eye-browed Thrush, Dusky and Naumann's Thrushes, Asian Stubbtail, Sakhalin Warbler (and an assortment of other Old World Warblers), Blue-and-white Flycatcher, Dark-sided (or Siberian) Flycatcher, Grey-streaked Flycatcher, Narcissus Flycatcher, Japanese Yellow Bunting, Japanese Grosbeak, and Hawfinch. Some of these have been seen in incredibly large numbers.

Our second overnight, on May 16, on Hegura Island.

Tue: May 17 Another nearly full day of what should be excellent birding on Hegura, as our boat departs the island late in the day. Following the two-hour pelagic trip, overnight in Wajima.
Wed: May 18 After some morning birding, travel to Kanazawa. From there, a flight to Tokyo, and then a connecting flight to the island of Okinawa. Birding, as time permits, upon arrival, in Naha at mudflats near the airport, a fine place for waterbirds and shorebirds (or waders) dependent upon the tide . From Okinawa, in the evening departure on an overnight ferry from Naha to the southern Ryukyu island of Ishigaki.
Thu: May 19 The ferry to stop at the island of Miyako in the morning, and then arrive at Ishigaki, where we'll disembark, in the afternoon. Upon arrival on the tropical island of Ishigaki, there will be land-birding for such specialities as the Barred Buttonquail, Ruddy Kingfisher, Japanese Paradise-Flycatcher, and at dusk: the Malayan Night-Heron. Ruddy and Banded Crakes, Watercock and White-breasted Waterhen occur, as do a number of other birds, notably shorebirds (or waders). Overnight on Ishigaki.
Fri: May 20 Travel, this day, by boat, to another island, further southwest, Iriomote. More than 80 per cent of this forested island is a national park (the home of the rarely-seen Iromote Wild Cat). Birds that can be seen at sea in the area of Iriomote include: Brown Booby, Bulwer's Petrel, Streaked Shearwater, and various tropical terns: Black-naped, Roseate, Bridled, and Sooty. On Iriomote, a prime avian attraction is the rare raptor, the Ryukyu Serpent Eagle (formerly regarded as a subspecies of the Crested Serpent Eagle). Most readily seen on Iriomote — with a large proportion of the species' population (about a hundred birds) there — over two-thirds of them are on the island. Overnight on Iriomote.
Sat: May 21 After morning birding, travel by boat back to Ishigaki. Additional birding and overnight there.
Sun: May 22 Birding on Ishigaki in the morning. A flight, in the afternoon, back to Okinawa. Overnight there in Naha.
Mon & Tue: May 23 & 24 What should be especially interesting birding on our third tropical island of the tour: Okinawa. Where there are some especially interesting birds. Some rare, some endemic. Among the specialties, the very rare Pryer's Woodpecker (seen during previous FONT tours) and the Okinawa Rail (discovered only as recently as 1981). Also waterbirds such as: Cinnamon Bittern and Eastern Reef-Heron. Also occurring on Okinawa: the Ryukyu Robin and Amami Woodcock in the forests. At rice paddies, birds include the Cinnamon Bittern. Along the shoreline, Eastern Reef-Herons and Black-naped Terns. We'll be spending two nights in accommodations close to the best birdlife, at the north end of the island that's known as Yambaru, a region with forested hills, the special birds, and not many people.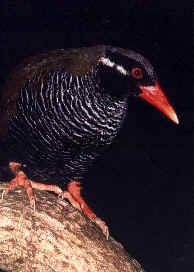 The Okinawa Rail, that only became known to science
about 2 decades ago, can be very hard to see.
But in May, we could have a good chance to do so.

During previous FONT tours in Okinawa and on another island to the north, Amami, in addition to birds, we have enjoyed butterflies and other nature.
Among the more common butterflies, we have seen the swallowtails called in English Red Helen and the Blue Triangle. We've also seen the Common Jay (referring here to the butterfly rather than the bird), the Plain Tiger (of course not the animal), the Common Map, and the Great Orange Tip. We'll see these, and more, during this tour. Photos of two of the butterflies just mentioned follow here.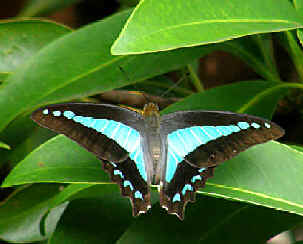 Above, the Blue Triangle.
Below, the somewhat similar Common Jay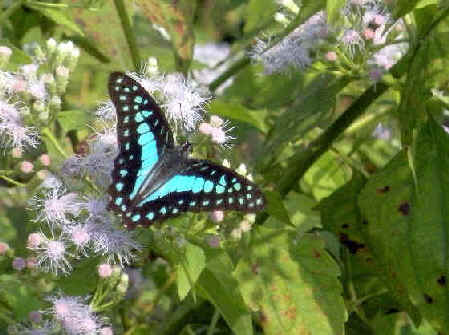 Wed: May 25 On this day, we travel from from Okinawa to the island of Amami. With this to be the first of 2 overnights on that subtropical, hilly, and mostly-forested island, surrounded by coral reefs. On the island, interesting birds can be found, some endemic (or nearly-so), some rare: the Amami Thrush, Amami Woodcock, the beautiful Lidth's Jay, the Ryukyu Robin, and Ryukyu Scops-Owl.
Culturally, Amami is also an interesting island, more "traditional" as it has been somewhat isolated from the main Japanese island. We've always enjoyed our time on Amami, by day and into the night, as primarily due to the nearly endemic and now more rare Woodcock, we have often been out after dark - when we also have encountered owls, of various kinds, amphibians and reptiles, and a mammal, an oddity also endemic to the island, known as the Amami Rabbit.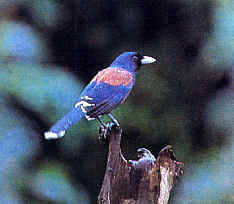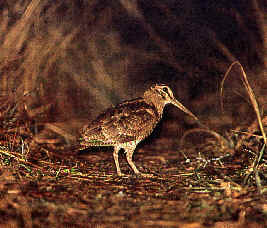 Two of the bird specialties of Amami Island,
the Lidth's Jay & Amami Woodcock
Thu & Fri: May 26 & 27 Birding on Amami — a full day, and much of another. During our stay, we would have two evenings for birding (for the woodcock and owls), and two mornings (for the other good birds). During the late afternoon of May 27, a flight from Amami to Kagoshima (on the southernmost main Japanese island of Kyushu).
Upon arrival there, travel to the region of the nearby Ebino Plateau for an enjoyable evening and night at a Japanese inn, with some nice cuisine. The setting of that inn, by a beautiful national park: with forest, and a volcano and hot springs. Japanese hot baths (onsens) will be available for those who wish.
Sat: May 28 Today, our quest will be the most colorful of all Japanese birds: the Fairy Pitta. Also in the area we'll be birding: endemics, the Copper Pheasant and Japanese Green Woodpecker. And, of course, other woodland birds as well. Overnight again near the Ebino Plateau.
Sun: May 29 In the morning, a flight to Tokyo, to connect with international flights departing from Japan.

Price: US $3,495 per person, based upon double-occupancy.
Single supplement: US $395.

Includes: All overnight accommodations.
All meals (except on May 12 and 29).
Ground transportation.
Ferries to Ishigaki and Iriomote.
Services of the FONT birding leader and local guides.

Does not include: Drinks and other items of a personal nature.
Air transportation (to/from & within Japan).

Focus On Nature Tours can arrange economical fares for flights to/from and within Japan. Please contact us regarding the best fares possible.

Participants can opt to do their own flights to/from Japan (maybe with "frequent flyer miles".) But, FONT will handle Japanese domestic flights during the tour.

The leader for this tour will be Armas Hill, who has birded in Japan numerous times since 1984.

A deposit of US $600 is required to register for this tour.