PO Box 9021, Wilmington, DE 19809, USA
E-mail: font@focusonnature.com
Phone: Toll-free in USA 1-888-721-3555
or 302/529-1876
A Focus On Nature Tour
in the Spring

in Central and Southern Japan

a birding and nature tour
including a special venture to the

Ogasawara (or Bonin) Islands

for endemic & specialty birds
and those of the sea

May 11-25, 2017

(tour: FON/JA-2, '17)


With, first, a visit to a place
where a bird now again lives,
one that became extinct in Japan 40 years ago.
That bird, the globally-endangered
Oriental Stork.

And, before the tour's end,
a visit to a forest in southern Japan, in Kyushu,
where a truly beautiful bird lives.
That bird, the Fairy Pitta.


Included in the tour beautiful natural settings with forest and volcanoes,
and hot springs, and some fine Japanese meals.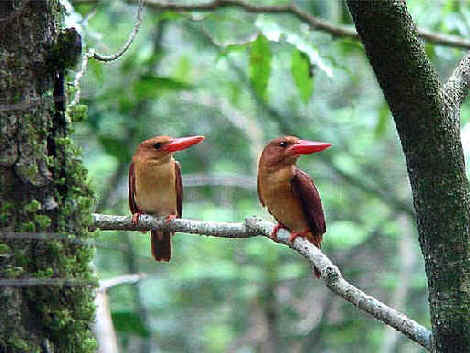 2 Ruddy Kingfishers photographed
during a FONT Spring Tour on Kyushu

Links:

A List & Photo Gallery of Japan Birds, in 2 Parts:
Part #1: Pheasants to Pittas Part #2: Minivets to Buntings
List of Birds during previous FONT Spring & Summer Japan Tours
Japan Past Tour Highlights

Rare Birds during our Japan Tours (with some photos)

Butterflies of Japan (with some photos)

Mammals of Japan (with some photos)
Itinerary:
Thu: May 11, '17 Arrival in Japan, at the Narita International Airport, (2 hours north of Tokyo). Overnight at good hotel accommodation by Narita airport.
(Departure from the United States, for example, would have been the previous day, Wed. May 10. Remember travel west from the US to Japan crosses the international date line.)
Fri: May 12 Birding, this morning, at a place by the upper Tokyo Bay particularly good for shorebirds (or waders), such as the Great Knot, Far Eastern Curlew, and Lesser Sandplover (also known as Mongolian Plover). A dozen or more shorebird species should be seen (and other birds too).
From Tokyo, this afternoon, we'll travel on the bullet train to Kyoto. Overnight in Kyoto.

Sat: May 13 Birding, this day, in south-central Honshu. We'll be heading to Kinosaki, a small Japanese town with hot springs, near Toyooka.
It was in that area that the last wild Oriental Stork, of the breeding population that was in Japan, died back in 1971.
Globally, that bird is an endangered species in eastern Asia.
A few years prior to the Oriental Stork becoming extinct in Japan, a re-introduction program was begun, with some birds from Russia. In May of 2007, for the first time since 1964, an Oriental Stork chick successfully hatched in Japan. Now, about 50 Oriental Storks live in the wild in wetlands and fields in the area where we will be, near Kinosaki.
A key part of the successful return of the Oriental Stork in that area is that a program was initiated with local farmers for the growing of rice without pesticides. Thus, the food of the storks, fish and frogs, again flourished, as have the storks and other birds too. Our first of 2 overnights in the area of Kinosaki.

Sun: May 14 A full day with the storks, and other birds & nature, and the Japanese culture in the pleasant countryside of the Japanese traditional town of Kinosaki. Our second night there.

Mon: May 15 More south-central Honshu birding from Kinosaki to Kyoto, followed by the return bullet-train ride back to Tokyo. Overnight, by the Tokyo Bay in a hotel near the ferry terminal.
Tue: May 16 A 10:00am departure on the large, comfortable ferry from Tokyo to the subtropical Ogasawara Islands, as they are called in Japanese. The English name: the Bonin Islands. Travel will be the island of Chichijima. Seabirding, along the way, from the ferry, should be very good, with Wedge-tailed Shearwater, Bulwer's Petrel, and the Matsudaira's Storm Petrel. We will pass Torishima Island, famous as "the island" for the Short-tailed Albatross. Both Laysan and Black-footed Albatrosses also occur in the area. Other shearwaters should include: Streaked, Short-tailed, Sooty, and the endemic Bannerman's Shearwater - the last of these a Japanese endemic breeder only in the Ogasawara group of islands. Historically, it was part of the Audubon's Shearwater. Some have recently called it the "Tropical Shearwater". By whatever name, the species is not well known.

Wed: May 17 Upon arrival at the island Chichijima, we will transfer to another ferry for about a 2-hour ride to the island of Hahajima. More seabirds will be seen, with Brown Booby, Brown Noddy, Red-tailed Tropicbird, and Lesser Frigatebird quite possible, as well an assortment of dolphins and other marine mammals.
On the small, quaint island of Hahajima we will spend 3 nights, thus having 2 full days to observe and enjoy the birds, other nature, and the place.
Some bird species that were on the island years (actually more than a century) ago were endemics now extinct such as the Kittlitz's Thrush, Bonin Woodpigeon, and Bonin Grosbeak.
But we will see the Bonin White-eye (also called the Bonin Honeyeater), an attractive little bird. The subspecies on Chichijima is presumed extinct, but the subspecies on Hahajima is still common there. Overnight on Hahajima.

Thu & Fri: May 18 & 19 Birding on the remote island Hahajima, a thousand kilometers offshore from Tokyo. In addition to the Bonin Honeyeater, there will be other birds to be seen and enjoyed, including some distinctive endemic subspecies such as those of the Eastern Buzzard (formerly part of the Common Buzzard), the Brown-eared Bulbul, and the Japanese Bush Warbler.
Also, at the time when we will be there in May, there would be some notable migrants, including both shorebirds and landbirds of various species. In the forest, the White's Ground Thrush is likely. By the coast of the island, Greater Crested Tern, and possibly Red-footed and Masked Boobies.
But the "avian star" on Hahajima will be the Bonin White-eye that continues, as of now, to be on our planet only on that one little island.

Sat: May 20 After a last morning on Hahajima, departure on the ferry back to Chichijima, connecting to the large ferry back to Tokyo. Again, pelagic birding along the way.

Sun: May 21 Part of the day still at sea. Then, back in Tokyo after hopefully having seen Short-tailed Albatross and other seabirds.
Some birds now extinct have been mentioned in this itinerary. About 60 years ago, the Short-tailed Albatross was thought also to be in that category - a goner. But, young birds that were out over the open Pacific for a number of years, returned to Torishima. And from nearly none, the population grew "back into existence", and its numbers, fortunately, continue to build.
Overnight in Tokyo.

Mon: May 22 From Tokyo, a flight to Miyazaki a southerly city on the southerly Japanese island of Kyushu. Birding in various habitats near Miyasaki.

Tue & Wed: May 23 & 24 In southern Kyushu, two days of birding. Our primary quest will be the possibly most colorful of all Japanese birds: the Fairy Pitta. Also, we'll be birding for some Japanese endemics, such as the Copper Pheasant, Ryukyu Minivet, and the Japanese Green Woodpecker. Also, the Oriental Dollarbird, Ruddy Kingfisher, Japanese Paradise Flycatcher, 2 or 3 species of cuckoos, and a nice assortment of other birds of the woodlands, fields, and elsewhere in the Kyushu countryside. Yet more possibilities include the Northern Hawk-Cuckoo and the Mountain Hawk-Eagle. A possible mammal would be the Japanese Macaque (or Monkey).
Overnights in Kyushu, near the Ebino Plateau.
Thu: May 25 A morning flight to Tokyo, to connect with international flights departing from Japan.

Price: US $3,895 per person, based upon double-occupancy.
Single supplement: US $395.

Includes: All overnight accommodations.
All meals (except on May 11 and 25).
Ground transportation, including van & train.
Ferries to & from Chichijima & Hajajima.
Services of the FONT birding leader.

Does not include: Drinks and other items of a personal nature.
Air transportation (to/from & within Japan).


Focus On Nature Tours can arrange economical fares for flights to/from and within Japan. Please contact us regarding the best fares possible.

Participants can opt to do their own flights to/from Japan (maybe with "frequent flyer miles".) But, FONT will handle Japanese domestic flights during the tour.

The leader for this tour will be Armas Hill,
who has birded in Japan numerous times since 1984.

A deposit of US $500 is required to register for this tour.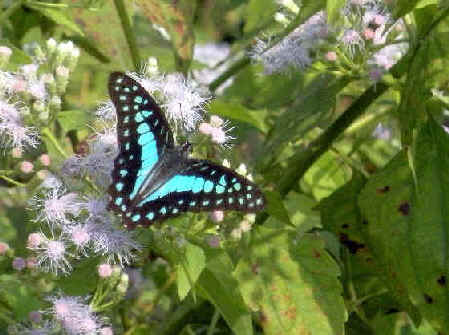 During our tour we'll be seeing many birds, including a jay.
This, however, is a butterfly known in English as the Common Jay.
It occurs, and we'll see it too, on southern Japanese islands.