PO Box 9021, Wilmington, DE 19809, USA
E-mail: font@focusonnature.com
Phone: Toll-free in USA 1-888-721-3555
or 302/529-1876
HighlightS
FROM some PREVIOUS
FOCUS ON NATURE TOURS

in ARIZONA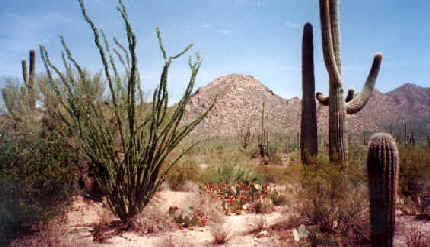 The following summaries here are with the most-recent tours first.
For some tours there are links below for longer narratives. Also there are links to UPCOMING TOUR ITINERARIES, and lists of BIRDS, MAMMALS, and OTHER NATURE.

Previous Tours:
August/September 2010 August 2010 January 2009 August 2008
July 2007 August 2006 July 2005 July/August 2001
Links:
Upcoming FONT Birding & Nature Tours in Arizona
A List & Photo Gallery of Arizona Birds, in 2 parts:
Part #1: Quails to Becard Part #2: Flycatchers to Buntings
Butterflies and Dragonflies & Damselflies in Arizona (with some photos)

Mammals in Arizona (with some photos)
Amphibians & Reptiles in Arizona (with some photos)
Plants of the Desert & Some Nearby Habitats (with some photos)


ARIZONA (southern & central) - August/September 2010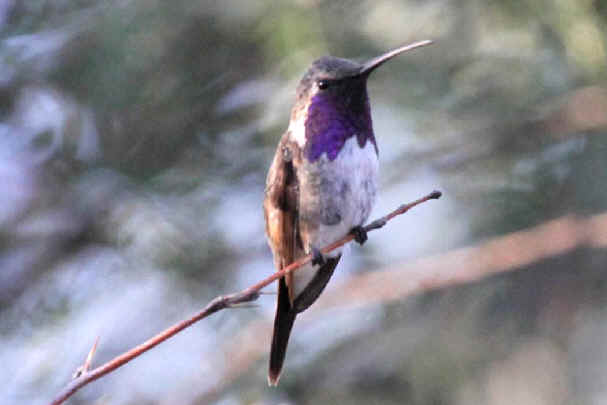 A male Lucifer Hummingbird photographed during
the FONT tour in southern Arizona in August 2010
Links:

More about the FONT Tours in Arizona & Sonora, Mexico in August/September 2010
Birds & Other Wildlife during our tours in Arizona, USA & Sonora, Mexico in Aug/Sep 2010
Photos from the FONT Arizona & Sonora, Mexico Tours in Aug/Sep 2010
A List & Photo Gallery of Hummingbirds in 2 Parts

This was the third of our three consecutive tours in Arizona and northern Mexico in the late summer of 2010.

During this tour, collectively, it was the hummingbirds that were the avian stars, with 13 species of them seen, and one hybrid.
The hummers were: Broad-billed, Berylline, Violet-crowned, White-eared, Blue-throated, Magnificent, Lucifer, Black-chinned, Anna's, Costa's, Calliope, Broad-tailed, and Rufous.
One has the name Magnificent, but really, in their own way, they all are!
We saw Violet-crowned Hummingbirds at two places.
We saw more than one White-eared Hummingbird.
The male Anna's, as always, are exceptionally brilliant.
The Calliope was the smallest.
And the Costa's, the "desert hummingbird", was the last of our hummers to be seen - a female. Males, "according to the books" wander away in early September to be "elsewhere".
The Rufous Hummingbird, it is now known, is a hummer that truly wanders on its little wings. From Alaska to Mexico, and some east to Florida and elsewhere.
What fascinating birds the hummingbirds are!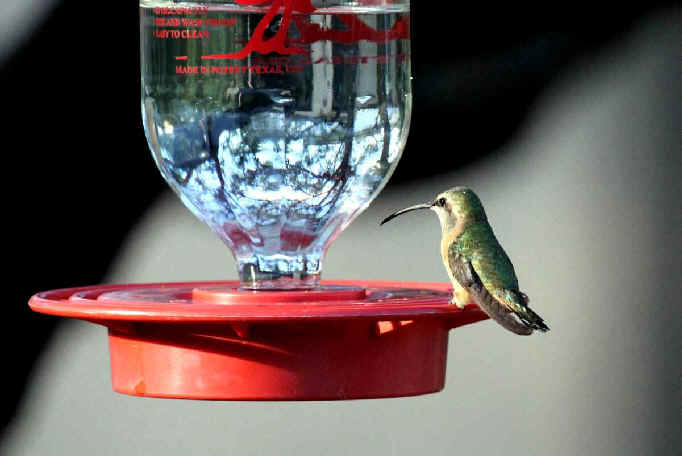 A female Lucifer Hummingbird photographed during
the FONT tour in southern Arizona in August 2010

What was particularly nice for us, in the "hummingbird department", during our Aug/Sep 2010 tour, were both male and female Lucifer Hummingbirds. That species, by the way, has also been known by another name, the Lucifer Sheartail. Whatever its second name, as its first name implies, it can be "a devil" of a bird to find. Again, we were so glad when we saw it as well as we did.
The hybrid that we saw was a Costa's-Anna's.

Another highlight of the tour that we saw so well was not a bird. It was a Bobcat, that we saw during the day, as it was "perched" mostly behind foliage by a large branch in a small tree.
Close to us it was, and not ever moving away, even as it was photographed from various positions. Its eyes followed our movements, and as its head turned we saw its wonderful long white whiskers.
What an encounter it was for us, that sunny morning, prior to our actually leaving the Bobcat where it was, still resting in the small tree.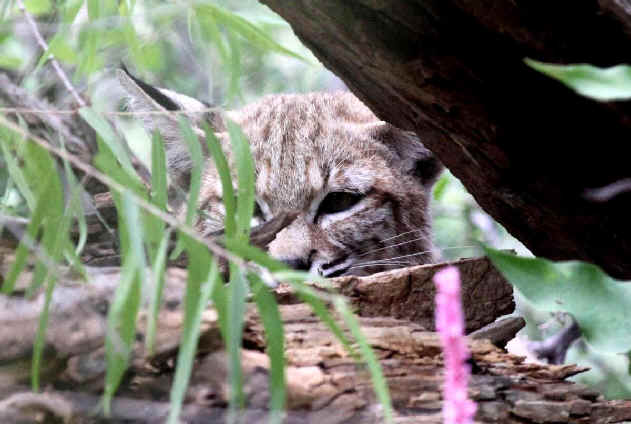 The Bobcat during our August/September 2011 tour
in southern Arizona.
First spotted by our tour participant, Michel from Norway.


ARIZONA (northern & central) - August, September 2010
Links:
More about the FONT Tours in Arizona & Sonora, Mexico in August/September 2010
Birds & Other Wildlife during our tours in Arizona, USA & Sonora, Mexico in Aug/Sep 2010
Photos from the FONT Arizona & Sonora, Mexico Tours in Aug/Sep 2010
This was the first of three back-to-back FONT tours in Arizona and nearby Mexico (in Sonora).
In mid-August 2010, it was in northern and central parts of Arizona, with places visited including the Grand Canyon, the Petrified Forest, and the Painted Desert.
Highlights, among the birds, included 3 California Condors seen closely as they flew above us, and a Prairie Falcon on a telephone pole, perched near us.
The condors were at the Grand Canyon, which is, of course, itself spectacular. The falcon was on Navajo land, near the Petrified Forest and Painted Desert area which was fascinating.
More can be read about these areas in the narrative reached from the link below.

Among a nice variety of birds during this tour, in an enjoyable area of Arizona to visit, there were others of note in addition to the condors and falcon, including both Zone-tailed and Common Black Hawks and a large flock of Pinyon Jays. In addition to the birds, there was a varied assortment of mammals (including Pronghorn), butterflies, and wildflowers and other plants.

Birds of the dessert that we saw nicely included the LeConte's Thrasher and Abert's Towhee, in addition to a bird that's always a favorite, the Greater Roadrunner.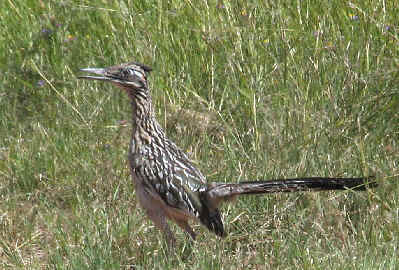 A Greater Roadrunner during a FONT tour




SOUTHERN ARIZONA & NORTHERN MEXICO (in Sonora) - January 2009

Link:
Birds & Other Wildlife during our southern Arizona & northern Mexico Tour in January 2009


The first part of this wonderful tour was in the Mexican state of Sonora, where we saw hundreds (actually thousands) of birds of various sorts along the coast of the Sea of Cortez (also called the Gulf of California), and where in the rugged hilly interior of the state, some of the "good birds" were 2 with the same adjective, the Elegant Quail and the Elegant Trogon, in addition to the Black-capped Gnatcatcher, Bendire's Thrasher, Streak-backed Oriole, and the largest of the subspecies of the Wild Turkey, known as the "Gould's Turkey".

During the second part of the tour, in southern Arizona, we saw thousands of Sandhill Cranes, and numerous Hawks of a variety of species, including the Ferruginous, Rough-legged, Harris's, and various morphs of the Red-tailed.
It was a great tour for January (the weather was superb!), and a first for us at that time of year.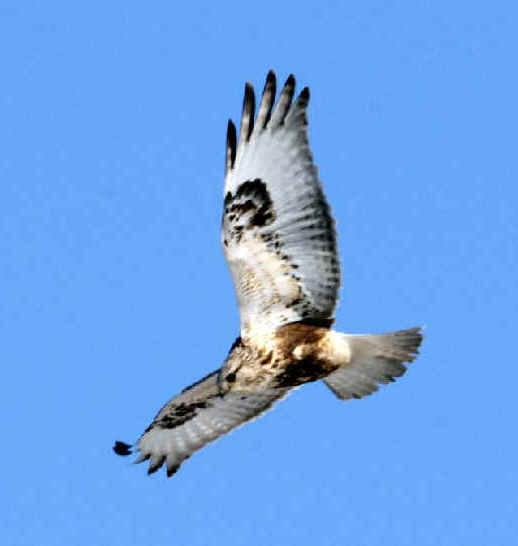 A hovering light-morph Rough-legged Hawk,
as seen during our Jan 2009 tour in Arizona.
(photo by Howard Eskin)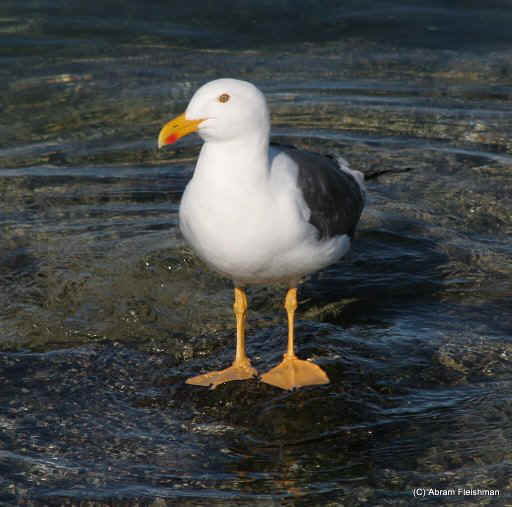 A Yellow-footed Gull.
We saw hundreds of these birds during
our January 2009 FONT tour in Sonora, Mexico
along the coast of the Sea of Cortez.
(photo by Abram Fleishman)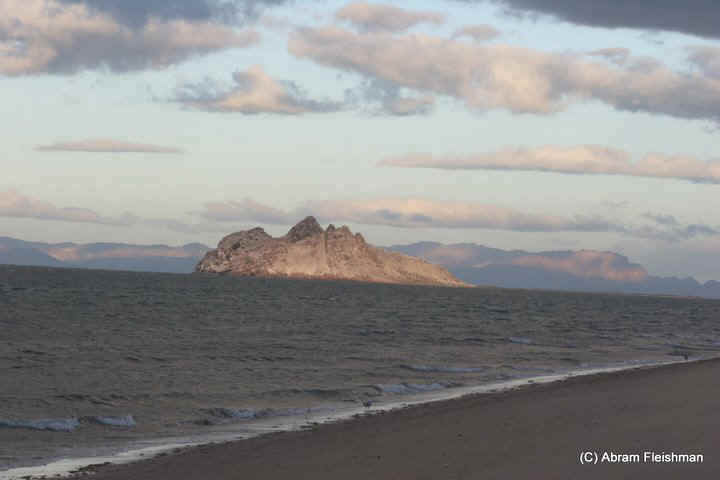 Above: The island called Alcatraz (or "Pelican")
that we visited when we went to the Sea of Cortez
during our January 2009 in Sonora, Mexico.
Below: The race of the Brown Pelican that occurs
at that island is Pelecanus occidentalis californicus,
which has a bright red gular pouch in breeding plumage.
(photos by Abram Fleishman)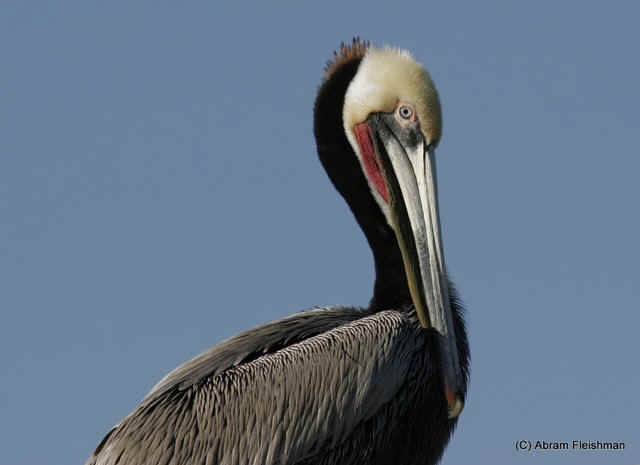 SOUTHERN ARIZONA & NORTHERN SONORA, MEXICO - August, September 2008

Links:
More about the FONT Southern Arizona & Northern Mexico Tour in Aug/Sep 2008
Birds & Other Wildlife during our southern Arizona & northern Mexico Tour in Aug/Sep 2008

A List & Photo Gallery of Mexican Birds in 3 Parts

Mexico Mammals (with some photos)
Mexico Amphibians & Reptiles (with some photos)

Upcoming FONT Birding & Nature Tours in: Arizona Mexico

During the first part of this tour, in ARIZONA, a bird, normally of Mexico, was seen and heard. That bird, a first for the United States, was the Sinaloa Wren (formerly known as the Bar-vented Wren). Its new name is that of a Mexican state, located south of the more-northerly Mexican state of Sonora, which borders on Arizona.

During the second part of this tour, we were, during 3 days, in SONORA, MEXICO, where, at a remote ranch, we birded and explored in some of the most pristine countryside imaginable. Among our "Mexican" bird species there, in addition to another Sinaloa Wren, there was, in the riparian plants at the base of a magnificent canyon, the Rufous-capped Warbler.

During the ARIZONA portion of the tour, as usual as during our previous tours, we enjoyed a wonderful assortment of Hummingbirds, including a couple species that are more common in Mexico, the White-eared, the Violet-crowned, and the Lucifer.

In addition to birds, during this tour, there was a fine assortment of butterflies, mammals, and reptiles.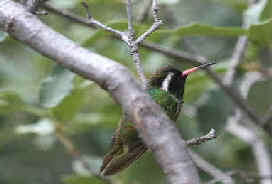 White-eared Hummingbird


SOUTHERN ARIZONA - July 2007

Link:
Birds & Other Wildlife during our Arizona tour in July 2007

During this tour, our path crossed with a couple very special birds from Mexico: the Mexican Yellow Grosbeak and the Rufous-backed Robin. Another bird that we saw, very rare for Arizona, was a Ruddy Turnstone at the edge of a lake. These birds were, of course, along with the regulars, including a number of Hummingbirds such as the White-eared, and a fine assortment of raptors. Among species In the last category, we saw: Short-tailed Hawk, Black Hawk, Gray Hawk, Mississippi Kite, Northern Crested Caracara, in addition to numbers of Cooper's, Red-tailed, and Swainson's Hawks.
Certainly a highlight of the tour was when a pair of Montezuma Quail was close to us on the ground. The female had just walked in front of us across the road. Our good sighting notwithstanding, we can assure you from our experience, that Montezuma Quails after being seen well can quickly, however, become very difficult to see in the grass.

The following longer narrative was written by Armas Hill, leader of the tour:

Birding in Arizona can be good at various times throughout the year. The state is one of the best in US for birding, as there is a fine diversity of habitats and because borders with Mexico. In that neighboring country, there are a lot of birds, actually about 1,000 species! The number is high because the bird-rich Neotropics, as in Central America, reaches southern Mexico. And the Nearctic birds, as those in the US and Canada, are found in northern Mexico.
In reverse, there are a number of "Mexican birds" that spill over into North America, and they do so only in southern Arizona.

Late summer is one of the particularly good times of the year for birding in Arizona, as it's then that many of the wanderers from Mexico can most readily be found. This is especially true in regard to hummingbirds.

And so, there have been a number of FONT birding & nature tours in the latter part of the summer, in either late July or in August. In 2007, the dates of our Southern Arizona were July 22-29.

Another aspect of nature that occurs in southern Arizona in late summer relates to weather. It's then the season of the "monsoons". Following the hottest days of the summer, there are thunderstorms, most often in the afternoon, with lightning and heavy rains. These "monsoon storms" don't occur everywhere. Geographically, they can be spotty, and they can be sporadic. When many people hear the word "monsoon", they think of places in south-central Asia, such as India and Bangladesh. But in southern Arizona, everyone knows the word "monsoon" in the context of the annual rains that occur in late summer. It's quite a significant part of life there that time of year, as sometimes rain brings with it flash floods in streambeds and other low places in the desert. Where roads dip, there can quickly be a raging river where usually there's no water at all.

When we were in Arizona, in July of '07, the "monsoons" were active, and more widespread than usual. Most years, for us, the rains have been local enough that we could often avoid them as we'd bird in the afternoon. That was not the way it was for us in 2007. Even though we did bird every day, and even though, on occasion, we would skirt storms that we'd see in the distance, there were some afternoons when we had to halt. Some downpours lasted a long time. Some roads, even major paved roads, became flooded.

Because of the rains, we could not bird, as we normally would like to, along some of the back roads. Dirt roads became too muddy. Therefore, some of the birds that we'd normally find during our Arizona summer tours, were missed. But, still, on the other hand, we saw some birds in '07, that we don't normally see. A few of them were particularly "good", and one was especially so.

We were, one day, traveling along the dirt road from Arivaca toward Nogales - the road one would take to California Gulch (the haunt of the Five-striped Sparrow) and Sycamore Canyon. Dark clouds were looming ahead of us in the hills. It wasn't raining where we were. However, each stream that we had to cross on the road (without bridges) was getting progressively larger. Puddles on the now-muddy (no longer dirt) were becoming big olympic-sized pools. We reached a point where safely we could go no further. California Gulch and Sycamore Canyon were to be out of our grasp.

And so, with a raging torrent of water crossing the road ahead of us, and, a few miles back, a large pool getting ever deeper, we stopped. It wasn't raining where we were, and as there were birds by the road, of course we decided to bird. The birds, on the whole, were the "normal" cast of avian characters, such as Northern Cardinal, Vermilion Flycatcher, Summer Tanager, Canyon Towhee, Yellow-breasted Chat, Lesser Goldfinch, some warblers, some sparrows, and some others. But, then, all of sudden, Carol, one of our tour participants, said: "What is this yellow bird that I see in the bush, with the large bill and the black and white on the wings?" Well, it was a Mexican Yellow Grosbeak, a true rarity for North America, and even for southern Arizona, and a wonderful find. As of 2004, there were only about 15 records for the species in southern Arizona, with all of them in the summer. Most of the records for this bird have been in June, but some have been in July. Our Mexican Yellow Grosbeak was seen on July 27, 2007. The bird was both seen and photographed.

It never rained where we encountered the Grosbeak. In fact, for a few moments after we saw the bird, the sun shone on us from between the clouds. After a while, the water level went down on the road ahead of us (we had turned around), and so we went back to Arivaca to bird there at a wildlife refuge and at a hummingbird feeder by a restaurant. Both places were good, but we knew that the best had been where we had to stop on the road, earlier that day, because of the high water from a heavy rain in the hills.

Another rarity north of the Mexican border was seen during our July '07 Arizona Tour. When we were in the Tucson area, we learned that a Rufous-backed Robin had been found, among a flock of American Robins, on Mount Lemmon. So, during the last full-day of our tour, we went there to see it. In the woods near the summit of the mountain, after some searching, we found the American Robin flock, with the single Rufous-backed Robin.
On average, the Rufous-backed Robin, during the last couple decades, has been found 3 times a year. Most of the sightings have been in Arizona, but there have also been a few occurrences in New Mexico, California, and Texas. Most of the records in the US of this normally-Mexican endemic have been from October to April, but in Arizona the species has been found a few times in July, at places such as Patagonia and Madera Canyon.

It's interesting that now it's been urged that most of the New World Thrushes that have been called Robins, be called, instead, Thrushes, as "they should be". For example, the Central American bird that's been called the Clay-colored Robin would be more appropriately called the Clay-colored Thrush. This change of nomenclature would apply to a number of species throughout the Americas. But, as old habits sometimes can not be changed, there's no viable thought of changing the American Robin to the "American Thrush". And, for some reason (maybe due to its closeness to the US), there's also no such change in the works as to the name of the Rufous-backed Robin.

There were other birds that were good to see during our July '07 tour in Arizona - quite a few in fact. As always, the Elegant Trogon was wonderful. As were the Red-faced Warbler and the Painted Redstart. The latter of these two is up, by the way, for a name change. The warblers throughout mostly Central & South America in the Myioborus genus that have been called "Redstarts" are rather to be called "Whitestarts". Their tails, it's true, are with white, not red.

We also saw, in the mountain forest, the Olive Warbler - which is now, by the taxonomy, no longer a "warbler", but rather in a family of its own, more closely related, strangely, to the pipits than to the warblers.

Yet other birds in the "good to see" category during the tour included the Phainopepla and the Pyrrhuloxia. (When we saw the latter of these, we had to pronounce it properly.) And there was the Varied Bunting, the Abert's Towhee (nearly endemic to Arizona), and Arizona Woodpecker (the only bird with "Arizona" in its name).

There were a couple different Chickadees, the Mountain and the Mexican. Outside of Mexico, the Mexican Chickadee only occurs in the Chiricahua Mountains of Arizona.
There were a couple different Titmice, the Bridled and the Juniper.
Two different Nighthawks were seen, the Lesser and the Common. The Lesser tended to be lower in flight; the Common higher in the sky.
There were a couple different Phoebes, the Black and the Say's.

Flycatchers that come to southern Arizona to spend the summer were seen, including the Sulphur-bellied, the Buff-breasted, the Brown-crested, and the Dusky-capped.

We saw Greater Roadrunners again and again, sometimes closely. On one occasion, as we sat in our vehicle, looking out the windows, at some small birds such as Verdins (they don't come much smaller), a Greater Roadrunner came right up to us - pleading "look at me, too!". Not only did it come about as close to us as a bird could, it simply stayed there, looking at us! It stayed until we left.

When we went to a favored place for Harris's Hawks, near Tucson, we saw them. But not just them. A birder we met told us to look on a telephone wire for a Tropical Kingbird. We saw it. Not only was it on the wire, but, from there, it chased one of the Harris's Hawks as it flew by.
Another birder told us to look in a dense part of a nearby tree, about the sidewalk by the edge of the street. We did. And by doing so, we saw a roosting Great Horned Owl.

After that, we went to a place to see Burrowing Owls. They're always good to see. When we did this time, not only did we see adults, but also their youngsters. It was a classic case of all of the owls looking at us as we looked at them.

The just-mentioned Harris's Hawk was just one of a number of raptor species during our tour. It was really a good tour for raptors, with a nice number of them, and with all of them seen well. The most numerous, as would be expected, was the Red-tailed Hawk. But, we also saw, in addition to both Turkey and Black Vulture, these:
Northern Crested Caracara, Mississippi Kite, Northern Harrier, Cooper's Hawk, Common Black Hawk, Gray Hawk, Zone-tailed Hawk, Short-tailed Hawk, and Swainson's Hawk (in addition to the Harris's Hawk as already noted).

The Mississippi Kite flew by us twice. We hoped it would come yet again, and that it might linger.
We saw only one Northern Harrier. That species is not normally seen where we were in July.
We were fortunate to see quite a few Cooper's Hawks. Some flew fast; others were seen as they sat still.
Our sighting of a Common Black Hawk was of it sitting still in a large tree.
What was just said regarding the Cooper's Hawk, could also be said in relation to the Gray Hawk. We were fortunate to see quite a few. They were of various ages. Interestingly, most that we saw, during this tour, were not in areas where we've seen them mostly in the past.
Our best views of the Turkey Vulture look-alike, the Zone-tailed Hawk, were in the Chiricahua Mountains, during a sunny afternoon, as we were observing what seemed to be individuals in a family-group of Short-tailed Hawks. As a couple Red-tailed Hawks were also soaring about, we watched the Short-tailed Hawks fly closer to the treetops on a ridge, on the other side of a valley. There were both light and dark morph Short-tailed Hawks.
Regarding the Short-tailed Hawk, a species mostly of Central and South America, a couple comments should be made. In North America, it's a permanent resident in Florida (rather analogous to the Snail Kite, although in a different habitat). Other than in Florida, the Short-tailed Hawk has been only "accidental" in Texas and Arizona. But, during the past few summers, the species has been present, and bred, in the Chiricahuas (all be it, just a few - maybe just a family). It nested there again in 2007, and the birds we saw were adults and young.
Referring to young, of another species of raptor, one of our favorite sightings during the July '07 Arizona Tour, was of a group of 3 juvenile Swainson's Hawks. Odd-looking, they were. Maybe, in a way, it could be said they rather resembled Aplomado Falcons.
Some hawks are in Arizona all year (such as the Harris's and the Red-tailed). Some hawks occur there commonly in the winter (the Ferruginous Hawk is in that category). Others are present, either mostly, or entirely, in Arizona in the spring, summer, and fall, as breeders and migrants. Among the hawks we saw, the Mississippi Kite, the Common Black Hawk, the Gray Hawk, and the Short-tailed and the Swainson's Hawks were in that grouping. Those young Swainson's Hawks that we saw, when they would get beyond adolescence, would fly south - very far south, to Argentina, to spend "another summer" there.

Early in this narrative, it was mentioned that late summer is a good time in southern Arizona for hummingbirds. And even though reference has not been made of them again until now, yes, we did see hummingbirds during our '07 Arizona Tour. We saw all of the regulars. We especially enjoyed the White-eared Hummingbird (a species common in Mexico and the Guatemalan mountains).
Usually, during our Summer Arizona Tours, hummingbirds abound at various feeding stations. But in '07 there were less, because more plants than usual throughout the countryside were in bloom (perhaps due to the more-than-usual amount of rain).

A particular place we visit during our Arizona tour is a pool of water in an area of plains near the town of Willcox. The water level of that pool can vary from year to year, but we always see birds there - and always something unexpected. A Ruddy Turnstone along the shoreline there, with other shorebirds, was the most unexpected bird for us in '07. Ruddy Turnstones occur many places in the world, but it's a rarity in Arizona. In "the book", it's said to be a casual fall transient in the state. In the accompanying graph, there was no "dot" for it in late July.
There were some other memorable moments we had at that area near Willcox as we watched:
an Avocet feign injury (as does a Killdeer) on the dirt road outside our vehicle,
Black Terns flying about, as they caught insects in the air, above the pool,
and a male Yellow-headed Blackbird in the reeds, somehow thinking it was hidden.

The last bird to be mentioned here is a species that's absolutely adept at hiding. It's the Montezuma Quail. What a wonderful encounter we had with that species, when, as luck had it, a female was first seen standing on a road in front of us, as we drove around a bend. "No, that's not a dove", I said at the time.
That female quail then walked from the road, up a small hillside, blending in as it went. What did it blend in with? Everything - the grass, the dirt, whatever. We got out of our vehicle, and also walked (gently) up that hillside. Then, in the tall grass above, we flushed both the male and female Montezuma Quail. It was nice to see them, but it was then baffling as to how they could so readily disappear in the grass - not ever to be seen again, even though we knew they "were there"!

As usual in these narratives, most of what's written is about the birds seen during the tour. But there was, as always, more. We saw some animals, including Coyote, 2 species of Deer, and 7 species of Squirrels and Chipmunks.
And we visited some wonderful places that were as diverse as deserts and grasslands, valleys with sycamore trees, beautiful canyons, and forests of oaks and pines in the mountains.
Among the most notable of the places were the Chiricahua National Monument with its spectacular rock formations, the impressive Aravaipa Canyon, and the mountain called Kitts Peak.

The last of these, Kitts Peak, is quite a place. It's an island of sorts in the sky, from which the sky is observed. At the summit, there's an outstanding astronomical observatory. During the day, the facility is open to the public, and we found it a very interesting place to visit. Of course, during the "monsoon season", it's not a good time to view the skies at night. Winter-time is best for that. But the observatory, and the accompanying museum, was interesting for us anyway. Outside, Kitt's Peak is a good birding locale, as the road, with very little traffic, ascends from 4,000 to over 6,000 feet above sea level. With that change in elevation, the birdlife changes along the way.
Inside at Kitt's Peak, I liked the photograph on the wall of a Puma seen one day basking on rocks outside the observatory building. And I liked the photographs, on display, of colorful nebulae, that had been taken through the observatory's telescopes.
No, we didn't see either the Puma by day, nor the Nebulae at night, but it did lend to one's imagination, as we left the observatory and drove the highway back to the city of Tucson.
During that ride, it should be noted that there was quite a display of nature for us in the darkening evening sky - the lightning that's one of the pluses of the "monsoons".

At the end of the tour, upon reflection, there was not only what had been imagined. There was so much that we had really experienced that could be remembered.



SOUTHERN ARIZONA - August 2006

Link:
Birds & Other Wildlife during our Arizona tour in August 2006

This tour, once again, was particularly good for hummingbirds with as many as 14 species seen, including Lucifer, Violet-crowned, White-eared, and Berylline Hummingbirds (these 4 species primarily Mexican). Another bird, primarily Mexican, seen during the tour was the Rufous-capped Warbler. Some Aztec Thrushes (a species endemic to Mexico other than occurring in Arizona as a stray) had been reported in areas that we visited, but we unfortunately did not encounter any. We were, however, treated to a bird named after a particular Aztec, the Montezuma Quail (both male and female) walking in front of us across a dirt road. In all, we saw nearly 200 species of birds during the tour, along with an assortment of mammals (including coatis & coyotes), and reptiles, amphibians, and other wildlife (among them, a tortoise, toads & tarantulas, and a few rattlesnakes).



SOUTHERN ARIZONA - July 2005

Link:
Birds & Other Wildlife during our Arizona tour in July 2005

The following account written by Armas Hill, leader of the tour:
Southern Arizona is known to be one of the best places for birding in the US. Not only with some species that spill over from nearby Mexico, but also the birding is good with a variety of habitats and a diversity of plant-life in the warm region. Prior to our late-July 2005 tour, southern Arizona was more than warm. It was downright hot. For over 30 days, in the lower elevations, the temperature there was more than 100 degrees F. Also, in 2005, there were fires, some of which were extensive, such as one in the Santa Rita Mountains, near Madeira Canyon. But even so, our '05 Tour in Southern Arizona was again a good one indeed!

A group of birds that's notable for spilling into southern Arizona from Mexico, in late July, are the hummingbirds. During our '05 tour, we saw 12 species of them: Lucifer, Violet-crowned, White-eared (these 3 "more Mexican" than the others), Broad-billed, Blue-throated, Magnificent (or Rivoli's), Black-chinned, Anna's, Costa's, Broad-tailed, Rufous, and Allen's. Seeing all of these hummers was great!

Some other birds during our tour that we saw in Arizona that are more-common in Mexico included:
Least Grebe, Brown Pelican, Zone-tailed Hawk, Elegant Trogon, Sulphur-bellied and Dusky-capped Flycatchers, Tropical and Thick-billed Kingbirds, Rose-throated Becard, Mexican Chickadee, and Painted Redstart.
The Pelican, a lone bird in Tuscon, could have come, of course, from California. But, at any rate, Brown Pelicans are normally not common in Arizona.
Seeing the Zone-tailed Hawk as we did was especially fun. It mimics by flight, and by plumage, the Turkey Vulture. So when we did see one, after looking at more than a few vultures, wow! And we saw it nicely, at nearly eye-level as we were ascending the road up above Carr Canyon.
It was in the Chiricahua Mountains that we saw our Elegant Trogon. We were taking a morning walk in a woods where we also had a good look at an Arizona Woodpecker, and where we heard, early that morning, a Flammulated Owl. Those two flycatchers that come from Mexico for the Arizona summer, the Dusky-capped and the Sulphur-bellied, were also much in evidence.
The Rose-throated Becard we saw by its nest. That species occurs very few other places, if anywhere else, north of Mexico.
During our '05 tour, we saw many Mexican Chickadees in the Chiricahua Mountains, where it's the only chickadee.
And, in '05, we found Painted Redstarts to be our companions in the woods of many of the forested areas in which we walked. But no matter how many we saw, it was hard not to look at them, as they're such colorful, and spirited birds, and something that none of us had at home.

A Chiricahua highlight for us was the Short-tailed Hawk. In the US, that species has traditionally been seen only locally in south Florida. But in recent years, some birds of this species have begun to stray north from Mexico into Arizona. In the Chiricahua Mountains, in '05, we had heard reports of 1 or 2 sometimes seen in flight in a particular area. But we did not see any there high in the sky over the mountains. We had also heard that the species could be nesting. Then, one afternoon, as we were walking along a high mountain road, (looking for something else of course!), we encountered a hawk, near the road, sitting not too high in a tree. The disturbance calls of other birds drew our attention to it. We could see it well. With all its fieldmarks, there it was, a young Short-tailed Hawk! In all, at that spot, there were 3 hawks in trees in the woods (2 young & an adult), and we saw one (an adult) fly by, low over the forest. We had stumbled into the place with the Short-tailed Hawk nest.

Another highlight of the tour occurred away from the mountains, and near the Mexican border, close to the city of Nogales. At a small pond, surrounded by reeds, we found buntings - many Buntings of 4 species: Lazuli (most of them), Indigo, Varied, and Painted! Whatever food those reeds provided, the buntings certainly liked it.
We had gone to that place originally to see Black-bellied Whistling-Duck, Tropical Kingbird, and Gray Hawk. And that we did. Abert's Towhee was also there.

One afternoon we explored a number of small, mostly untraveled roads northeast of Nogales. In assorted habitats we saw various birds from Grasshopper Sparrows calling in the grasslands, to the resident Eastern Bluebirds in pines and oaks. That Eastern Bluebird, a bird paler than that of the eastern US, is a Mexican race sometimes called the "Azure Bluebird". Later, as twilight ensued, we saw and heard both Common and Lesser Nighthawks. As it got darker yet, nightjars began to call. We encountered two kinds, either on or by the road, the Common Poorwill and one of the forms of the "Mexican Whip-poor-will", Caprimulgus vociferus arizonae. (4 other subspecies occur further south in Mexico, and as far south in Central America as Honduras.)

Another day, west of Nogales, we entered the terrain of another primarily Mexican bird, the grasslands with the "Masked Bobwhite". That distinctively-colored race of the Northern Bobwhite is very rare where it still occurs, in a limited range in Mexico. Where it occurred in the US, in southern Arizona, it was extirpated. It has since been re-introduced there, within the bounds of an extensive wildlife refuge, where we saw one.

Another sighting worth noting occurred another day in far-southern Arizona, not far from the border with Mexico. On a dirt road, we had just seen a rattlesnake. Then, a bird flew across in front of us, and landed roadside under a bush. It was a thrasher, a Bendire's Thrasher. Having just seen the rattlesnake, and then the thrasher named after Mr. Bendire, it came to mind that at one time (and relatively not that long ago), he was in danger not far from there. Mr. Bendire was a U.S. Army officer, a first-class field ornithologist, and a collector. One day he was collecting an egg from a Zone-tailed Hawk nest up in a tree. When he looked down, he noticed, out of the corner of his eye, several Apache Indians, that he perceived as hostile, crouched down in a canyon not far away. They were watching him. He slowly slid down the tree so as not to indicate that he knew they were there. In his mouth was the egg of the Zone-tailed Hawk. Both he, and the egg, made it away from the scene without a scratch. Birding, nowadays, in the American West, is all the more interesting when one can think of such tales from the past.

Among the common birds of our Southern Arizona Tour, in July 2005, still others that were favorites included the Greater Roadrunner and the Vermilion Flycatcher. The Phainopepla certainly was a favorite too, and the Pyrrhuloxia was close to being one. It would have been if its name were more easily pronounced!

Earlier in this narrative, it was noted that late- July is a good time in southern Arizona for hummingbirds. It's also a good time there for Sparrows. Those that we saw, in addition to the Grasshopper already mentioned, were: Botteri's, Cassin's, Rufous-winged, Rufous-crowned, Chipping, Lark, Song, Black-throated, and Five-striped, in addition to the Lark Bunting and the Yellow-eyed Junco. That junco is yet another primarily Mexican bird. As is the Five-striped Sparrow, which in the US only occurs in far-southern Arizona, at just a few places that require some effort to visit. Seeing that bird was just one of the avian highlights of our tour, a number of which have been noted here.

Aside from birds, other nature was to be seen in southern Arizona, with the assortments of plants and butterflies, and some mammals too. Among those mammals were: Black Bear, Coati, Coyote, the Mexican (or Apache) Fox Squirrel (restricted in the US to the Chiricahua Mountains), Pronghorn, the White-sided (or Antelope) Jackrabbit, Black-tailed Jackrabbit, Desert Cottontail, both Striped and Spotted Skunks, both Mule and White-tailed Deer, and some other smaller animals. Yet another creature that we enjoyed seeing was the tarantula.

Overall, there was a lot that we saw, and enjoyed, in Arizona during our tour in July '05.



SOUTHERN ARIZONA - July/August 2001

This account of the tour was written by Armas Hill, leader of the tour.
In Arizona, July 27 - August 5, 2001, we visited the array of birding sites in the southern part of the state, from those in mountains with names such as Chiricahua and Huachuca, to those in lowlands with habitats ranging from dry cactus-filled desert to moist cienega .
Each of these places were with their assortments of birds. During the tour, we saw some that we especially enjoyed.
Among them were the raptors:
Gray Hawks at a few places, Black Hawk in a particular canyon,
and Zone-tailed Hawks appearing in the sky as vultures.
Harris' Hawks were observed close-at-hand.
Mississippi Kites were seen catching dragonflies,
and White-tailed Kites were seen hovering above their prey.
There were also sightings of Goshawk and Golden Eagle,
Swainson's Hawks, and an early Harrier.
Hummingbirds are a principal part of a late-summer birding tour in Arizona.
We had the good fortune of seeing Violet-crowned Hummingbirds at 3 places. At one, there was a female sitting on a nest.
At another nest we watched a Berylline Hummingbird feeding its young.
And there were the more-common hummingbirds such as the noisy Broad-tailed, the bright male Rufous, and the Anna's with the gorget that could "knock your socks off".
By two bodies of water, we saw 2 species of birds unusual for Arizona the Green Kingfisher near Nogales, and an Elegant Tern near Tucson.
The latter was not the only bird with that adjective. The Elegant Trogons, that we saw by their nests, were voted "tops" by the participants following the tour.

The young Spotted Owl, tamely sitting in a tree above us, was another treat. We thank our friend and Arizona birding contact, Bill Stocku for leading us to that one.
He led us as well, along a rather easy route, to the Five-striped Sparrows we saw well.
A couple days earlier, views of Varied Buntings were "as good as it gets".
One day, a male Painted Bunting was brilliant.
The flycatchers, more common from Mexico south, were fun to see and hear the Buff-breasted and the Sulphur-bellied, the Dusky-capped (with it characteristic whistle), the Kingbirds: the Tropical and the Thick-billed; the Greater Pewee, and the diminutive Northern Beardless Tyrannulet (with a name seeming longer than the bird).
Phainopeplas and Pyrrhuloxias when seen well (as we saw them) can then easily be pronounced properly.
One afternoon we drove on dirt road a couple hours, with late-afternoon sunlight shining on the mountains and the desert.
We saw over a dozen Roadrunners along that road (yes, running).
And families of Quails, Gambel's.
Elsewhere we saw the Quail more elusive, the Montezuma.
In the open country, there were sparrows, named after Matteo Botteri and John Cassin. Others with rufous wings or rufous crowns. Boldly patterned were Lark and Black-throated.
In the mountain coniferous forests, there were Mexican Chickadees along with Olive and Red-faced Warblers. Painted Redstarts are always favorites.
In addition to birds, we observed animals (over 15 kinds), butterflies (35 species tallied), and reptiles (yes, including rattlesnakes of a couple different sorts).
Some nature in the sky (higher than the birds) was also spectacular displays of lightning and complete rainbows.

We were not in Argentina, even though we were at the Buenos Aires National Wildlife Refuge and we spent a couple nights in a place called Patagonia.
But all of us in our tour-group certainly had a wonderful time in Arizona. A photograph of our tour group follows, along with the "top birds" as voted at the tour's end by the participants.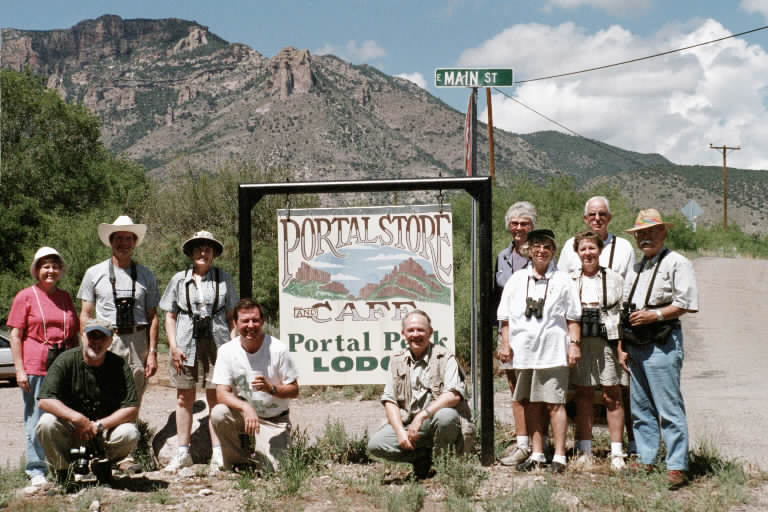 FONT Arizona Tour Group, Jul-Aug 2001
including members of VAAS, the Venice Area
Audubon Society of Florida

The "top ten" birds as voted by participants after the tour were:
1 - Elegant Trogon
2 - Spotted Owl
3 - Five-striped Sparrow
4 - Vermilion Flycatcher
5 - Greater Roadrunner
6 - Violet-crowned Hummingbird
7 - Arizona Woodpecker
8 - Green Kingfisher
9 - Berylline Hummingbird
10 - Gray Hawk