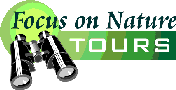 PO Box 9021, Wilmington, DE 19809, USA
E-mail: font@focusonnature.com
Phone: Toll-free in USA 1-888-721-3555
or 302/529-1876
PHOTOS
oF
BRAZIL
NATURE and SCENERY

with birds, MAMMALS, butterflies

as photographed during the Focus On Nature Tour
in March 2008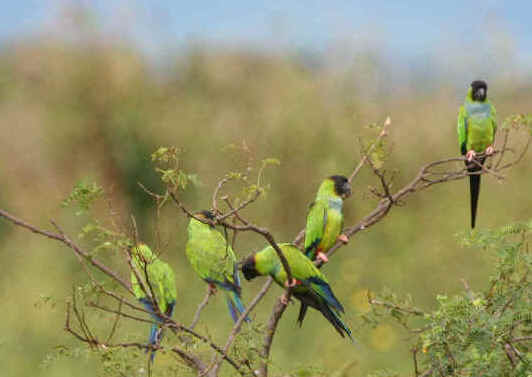 Nanday Parakeets


Links:
Birds & Other Wildlife during our Brazil Tour March '08

A Completer List of Brazil Birds, with Some Photos, in 3 Parts:
Part #1: Tinamous to Doves
Part #2: Macaws to Flycatchers
Part #3: Antshrikes to Grosbeaks
Birds in the Brazilian Regions of:
Mato Grosso do Sul Minas Gerais Southeast Brazil
Rare Birds of Brazil (with some photos)
Brazil Mammals & some other Wildlife (with some photos)
Butterflies of Brazil and Argentina
Upcoming FONT Birding & Nature Tours in Brazil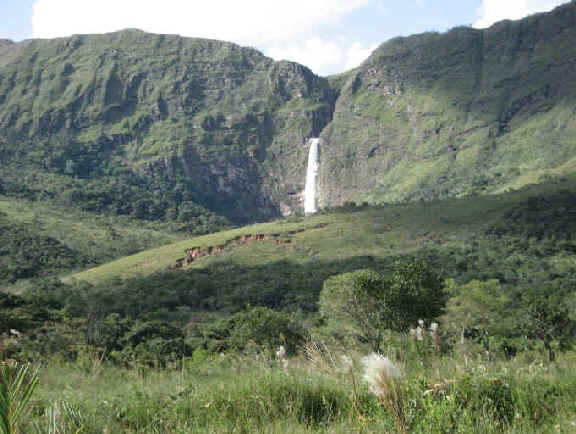 At the Canastra National Park in the state of Minas Gerais, Brazil,
one of 26 waterfalls.
Over this one, flows the Rio Sao Francisco from its source
on the plateau above.
(photo by Sally Brady)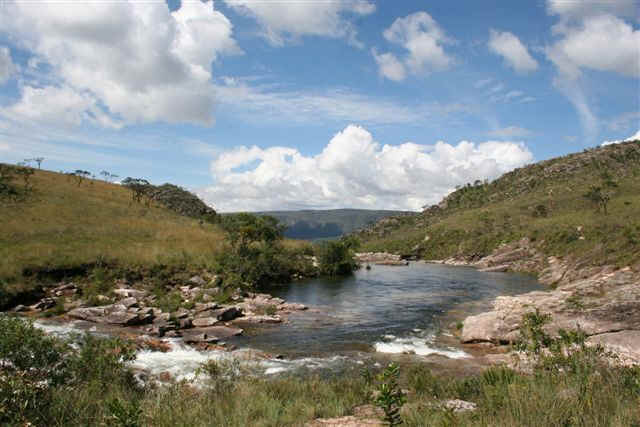 Here, along the Rio Sao Francisco
is where we saw the very rare Brazilian Merganser
during our March 2008 tour.
(this, and all of the following, photos by Marie Gardner,
except those noted otherwise)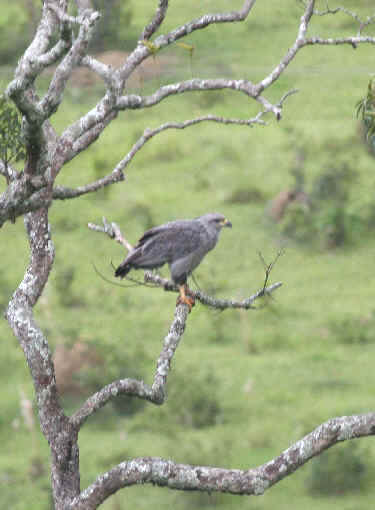 An unusual sighting for us during our March '08 Brazil tour
was a perched Crowned Solitary Eagle, not far from the Canastra park.
This is one of two eagles that we saw there,
both perched, and then both flying at the same time.

More about the Crowned Solitary Eagle,
and the following bird, the Cock-tailed Tyrant, in:

Rare Birds of Brazil
A Cock-tailed Tyrant in the grasslands
atop the plateau at the Canastra park.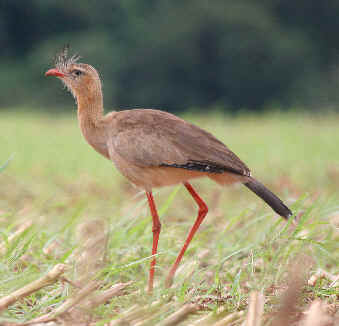 A Red-legged Seriema,
in Minas Gerais,
near Canastra.

Seriemas don't fly much. They prefer to run.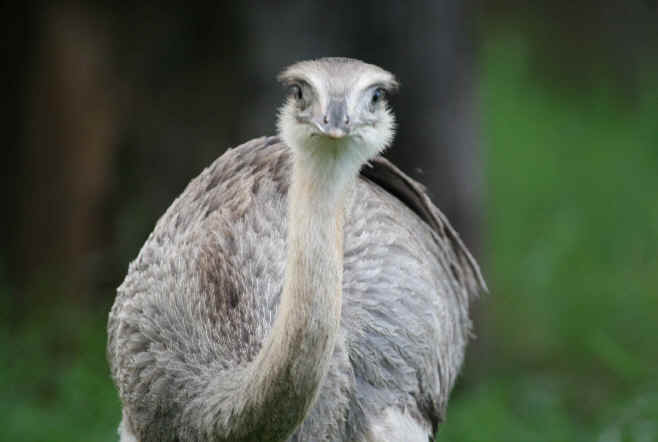 A Greater Rhea in Mato Grosso do Sul.

Rheas don't fly at all.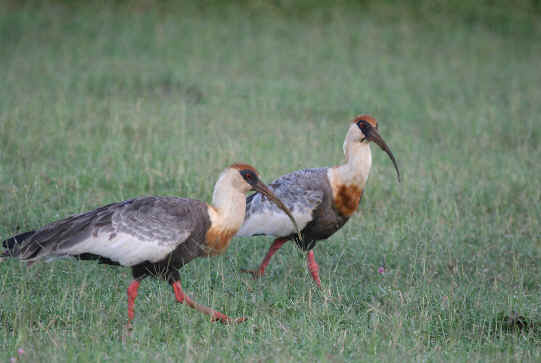 2 Buff-necked Ibises,
one of a few species of ibises in
Mato Grosso do Sul.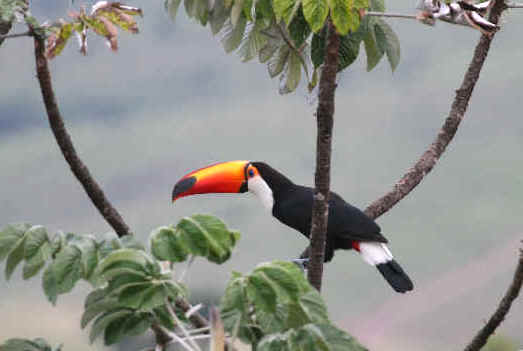 Generally we see more Toco Toucans
in Minas Gerais
than we do in Mato Grosso.
But the bird is wonderful to see, wherever it is.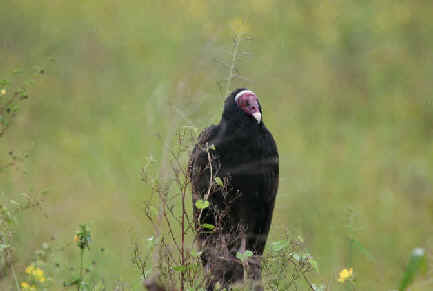 The local race of the Turkey Vulture in Mato Grosso do Sul
is interesting, with white on its forehead and bill.
This subspecies never meets the others of North & Central America.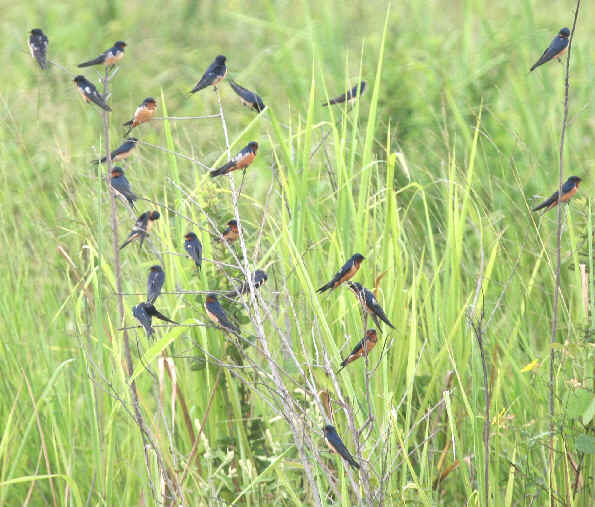 Barn Swallows staging in Mato Grosso do Sul,
as they were about to head north on their way
to North America.
In nearby grasses, there were Bobolinks,
another species that would migrate to North America,
but about a month later.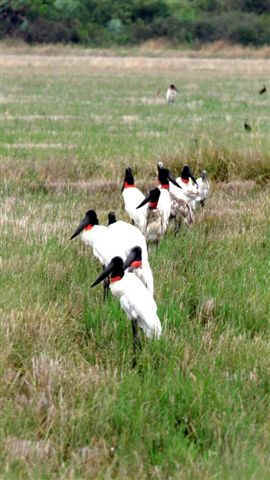 Nearby, in the Pantanal,
we saw another big grouping of birds
- big birds, known as Jabirus.
1 of 3 species of storks in that area,
along with many other birds too.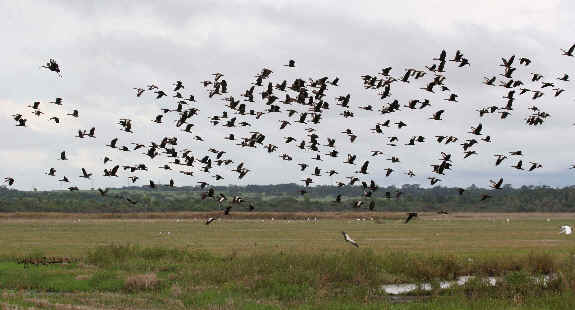 A flock of mostly Whistling Ducks on the vast property of the lodge
where we stayed in the Pantanal.
At the upper left, there's a Limpkin.
The Whistling-Ducks were the Black-bellied and the White-faced.
They were common there, in Mato Grosso do Sul, in March,
but mostly, later in the year, they migrate away.
When we visit the same area in August,
the numbers of these ducks are notably less.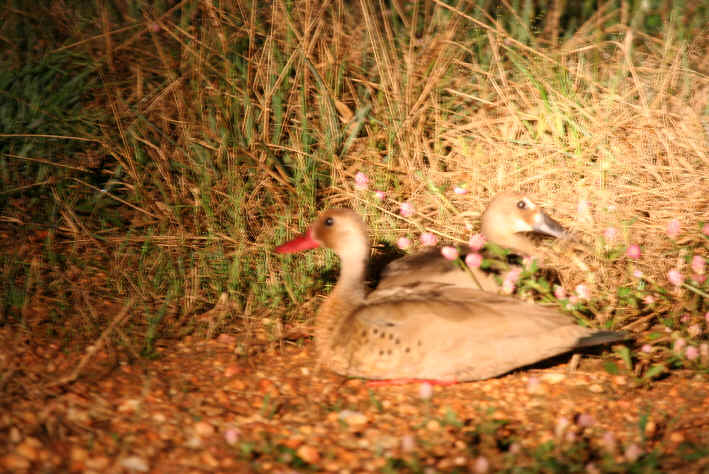 A pair of Brazilian Teal at night at the side of the road,
in Mato Grosso do Sul.
They were reluctant to leave as our vehicle approached.
Other birds, at night, along those dirt roads
of the property where we stayed in the Pantanal,
included numerous nightjars and
dozens of South Lapwings roosting together.
One such big flock of Lapwings
seemed to draw in an Ocelot (below).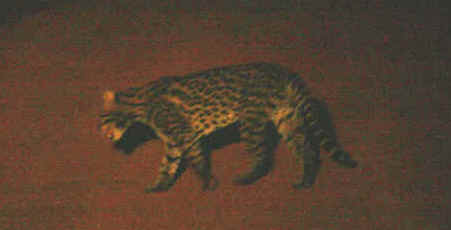 We saw as many as 4 Ocelots
during our 2 nights on the dirt roads
in the Pantanal.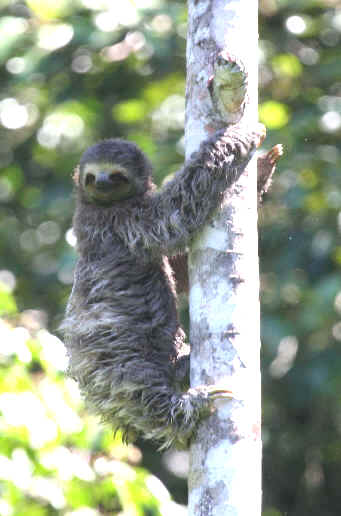 The rarest animal during our March 2008 Brazil Tour
was a young Maned Three-toed Sloth,
in the Atlantic Forest near Ubatuba.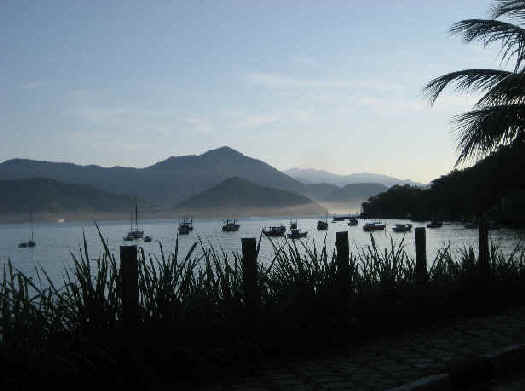 A bay along the scenic seacoast of southern Brazil,
at Ubatuba.
(photo by Sally Brady)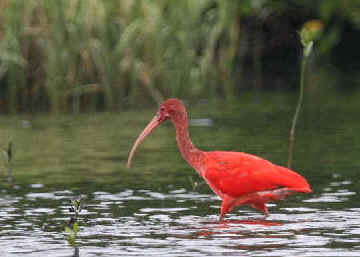 A Scarlet Ibis along the Brazilian southern seacoast.
At only one place does this bird occur south
of Brazil's northern seacoast
that is generally north of the Amazon.
(This and the following photo, by Marie Gardner,
during the FONT March 2008 Brazil Tour.)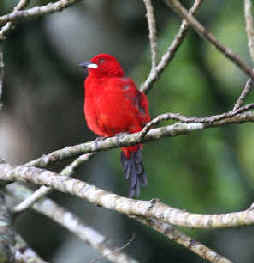 Another bright red bird
by the coast in southeastern Brazil
is the male Brazilian Tanager.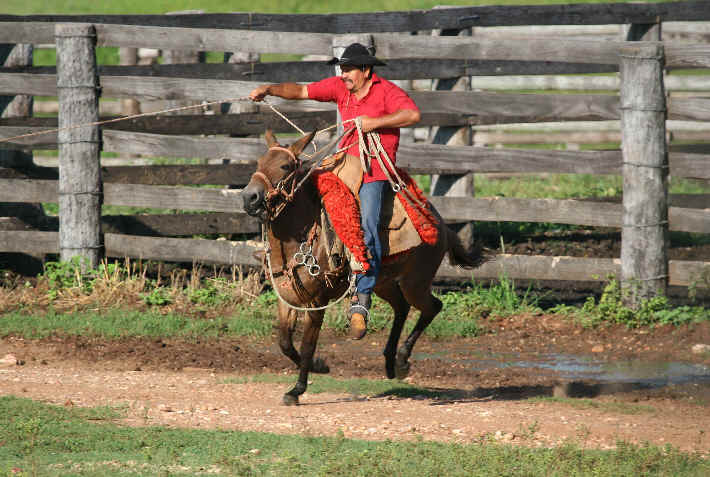 And now, to some of the people during our March 2008 Brazil Tour.

Above: With bright red, one of the Brazilian "cowboys"
at the "fazenda"< or ranch, where we were in the Pantanal.

And below: A photo of us, as we were about to have dinner
one evening during the tour.