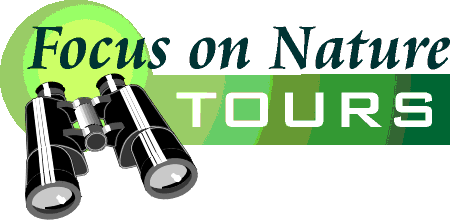 PO Box 9021, Wilmington, DE 19809, USA
E-mail: tours@focusonnature.com
Phone: Toll-free: 1-888-721-3555
or 302/529-1876
HIGHLIGHTS FROM FOCUS ON NATURE TOURS in 2012


DURING BIRDING & NATURE TOURS IN: COSTA RICA (2 tours), the DOMINICAN REPUBLIC (2 tours), and ICELAND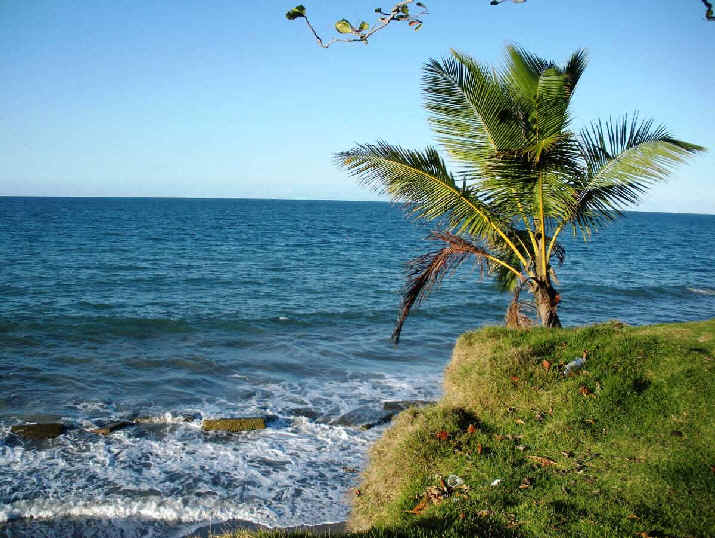 During our February 2012 Dominican Republic Tour,
we enjoyed birds and other nature from the seacoast
to the mountains and valleys of the interior
(both of these photos taken during that tour)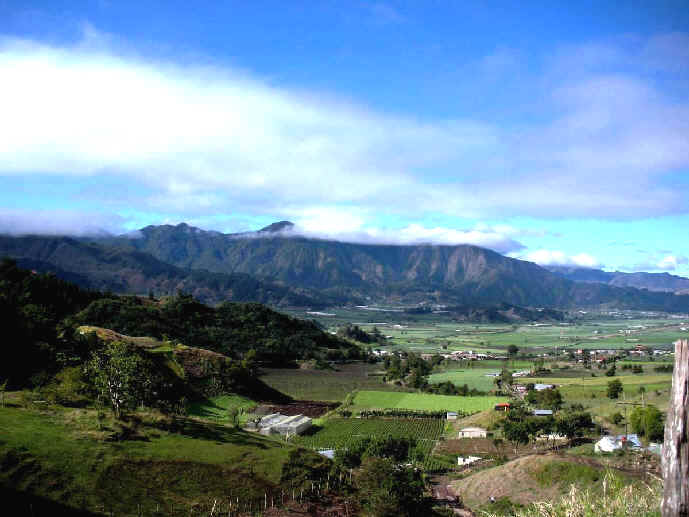 The tour summaries here are given with the most-recent tours first.


For some tours there are links below for longer NARRATIVES. Also there are links to UPCOMING TOUR ITINERARIES, and LISTS relating to BIRDS, MAMMALS, & OTHER NATURE.


Links to Tours:
DOMINICAN REPUBLIC (April 2012)
DOMINICAN REPUBLIC (February 2012)




During June 2012, we truly had a wonderful and enjoyable tour in Iceland. We circled the entire island, counter-clockwise, and then some as we went to the westernmost point in Iceland, the impressive Latrabjarg Cliffs where we saw thousands of nesting seabirds including Fulmars, Kittiwakes, both Common and Thick-billed Murres, and the favorite of most, the Atlantic Puffins.

While Iceland itself is of course an island, the fourth largest island in the Atlantic, and called Island by the locals, we visited two notable smaller Icelandic islands during the tour: Flatey in the big bay known as Breidafjordur, and Heimaey, one of formerly 14, now 15 islands in the Westmann Islands group. At both we also enjoyed, again, that favorite of most, the Puffin.

Also during the tour we were at the most powerful waterfall in Europe, the largest glacier in Europe, and the lake with the most ducks of any in the world.
We saw volcanoes and more waterfalls, and many birds in addition to those already mentioned, as well as other wildlife too including 2 Blue Whales, the Northern Minke Whale, White-beaked Dolphins, 3 Arctic Foxes, both Gray Seal and Harbor Seal, and Reindeer, as well as an assortment of wildflowers.
All of these natural aspects of Iceland were in addition to some fine food and Icelandic culture (and wonderful weather).
During our last day, which was the Icelandic Independence Day, prior to our departing flight, we were in the capital city of Reykjavik, where the Icelandic people, young, old, and in between, and with some in old-time garb, paraded down the main street, commemorating their country's national holiday.
When our tour was finished, we all felt that we had really experienced Iceland, one of the most beautiful places on Earth, in so many ways.
Here, I have just skimmed the surface as to our FONT Iceland tour in June 2012, our 18th tour in that country. To read more, please click the link below for a more-complete narrative.
Links:
A Photo Gallery of Iceland Birds & Other Nature during our June 2012 FONT tour
More about the FONT Iceland Tour in June 2012
List of Birds & Other Wildlife during our Iceland Tour - June 2012
Birds during previous FONT Iceland Tours
Complete Iceland Bird-List
(383 species, including vagrants from mainland Europe, Asia, & North America)

Wildflowers of Iceland (with some photos)
Upcoming FONT Birding & Nature Tours in Iceland


Dominican Republic - April 2012

In the Dominican Republic, on the Caribbean island of Hispaniola, there are some most interesting birds and other nature to see and enjoy.
And that we did during our tour there in April 2012.

A number of the birds (about 30 species) are endemic to that island of Hispaniola. A number of them are rare. And others are simply good to see, such as these during the tour: the White-tailed Tropicbird, West Indian Whistling Duck, and the American Flamingo, Reddish Egret, Roseate Spoonbill. Wilson's Plover, and Mangrove Cuckoo.

Among the birds that we saw both endemic to Hispaniola and rare was the Bay-breasted Cuckoo. Also, the White-necked Crow, and the Golden Swallow.
Earlier, in the 20th Century, neither the crow nor the swallow were Hispaniolan endemics. Now they are. The White-necked Crow was last known in Puerto Rico in the 1960s. The Golden Swallow was formerly in Jamaica.

There are two species of todies endemic to Hispaniola, the Broad-billed Tody and the Narrow-billed Tody. Both were seen nicely during the tour as was the Hispaniolan Lizard Cuckoo, the Hispaniolan Oriole and the Hispaniolan Spindalis.
Neither the oriole nor the spindalis were Hispaniolan endemics when we did the first FONT tour in the Dominican Republic about 20 years ago. The oriole was then part of the Black-cowled Oriole in Central America, and since then part of what was for a while the Greater Antillean Oriole.
The Hispaniolan Spindalis was part of the Stripe-headed Tanager that was also in Jamaica, Puerto Rico, the Bahamas, the Caymans, and Cozumel Island in Mexico.

A species that's endemic to Hispaniola, is also in a genus and even a family endemic to the island. It is the only species in that Hispaniolan endemic genus & family. It is the unique Palmchat.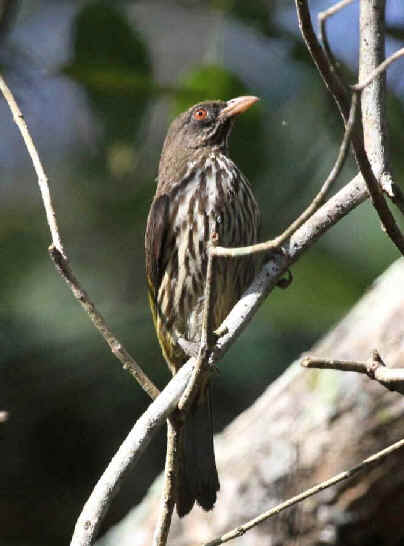 A Palmchat during our April 2012 Dominican Republic Tour


These birds, mentioned here, were just some of the interesting birds during our April 2012 Dominican Republic Tour. In all, we found 116 species of birds.

The Dominican Republic is also a wonderful place in which to see butterflies. Nearly 200 species occur on the island, and many of them are either species or subspecies that are endemic.
A most interesting group is one of satyrs known as calistos. Radiating throughout Hispaniola are 35 species in the genus that have spread to different parts of the island. 5 other species have become established on other Caribbean islands.
During our April 2012 tour in the Dominican Republic we saw about 30 species of butterflies. Notable among them were 4 of the 8 species of swallowtails that occur on the island (4 are endemic), some swarms of Brephidium exilis isophthalma (the smallest butterfly in North America), as well as these:
the Mosaic, Orion Cecropian, Pale Cracker, the Two-spotted Prepona (with its beautiful pale blue coloration), the Malachite, Julia, Zebra, and the Tiger Mimic-Queen.
Both the resident Monarch and the similar Soldier were seen. Skippers included the Drury's Broken Dash, and we saw two members of that interesting calisto genus: the Godart's and the Obscure Calistos.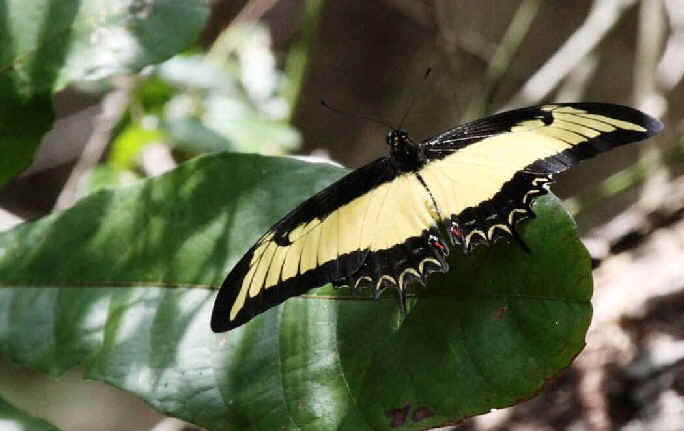 An Androgeus Swallowtail during our April 2012 Dominican Republic Tour

There are a tremendous number of species of amphibians and reptiles in the Dominican Republic. As many as about 170 species of amphibians and reptiles occur.
Of those an incredible 120 species are reptiles, with most, in fact nearly all, endemic to the island of Hispaniola.
And among those, over 40 species of Hispaniolan reptiles have been described to science since the mid 20th Century.
During our April 2012 tour, a good number of Hispaniolan reptiles were seen, mostly lizards, including various anoles, an ameiva, curlytails, and a rare iguana.
Especially nice were the Red-fanned Stout Anole (a localized species described as recently as 1975), the Hispaniolan Pale-bellied Curlytail, the Southern Hispaniolan GreenAnole, the Hispaniolan Stout (or Large-headed) Anole, and the Hispaniolan Gracile (or Bark) Anole.
Some photos of these creatures, from the tour, can be seen in the link below, referring to "Other Nature in the Dominican Republic".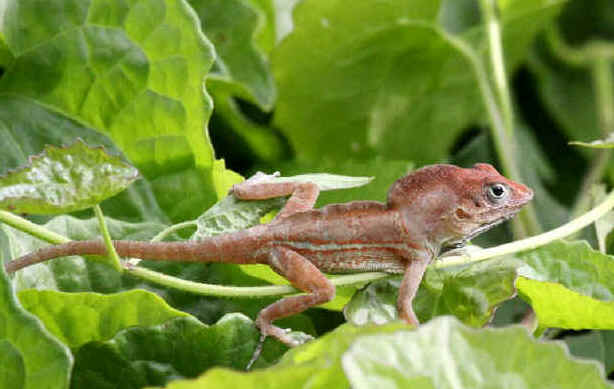 A Hispaniolan Stout (or Large-headed) Anole
during our April 2012 Dominican Republic Tour
Links:
A Photo Gallery of Dominican Republic Nature, Scenery, & Culture
during our April 2012 FONT Tour
Birds during FONT Dominican Republic Tours - February & April 2012
A Cumulative List of Dominican Republic Birds
A Complete List & a Photo Gallery of Caribbean Birds, in 2 Parts:
Part #1: Guineafowl to Hummingbirds Part #2: Trogons to Buntings
Rare Birds of the Caribbean

Other Nature in the Dominican Republic: Mammals, Amphibians, Reptiles, Snails,
Crabs, Butterflies & Moths, Dragonflies & Damselflies, and Others
Upcoming FONT Birding & Nature Tours in the Caribbean




Costa Rica - March 2012 (northern & southern)


In March 2012, there were two back-to-back FONT tours in Costa Rica, one in the northern part of the country, and one in the southern.
Places that were visited were in the highlands and lowlands, up on volcanoes and down by the seacoast, and including the dry "cattle country" near Nicaragua and moist "rain forest" near Panama.
And these were just some of the habitats where we were. There were others in between the dry and wet, and the high and low.
Our March 2012 Costa Rica tours were our 31st and 32nd in that country.

During the northern and southern Costa Rica tours combined, as many as 372 species of birds were found. All but just a few were seen. There were some that were only heard. All were alive, except for one: a Chiriqui Quail-Dove, that had recently died, by a dirt road on the Caribbean slope.

Among the 371 living species of birds during the tour, there were a number of notables, including: Jabiru, King Vulture, Aplomado Falcon, Pearl Kite, Swallow-tailed Kite, White Hawk, Black Hawk-Eagle, Sungrebe, Southern Lapwing, Long-billed Curlew, Scarlet Macaw, Green Thorntail (both male & female), the Snowcap, Resplendent Quetzal, Baird's Trogon (both male & female seen nicely), Long-tailed Manakin, Turquoise Cotinga, Three-wattled Bellbird, both Fork-tailed and Scissor-tailed Flycatchers, Streak-chested Antpitta, both Long-tailed and Black-and-Yellow Silky-Flycatchers, Tropical Mockingbird (a recent arrival in Costa Rica), and the Black-cheeked Ant-Tanager (a very localized endemic in Costa Rica - 1 of 3 endemic Costa Rican birds that we saw - there are only 4).

Where tinamous are heard, one knows that the tropical forest is still good, as it has been for a long time with its assortment of wildlife. We were glad to hear Tinamous, mostly Great and Little, at a few places during the tour.
Tinamous are more often heard than seen, considerably more often, but we did have wonderful sightings of a Thicket Tinamou walking on a forest floor, and of two Little Tinamous (one a moment or so after another) crossing a country road just ahead of us.

Wonderful to hear, at one of the places where we stayed in the mountains, were the late-day and early-morning sounds of nightingale-thrushes, many of them with their plaintive calls, near our nice cabins. We saw them as well: the Ruddy-capped and Orange-billed Nightingale-Thrushes.
The Black-billed Nightingale-Thrush had been "further up the road".

It was noted here (3 paragraphs ago) that the Tropical Mockingbird is a "recent arrival" in Costa Rica. Also in that category, during our tour, were: the Pearl Kite (also noted above), and the Mouse-colored Tyrannulet and both the Red-breasted and Melodious Blackbirds.

In all, there were so many birds. We saw more Double-striped Thick-knees than usual. We had a wonderful look at Mangrove Cuckoo, and our second Black-billed Cuckoo ever (in 32 CR tours).
We enjoyed hearing and seeing a Common Potoo at dusk (only our 3rd time in 32 tours).
The Toucans, as always, were enjoyed, both the Keel-billed and the Chestnut-mandibled, as were the Tanagers, as colorful as ever. Most colorful among them were the Golden-hooded, Silver-throated, Bay-headed, and Flame-colored, along with the frequently-seen Cherrie's Tanager. The old name of the Cherrie's, the Scarlet-rumped Tanager, related more to its bright coloration.
Brightly-colored Euphonias that we saw included the Yellow-crowned, Yellow-throated, Spot-crowned, Tawny-capped, Thick-billed, and Scrub - all of them colorful.
Other brightly-colored birds included 3 species of Honeycreepers (Shining, Green, and Red-legged) and 2 species of Dacnis (Blue and Scarlet-thighed).
And of course, not to be omitted in the "colorful category" are the hummingbirds. During our March 2012 Costa Rica tours, we saw 32 species of hummingbirds.
But birds of all sorts were enjoyed, including the finches, seedeaters, and sparrows.
Finches included the Peg-billed and the Large-footed (also known to us as "Bigfoot").
Seedeaters included the White-collared, Variable, Yellow-bellied, and Ruddy-breasted.
Sparrows included the Stripe-headed, Black-striped, and Orange-billed (the last of these especially fine to see).
The Volcano Junco, a resident on only the highest mountains, was a special treat for us.
And lastly, as brightly-colored as any of the birds categorized above as "colorful" was the male Painted Bunting that was seen during a boat-ride, late one afternoon, in mangroves.
The nearby male Mangrove Warbler was not bad to see either, with its yellow body and rusty head in the late-day sunshine.

As already said, there were "so many birds". At the end of the tours, we all had to "narrow it down" to only ten, our Top Ten favorites.
Here, collectively, are those favorite birds of the FONT tours in March 2012 in Costa Rica:

1 - Resplendent Quetzal
2 - Snowcap
3 - Three-wattled Bellbird
4 - Silver-throated Tanager
5 - Long-tailed Manakin
6 - Bay-headed Tanager
7 - Golden-hooded Tanager
8 - Long-tailed Silky-Flycatcher
9 - White Hawk
10 - Gartered (formerly Violaceous) Trogon
11 - Baird's Trogon
12 - Streak-chested Antpitta
13 - Little Tinamou
14 - Sungrebe
15 - Blue-crowned Motmot
16 - Volcano Junco
17 - Olivaceous Piculet
18 - Tropical Mockingbird
19 - Pearl Kite
20 - Green Thorntail
21 - Aplomado Falcon
22 - Green Violetear

Not just birds were seen during our March 2012 Costa Rica tours.

Among the mammals, there were 3 species of monkeys, with the often-encountered Mantled Howler Monkeys, White-faced Capuchins, and the least common of the monkeys in Costa Rica, the attractive Squirrel Monkey. Also: Coatis and Agoutis.
Among the reptiles, there were Crocodile and Caiman, Iguanas and Basilisk.

Among the many and diverse butterflies, there were the Blue Morphos, that could not ever be ignored, along with an assortment of Longwings, Leafwings and Daggerwings, and Sulphurs, Sisters, Crackers, and Peacocks.

In all, it was a wonderful two tours in a country that's great for nature, with birds and otherwise, and during which we also enjoyed some wonderful places and fine times, along with some good wit, good humor, and good eyes.

Links:
More about the FONT Costa Rica Tours in March 2012
A Photo Gallery of Costa Rican Nature during our March 2012 Tours
Lists of Birds & Other Wildlife during the FONT Costa Rica tours - March 2012
Costa Rica Birds (a list of 867 bird species; about 700 found during FONT tours)
A List & Photo Gallery of Central American Birds, in 4 Parts
A Photographic Sampling of Colorful Costa Rican Birds
A Feature about Alexander Skutch, a naturalist in Costa Rica

Upcoming FONT Birding & Nature Tours in Central America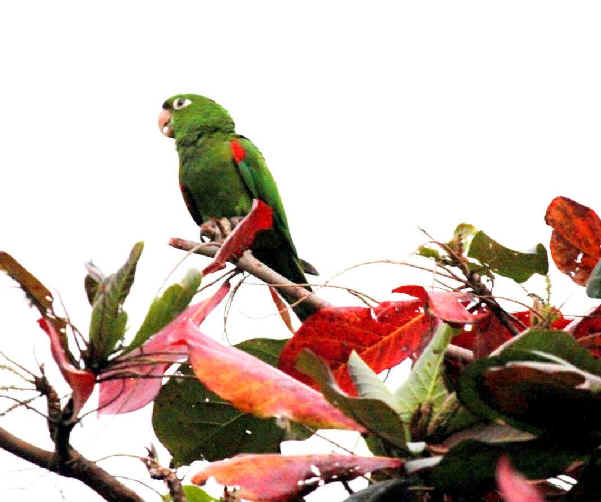 The Hispaniolan Parakeet was one of the birds endemic to Hispaniola
that we saw during our February 2012 tour in the Dominican Republic
(photo by Marie Gardner)
Dominican Republic - February 2012


Among the birds during the 18th FONT tour in the Dominican Republic, in February 2012, was one that we've never encountered previously, the Eastern Chat-Tanager, a skulker and a rarity, and one of the least observed of Hispaniolan endemic birds.
Actually, the bird is 1 of only 3 of the over 30 Hispaniolan endemic birds that is endemic to the Dominican Republic, not occurring in Haiti, the other country on the island of Hispaniola. The other 2 Dominican Republic endemics are the rare Ridgway's Hawk and the Bay-breasted Cuckoo.

The Eastern Chat-Tanager was seen during our February 2012 tour as we spent some more time than usual in the high mountains in the middle of the country known as the Cordillera Central. We birded there mostly at an altitude of about 7,500 to 8,000 feet above sea level. The highest peak in the entire Caribbean is in that area, at 10,319 feet above sea level.
Another avian denizen that we encountered there was another bird that does not lend itself to much observation, the secretive Bicknell's Thrush. Nearly the entire population of that species winters on the island of Hispaniola, in mountainous forests composed of pines and other highland plants.
Also in that area is the only populations of the Rufous-collared Sparrow outside Central and South America, as well as a very isolated resident population of the Pine Warbler, a species otherwise in North America and in the nearby Bahamas.

In the Dominican Republic, on Hispaniola, in the central mountains and elsewhere, there are a number of interesting birds, including endemic species and subspecies, with rarities among them, that we enjoyed during our tour, along with some other nature also endemic and rare.


Links:
A Photo Gallery of Dominican Republic Nature, Scenery, & Culture
during our February 2012 FONT Tour
A Photo Gallery of Some Dominican Republic Plants during FONT February & April 2012 Tours
with some about a mile and a half above sea level; others below sea level
Birds during FONT Dominican Republic Tours - February & April 2012
A Cumulative List of Dominican Republic Birds
A Complete List & a Photo Gallery of Caribbean Birds, in 2 Parts:
Part #1: Guineafowl to Hummingbirds Part #2: Trogons to Buntings
Rare Birds of the Caribbean

Other Nature in the Dominican Republic: Mammals, Amphibians, Reptiles, Snails,
Crabs, Butterflies & Moths, Dragonflies & Damselflies, and Others
Upcoming FONT Birding & Nature Tours in the Caribbean